"And after spring training, they farmed me out to Pensacola, Florida. But when I got there, their spring training was almost over. And they told me they couldn't figure out why the Phillies had agreed to send me there. So they released me and I went home to Burlington."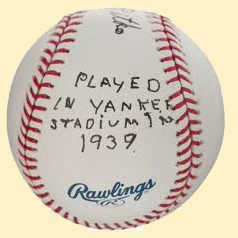 Alex "Spunk" Pitko was a backup outfielder who played for the Philadelphia Phillies (1938) and Washington Senators (1939). Born in Burlington, New Jersey, he batted and threw right-handed. In a two-season career, Pitko was a .259 hitter (7-for-27) with three RBIs, two runs, one double and a stolen base in 11 games played.
As told to Ed Attanasio, This Great Game
On his Pitching Style as a Teenager:
"Well, I was just a regular pitcher, I wasn't crafty, and to tell you the truth I didn't know that much about baseball in those days. When you played with a team, the only baseball fella who had any experience was the manager. They never showed you anything.
What happened is a lot of teams in that league, they would hire a pitcher. He would come in from someplace like Camden, New Jersey. And he normally came in and they used to play one day a week, I think it was Saturday and so the pitcher, the one that they hired, he pitched most of the time. I think I got noticed when the Phillies baseball team, National League team, came in and played a game at Burlington. There was some politician in Burlington—he knew, I think, the Phillies' owner and they came in and played in the evening. Because in those days in the summer they had daylight savings so it didn't get dark too quick. Well, I had a pretty good day that day, I think I got three hits and drove in a few runs. Then they showed me that maybe they would be interested. But they didn't sign me then.
I was playing at Florence, New Jersey one day for the Burlington team. And, I noticed that there was a civilian dressed up and he was sitting on our bench. And I had no idea who he was, they didn't tell me. And, I had a pretty good day, then, and he came up to me after the game and asked me if I would be interested in playing in the Phillies' farm club. Well, I told him, yes, I'd be interested. I was single, so, you know it didn't make much difference to me. So that's how I got started with the Phillies. They were starting up a new league in Maryland and I think they were looking for a lot of new, young ballplayers. So that's where I played the first year, Centerville, Maryland. It was called the Eastern Shore League."
On his Early Days in the Minors

:

"I was maybe 22. They called it the Farm Club. I had a pretty good year, batting .325 and I'm not sure, but I think I led the team in home runs. In those days, you didn't get many home runs. The baseballs weren't that good. So I went to spring training and I can't remember the name of the town but it was in Texas. My wife said the name of the Texas town was New Braunfels. I don't think they had 10,000 people there. And when spring training was over, there was a whole group of us who had played at Centerville, the Phillies sent us to Montgomery, Alabama. And that's where I played the second year.

You know, I think at that time all major league clubs were not spending too much money on spring training. For some reason or other they ended up in this town so I'm just assuming that it wasn't too expensive. The Phillies were not a rich ball club. Well, I went to spring training with the Phillies, I think, twice. No, no, no, I'm wrong. I went to spring training just once. And I went to Montgomery, I can't recall. Now maybe I played, maybe I played the second year 1938 and didn't go to spring training, went to spring training the third year at New Braunfels. I think that's what it was. And after spring training, they farmed me out to Pensacola, Florida. But when I got there, their spring training was almost over. And they told me they couldn't figure out why the Phillies had agreed to send me there. So they released me and I went home to Burlington. And I started to play with a semi-pro team there again and got my old job back at Florence Pipe Foundry and that's where I was playing. They made pipes and fireplugs and I don't know what else. They made quite a few different items that they used to ship out to different construction projects in different cities. It was the Great Depression and there were some fellas who were out of jobs but I don't think in Burlington it was a big deal, 'cuz they had about four different industries there and most of them were still going. Maybe their business wasn't as good but some of the fellas that I knew worked in different places, stayed there, because they had a job. They had what is called the Burlington Silk Mill and we had the Burlington Pipe Foundry.

Well, I knew a scout over across the river in Bristol, Pennsylvania. The team that I played with originally was in Centreville and they had a team in the same league. And there was a fella who, I think it was a Washington Senators farm team, and the owner of that team talked to the scout they had over in Bristol and they asked him to contact me to see if I wanted to play with his team in Greenville, South Carolina. So the scout came over and talked to me a couple of times and I wasn't very interested because of what had happened the year before. So, I told him I wasn't going to go down there and then after maybe two or three weeks they're going to release me. So, I didn't make the deal, so he left and he didn't make any arrangements or agreements.

Then he called me again and came over to see me a couple more times, because this owner of Greenville knew me because we had a team in the Eastern League, Eastern Shore is what it was called. And that's where I had a good year and so finally he talked me into it. Now, I talked to my oldest brother and he said, well, you might as well go down and tries; you're not married and you don't have any responsibilities for a family or anything and so I asked him what they were paying them down there."
On his First Contract Negotiations:
"It wasn't too bad at that time. I think he said $200 a month. Oh, at that time it was decent money, yes. But, I told him no, I said, I know you're paying more than $200 a month to a couple of those players because I heard from them and they told me what they were getting. So, I said, I'll tell you what I'll do. I'll come down and play with you if you give me $250 a month. 'Oh,' he said, 'I couldn't do that—we're not paying that much by the month.' And I laughed, and I told him, 'I know you have a couple of guys already who paid that because I talked to them. See?' So, that's what he gave it to me."
On the First Time he Saw Yankee Stadium:
"Well, it was amazing. Even when you hit the ball it didn't sound right to you, because I guess you had to get used to it, you know, the sound and stuff like that. So, he put me in, the manager was Bucky Harris. And so he put me in the first game, they were playing a doubleheader and I'll tell you, I had a great day that day. I struck out three times!"
On Playing for the Subpar Washington Senators:
"Yeah, the Senators, yeah. No, they were down in the league some, down lower in the league. They always had trouble. I don't know why but they were a fairly good team. But at least I enjoyed playing with these fellas; I played with the Phillies, and Washington. (The Senators) had Sam Rice. He was a center fielder, an older fella. Taff Wright, he was an outfielder. Let's see, Dutch Leonard was one of the pitchers. And if I remember correctly, I could be wrong, the catcher at that time was, he was a brother to the pitcher, very good pitcher, and I think they used to play at Cleveland. Brother and pitcher. But I can't remember the names." (He is referring to Rick and Wes Ferrell.)
On Baseball School at Shibe Park:
"Oh, it was a nice stadium, it was a nice stadium. It was double-deck, it was concrete and I liked, I had to try out with them, too, but I didn't make it. That was the year before. So, I went to a baseball school. You remember they used to have baseball schools? Well, I went to baseball school at Shibe Park with the Philadelphia Athletics. And Connie Mack was there, in fact, I don't know if he was running the school or not. He probably had other people. But I met him. He was very nice. Yeah, he always dressed up instead of a uniform. But he was a manager forever."
On his Nickname:
"They called me 'Spunk' back then. Well, I was kind of a feisty kid and, uh, I probably maybe knew too much for my age at that time.  I got that name when I was young. Everybody, every boy around the neighborhood, somehow or other they all had a nickname for them."
On the Steroid Era:
"Well, I don't think it's the right thing to do. I'm not in favor…they're trying to cover up each other, they lie and, but, you never know how well…how good of a ball player they could be if they didn't take them. They all want to be big and strong and see, nowadays many of them are able to hit home runs. Well, when I was playing, there weren't that many home runs hitters. They said I was a home run hitter in Centerville, Maryland, but I think I hit around 20 home runs. Today, that's nothing. And then, another thing, I think the balls are harder because we used to play a whole ball game. And if the ball was dirty, it was dirty. They still used it, and if it was scratched, they still used them. Umpire didn't throw them out. So there's another thing that helped.
What I don't understand how come so many players who strike out too much. And another thing, they got these big gloves; they can always catch anything. See, we didn't have gloves like that. And if you caught up a ball one-handed, when you got into the bench you heard from the manager about it. Everything was two hands if you could get two hands on."