The 10 Biggest Oversights From Baseball's "Franchise Four" Selections
If you thought some big names were missing when Baseball announced its lists of each team's four best players ever, you were right.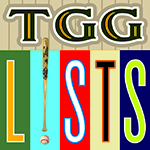 It's become a growing conversation piece for baseball fans: If a major league team were to erect a Mount Rushmore with four of its greatest icons, who would they be? 
We got into this act a year or so ago, unveiling our Rushmores in our Teams section, drawing from the greatest and most influential among players, executives and managers. And in 2015, Major League Baseball has also chimed in—asking fans to vote on four players (no execs or skippers) that would constitute a "Franchise Four" for each team. 
If you thought the vote for the 2015 All-Star teams was controversial enough with the Kansas City Royals monopolizing the AL starting lineup, some of the "Franchise Four" results led us to some head-scratching—followed by some head-shaking. 
In a sense, we saw this coming. Yes, a mix of historians, record-keepers and baseball writers apparently used their sage to come up with a list of eight nominees for each team—and we should stress the word "apparently," since some of the legends omitted even from these lists led us to chuckle in disgust. But then they let the fans pick the final four. Okay, this is a democracy and everyone should have a say; it's too bad so many were uninformed. For every fan who is truly baseball-literate and is in the know about whom to pick, there's another 10 whose casual knowledge of this great game probably goes back some 40 years at most. Trust us—these people don't know Chuck Klein from Calvin Klein. 
Of the 64 Franchise Four players named from the 16 "original" teams whose existence goes back to 1901 or before, only 11 of them finished them careers before 1960. They're the lucky ones. Many others weren't, despite their status among baseball aficionados as no-doubt-about-it Hall-of-Fame legends. Apparently, the voters had some doubts. Or they looked at Nap Lajoie and shrugged, "Nap who?" 
What follows is our picks for the 10 most egregious oversights from the Franchise Four lists. See if you agree.
Eddie Murray
After our long opening spiel about how few know anything about baseball before the baby boom, we ironically begin with an exclusion from more recent times. So let's discuss Eddie Murray, who even Orioles fans seem to have forgotten about. To those people, we ask a simple question: Remember Eddie? He was the guy who, year in and year out, hit his .280, got his 30 homers, his 100 RBIs. Ring a bell now? Murray's numbers were so repetitive, he basically became the second coming of Charlie Gehringer, who was nicknamed the Mechanical Man because he cloned his terrific numbers every year while starring for the Detroit Tigers in the 1930s.
Frank Robinson probably got the nod ahead of Murray on the Orioles' Franchise Four list because, unlike Murray, he had the spectacular year everyone remembers about, in 1966 when he came to Baltimore, captured baseball's triple crown and helped the Orioles win their first World Series. In five more years at Baltimore, Robinson was good, but far from legendary. Murray, meanwhile, just quietly went about earning his way to near the top of almost every offensive category in franchise history. People just seemed to have forgotten about that. It's too bad.
Addie Joss
The absence of Joss, who compiled a stellar 160-97 record and 1.89 career ERA that just happens to be, oh, the second best in baseball history, from the Indians' Franchise Four is all the more maddening because the people in the know didn't even list him as a nominee. C'mon, really? Is this some kind of penalty upon Joss for not playing a longer career—and it's not like Joss couldn't do anything about that because, in 1910 at the age of 30—with a good chunk of greatness likely still ahead of him—he contracted meningitis and died. Maybe the media, Elias, John Thorn, et al took the same tact that Cooperstown did for nearly 70 years when they barred Joss from the Hall of Fame because he didn't play the minimum 10 seasons to be eligible—before someone with some sense of sanity (to say nothing of dignity) finally righted the wrong. Addie Joss, meet Rodney Dangerfield.
Luke Appling
The White Sox' Franchise Four list has to be one of the more baffling, with a number of old-timey stars getting Pale Hosed in favor of more recently recollected names like Harold Baines and Paul Konerko. Among the long-gone and snubbed, there's of course Ed Walsh, the deadball era ace who's got an even better career ERA than Addie Joss above (which makes him first all-time), but how do you also let go of Luke Appling from the memory banks?
Maybe a guy with the nickname "Old Aches and Pains" doesn't impress latter-day White Sox fans, but this will: He once hit .388 in a season, collected 2,749 hits (all of them for the White Sox, making him tops on that franchise list), appeared in eight All-Star games and, despite just 45 homers over 20 seasons, once cleared a fence 300 feet away at an old-timer's game at age 78. Let's see Baines and Konerko try and do that sometime around 2040.
Juan Gonzalez
It was interesting to see many of the Steroid Era's accused not make any of the Franchise Four lists except for Barry Bonds. No Sammy Sosa. No Mark McGwire. No Ryan Braun. Even Alex Rodriguez is nowhere to be found. In most cases we get it, understand and agree, but how Juan Gonzalez doesn't get the nod for the Texas Rangers' final four while Adrian Beltre does is a little hard to digest.
Don't get us wrong. In less than five years of employment in Arlington, Beltre has put together some great numbers. But his collective achievements in a Rangers uniform pales in comparison to Gonzalez, who quietly won two MVPs for the Rangers, twice led the AL in home runs and is the all-time franchise leader in both home runs and RBIs. But it all comes back to the steroids—or at least the assumption, as he never tested positive. He did once get into some hot water while entering Toronto with controversial trainer Angel Presinal and a bag full of anabolic steroids and needles, with both playing the "it's his bag" game to the frustration of Canadian customs agents.
So maybe it's that story that turned Texas voters off Gonzalez in favor of Beltre. Or his shy demeanor that never synced with Rangers fans. Or his four marriages. Or his refusal (not once, but twice) to show up and be honored for induction into the Rangers' Hall of Fame. Metrics can only gain you so much love.
Cy Young
He's arguably the greatest pitcher of all time—so great, they name a popular award after him—so you'd think even the younger generations among us would be familiar with his name and stature. Maybe so, but apparently not enough to get him into the Boston Red Sox' Franchise Four. Okay, so Young won only 192 of his record 511 career victories for the Red Sox, but he accrued them over just eight years—that's an average of 24 wins a season. We know what people will say: It was easy pitching in the Deadball Era. Our response: Deadball Era, Schmeadball Era—24 wins is still 24 wins.
And while we're on the subject of disrespected Red Sox pitchers, the powers that be didn't even nominate Roger Clemens, who sits tied with Young atop the all-time Red Sox wins list and with Boston won three of those awards named after—altogether now—Cy Young. 

Cap Anson
The people in Chicago must be smoking something they simply shouldn't. First you have that weird White Sox list we reference above, and then we come to the Cubs, whose fans seem to have forgotten that, once upon a time, this was a team good enough to go to the World Series and even win it. We could lecture about people like Frank Chance, Three Finger Brown and Hack Wilson, but the guy who really got snubbed was Cap Anson, undoubtedly the greatest player in 19th Century baseball and the first ever to reach 3,000 hits—all for the Cubs, or whatever they were called back then. Oh, he also managed the team to five NL pennants. Seen that kind of result lately around Wrigley? 
Alright, so some of the Cubs' voters probably didn't want to reach back into the 1800s like they were being sent back to school. Or maybe those that knew of Anson only remember him because he was the one who once infamously said of Moses Fleetwood Walker—the last black player to appear in a major league game, before Jackie Robinson—to "get that nigger off the field," an order baseball sadly obeyed for the next 60 years. Anson may have been a racist, but so allegedly was Ty Cobb—and he made the cut for the Tigers' final four. 
Cubs voters conveniently chose instead to go with more modern marquee names in Ernie Banks, Ryne Sandberg, Billy Williams and even Ron Santo, all of whom never knew what it was like to even get to a World Series since the Cubs haven't played in one since 1945.
Lefty Grove
Fans voting for the A's Franchise Four almost got it right. Rickey Henderson, check. Reggie Jackson, check. Jimmie Foxx, check—and congrats to the voters for knowing their history there. So, that given, Lefty Grove, check—right? Right? 
Wrong. They instead went with Dennis Eckersley—good guy, great closer, man who helped Oakland win three straight pennants a generation ago. Everyone is still young enough to remember that. There's probably not too many alive who can say they saw the great Grove in action—and had the witnesses matched those of Eckersley in numbers, they would have bumped Eck down. 
The fiery Grove had one of those runs you don't see very often, where a single pitcher stands head and shoulders above the rest and thoroughly dominates the game. We saw it with Sandy Koufax in the mid-1960s, with Greg Maddux in the mid-1990s and a few years later from Pedro Martinez. And historians see it from Grove, who from 1928-33 earned a 152-41 record and four ERA titles, including a 2.54 mark in 1930 when everyone was knocking the socks off the ball. He would end up with exactly 300 victories, and just 141 losses. Bad omission.
Christy Mathewson
Like the New York Yankees and St. Louis Cardinals, the New York-San Francisco Giants is a franchise so rich with legends, it's almost a shame MLB couldn't make room for two Rushmores. And while those voting for the Yankees and Cardinals nailed their selections (sorry, Derek Jeter and Ozzie Smith), the foursome opted for by Giants fans needs a bit of tweaking. Willie Mays and Barry Bonds? Perfect. Willie McCovey? We'd armwrestle for Mel Ott instead. Buster Posey? We love the guy, but how does he and his relatively short career make the cut—and the great Christy Mathewson does not? 
Mathewson clearly is one of the greatest pitchers, ever. In 16 years with the Giants, he won 372 games. Four times, he surpassed 30 in a season. His five ERA titles include a filthy 1.14 mark in 1909, and he produced an insane 0.95 figure over 11 World Series starts. The naysayers will again counter that his numbers were enhanced by the Deadball Era. Fine, so we'll go the "everything's relative" route and evoke the fact that, besides the ERA crowns, he led the National League four times in wins, four times in shutouts and five times in strikeouts. 
Finally, we'll add this: Mathewson was probably the most admired player of his generation, as his superstar status was transcended with a gentlemanly, college-bred persona that won fans, teammates and advertisers over. Like so many of Mathewson's opponents, Giants fans swung and missed on this one.
Pete Alexander
For Pete's sake, who was asleep at this wheel? 
As Mathewson finally faded into the 1910s, Alexander the Great took the mantle as the NL's best pitcher, and by a mile: In five of his seven full seasons with the Phillies, he led the NL in wins—but it's those last three years that historians marvel over. In each of those campaigns, he won 30-plus games with ERAs well under 2.00 and amassed 32 shutouts—including a record 16 alone in 1916, nine of those within the Phillies' home confines of Baker Bowl, a hitter's paradise. 
You can't blame the fans on this snub, because they didn't get the chance; the allegedly insightful committee making the nominees somehow neglected to include Alexander as what should have been a slam-dunk inclusion. So what were the committee members thinking? All we can come up with is that maybe they thought Alexander didn't play long enough for the Phillies. Well if that's their case, then why did they nominate Jim Bunning, who logged one year less than Alexander and won half as many games? If ever anything didn't add up, it's this.
Walter Johnson
At first glance, we kind of get it: It's the Minnesota Twins' Franchise Four. Walter Johnson, who some believe is the greatest pitcher in modern times, never played in Minnesota, but rather for the Washington Senators, who the Twins were known as before 1961. Maybe that fact is emotionally lost on modern-day Twins fans who voted—but then again, Jimmie Foxx never played in Oakland, Warren Spahn never pitched for Atlanta, and Jackie Robinson never made it to Los Angeles, and yet they garnered enough respect to make the final four for their franchises. So even when you overcome the disconnect that's the Twins once being a team called the Senators, how do you dare shut out a guy like Johnson, himself the all-time leader in career shutouts with an astounding 110? 
Let's not start with anymore of this Deadball Era talk. The Big Train was someone special. He pitched great when pitchers ruled, and he continued to pitch strong when the game began favoring the hitters in the 1920s, even as he aged well into his 30s. Johnson's fastball was beyond electric, and he twice struck out 300 batters in a time when nobody was striking out. Opposing hitters would walk back to the dugout before their turn at bat was done, finding it futile to hit against him. The man won 417 games for a Senators team that seldom contended. 
So along with Mathewson, Nap Lajoie and Cy Young, Johnson gets the consolation prize by being thrown by MLB into this "special" foursome entitled the "Greatest Pioneers." It's an insult, a second-class designation for legends who were beyond first class. Baseball and its fans need to understand that the modern era began in 1901, not 1961. 
Maybe it's time to cue up Ken Burns' Baseball one more time and give people a much-needed refresher course on the history of this great game.