MLB's Five Most Handicapped Franchises
Through little or no fault of their own, these teams find it tough to compete on a regular basis for reasons mostly beyond their control.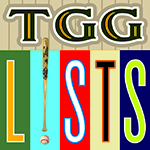 Not all baseball teams are created equal. Oh sure, Major League Baseball tries to create as even a level playing field as possible through the amateur draft, luxury taxes and the sharing of television revenue, but each of the 30 teams eventually inherit the habit of becoming good, bad or ugly over the long run. Front offices are often to blame for making poor choices, whether it involves the players, the coaches or the marketing department. But some teams are stuck with handicaps that are not of their own making. Some of these obstacles can be overcome. Others can't.
What follows are, in our opinion, five teams whose external long-term burdens are the heaviest.

Tampa Bay Rays
It's bad enough that Tropicana Field has a reputation as one of baseball's ugliest ballparks, a venue stuck in the close-roofed, close-minded ethos of the 1970s and 1980s. But the problem is worse than that. Tropicana Field fails to qualify for the three most important factors in the real estate industry: Location, location and location. Downtown St. Petersburg, where the Trop is situated, is a pleasant place with some suave looking hi-rises, but to most people within the Tampa Bay market, it's an island that requires a long drive—a city physically connected to the Florida mainland only from the north, where less people live. 
So potential fans from Tampa have to drive across a long bridge and then down another 10 or so miles of congested freeway traffic, while fans from the south have an even longer bridge (13 miles) that requires payment to cross. And among those within St. Petersburg lucky to make the short drive to the Trop, a higher-than-normal percentage are seniors—many of whom view premium prices and 7:30 starting times as anathema. For them, shuffleboard and park benches are more preferable. 
Solution: Fortunately for the Rays, there is one—and that's to move to Tampa, where they'd be closer to the majority of the area's residents while being a more attractive reach for folks in Orlando, some 80 miles away. The wheels are currently in motion to build such a ballpark, but it's still in the prenatal stages. Nobody knows where the money will come from or when the first shovel will be thrust into the ground. Until then, it's St. Petersburg or bust. For the Rays, it's usually both.

San Francisco Giants
Some might find the Giants' inclusion on this list as a bit puzzling given their recent successes with three world titles. With that pedigree, with all that money the Giants have, with their jewel of a waterfront ballpark in Oracle Park, you'd think free agents would be flocking to San Francisco. But nope. Here's why. 
First, there's the park itself. OraclePark is beautiful to behold, but it's death on hitters—especially left-handed sluggers who try to power the ball over a distant right-field wall that's not only up to 420 feet away from home plate, but also quite tall at 25 feet. Then there's the weather. Though not as brutally chilly as the notorious Arctic-like conditions at the Giants' previous home of Candlestick Park, Oracle Park is occasionally brisk enough, even on a July evening, to discourage players who prefer warmer climes elsewhere. Finally, there's the economic conditions. The San Francisco Bay Area has the nation's highest income tax rate, the nation's highest median home price (closing in on $1 million), and the nation's highest cost of living. Sure, anyone who comes to the Giants on a nine-figure deal will survive just fine, but don't think that any of the above factors aren't heavily considered when choosing the best deal—or best place to play. 
Some will say that if the Giants have to deal with all of this, wouldn't it be worse for the Oakland A's, a poor-boy franchise playing across the bay in a crumbling stadium? Not exactly. The Coliseum is an easier place to hit home runs—so no hitter's ego is bruised—it's not as cold as Oracle Park, and real estate prices aren't quite as insane the further east you go from San Francisco. 
Solution: The Giants aren't going to dome up Oracle Park anytime soon, so there's nothing they can do about the weather, and they have no control over the real estate, taxes and cost of living. They can reduce the field distances at Oracle—for God's sakes, at least put a yellow stripe halfway up that tall wall so any ball making contact above is ruled a home run. That has been a topic of conversation of late as the Giants perennially finish near the bottom of team home runs every season and drive away star hitters like Giancarlo Stanton, Carlos Beltran and Carlos Lee—all of whom have said thanks by no thanks to joining the Giants when given the chance.
Milwaukee Brewers
On the 'mega' end of the majors' market scale, you have the New York Yankees and Los Angeles Dodgers. On the "mini" end you have the Brewers, who play in baseball's smallest market. There are MLB cities with less people than Milwaukee's 595,000, but the extended area adds roughly an extra million folks—and although that may sound like a lot, it's less than those that surround the smaller cities like Cleveland and Cincinnati. 
Complicating matters for the Brewers—beyond the small population and the resulting, limited potential for local/regional broadcast revenue—is that they have plenty of big-league neighbors close by. Practically next door are the Cubs and White Sox, just 90 miles to the south in Chicago, while the Minnesota Twins are 300 miles to the west. This eats away at the Brewers' ability to appeal to more distant baseball fans, which is not quite the problem in, say, St. Louis with the Cardinals. 
Solution: Get more people to move to Milwaukee. Or convince the Cubs and White Sox to leave Chicago. Okay, so we kid on all of that. In reality, the Brewers have just one option: Promote the game and get people to Miller Park. They've done that, drawing three million or more fans to the ballpark three different times while coming close on numerous other occasions. But it's a high-wire act; should the Brewers freefall into the dumpster standings-wise and/or begin suffering brain farts on the marketing front, there's nothing to fall back on except for the occasional MLB welfare check.


Seattle Mariners
The Mariners don't have the same issues as the Brewers; their market population is more than twice that of Milwaukee, and there's no nearby teams to snatch away fan support. But that last part is actually the problem; the nearest major league city to Seattle is San Francisco and Oakland, both some 700 miles away. By comparison, the Cincinnati Reds have 15 teams located within 700 miles of their borders, with their four NL Central opponents a combined total of 1,380 miles away. That's 200 miles less than the average flight the Mariners must take to get to an AL West city. That translates to an awful lot of travel. In fact, year in and year out, Seattle easily leads baseball in racking up frequent flier mileage. 
Even people who enjoy traveling admit at some point that the toll of being continuously on the road can get to you. It's also true that the Mariners, who in 2014 began using their own private jet, make sure that their players' comfort level in flight is at a maximum level. But travel is travel; all those miles lead to a particular brand of wear and tear that no other team has to absorb. Perhaps that's why the Mariners have difficulty acquiring top free agents in spite of a spiffy ballpark and chic city presence. And it's also probably why the Mariners haven't made the postseason since 2001. 
Solution: Bring teams closer to Seattle. There's current talk of Portland, a mere 170 miles to the south, getting an expansion team, while Vancouver, Canada—barely 100 miles to the north—gets an occasional murmur. Of course, that would be a double-edge sword as it could also cut down on the range of the Mariners' regional fan base. But that's a non-issue for players who'd rather be far more focused on far less travel.
Colorado Rockies
A slam-dunk choice for the top of this list; none of the above contenders are even close. Denver is a beautiful city, sitting at the base of a majestic mountain range, with fabulous summer weather, an engaging ballpark and terrific fan support. But never mind all of that. The 5,280-foot-tall elephant in the room is the unchangeable fact that Coors Field—like most of the rest of Denver—sits roughly a mile above sea level, where the air is thinner and the ball travels farther. Of the other 29 teams, only one (Arizona) plays its home games above 1,000 feet—and just barely, at 1,059. 
Coors Field is great for hitters, lousy for pitchers. And in case you haven't read up on baseball adages, you typically don't win a World Series without pitching and defense. You simply can't slug you way through to the end of October and expect to finish on top. The best pitchers have tried at Coors; back in the Rockies' early days, truly good pitchers like Darryl Kile and Mike Hampton played the guinea pigs and proved that even aces can get embarrassed. 
It's not the oxygen that gets to the pitchers in Denver; it's the incessant avalanche of hits and runs that buries them. Sure, pitchers from the visiting teams suffer as much—but they're not stuck with the thin, mile-high air 81 games a year. When you get constantly pummeled and throw more pitches as a result, as typically is the case for Rockies pitchers, the exhaustion becomes greater as the season wears on, both physically and mentally. This has been, and always will be, the problem for the Rockies. Give the team credit for making the postseason as often as they have—including a near-impossible 2007 run in which the team played out of its minds from mid-September on and took its only NL pennant to date. But the handicap remains a big one in Denver, and it's not going away. 
Solution: Outside of digging a gigantic hole 5,000 feet and plunking a ballpark into it, there is none. The introduction of the humidor to dry (read: deaden) the balls back in the mid-2000s has worked to mute the offense, but not enough; no lead remains safe at Coors Field. The Rockies can move the fences back at Coors, which already has expansive field dimensions, to cut down on home runs, but it won't cut down on the distance a ball travels; it'll just increase the amount of doubles, triples and inside-the-park homers, and leave tired outfielders scrambling for the oxygen tank after every inning. The best hope for the Rockies is that they attract pitchers who are not just mechanically sound, but also mentally tough enough to take on and, possibly, overcome the mile-high madness.