Baseball's 10 Greatest Season Performances by a Hitter
Nobody was more dominant in a single baseball season than these major league hitters who impressively overwhelmed the competition.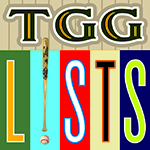 Every so often, a major leaguer comes along and molds together a year's worth of numbers so mesmerizing, any debate over who's the best player for that moment ends before it starts. The mass productivity, pure efficiency and utter dominance put forward by said player is as astonishing for fans to behold as it is depressing for opposing pitchers to tolerate. 
This list of the 10 most dominant performances isn't solely determined on mass accrual of statistics. You won't find Barry Bonds' 73 home runs from 2001, Ted Williams' .406 average from 1941 or Carl Yastrzemski's 1967 triple crown effort among them. What you will see are seasons put forward by players whose final figures were miles ahead of their nearest colleagues. It's the relative value of their numbers compared to what others produced. 
So without further ado, here's the list:
Babe Ruth, 1924
.378 batting average, 46 home runs, 121 RBIs
The Bambino's season was actually a slight drop-off from his 1923 numbers, which including a career-high .393 batting average and a then-major league-record 170 walks. But the rest of the American League declined offensively at a steeper rate, so Ruth's numbers stood out more. He won his one and only batting title, collected 200 hits for the third (and last) time in his career and was a runaway leader in home runs (Philadelphia's Joe Hauser was second with 27); only Washington's Goose Goslin, who collected 129 RBIs, stood in between Ruth and a highly prized triple crown. 
Despite a red-hot summer in which Ruth hit .424 with 23 homers over July and August, his New York Yankees could not catch up with Goslin's Seantors as subpar pitching crippled their chances for a fourth straight AL pennant.
Ted Williams, 1946
.342 batting average, 38 home runs, 123 RBIs
Perhaps tanned, likely rested and definitely ready after three years serving the armed forces in World War II, the Splendid Splinter rejected a then-astounding $500,000 offer to play in Mexico and proved he was still the AL's immortal among mortals—and showed the National League a thing or two when he launched two homers, including a famous blast off one of Rip Sewell's high-arcing "eephus" pitches, in the All-Star Game. It makes one wonder how sick his numbers would have been had he taken the money and run south of the border. 
Funny thing was, even though Williams dominated, he didn't place first in any of the triple crown categories; he placed second in each. But he did lead going away in walks (156) and runs scored (142), and his potency at the plate drove Cleveland manager Lou Boudreau, for one, to extremes when the Indian pilot instigated the "Williams Shift," in which he clogged up the right side of the field with Indian defenders to combat the dead-pull left-handed hitter. Not only did the Shift fail to quell Williams' output, it backfired on the day the Red Sox clinched the AL pennant when he shanked a drive to the vacated left side and ended up collecting the only inside-the-park homer of his career. Although the year ended on a sour note for Williams thanks to a bad elbow that hobbled him in what would be his only World Series appearance, he would finally win his first of two lifetime MVP awards, overcoming the bias of voters (particularly in Boston) who despised his attitude towards the media and his prima donna persona.
Ted Williams, 1942
.356 batting average, 36 home runs, 137 RBIs
In his last year before he went off to war, Williams was every bit as exceptional as the year after he returned. In his follow-up to his historic .406 campaign in 1941, the 24-year-old Williams put together his first of two career triple crown performances. The guys who came in second were nowhere close; teammate Johnny Pesky finished 25 batting points shy of Williams, Chet Laabs was nine homers behind, and Joe DiMaggio fell short of Teddy Ballgame by 23 RBIs. Additionally, Williams led the majors in runs, walks, on-base percentage and slugging percentage, all by wide margins. 
So Williams was a cinch for the AL MVP, right? Wrong. With the mutual hatred Williams and sportswriters (particularly those in Boston) had for one another in full bloom, voters searched high and low for an alternative and found him in the Yankees' Joe Gordon, who led the AL in other categories—namely, strikeouts, grounding into double plays and errors committed at second base. The voters' excuse? Gordon (.322 average, 18 homers and 103 RBIs) was more valuably consistent than Williams. Apparently, they never took into account that Williams hit .356 at home—and an equally potent .356 on the road.
Ted Williams, 1947
.343 batting average, 32 home runs, 114 RBIs
Yes, Williams again—and like déjà vu all over again, he took the triple crown by a wide margin, adding a career-high 162 walks and, once more, got screwed by the MVP voting bloc. This time around, the award went to Joe DiMaggio, by a single point; the failure to overcome Joltin' Joe could be traced directly to Boston sportswriter Mel Webb, who left Williams' name completely off the ballot. Webb could point to Williams' .230 season average against the AL pennant-winning Yankees, or an overall sub-.300 average just prior to the All-Star Break. Still, Webb's snub boiled down to one word: Vengeance. 
The irony in all of this was that Williams nearly became a Yankee during the season; New York management proposed a trade in which DiMaggio would go to Boston, straight up for Williams. Red Sox owner Tom Yawkey, who knew he'd get the short end of the stick by sending the fully bloomed Williams in exchange for the aging DiMaggio, would only say yes to the trade if the Yankees threw in catching prospect Yogi Berra. The Yankees quickly ended the discussion.
Babe Ruth, 1926
.372 batting average, 47 home runs, 146 RBIs
When the Sultan of Swat struggled through a mortal 1925 season after his digestive system hit its fail-safe point from the constant intake of booze, hotdogs and goodness knows what else, many believed that the 31-year-old had past his prime and was headed for baseball burnout. But in 1926, Ruth picked himself up from the canvas of doubt and pummeled the naysayers' claims, proving that his infamous bellyache episode of the year before was but a negative blip amid a long and legendary career. 
It was vintage Ruth in 1926; as he often did earlier in his career, he lapped the home run competition—hitting 47 to more than double Al Simmons' second-place total of 19, and outhomering every AL team except the Philadelphia A's and St. Louis Browns. In 11 road games at Washington's Griffith Stadium, Ruth collected three round-trippers; the Senators as a team hit four all year long in the expansive ballpark. The home run crown was the first of six straight for Ruth; he would hit four more homers in the World Series to follow (including three alone in Game Four), and followed that up with his historic 60-homer campaign in 1927. And as it always seemed to be with Ruth, he narrowly missed out on a triple crown, his .372 average placing a close second to Heinie Manush's .378.

Mickey Mantle, 1956
.353 batting average, 52 home runs, 130 RBIs
In a Hall-of-Fame career chronically stunted by injuries and the nightlife, Mantle showed off his tremendous potential with a full, pain-free campaign that was easily the most impressive of his career. His triple crown numbers included the only batting and RBI titles of his career, and he set personal bests with 132 runs, 188 hits and a .705 slugging percentage—the best the AL had seen since Ted Williams in his .406 season of 1941. 
Mantle blasted out of the gate, becoming the first major leaguer to notch 20 home runs before the end of May. The 20th shot, off of Washington pitcher Pedro Ramos, came within 18 inches of clearing Yankee Stadium's third-deck façade; it was the closest any player came to completely clearing the Stadium during its illustrious 86 years of existence. For much of the year, Mantle was a threat to Ruth's then-record 60 homers from 1927; after hitting 13 longballs in August, he needed another 13 in September to tie the mark, but ended up with five to finish at 52—thus becoming one of only two AL players to hit at least 50 between 1938 and 1990. (In fact, Mantle would do it twice—memorably hitting 54 to go along with teammate Roger Maris' 61 in 1961.)
Barry Bonds, 2002
.370 batting average, 46 home runs, 110 RBIs
Growing older yet stronger with a little help from the pharmacist, Bonds followed up his record-breaking 73-homer effort with a stunning display that left opponents hopelessly wondering if there were any weaknesses to exploit. Bonds' home run total declined to 46, but that was in part because pitchers had grown petrified to give him anything good to hit; they often didn't, which led to 198 walks, 68 of them intentionally given—both figures breaking all-time records that he would reset two years later. The plethora of gimmees, combined with a career-high .370 batting average, added up to a .582 on-base percentage that shattered Ted Williams' season record previously though to be secure. All of this, as Bonds turned 38 playing a good chunk of the year on a badly aggravated hamstring. 
Long set in his surly ways, Bonds won his fifth MVP—and his second of four straight—while continuing to be tolerated by San Francisco teammates who accepted him as the clubhouse pain that he was; only all-star second baseman Jeff Kent, who nearly came to blows with Bonds in a dugout tiff, bothered to challenge him. Still, the Giants came to embrace Bonds' bat, especially when the postseason arrived; on a mission to prove that his previous ice-cold October performances were a thing of the past, Bonds pressed on from his dominant regular season and hit eight homers in 17 playoff games with 27 walks—13 of them free passes—as he lifted the Giants to within a game of a world title.
Rogers Hornsby, 1922
.401 batting average, 42 home runs, 152 RBIs
A blunt and often cold presence within baseball, Hornsby once said: "Every time I stepped up to the plate with a bat in my hands, I couldn't help but feel sorry for the pitcher." The pity was never more palpable than in 1922, a year that the Rajah helped the National League complete its transition from the Deadball Era to the Roarin' Ruthian Twenties as the senior circuit's first-ever player to hit 40 homers (let alone 30), a leapfrogging increase from his 21 longballs of a year earlier, and a mere nine the year before that. Adding to the carnage, Hornsby totaled a whopping 450 total bases that remain a NL record, set career highs in homers, RBIs, hits (250) and hitting streak (33 games), and took the NL's first triple crown in the modern, post-1900 era. 
Hornsby's power-laden elevation easily established him as the NL's premier offensive threat and failed to harm his annual ability to hit .400. Entering the last day of the season, Hornsby's average was at .3996—and like Ted Williams 19 years later, he set out to make sure that he would achieve a "true" .400 rather than sit and let the figure round out to the milestone number. Not surprisingly, Hornsby rose to the occasion and pounded out three hits against the Chicago Cubs and finished the year at .401—part of an amazing five-year run in which he would bat a composite .402.

Nap Lajoie, 1901
.426 batting average, 14 home runs, 125 RBIs
An accomplished star over his first five years in the NL, the svelte, muscular Lajoie bolted from the Philadelphia Phillies after a turbulent 1900 campaign, jumped across town to the first-year Athletics and took obscene advantage of a wide-ranging level of talent in a fledgling American League full of everyone from former NL stars to minor league washouts to even women (Washington's Dolly Gray). Lajoie was nearly one hundred batting points ahead of his closest challenger (Mike Donlin) with a .426 average—or was it .422? The early precincts had him at the latter number, but revisionists plowed through the hazy evidence of box scores again and again in the late 20th Century and confirmed that .426 was the correct figure, making it the highest batting average ever obtained by a player in the modern era (although one major modern era rule—in which foul balls would be counted as strikes—was a few years from being activated). Lajoie was so good in 1901, he was given the ultimate respect when he was once intentionally walked—with the bases loaded. 
Lajoie loved the A's and vice versa, but the Phillies ruined the affair when they successfully lobbied the Pennsylvania State Supreme Court to invalidate his move from the NL to the AL as the two leagues warred over player raids. The A's had no choice but to trade Lajoie out of state to Cleveland, where he remained free to play in the junior circuit—so long as he stayed out of Pennsylvania. All was long forgiven when an aging, devalued Lajoie returned to the A's in 1915, for old times sake—and little else.
Babe Ruth, 1921
.378 batting average, 59 home runs, 171 RBIs
In his first year with the Yankees in 1920, Ruth stunned the baseball world by nearly doubling the season home run record to 54, from the 29 he belted for the Red Sox the year before. People saw it as a remarkable spike so out of the ordinary, no one expected Ruth to possibly match it in 1921. 
Ruth didn't match it. He exceeded it. 
The 1921 season proved that Ruth's titanic numbers were no fluke, establishing a new norm that would leave a major impression on others to follow. Until then, Ruth was head, shoulders, waist and knees above the competition—Mount Everest in Kansas, as columnist George Will would later say—with his most monstrous display ever. His 119 extra-base hits, 177 runs and 457 total bases established major league records that still stand today. He outhomered five other AL teams and won the home run title by 35 over Bob Meusel and Ken Williams. He easily outscored, out-RBI'd and outwalked everyone else in the league. Only Hall-of-Famers Ty Cobb and Harry Heilmann hit for a higher average than Ruth's .378 figure. 
After a hot start to the season that included five hits on Opening Day, Ruth cooled off in May—then heated back up in June with seven homers over a five-day stretch, followed in midsummer with a 26-game hitting streak in which he nearly hit .500 with 12 more blasts. In later years, Ruth would surpass some of the individual numbers he would amass in 1921—most notably with his 60-homer season of 1927—but he was never more potent or more dominant.