Baseball's Five Least Deserving MVP Recipients
We understand that baseball's MVPs aren't automatically given to the players with the best numbers, but these five honorees warrant some serious head-scratching.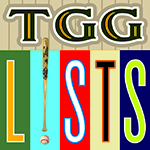 It's well understood that the Most Valuable Player isn't about who has the best stats. In baseball, value transcends the hard numbers; it's about a player's relative value to his team, his clubhouse leadership and his performance in the clutch, among other intangibles. Still, the MVP vote usually does come down to the guy with the sexiest statistics.
Which makes the following list of MVP winners all the more puzzling. Some of these recipients didn't just lack the best numbers; in some cases, they were nowhere close. What were the voters thinking, you ask? Here's our five picks, with our best shots at explaining what the justifications were to bestow these players with baseball's most prestigious individual honor.

Yogi Berra, 1955
The loveable New York Yankee catcher had already won two MVPs coming into the 1955 season, so when he hit a pedestrian .272 with solid but not overwhelming power (27 home runs and 108 runs batted in), many figured a third award wasn't headed his way. Better odds were surely placed on Yankee teammate Mickey Mantle (.306, 37, 99), who had far more alluring numbers, and 20-year-old Al Kaline—whose breakout campaign in Detroit included 27 homers, 102 RBIs and a .340 average that made him the youngest batting champion in major league history. But when the votes were tallied, there was Berra on top again, completing the hat trick with his third MVP in just five years.
It was a close shave for Berra, who collected 218 voting points—just 17 over Kaline and 18 over Cleveland's Al Smith; only seven of the 24 voters gave him a first-place slot. Two factors worked in Berra's favor: One, he was a member of a pennant winner, and two, he played ruggedly everyday at the relatively demanding position of catcher, which MVP voters gave extra consideration to. To wit: That same season, Brooklyn catcher Roy Campanella was being given his third National League MVP in five years.

Joe Gordon, 1942
Popularity had much to do with the fifth-year Yankee securing the MVP; the bottom line certainly didn't seem to. Gordon led the American League in only three categories: Strikeouts, grounding into double plays and errors at second base. Beyond the whiffs and the muffs, he did own solid overall numbers at the plate—a .322 average, 18 home runs, 103 RBIs—but it could have been argued that teammates Joe DiMaggio (.305-21-114) and Charlie Keller (.292-26-108) were just as good.
But the guy who really looked robbed on paper was Ted Williams, coming off his spectacular .406 season of 1941 by winning the AL's triple crown with a .356 mark, 36 home runs and 137 RBIs. Williams was a close second to Gordon in the vote, and accrued little support from local sportswriters in Boston who were in the midst of a vitriolic relationship with the outspoken Red Sox superstar. The Beantown writers were in a plucky mood with this vote; they praised Gordon for his steady play and, adding insult to injury, strongly felt that Boston rookie Johnny Pesky (who hit .331 with a pair of homers) merited a higher standing in the vote than Williams, whom they claimed was "derelict in loyalty and effort" and "didn't live up to his possibilities." Geez, boys—the guy can't hit .400 every year.
Nellie Fox, 1959
The Chicago White Sox won the AL flag for the first time in 40 years, so with no individually dominant performances elsewhere, the voters felt obligated to give the MVP to someone on the Sox. Sherm Lollar led the team with 22 homers and 84 RBIs, but a .265 average prompted yawns. Same for the speedy Luis Aparicio, whose .257 figure poorly offset stronger numbers in 98 runs and 56 steals. Early Wynn led the majors with 22 wins, but voters then as now wait for the Cy Young Award to honor the men on the mound. That left the voters with Nellie Fox, the slick-fielding second baseman who led the Sox with a .306 average and captured a Gold Glove at his position. But he lacked punch (two home runs) and, on a team nicknamed the "Go-Go Sox," was slow-slow with five steals in 11 attempts. Maybe Fox was the most valuable on his team, but certainly not in his league—and who likely got robbed? Al Kaline (.327, 27, 94), again.


Dick Groat, 1960
A year after Fox, Groat put up similar popgun numbers for the world champion Pittsburgh Pirates, although his .325 average did lead the NL. Otherwise, he was hardly anything special; he hit two homers, knocked in 50 runs, walked a lightweight 39 times, didn't steal a single base and probably only looked good at shortstop because he played alongside Bill Mazeroski, a defensive wiz at second. The Baseball Writers' Association of America, which casts the MVP votes, weren't splintering away from the other writers; The Sporting News agreed and also gave Groat their nod as NL Player of the Year. Perhaps it was incumbent fatigue; three players with arguably the most impressive numbers on the year—Hank Aaron, Willie Mays and Ernie Banks—had previously won a MVP. 
But here's the bigger question: How did Pirate Roberto Clemente—who finally arrived as a star player in 1960 with a .314 average, 16 homers, 94 RBIs and 19 outfield assists—fail to not only garner more votes than Groat, but two other Pirates (third baseman Don Hoak and pitcher Vern Law) as well?
Marty Marion, 1944
The 26-year-old St. Louis Cardinal defied our assertion that eighth-place hitters don't win MVPs. An outstanding defenseman nicknamed "Mr. Shortstop," Marion had far less to say with his bat on a Cardinal roster that would go on to win the World Series. His six home runs, 63 RBIs and .267 average (all against inferior wartime pitching, no less) respectively placed him seventh, seventh and sixth—not in the league, but just on his own team. Historians often look at Marion's 1944 numbers, his place in the lineup and his MVP and conclude: Huh? So not even teammates Stan Musial (.347 average, 51 doubles, 12 homers, 94 RBIs) and Johnny Hopp (.336-11-72) didn't pack enough punch to impress MVP voters more? 
The vote was, at the time, the closest ever: Marion edged Chicago slugger Bill Nicholson (.287, 33, 122) by a single point. (Ted Williams was jobbed out of another AL MVP three years later by a point to Joe DiMaggio, and Keith Hernandez and Willie Stargell tied in the 1979 vote.) Marion received the edge for his stellar defense, leading all NL shortstops in fielding percentage and enhancing a reputation of the time in which he was declared the greatest defensive shortstop to come along since Honus Wagner. But his year at the plate also proved that even players with common numbers can bring home the most valuable of honors.