Ten Rookie Baseball Players Who Peaked…When They Were Rookies
Promising careers looked to be ahead for these players who surged in their first year in the majors, but they never came close to replicating their freshman experience.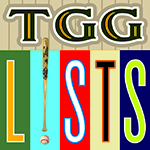 When a major leaguer wins the Rookie of the Year award, it's often thought that the best is still yet to come. That's been proven again and again thanks to past recipients Jackie Robinson, Willie Mays, Frank Robinson, Pete Rose, Tom Seaver, Cal Ripken Jr., Derek Jeter and Albert Pujols. But not all such honorees managed to ride the magic carpet best sailed to Cooperstown; in fact, more than a few quickly faded out and ultimately were never heard from again, until they started appearing on lists like this one, which reveals our choices for the 10 biggest post-Rookie of the Year busts baseball has forgotten.
Bobby Crosby, 2004
The Californian native's first go-around in the majors with Oakland wasn't a spectacular effort—he did smack 22 homers but also hit just .239 with 141 strikeouts—yet the competition for top rookie honors was even weaker; the only other player to receive a first place vote that year was Chicago reliever Shingo Takatsu. (Who, you make ask? Exactly.) Yet once upon a time, Jose Canseco started his career with similar numbers, and the A's were hoping that Crosby would take a similar fast track towards MVP ownership. Maybe had he doped up like Canseco, he would gotten to that promised land. 
A decent sophomore campaign was muted by injuries, the first of several that would beset Crosby for the balance of his career; in the years to follow, he would never recapture the magic of his initial taste of the bigs, constantly mired in the .220s (if not worse) while unable to display his early power stroke. After six years in Oakland, a change of scenery—moving to last-place Pittsburgh—made things only worse; after 61 games of part-time activity with the Pirates, he was sent to Arizona where he was chewed up and spit out quickly, never to play again in the majors. 
Ken Hubbs, 1962
This may be the most controversial insertion on the list, because Hubbs really never got the chance to prove his worth beyond his rookie season. He didn't necessarily have OMG written all over him when he debuted with a .260 average and five homers playing 160 games for the Chicago Cubs in 1962, but it was his defense at second—which included a then-record 78 straight games without committing an error—that got him the National League's rookie award. He regressed in his second season, hitting just .235. 
Then came February 13, 1964. For some reason, Hubbs—a pilot with relatively scant flying experience—thought it was a good idea to take himself and two others up in a Cesena aircraft during a Utah blizzard. It proved tragic; the plane crashed into a lake, killing all on board. Though it might be a stretch to presume superstardom lay ahead for Hubbs had he not died, the loss of his rock-like presence in the middle infield is often bemoaned by long-time Cubs fans who believed he could have lifted the team in the standings—and, in particular, might have given Chicago that extra push to overcome the rampaging New York Mets and win the 1969 NL pennant.
Jerome Walton, 1989
After Hubbs, the speedy Walton was the next Cub to win top rookie honors—and along with Dwight Smith (who finished second in the vote) put a dynamic spark into the 1989 team that won the NL East, hitting .293, stealing 24 bases and setting a franchise record by hitting safely in 30 straight games. That's as good as it got for the Georgia native; he batted .263 in 1990, only .219 in a part-time role in 1991, then got off to a horrid .127 start through the first two-plus months of 1992 when he finally gave into tense back pain that would end his tenure at Wrigley Field. 
Over the next six years, Walton would bounce though five organizations, splitting his time between the parent club and the minors; a renaissance seemed to be in the cards when he hit .290 with eight homers over 162 at-bats playing part-time for the NL Central-winning Cincinnati Reds in 1995, but he failed to build upon that and found himself largely riding the bench once more until he was forced to retire from the game in 1998.
Bob Hamelin, 1994
A year after George Brett retired, the Kansas City Royals thought they had the next big thing in tow when big Bob Hamelin stepped to the plate and walloped 24 homers with 65 RBIs and a .282 average in a strike-shortened rookie campaign; had the work stoppage not intervened, his homer total might have reached 35. It all came crashing down the next year; he hit just .168 in 72 games (with just seven homers) and was demoted to the minors. By 1996, he couldn't even get a baseball card right; his Pinnacle card from that year shows him staring soullessly past the camera while holding a card with his name just under his chin, all in what appears to be an errant outtake that somehow made it to the printer. 
Hamelin muscled up something of a second wind in 1997 when he belted 18 homers in 110 games with a decent .270 mark for the Detroit Tigers, but he found himself a year later in Milwaukee, again unable to sustain the momentum. He had to settle for the minors once more in 1998 and, while hitting a paltry .221 midway through, asked the manager to be removed from a game. He never played again.
Joe Black, 1952
The Brooklyn Dodgers had cornered the early market on black ballplayers with the arrival of Jackie Robinson, Roy Campanella and Don Newcombe—and they thought they had another Hall of Fame-caliber African-American in the fold after the superlative 1952 debut of the aptly named Joe Black, who led the team in both wins and saves (15 each) with a 2.15 ERA as a full-time reliever; converted to a starter for that year's World Series against the New York Yankees, he threw two complete games in three appearances and produced a fine 2.56 ERA. Black's fastball was instantly hailed as one of the game's liveliest, and the sky seemed to be the limit for the 28-year old. 
The following spring, the Dodgers tried to expand his pitching arsenal beyond the bread-and-butter fastball, with disastrous results. Black's ERA jumped to 5.33—and a year later found himself playing the bulk of the season in the minors after five miserable outings in Brooklyn. Cincinnati gave Black a try from 1955-56 and he managed to stick and settle down, but his ordinary results (4.34 ERA) showed no sign of a return to rookie greatness. After a brief stint with the Washington Senators in 1957, he ran out of gas and retired.

Chris Coghlan, 2009
The Florida native won the top rookie award on the strength of a terrific second half in which he led the majors in hitting (.372) and hits (113) for the Marlins; After an atrocious start to his sophomore season, the team hoped for a similar burst of belated energy—and he was doing just that, hitting .320 after May. But after the Marlins won a late July game in walk-off fashion, an over-exuberant Coghlan tried to surprise teammate Wes Helms—who delivered the winning hit—with a shaving cream pie. He ended up wrecking his knee—and perhaps his career—with it. 
Multiple operations followed over the next few years, and Coghlan bottomed out with a lousy 2012 campaign in which he hit just .140 in 39 games before playing out the balance of the season in Triple-A. The only active player on this list, Coghlan is still slipping gears trying to escape common player status and retain his rookie glory; he'll have to do it with the Chicago White Sox after the Marlins gave up on him following the 2013 season.
Harry Byrd, 1952
The right-hander copped top rookie honors by pitching his way to a 15-15 record and 3.31 ERA for the Philadelphia A's in what would be their last winning season (79-75) before embarking on an American League-record 15 straight losing campaigns. Byrd would be no stranger to the newfound losing bug when he led the league the next year with 20 losses and a wretched 5.51 ERA; afterward he found himself lost in some massive trades—first, an 11-man deal between the A's and the Yankees and, a year later, as part of a record-setting 17-player trade between the Yankees and Baltimore Orioles. 
From there, Byrd was a journeyman pitcher, but the journey was short; he saw his last major league action in 1957. Like his career before him, Byrd's post-career fame started big and shrank; after having a highway named after him in his hometown of Darlington, South Carolina, part of the road would later be renamed after another ex-ballplayer, pitcher Bobo Newsom.
Pat Listach, 1992
The speedy Louisianan lucked into his impressive rookie experience when incumbent Milwaukee shortstop Bill Spiers got hurt in spring training; he made the most of his opportunity, hitting .290 with 54 steals while becoming the epitome of an aggressive baserunning philosophy that resulted in a major league team-high 256 swipes and a 92-70 record that would be the Brewers' last above the .500 mark until 2007. 
Listach's legs made him a star, but such status would be short-lived when, the following year, when one of those legs got banged up; more injuries would follow in the same region, depriving him of the one asset that made him tick: Speed. It didn't stop him from trying to steal bases and, all things considered, he was fairly successful when he tried. The new problem became just getting to base, as his average struggled to stick above .200. His lack of power only made matters worse, with slugging percentages constantly lower than his on-base marks. The Brewers gave up on him after 1996; he failed to impress the Houston Astros in what would become a one-and-done experience in 1997, and he was through as a player after hitting .219 in 1998 for Triple-A clubs split between two organizations (Cleveland and Philadelphia). 
Listach would turn to coaching, managing the Cubs' Triple-A team to modest success in the mid-2000s before becoming taking on assistant duties for a number of major league teams.

Mark Fidrych, 1976
The most storied and (in a baseball sense) tragic of one-year wonders on this list, Fidrych became a national sensation in Detroit with his long, curly blonde locks and fascination for talking to the ball, sometimes with great emotion, on the mound. There was a quirky innocence about him that attracted fans both young and old, hardcore and casual. 
The theatrics alone would have been enough to generate sizeable P.R. for the Tigers, but Fidrych backed it up with terrific numbers; added to the rotation in mid-May, he started 29 games and finished 24 of them—with five outings of 10 or more innings pitched—and finished with a 19-9 record and a 2.34 ERA good enough to be the AL's best. Fidrychmania hit full stride by July as fans began flooding ballparks every time he took the mound. 
A knee injury delayed the start to Fidrych's 1977 campaign, but he looked no less brilliant once he returned in late May—going the distance in seven of his first eight games with a 6-2 record and 1.83 ERA. Then his arm died; he struggled in his next three starts and never pitched again that year. His 1978 campaign was an even shorter microcosm of his 1977 experience with two solid complete game wins followed by a shortened outing that suggested all was not well. Brief and painful attempts followed over the next two years, but all Fidrych could muster was a 2-6 record in 13 starts with a 6.86 ERA. 
After 1980, Fidrych found himself discarded to the minors, where he toiled unsuccessfully for three years before giving up. It was only then that he finally saw Dr. James Andrews, who detected a torn rotator cuff and successfully repaired it. But Fidrych never pitched again; he retired to his farm in Massachusetts, where he lived until an untimely, accidental death in 2009 at the age of 54.
Joe Charboneau, 1980
Both the Cleveland Indians and the city they played in had hit rock bottom by 1980, with the Tribe buried in their losing ways in a decayed town beset by crime, depression and rivers catching fire. Then along came Joe Charboneau. The 23-year-old rookie fell into the starting lineup when veteran slugger Andre Thornton suffered a season-ending injury before Opening Day; he homered in his first game and never looked back, launching 23 bombs—including one of the longest ever hit at old Yankee Stadium—and added 87 RBIs with a sharp .289 average. 
Although Charboneau wouldn't capture the nation's imagination like Fidrych, he was instantly idolized in Cleveland, which needed a feel-good story the way a newborn needed milk. Like Fidrych, Charboneau seemed to come well equipped with eccentricity; stories spread of him opening beer bottles with his eyelids and drinking through his nose. (Charboneau later scoffed at such tales as pure exaggerations.) A band penned the local hit song Go Super Joe, and it seemed that for once Cleveland had finally found itself a baseball star. 
The frenzy lasted all of one season. Charboneau hurt his back the following spring and he played hurt all year long—that is, when he got the chance, as his numbers shrank to a miserable .210 average with just four homers in 48 games. He underwent back surgery following the season, but it didn't help; he spent the majority of the 1982 season in the minors before going under the knife again. Despite that, Charboneau would never see the majors again; he toiled for two more years in organized minor league ball, making his last bit of news in 1984 by playing a teammate of Roy Hobbs (Robert Redford) in The Natural and, while playing Triple-A for Buffalo, responding to booing fans by flipping them off. 
From there, Charboneau aimed for a comeback anyplace he could—independent leagues, semipro outfits, even Europe. Super Joe never found his star back, and he finally gave up on his quest in 2000, 20 years after a memorable flash-in-the-pan experience.