Ten People Who Should Not be in Baseball's Hall of Fame
Not everyone who's in baseball's Hall of Fame deserves to be there. Here's the 10 most egregious examples.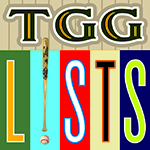 One of the more discussed and argued topics in the game of baseball is who should be in the Hall of Fame—and who shouldn't. Everyone has their own opinion, their own idea of a threshold to determine who belongs. The truth is, nobody's wrong and everyone's right. 
Our particular threshold is high. Cooperstown, in our minds, is a place for the immortals, the greats, not the very goods. And that's the problem we have with the Hall of Fame. There are too many "very good" players enshrined. Reggie Jackson said it best not so long ago when he believed that there should be a Hall of Fame for the real Hall of Famers. 
So what follows is a list of the players who we never would have considered for the Hall—had we'd been given a vote—but there they are anyway. It's important to note a few things: One, this isn't a criticism of these guys—they were all terrific ballplayers—but the system that let them in. Two, we are not holier than thou, and neither is anyone else—so this is not to say we're right and you're wrong. It's just opinion. See if you agree.
Jim Bunning
We're still perplexed by the fascination people have for a pitcher who only once won 20 games and finished with a 54% rate of winning. (For goodness' sake, Bunning even edged out Pete Alexander, who three times won 30 for the Phillies, on the list of nominees for the team's Fantastic Four in 2015.) Yes, Bunning will always have that perfect game from 1964 and he consistently produced one solid ERA after another, but there's a reason his name isn't front and center in the minds of fans and historians conjuring up the great pitchers of the 1960s—you know, the ones that do belong in Cooperstown.
Bert Blyleven
A similar case to Bunning, Blyleven gathered up a lot of wins, a lot of losses and a whole lot of innings over 22 seasons. But what did he really do? He never won a Cy Young Award, never once led the league in wins, or ERA, and only once led in strikeouts (that came in 1985 when, somehow, nobody else punched out more than Blyleven's 206). Finally, he only got named to two All-Star teams. Now think about that; an all-time "great" appearing just twice out of 22 seasons in the Midsummer Classic? Yes, Blyleven has two rings to vouch for, but people don't recall the 1979 Pittsburgh Pirates and 1987 Minnesota Twins winning it all because of him. He was an ace to be sure, but his enshrinement in Cooperstown is an achievement in quantity, not quality.
Bruce Sutter
Okay, so Sutter led his league in saves five times. We get that. But so did Dan Quisenberry, who was every bit as good, if not better, in his equally short heyday. So how is it that Sutter got a pass to Cooperstown while Quiz fetched only 3.8% of the vote in his one and only year of eligibility? This is not a plea to right the wrong and put Quisenberry in; the truth is, neither belong. Sutter had a nice run, but more recent closers like Mariano Rivera and Trevor Hoffman had far longer runs and were consistently A-list through it all. They're the ones who deserve the plaque.
Tony Lazzeri
Location, location, location. It never hurts to play the bulk of your career for a big-market, championship-caliber team as Lazzeri did for 12 years with the hallowed New York Yankees. Lazzeri did put up strong numbers during his time—hitting .293 while knocking in 100 runs seven times—but his glory by association, playing alongside the likes of Babe Ruth, Lou Gehrig and Joe DiMaggio, got him in the Hall whereas he might have gone anonymous toiling for a second division team, kind of like Bob Johnson for the A's. In a career that slightly overlapped Lazzeri's, Johnson knocked in more runs, hit for a higher average and belted at least 20 homers nine times (Lazzeri's career high was 18). But Johnson played during losing times in Philadelphia and, sure enough, he was virtually forgotten by Hall of Fame voters.
Rube Marquard
The southpaw pitcher came to New York shouldering the weight of major promise and expectations when the Giants signed him for a then-record $11,000. And he fulfilled those expectations—for about three years. Outside of that and a brief renaissance with Brooklyn in the late 1910s, Marquard had an average career at best, one that was tripped up after struggling to overcome a 21-inning effort midway in 1914 (the same game that also temporarily derailed the career of the Pirates' Babe Adams). If Marquard had maintained his early, brief greatness, he would be more deserving of the Hall. Instead, he was a below-.500 pitcher (119-131) after 1913.

Joe Gordon
Another very good—but not great—player who was able to sing "Thank God I was a New York Yankee" all the way to Cooperstown. Granted, Gordon missed two years to military service (1944-45) but even without the interruption, he still ends up with something around 1,800 career hits and over 300 home runs—again, very nice numbers, but also the kind that will produce yawns from the plaques of more deserving Hall entrants.
Rick Ferrell
It's quite possible that Hall-of-Fame voters gave their nod to the catcher of 18 seasons for his durability and ability to maintain his sanity toward the end of his career when he had to catch a Washington Senators rotation that included as many as four knuckleball pitchers. It's acknowledged that catchers have a special place in the hearts of Hall electors, yet it's surprising that so many of them felt the love for this guy. And how can you belong when even your brother (Wes Ferrell), a pitcher no less, hits more major league homers than you? (Wes also won 20 games six times, so maybe he's the one that belongs in Cooperstown…but then his career ERA was 4.04, so maybe he doesn't.)
Bill Mazeroski
Terrific fielder. Okay hitter. One historic moment with the bat. And it's because of that latter achievement that "Maz" is in Cooperstown. The sure-handed second baseman won eight Gold Gloves but will always be known for one thing and one thing only: Hitting the World Series-winning home run for the Pirates against the almighty Yankees in 1960. Mazeroski otherwise lacked the sparkle on offense, hitting .260 with 138 home runs over 17 seasons. He's remembered and beloved, but he shouldn't be enshrined; it's because of his inclusion in 2001 that the Hall decided to rethink the Veterans Committee voting process and made it tougher for anyone to get in.

Bobby Wallace
The Pittsburgh native seemed to play forever at shortstop—it actually was more like 25 years, only 15 of which were full-time—but we scratch our heads as to what convinced voters to include him in Cooperstown. Even the writers of a very good coffee table book from the TGG library on Hall-of-Fame players, whose job was to glorify the accomplishments of each of the enshrined, waxed puzzlement over how Wallace made the cut. For the record, he hit .268 with very little power (even for the Deadball Era), but never mind all of that—Wallace' claim to the Hall supposedly comes via his glovework, but even there we don't see dominance in the numbers. Like beauty, stats are only skin-deep, so maybe there's something underneath that clicked with voters. Somebody please tell us—and a whole lot of other people—what we're missing.
Frankie Frisch's Friends
Freddie Lindstrom. Chick Hafey. Jesse Haines. George Kelly. Travis Jackson. Dave Bancroft. What do these six guys have in common? For one, they were very good players—but not great. More importantly, they were teammates at some point in their careers with Frankie Frisch, himself a more deserving Hall of Famer who, in 1967, took over the chairmanship of the Veterans Committee. Over the next six years, he engaged in Cooperstown cronyism at its most naked by making sure his old pals got to share the Hall with him. And so we now have plaques for these six guys, five of them hitters who averaged close to or over .300 in their careers—and while that sounds impressive, remember that they all played in the 1920s and 1930s when hitting .300 wasn't all that difficult. And as for Jesse Haines, the one pitcher in the group? A 210-158 record is nice, but it's hardly divine. With friends like Frankie, who needs lobbyists?