The 10 Unlikeliest No-Hitters in Baseball History
These pitchers had short and unsuccessful careers in the majors, but they achieved something that even some Hall of Famers could not: A no-hitter.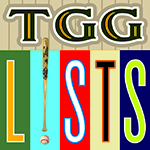 Common players sometimes experience uncommon moments. While many of them predictably did nothing remarkable during their major league journeys, a select few can proudly boast of a singular, memorable achievement. For the 10 pitchers on this list, that achievement was a no-hitter that came completely out of nowhere, within the narrow career timeframes they earned at the big league level. 
Some of these no-hit pitchers lasted in the majors long enough to enjoy a cup of coffee; others stayed around longer but impressed few, except for that one sparkling day that in which they stood out in baseball history. Here's their stories.
Bumpus Jones, October 15, 1892
Jones' performance denotes an asterisk of sorts because baseball in 1892 was a much different game than today—or even a year later in 1893, when rulesmakers created the modern pitching mound and moved it back to the current 60'6" away from home plate, some five feet behind than where Jones stood when he became the first and, still, only player to throw a no-hitter in his first major league appearance. 
Said to be of mixed-race heritage (his father was black, something the game's unwritten but racist guidelines of the time apparently failed to uncover), Jones was bouncing from one unstable minor league to another when he and his team lucked into an opportunity to play the Cincinnati Reds in an exhibition; he was the only pitcher that seemed to know how to do the job, and it impressed the Reds enough that they signed him to pitch the final game of the regular season, three days later. 
Jones did not disappoint. Against the Pittsburgh Pirates, he was shaky to start—through the first three innings he walked four batters, the last of which scored on his own throwing error—but settled in and was easily supported by his teammates in a 7-1 no-hit debut. 
The extended distance between home and mound the next year had a profound—and negative—effect on Jones. He never acclimated himself to the new setup, and in seven games split between the Reds and the New York Giants won just one game, lost four and posted a horrendous 10.19 earned run average. He was let go, never to return to the majors; he pitched into the 1900s as a minor leaguer with a knack for the eccentric that entertained the fans but not the scouts checking on his progress—or lack thereof.
Charlie Robertson, April 30, 1922
Between 1908 and 1956—a span of nearly half a century—only one perfect game was thrown in the majors. Walter Johnson? No. Carl Hubbell. Nuh-uh. Bob Feller? Sorry, ol' Feller. 
It was thrown, instead, by a man who pitched eight major league seasons, all of them with losing records. At 26 years of age, Charlie Robertson took the mound in Detroit for the visiting Chicago White Sox—a team still reeling from the aftereffects of the Black Sox Scandal—and, in only his fourth-ever start in the majors, proceeded to retire all 27 Tigers he faced. And these were no ordinary Tigers; the lineup on the day included future Hall of Famers Ty Cobb and Harry Heilmann, not to mention Bobby Veach—one of the best players not in Cooperstown. 
The Tigers thought Robertson's perfecto was too good to be true. Throughout the game, they complained that the Texas native was using illegal substances, two years after the spitball's banishment. The umpires obliged by physically checking Robertson out, but found nothing. The constant, futile bickering all but turned off the Detroit crowd of 25,000, which gradually gave Robertson more and more support until they carried him triumphantly off the field following the 2-0 Chicago victory. 
Robertson never came anywhere close to perfection again. The next time he faced the Tigers, in July, they hammered him for seven runs in 3.2 innings. Nearly a decade later, he would be done in the majors, owner of a 49-80 record, 4.44 career ERA and one of the most unlikely perfectos ever thrown.
Jose Jimenez, June 25, 1999
Anyone who grew up on TV in the 1960s must have done a double take when, in 1999, they heard that an obscure pitcher named Jose Jimenez threw a no-hitter for the St. Louis Cardinals. That's because the only Jose Jimenez they ever knew was the fictional (and ethnically offensive) character portrayed by comedian Bill Dana, who always began his skits as a dim-witted Latino saying, "My name…Jose Jimenez." After Dana's non-fictional namesake threw the no-no, numerous sports anchors giving the breaking news all seemed to say the same thing: "Tonight, Jose Jimenez—yes, that's his name…" 
Officially a rookie in 1999—he had gone 3-0 as a September call-up the year before—Jimenez was barely hanging on for major league life when he arrived in Phoenix to take on the second-year Diamondbacks with a 3-7 record and a 6.69 ERA that was dreadful even by steroid era standards. But he found himself locked in on the night and in the midst of a terrific pitching duel…with no less than Randy Johnson, in the first of his four straight Cy Young seasons. Jimenez walked two and hit a batter through the first eight innings, but the Cardinals hadn't scored off Johnson—until two outs in the ninth, when outfielder Thomas Howard hit a broken bat single that brought home Darren Skagg with what would be the game's lone run. Jimenez retired the final three batters in the bottom of the ninth to finish the no-hitter. 
Startlingly, just 10 days later, Jimenez faced off again against Johnson and the Diamondbacks, this time in St. Louis—and dominated in another 1-0 classic, this time taking a no-no into the fifth before settling for a two-hit shutout. 
Jimenez lost his last six decisions of 1999 and was dealt to Colorado, where the Rockies converted him into a closer with mild success, saving 102 games over the next four years. After a disastrous 2004 season with Cleveland (1-7, 8.42 ERA), he was let go and never again appeared in the majors. One comeback attempt ended in shame when, in 2007, he tested positive for a "banned substance" during the Pan-American Games.
Bo Belinsky, May 5, 1962
Like many baseball players, the New York-born southpaw constantly had women on his mind. But he had three things going for him when he arrived in the majors in 1962: He was good looking; he was playing for the Los Angeles Angels, right down the street from Hollywood; and in his fourth start, he threw a no-hitter—attracting even more attention from the girls. 
Belinsky had won his first three big league starts when he took the mound at Dodger Stadium—the Angels' temporary home prior to Anaheim Stadium's opening—and faced off against the Baltimore Orioles before a Saturday night crowd of 15,886. He was a tad wild; he walked four and hit two others, but he managed to keep the Orioles hitless. When Belinsky got Dave Nicholson to pop up to end the game, he was mobbed by teammates—yet even in that special moment, Belinsky apparently had only women on his mind, as he was said to point toward the stands and shout, "Hey, look at the blonde with the big t*ts!" 
No-hit fame, on top of a 6-1 start, all but gave Belinsky carte blanche with the starlets. He dated Ann-Margret, Connie Stevens, Tina ("Ginger") Louise and Mamie Van Doren—with whom he had a seven-month engagement. But the nightlife apparently blinded Belinsky's focus on baseball; he finished his rookie year winning only four of his last 14 decisions, then collapsed to 2-9 with a 5.76 ERA the following season. Angels manager Bill Rigney desperately tried to get rid of him and his wicked influence on teammates (especially ace pitcher Dean Chance), and he finally got his wish—sending Belinsky to Philadelphia after the pitcher slugged a Los Angeles Times reporter. 
Belinsky struggled through four more major league campaigns before his career ended in 1970, having posted a 28-51 record with a 4.10 ERA highly subpar for the times. In the ultimate of ironies, he settled in Vegas and found not more sin but Jesus Christ, becoming a born-again Christian in his later years.
Phil Humber, April 21, 2012
Needless to say, the pitchers on this list can relate to one another. But Phil Humber can especially relate to Charlie Robertson (no. 9 above) in more ways than one. Like Robertson 90 years earlier, Humber was a young White Sox right-hander who was slowly evolving on the precipice of potential stardom. Like Robertson, he threw a perfect game in the second start of his season. And like Robertson, Humber's career would go decidedly downhill in the months and years to follow. 
On a cool, sunny spring day in Seattle, the 29-year-old Humber started strong and stayed strong, but in the ninth he nearly lost his perfective focus. He missed the strike zone on the first three pitches to Mariners leadoff batter Michael Saunders, then rebounded to strike him out. After John Jaso flied into the second out, Brendan Ryan next drew the count full and started after a pitch low and away—ball four—except he swung more than halfway into it, being called out. Almost, anyway. The ball got past catcher A.J. Pierzynski, whose throw to first lacked further suspense as Ryan was more interested in finding out from the umpire whether the pitch was a strike or not. 
Humber's performance of a lifetime came on 96 pitches and nine strikeouts; among those congratulating him after the game was President and White Sox fan Barack Obama, who phoned in from the White House.  
Humber's fall from brief grace was immediate. He gave up nine runs in his next start, the most by a pitcher after throwing a perfecto. Two starts after that, he gave up eight more in just two-plus innings of work. More losses and much more runs followed, and he was soon demoted, first to the White Sox bullpen and then, after the season, to the unemployment line. The Houston Astros gave him a chance for redemption in 2013, and in return Humber gave them a 0-8 start and 9.59 ERA before being sent down to Triple-A. Declining his 2014 option, the Astros paid Humber $500,000 to go away. Humber never re-emerged in the majors, spending the 2014 season holed up at the A's Triple-A affiliate in Sacramento, where he reflected to a local reporter about his yo-yo career to date: "You have good days and bad days."

Ed Head, April 23, 1946
The Louisiana native had a petite but halfway decent career in the majors, compiling a 27-23 record—but most of those wins came during World War II, when he faced inferior competition filling in for military service-bound regulars. And that's what made his no-hitter in 1946—when war was behind and everyone was back—all the more unlikely. 
That Head even made it to the majors was something of an accomplishment; he grew up a left-hander, but after nearly losing his arm in a bus accident as a teenager was forced into throwing right-handed if he wanted to remain serious about making the grade. He debuted in 1940 but got in most of his action between 1942-44 before serving the Army through the end of the war. 
In his first appearance of 1946 before 27,000 at Brooklyn's Ebbets Field, Head took the mound for the Dodgers already walking on air; his wife had just given birth to their second son just the day before. Against the Boston Braves, the good vibes continued; he was dominant throughout, sweating out a few strong belts off the bats that his fielders managed to catch up to. Four Braves did reach base—three by walk, one on an error—but the hits weren't coming. And by day's end, they still hadn't. 
Roughly a month later, Head suffered an arm injury that lingered, essentially, through the end of his career. He was done with the Dodgers after 1946, and couldn't find his groove back in the minors a year later. He turned to managing for the next nine years, piloting minor league teams before leaving the game for good.
George "Iron" Davis, September 9, 1914
For Boston's famed "Miracle" Braves of 1914, winning became utterly contagious after the team shook off a typically poor start and went on an atypical summer tear that led to an improbable world title. Among those infected was Davis, a lightweight but very strong athlete—hence the nickname "Iron"—who never saw baseball as a passion. 
Not to be confused with Hall of Famer George Davis from the 19th Century, this Davis made his major league debut with the 1912 New York Highlanders (a year before they became the Yankees) and struggled to a 1-4 record and 6.50 ERA; he showed little signs of progress a year later after being demoted to the minors. Wildness was part of the problem, but so was Davis' blasé approach toward baseball as he seemed more focused on earning a law degree at Harvard. 
Nevertheless, the Braves gave Davis a shot and brought him up halfway into the 1914 season, making his first appearance on July 1 against the Philadelphia Phillies; he went the distance but was grilled for seven runs on 10 hits in a 7-2 loss. It all seemed status quo for the Braves, who with the result remained in the NL cellar by 2.5 games. 
Two months and a week later, Davis got a second start, again against the Phillies in the second game of a doubleheader. Things had changed for the Braves—winners of an amazing 43 of 60 games since Davis' first start—and it would change for Davis, if only for a day. Before 7,500 at Fenway Park, the 24-year-old righty, recently taught to use the spitball by manager George Stallings, kept the Braves' surging momentum in high gear as he denied a surprised Phillies team all day. His patented wildness became an issue in the fifth when he walked the first three batters, but a pop fly and double play grounder quickly ended the threat. Overall, Davis walked five but gave up no hits—while punching out three of his own to aid the Braves' offense in a 7-0 victory, one of only seven he would register in a short four-year career. 
Davis would not play in the World Series to follow (swept by Boston over the Philadelphia Athletics) and within two years would be done with the game. He got his law degree, served in the Army during World War I (never seeing battle), dabbled in politics and eventually became consumed by astronomy, teaching and writing often on the subject.
Mike Warren, September 29, 1983
When the 22-year-old right-hander threw a no-hitter in the final week of the 1983 season as part of a brief look-see from the Oakland A's, some dared to compare him with Vida Blue, who 13 years earlier had also flung a no-no in his embryonic days. But the comparisons would end right there and then. 
Earlier in the season, Warren had made his big-league debut as a reliever against the Chicago White Sox. It was a disaster. With the bases loaded in the 10th inning, Warren's first pitch was over the plate—by 10 feet. He then surrendered two triples and a home run before taking the loss. 
Three months later, Warren was assigned the task of taking on the very same White Sox. Although Chicago had long since clinched the AL West, they were fighting likely AL East champion Baltimore for home field advantage in the upcoming ALCS. So the lineup Warren faced hardly consisted of bench players and call-ups; it included veterans Carlton Fisk, Harold Baines, Greg Luzinski and young bopper Ron Kittle. Warren himself was feeling pretty good about himself, having won his three previous starts—including a 10-inning effort five days earlier against Toronto. 
The 1983 White Sox would famously nab 99 victories by "winning ugly," but on this night Warren turned them into ugly, hitless blunders. He walked one batter in the third, another in the fifth and then the leadoff batter in the ninth. But Warren never got into serious trouble, ducked a few deep flies that died in the heavy nighttime marine air of the Oakland Coliseum, and made history as the 13th rookie to throw a no-hitter. 
Warren would not retain the groove that led him to coast on that cool September evening before 9,000 fans. He did get off to a fine start in 1984, winning three games in April—but he won nothing more afterward, struggling just to reach the fifth inning before being demoted to the bullpen. It got worse in 1985, appearing in 16 games (starting six) and finishing with a 1-4 record and a horrid 6.61 ERA. Released by Oakland, he latched on with the Royals in 1986 and was looking sharp at the Triple-A level before his arm fell apart, leading to Tommy John surgery. He never recovered from it, finally giving up in 1989 with his comeback bid stalled playing for an independent Class-A team in Reno.

Bud Smith, September 3, 2001
When the Los Angeles-area native threw his no-hitter at age 21, it may have been an out-of-nowhere bit of news for people outside of St. Louis who immediately asked, "Bud who?" But more knowledgeable fans, particularly in St. Louis, envisioned Smith as the real deal. In two-plus years at the minors before being called up to the Cardinals that summer, Smith was 33-17 with a 2.63 ERA and named Baseball America's top minor league pitcher of 2000. 
Two years after Jose Jimenez, another Cardinal, threw his improbable no-no, Smith took center stage to do the same. It was Labor Day in San Diego, and Smith labored—for 134 pitches. In the dugout, pitching coach Dave Duncan grew so concerned at the pitch count that he later admitted that he hoped Smith would give up a hit so he could have a good excuse to remove him. But Smith rambled on and couldn't bear to obey baseball's unwritten rules of being left alone by teammates during a no-no, sidling up to and chatting with Mark McGwire when in the dugout. 
Smith walked four and struck out seven while the St. Louis defense was rarely tested by Padres hitters. The most dramatic moment on the night came in the eighth inning when Tony Gwynn—playing at the tail end of what would be his final season—came up to pinch-hit. Gwynn's pedigree and the 36,000 home fans behind him wasn't too much for Smith to handle, as he induced a routine grounder from the future Hall of Famer and sailed from there to complete a 4-0 no-hit victory. 
The Cardinals gave Smith extra rest after the no-hitter, downtime that unexpectedly grew longer when baseball shut down for a week in the aftermath of the 9-11 terrorist attacks. He pitched well in his next few starts and got credit for a NLDS win against Arizona that October, but visions of greatness abandoned Smith immediately thereafter. His shoulder became problematic the next spring and he got off to an awful start with the Cardinals; he was traded to Philadelphia in the deal that sent Scott Rolen to St. Louis. Smith never pitched for the Phillies; his shoulder woes got worse and his career went into reverse, struggling at even the lower levels of the minors when healthy. 
Smith's baseball journey came to a conclusion after trying to make it with the independent Long Beach Armada in 2007. He would win only seven games in his big league career; some wonder to this day whether the 134 pitches Smith threw over two hours and 47 minutes on his historic night proved to be his undoing.
Bobo Holloman, May 6, 1953
Bobo Holloman had waited seven years to get his first shot at the majors, tirelessly laboring in the Chicago Cubs organization along with a few winter stints in the Caribbean. When he finally got to the St. Louis Browns in 1953, his impatience grew; he endlessly nagged manager Marty Marion for a chance to start and, on a chilly, wet night at Sportsman's Park against the Philadelphia A's, Marion finally gave him the opportunity—if for any other reason, just to get Holloman off his back. 
There wasn't much to suggest that the 30-year-old Holloman deserved the start; he had made four relief appearances on the season to date and was knocked around almost each time. But to Holloman, that didn't count; he was a starter, not a reliever. And he would prove that against the A's—if only for one night. 
A paltry gathering of 2,473, already elated by being given free admission to a future game for showing up in such miserable conditions, soon realized they were witnessing history to boot. Though holding the A's hitless through the first five innings, Holloman was far from perfect. He walked two and allowed another to reach base on his own error; he ducked one bullet when Allie Clark slammed a pitched down the line that missed being a home run by a few feet, and another when Gus Zernial sent a sizzling drive to left that outfielder Jim Dyck made a difficult catch on. Holloman settled down and even contributed on offense—collecting what would be his only two career hits and his only three RBIs—before the suspense returned just in time for the ninth. He walked three batters—including the first two he faced—before hammering down the final nail on a 6-0 no-hit victory when Eddie Robinson flied out in routine fashion. 
Holloman became the first and, still, only modern major league pitcher to throw a no-hitter in his first career start; it was also the first no-no thrown by a Browns pitcher in exactly 36 years, when Bob Groom and Ernie Koob each threw on eon consecutive days. Perhaps expecting a new car or a special day in his honor from Browns owner/master showman Bill Veeck for his accomplishments, Holloman was instead given $100 to buy a suit. These were, after all, the woebegone Browns, not Veeck's title-toting, stadium-filling Indians of five years earlier. 
The no-hitter would be the first of just three career wins for Holloman. He only got past the fifth inning in one of his next five starts and was sent back to the bullpen, managing only a handful of starts after that. His arm sore, his wildness (50 walks in 65 innings) an issue, and his record (3-7, 5.23 ERA) lacking any promise, Holloman was sold to minor-league Toronto at the end of July—never to return to the majors.