"Finley was a real character and a lot of people…didn't care for the man. But, I respected him because he did what he believed in and stood by it while everyone else called him a crazy coot and a bunch of other things I can't repeat."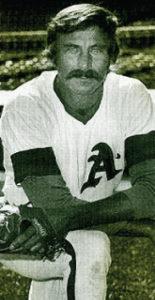 Bob Locker pitched in the majors from 1965-75 for the Chicago White Sox, Seattle Pilots/Milwaukee Brewers, Oakland Athletics and Chicago Cubs. At age 27, Locker made his debut for the White Sox, tossing two innings and giving up three runs. He settled down and made ten appearances that season following that initial appearance and ended his rookie year with a respectable 3.15 ERA. In 1969, Locker was traded to the expansion Seattle Pilots, posting a 2.18 ERA for a team that finished last in the division. In 1970, Locker's contract was purchased by the A's, where he was a key member of the 1972 World Series champs—posting a 6-1 record with a 2.65 ERA setting up for closer Rollie Fingers. Locker appeared in the AL Championship that year, giving up two runs in three innings. On October 21, Locker made his first and only appearance in the World Series, relieving Vida Blue in the sixth game of Game Six. He gave up a single to Tony Perez but got the final out of the inning. A month later, Locker was traded to the Chicago Cubs for outfielder Billy North. Locker concluded his career with the Cubs, sitting out the 1974 season to undergo surgery to remove chips from his pitching elbow. In 1975, Locker made 22 appearances and posted an ERA near 5.00, thereby ending his baseball career. Locker and his wife currently live in Lafayette, California and he spends much of his free time fishing and hunting. He's a graduate of Iowa State University and a member of the school's Hall of Fame.
As told to Ed Attanasio, This Great Game
On the 1969 Seattle Pilots:
"I was traded from the White Sox to the Pilots for Gary Bell in June, 1969. Seattle certainly wasn't the end of my career, but I spent a lot of time in Chicago trying to find my out pitch and I guess they got tired of waiting. The White Sox traded me after a couple of weeks pitching poorly, which turned out to be a mistake, because two-to-three bad weeks isn't an entire career and they should have been more patient with me, in my opinion. I was upset and didn't want to go to Seattle, but they don't give you much of a choice—they trade you and you go.
In Seattle, I found my out pitch, my sinker, and as a result I had a 2.18 ERA and gave up only eight runs in 30 appearances for the Pilots. Seattle lacked one thing: Talent. It was a group containing many different personalities, let's put it that way. Joe Schultz was the manager for the Pilots, and he was not a baseball strategist, but he was a very good manager because he knew his job, which was to get 24 guys on the same page. And with a bunch of players picked up from here and there, we were in third place going into the final one or two months of the season. I think we looked up at one point and said, what are we doing here? So, we didn't play to our capabilities after that.
We had some real offbeat folks up there in Seattle, so I fit right in. Mike Marshall was a genius, especially about pitching, but he was basically a loner. Jim Bouton was scribbling stuff down in this notebook all the time, but I never thought twice about it. (Bouton wrote Ball Four, considered to be the best baseball books ever written.) He caught a lot of heat about it when his book came out and I heard Mickey Mantle never spoke to Bouton again. People felt like Bouton gave away inside secrets, but all he really wrote about was what actually happened. There was a lot of that type of behavior—chasing skirts and drinking to excess, simple roughhousing most of the time—but I stayed clear of all that mischief. I'd rather fish or hunt than sit in a bar or in a nightclub any day."
A Young Manager in his Formative Years:
"Tony LaRussa sat on the bench with the A's in the 1970s when we were playing together in Oakland and he absorbed all the information about the game that he could. The best managers are either catchers or guys who really aren't talented but can figure out how to make the best of their situation, and Tony was one of those guys. He's the best manager in baseball right now, because he's the guy who understands the game well enough off—handling pitchers, utilizing each player's best abilities and manipulating the mental side of the game to his team's advantage."
On Oakland Owner Charlie Finley:
"Finley was a real character and a lot of people, maybe most of them, didn't care for the man. But, I respected him because he did what he believed in and stood by it while everyone else called him a crazy coot and a bunch of other things I can't repeat. Many of his players didn't like Charlie or trusted him, but at least they recognized that he would do whatever he could to put a winning team on the field. Those A's teams in the early '70s are some of the best ever."
On Catfish Hunter:
"An all-around prince—a real classy fellow. Everything you'd want on your team. Great pitcher, fielder, pretty decent hitter for a pitcher; he never said a bad word about anyone; a consummate competitor; the great competitor, and a great fisher and hunter—so he was my favorite guy on that team. When he got sick later in life, it was just terrible."
On Vida Blue's Rookie Season:
"1971 was his phenomenal year and I remember it very vividly. It was probably the most awesome performance by any pitcher I've ever seen. To watch what he was throwing up there was amazing. There are certain secrets to pitching—they're guys who throw to the corners like Catfish did; guys like Drysdale or Ryan who can ride the ball and defy the rules of gravity or throw a curveball that falls off the table. But, Vida's fastball was so unique, with it running in all four different directions. It would go anywhere except right out over the plate. It was a pleasure to watch. Vida attracted huge crowds on the road and there was a buzz throughout the stadium every time he pitched."
On Oakland Manager Dick Williams:
"Dick was the best manager I ever had, but I don't think he liked me. If you asked him, he would say something not too kind about me, I imagine. I was a free spirit, or whatever you'd call it and Dick just didn't dig my vibe. But, I respected him more than any manager I ever saw. He called me an "oddball" and stuff like that. I pitched well for him in 1972 and he wouldn't pitch me in the World Series except on a limited basis, but I can understand that. He had Vida in the pen that Series and he used him in almost every one of those games, and his starters played well, so it just worked out that way—that was fine. It wasn't personal. I was basically a set-up guy for Rollie Fingers, who was a pretty decent closer (laughs). But Williams wasn't enamored with me, I imagine, because they traded me to the Chicago Cubs for Billy North one month later."