"Hank Sauer climbed that ladder and was trying to get in the scoreboard. But, I always barricaded myself up there, so that no one could come up and catch me stealing signs. So, Sauer came up the ladder and tried that door, but he could not get in, so he started yelling. 'I know you're up there Barragan, you SOB!'"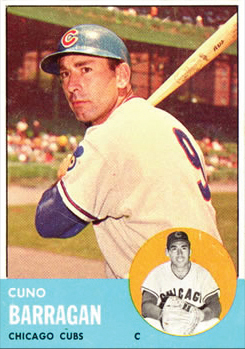 Anthony "Cuno" Barragan was a catcher for the Chicago Cubs from 1961 to 1963. His only Major League career home run came on his very first major league at bat, on September 1, 1961. A crowd of 5,427 witnessed this event, which came early in a 14-inning loss by the Cubs to San Francisco at Wrigley Field on a Friday afternoon. His Hispanic given name and its unique nickname, combined with his cup-of-coffee career, led the authors of The Great American Baseball Card Flipping, Trading and Bubble Gum Book to make the following sarcastic comment next to the illustration of his Topps baseball card: "Who the hell is Cuno Barragan? And why are they saying those terrible things about him?" Barragan was inducted into the Mexican American Baseball Hall of Fame in 1973.

As told to Ed Attanasio, This Great Game
On a Tough Break:
"I played four years in the Pacific Coast League with Portland, Sacramento and Spokane, so I was 29 when I was drafted by the Cubs. I went to their spring training that year and things we're looking up. The Cubs were really excited about me, because I was hitting more than .300 in the PCL and I knew how to handle pitchers and call games. I was having a great spring, until one exhibition game against Cleveland I broke my ankle while sliding into third base. I was devastated, because I had worked so hard to get there and I was so close and now I was out of commission. It really set me back."
On a Great Start:
"I didn't get to join the team until September 1, when they expanded the roster to 45 players. My first at-bat was against the Giants in Wrigley Field and I hit a home run on the first pitch I saw from a guy named Dick LeMay. When I hit it I figured it was a double, but when I slid into second base, the umpire signaled home run. That is the highlight of my major league career, you'd have to say. It puts me in the trivia books with 11 other guys for hitting a home run in their first at bat and then never hitting another one in their career. My main problem as a hitter was that I tried to pull everything. In 1960, I started to hit the other way, which helped my average."
On the Cubs' College of Coaches:
"That Cubs team in '62 was pretty terrible. We were battling the Mets for last place all season long. The Mets ended up with the worst record in the history of baseball, so they beat us to last place. In Chicago that next year, we had 12 managers in rotation. As I look back on it, it sounds like fiction, but it really happened. It's one of the strangest stories you'll ever hear involving baseball. Mr. Wrigley (the owner of the Cubs) started a college of coaches, 12 coaches that would manage teams throughout the Cubs' system, so they could get familiar with the way the franchise played ball. They always had four of them in the dugout at the same time for the Cubs. Mr. Wrigley would designate who his head coach was, but it would change all the time, so there was no stability or continuity. If one coach didn't do well, he'd rotate them throughout the organization and put someone else in there.
It was a terrible situation as a player on that team, because you never knew who was going to be in the lineup when you went to the ballpark. 'Who's managing this month,' we'd ask ourselves, and it almost became comical. There was a lot of backbiting amongst the coaches and it just didn't work. If you ask any former Cubs player who played at that time, you'll hear the same thing—it was crazy and it failed terribly."
On the Cubs' Curse:
"I don't think they're cursed. They just didn't have any pitching the years we had Billy Williams, Ernie Banks and Ron Santo. The pitching staff was pretty weak, except for (Dick) Ellsworth and (Don) Cardwell who pitched well. The young pitchers on that team were Jim Brewer and Dick Drott and they were supposedly the future of the organization, but in 1962 they couldn't throw a strike all season long. They were so wild you couldn't rely on them at all. My approach for kids like this was provide a nice target and build up their confidence if I could. I always called all my own pitches. My attitude was go with the guy's best pitch for as long as you can, you know. At the beginning, I obviously didn't know anything about these big league hitters, but I learned their tendencies pretty quick. They used to ask me where do you pitch Willie Mays or Stan Musial for instance, and I told them high and tight, but I didn't know the answer."
On Playing in Wrigley Field:
"I loved it, because it was all day games. You'd get to the ballpark around nine in the morning and be done and home by five, so it was like having a real job. The crowds were great and they didn't boo anyone but the opposition. I really enjoyed Chicago for a lot of reasons, including the knowledgeable fans and the great city. On the road, my roommate was Ron Santo. He was a wonderful guy to pal around with and a real good person and he should definitely be in the Hall of Fame. (Santo was elected into Cooperstown after this interview.) Had Santo been in the World Series, he would already be there, no doubt about it."
On Stealing Signs:
"When I was injured in 1962, I would sit out in the stands at Wrigley and watch the game. One day, one of the team's coaches came up to me and said, 'follow me.' So, we walked up this ladder outside the stadium and entered the scoreboard, where they had set up a telescope on a tripod with an on/off button next to it, just above my right shoulder. The button was wired to an exit sign that sat out in centerfield. The batters could clearly see the sign and it was red, so you could not miss it. When the light flashed, it meant fastball, so I was stealing the opponents' signs and letting my teammates know when one was coming. And we were pretty successful with it. Some of our veteran players had great days when I could get them the signs. Then one day I came into the dugout and told the guys, hey—no one was hitting today, even though I was getting you the signs. Well, they told me—someone put a paper bag over that sign—we couldn't see it! I found out the manager at St. Louis (Solly Hemus) had figured it out and was covering that sign.
Then when the Giants came to town, Hank Sauer (who had been traded by the Cubs to the Giants several years before and was a Giants coach in 1962) climbed that ladder and was trying to get in the scoreboard. But, I always barricaded myself up there, so that no one could come up and catch me stealing signs. So, Sauer came up the ladder and tried that door, but he could not get in, so he started yelling. 'I know you're up there Barragan, you SOB! I'm gonna come up there and rip you apart!' He was pounding on that door and boy, he was mad. He knew what I was doing, because he had been a Cub and the team had been doing this for years, long before they asked me to do it. This little man really got worked up, but he could not get through that door, so he started yelling and threatening me even more. It was hilarious!"