"One day in 1974 while I was the coach at Michigan State, I read an article in the student paper that said 'Don't Speed on Campus' and there was a photo of an MSU policeman who had just received a new radar gun. That got me thinking—could we use it to check the velocity of the baseball?"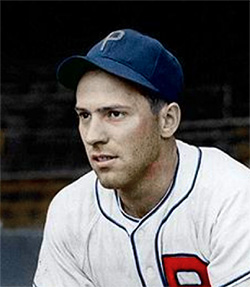 Dan Litwhiler was an outfielder from 1940-51 for the Boston Braves, St. Louis Cardinals, Philadelphia Phillies and Cincinnati Reds. He was a coach, an inventor and the first regular player in the major leagues to have an error-free season, as well as the first player to stitch together the fingers of his glove. After finishing the 1941 season with a .308 batting average, Litwhiler was selected to the All-Star Game in 1942, where he had a hit in his only at-bat. Litwhiler was traded to the Cardinals in 1943 and was a key player for them in the 1944 World Series against the St. Louis Browns. After his playing career, Litwhiler coached at Florida State University from 1955-63, leading the Seminoles to three College World Series appearances. He then coached at Michigan State University from 1964-82, and holds the record for most wins by a coach in the school's history. Among his former players at MSU are Steve Garvey, Kirk Gibson and Rick Miller. During his coaching career, Litwhiler invented a very effective method of drying baseball fields after rain using calcined clay and marketed it as "Diamond Grit". He also developed the Jugs Gun, a radar gun for timing pitches. Litwhiler died on September 23, 2011 in Clearwater, Florida at the age 95.
As told to Ed Attanasio, This Great Game
On Being Traded to the Cardinals:
"In 1943, I was with the Phillies and we were not a great team, to be honest. After that season I went to Bill Cox, the team's owner, and said I wanted $10,000—an increase from $8,000. He didn't want it to be in the contract, but he told me that he would give me the additional $2,000 from his winnings from the track. 'No one knows how much I make on the horses, so I'll pay you that way," he said. Unfortunately, I agreed to that—which was not a good idea, because later I was traded to the Cardinals with Earl Naylor for four players. When I found out, I went up to Cox's office and asked for the $2,000 and he told me, 'Get it from the Cardinals.' When I got to St. Louis, the team's owner Sam Breadon handed me a contract for $8,000. I told him about the other $2,000 and he said it was news to him. 'You'll make much more than that when we win the World Series.' I did not want to seem negative, so I went with it and of course we did get into the Series in 1943 and then won it in 1944."
On Stan Musial:
"I loved the man, because he was a true gentleman in every way. The first time I returned to play in Philly after getting traded to the Cardinals was interesting to say the least. When I got out into the field, I noticed that the wind was blowing in big-time. I told Musial that no one would hit a home run into the left field stands that afternoon, because the wind was just howling in. 'I'll hit one out there," he said, without hesitation. 'If you do it Stan, I will kiss your rear end when you cross home,' I said, because I knew it was impossible. Well, he hit a shot in the sixth inning of that game (we called them "blue darters" back then) and it carried into the lower deck in left field. When he crossed the plate, he smiled and said, 'Do you want to kiss it now, or wait until after the game?'"
On Getting Traded Again:
"Returning from military service on June 1, 1946, I was obviously rusty and the St. Louis Cardinals were loaded in the outfield, with Enos Slaughter, Stan Musial and Terry Moore. At that time, they had a rule that any player returning from the war must be kept by their original team and given a chance to make the team or trade them to another team. When I joined the Cardinals that summer, I lacked the advantage of Spring Training, so they pinch-hit me and I went 0-for-6. So, when they told me that I had been traded to the Boston Braves, I wasn't shocked. They bought me from St. Louis for $40,000 and I reported the following day. It was quite different in Boston and a real hoot in some ways. They had one fan named Lolly Hockins and she carried a megaphone to yell at the players at all of the home games. The team had hired a band called The Troubadours to play during the games and they all dressed up like Pilgrims. Their songs were hilarious, mostly directed at the visiting teams. For example, when a pitcher was sent to the showers, they played the song Somebody Else is Taking My Place and when someone struck out, they played How Dry I Am. For our team, we all had our own theme songs and mine was Danny Boy. The Braves did a lot of things to get fannies in the seats, like adding lights for night games. People loved night baseball, and they'd have to add temporary stands for those games to accommodate the crowds."
On Coaching Kirk Gibson and Steve Garvey at Michigan State:
"When I persuaded Gibson to play baseball (in addition to football), I was very pleased and Kirk got off to a great start during the spring. Then, the season started and he went 0-for-12 during our first three games. He was pressing and he told me he wanted to quit. 'I'm making a fool out of myself in front of my football teammates,' he told me. I looked in the stands and the football players were riding him pretty good. I told him, 'That is going to change son, and one day those guys won't be laughing.' 'I don't know,' Kirk said. 'If this happens in football, I just got out there and hit somebody, but I can't do that here!' The next time I played Gibson, he hit a monster home run and from then on he dominated college baseball.
Garvey was also a two-sport guy and the football coach Duffy Daugherty had no problem if he wanted to play baseball too, so he played for us as a freshman. He was a great hitter—.450 as a freshman and .383 and an All-American as a sophomore. The Dodgers really wanted Steve, so they signed him after that season. He went on to play 19 years in the majors and I believe he will eventually make it into the Hall of Fame."
On Inventing the JUGS Gun:
"One day in 1974 while I was the coach at Michigan State, I read an article in the student paper that said 'Don't Speed on Campus' and there was a photo of an MSU policeman who had just received a new radar gun. That got me thinking—could we use it to check the velocity of the baseball? So I found out that the cops' radar guns were powered by the cigarette lighters in their police cars. So, we got an MSU police car to drive out on the field to time the pitches and the readouts were accurate within one mph each time. Within one week, I had the prototype of the JUGS gun in my hands and today that same prototype is in the Hall of Fame. Today, every single MLB team and most every college team out there uses it. We took it around to have it tested and one day I saw Nolan Ryan hit 100.9 mph on that thing—the fastest I've ever seen on that device."