"(DiMaggio) came up again in the seventh inning, mad as hell…and he hit another rocket down to me, which I knocked down with my body and threw to first, where I beat him by a hair. But, the umpire called him safe."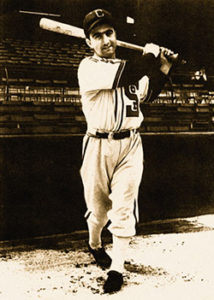 Dario Lodigiani enjoyed a 17-year baseball career from 1935-1954, playing parts of six seasons in the majors and 14 in the minor leagues. Lodigiani played at Lowell High School in San Francisco with his lifelong friend, Joe DiMaggio.
At age 19, Lodigiani began his pro career with the Oakland Oaks of the Pacific Coast League and later joined the Williamsport Grays of the Eastern League. He entered the majors in 1938 with the Philadelphia Athletics, then was demoted to the Toronto Maple Leafs of the international League in 1940. He returned to the majors with the Chicago White Sox in 1941 and 1942 and later served in the military during World War II (1943-45). After his discharge, Lodigiani rejoined the White Sox for one more season in 1946.
In a six-season career, Lodigiani was a .260 hitter with 16 home runs and 156 RBIs in 405 games. Over 14 minor league seasons, Lodigiani hit .301 with 74 homers and 589 RBIs. His best year in the minors took place with the 1937 Oaks, when he hit .327 with 35 doubles, 18 homers and 84 RBIs.
Following his playing career, Lodigiani scouted for the White Sox, discovering or signing players such as Dave Frost, Rusty Kuntz, Jack McDowell, Rich Morales and Ken Williams. He also coached for the Cleveland Indians and Kansas City Athletics, and eventually gained induction into the Pacific Coast League Hall of Fame in 2006.
I interviewed the 91-year old Lodigiani at his home in Napa, California in 2007. He passed away a year later.
As told to Ed Attanasio, This Great Game
On Joe DiMaggio's Competitive Nature:
"We were playing the Yankees when I was with Philadelphia and it was just a normal day, not a big game or anything. And I was playing second base when Joe came sliding in real hard, knocking me ass- over-teacups. Then, he got up, brushed his pants off a couple of times and never said Doo, hello, s–t, or nothing—he just ran off to the dugout. He had a real hard look on his face and was just staring straight ahead. You would never have known that we grew up together by the way he was acting."
On Playing Baseball While in the U.S. Army:
"It was a real piece of cake assignment, because all we did was play ball and drink. They shipped us off to Hawaii and we played games every day. All of the top players were out there playing—DiMaggio, (Red) Ruffing, (Walt) Judnich, (Frank) McCormick, Charlie Silvera, Joe Gordon, Bob Dillinger, the Big Cat Johnny Mize, Pee Wee Reese—he was just a kid then. It was a big party and we had a helluva time, let me tell you."
On Meeting Marilyn Monroe for the First Time:
"We were playing in a golf tournament at the Merced Country Club, and afterwards all of the guys went to a bar in San Francisco. Dominic DiMaggio was partners in this bar. And our buddy Reno Barsocchini was serving drinks—just to help out. 'Hey, Dario!' Barsocchini called out. 'Go down that hall and turn left, the first door you come to. There's a guy down there who wants to see you.' So I walked down there and sitting in a chair was Joe DiMaggio. And sitting on his lap was Marilyn Monroe. I was shocked to see her there, I did not expect it. I said 'Good Night! Oh my God!' Talk about a beautiful girl!"
On Nearly Halting DiMaggio's Hitting Streak in 1941:
"It was when I was with the White Sox several years later and the Yanks came into Comiskey Park. I was playing third base and the first time Joe came up to bat, he hit a shot down to me and I fielded it on one hop and threw him out at first. The next time he came up, the Yankees had a guy on first, and Joe hit another hard shot to me at third and I threw the runner out at second base for the fielder's choice. Then, he came up again in the seventh inning, mad as hell, kicking the dirt around home plate and cussing to himself, and he hit another rocket down to me, which I knocked down with my body and threw to first, where I beat him by a hair. But, the umpire called him safe. They did that a lot with Joe—he was such a huge star that they gave him the benefit of the doubt a lot, kind of like they did with Ted Williams on ball and strikes, you know? Anyway, that kept his hitting streak alive at 25 games, that one call. And, of course he went on to hit in 31 straight more games that season and set the record. Pissed me off like hell!"
On a Fishing Trip with Joe and Marilyn:
"Joe asked me if I wanted to go out fishing with them. It was Joe's boat, The Yankee Clipper—the one they gave him on Joe DiMaggio Day. We motored back and forth in the Bay all morning—nothing was biting—and then Marilyn hooked a big one, a striper, that grabbed her line and took off with it. 'Hold on," I told her. 'When the fish lets up, that's when you reel him in a little, see?' That fish was just eating her up and you could tell she was getting real tired. She could barely hold on to her pole. The fish seemed to be twice as strong as she was. So, I told Joe, 'You better help her, Joe. She's having a hell of a time with that fish." Joe said, 'She hooked it. Let her bring it in.' And boy, was Marilyn struggling. She had that pole jammed up under her arm and she couldn't hold on to it because her hands were so tiny, so she was hugging the pole to her body with her left arm and trying to reel it in with her right hand. She had the pole pushing up against her bosoms real hard. It was pressing against her breasts quite a bit. So, I told Joe, 'You better take that pole. She's going to pop one of those things!' Joe got a kick out of that. We all laughed and laughed. But, damned if Marilyn didn't bring in that fish."