"If you look at my numbers, I always had a decent year. The front office would tell me, 'You did good Dave, but we can't pay you anymore.' I always told them—well I'm pretty sure somebody will and they always did. So, they would trade me."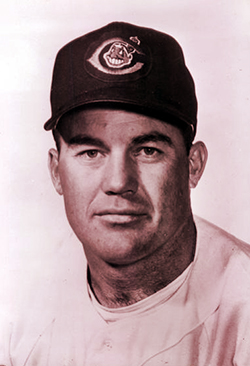 Dave Philley was a switch-hitting outfielder who played for eight different teams in a long 18-year career. A well-travelled and well-regarded clutch hitter, Philley was considered one of the game's premier defensive outfielders before Gold Gloves were awarded, he led American League outfielders in assists three different years (1948, 1950, 1953) and once in outs (1950). Philley is best remembered for his pinch-hitting heroics in the late 1950s. Philley reached the majors in 1941 with the Chicago White Sox, rejoining them in 1946 after spending four years in the military during World War II before moving to the Philadelphia Athletics early in 1951.
After playing for the A's through 1953, Philley next played for the Cleveland Indians in 1954. He was acquired by the Baltimore Orioles during the 1955 season and was named team MVP after hitting a club-high .299 batting. Philley rounded out his long career playing for the Detroit Tigers, Philadelphia Phillies, San Francisco Giants and Boston Red Sox, as well as second stints with the White Sox and Orioles. Playing for the Phillies in 1958, Philley collected 18 pinch-hits, including a streak of eight straight to close the season; he made it nine straight with a pinch-hit double to start 1959, setting a major league record that still stands today. Back at Baltimore in 1961, he collected 24 pinch-hits in 72 at-bats, both of which remain American League records. A 42-year-old Philley was signed off the Baltimore roster by the expansion Houston Colt .45's during the 1961-62 offseason, but a few hours later Houston sent him to the Red Sox—for whom he spent most of the 1962 season on the bench; he retired at the end of the season.
For his career, Philley hit .270 on 1,700 hits with 84 home runs and 729 RBI in 1,904 games. As a pinch-hitter, he batted .299 (93-for-311). Philley holds the record for the most at-bats in an AL regulation-inning doubleheader, with for the White Sox against the St Louis Browns on May 30, 1950. After his playing days, Philley worked as a manager for the Houston minor league system from 1963-1964, and spent 1965 managing the Durham Bulls, where he won a Carolina League division title. He found employment for 1966 in the Red Sox organization, where he managed the Class-A Waterloo Hawks and served as a scout. Until his death in 2012, Philley lived in his native Paris, Texas.
As told to Ed Attanasio, This Great Game
On Being a Great Fielder:
"I knew how to play the outfield. I was known for my fielding. When I first started with the White Sox, I began looking around the league. I wanted to learn everything I could about becoming a top outfielder. He never knew it, but Joe DiMaggio taught me a ton—more than anybody. I discovered that every fly he's going to throw on will hit the second baseman right around the shins, for an easy tag. If he's throwing it to the third baseman, he's gonna hit him on the left shoulder. I led the American League in assists for three years, learning things from Joe. After a while, they find out you can throw and they stop running on ya'! I made some memorable catches. One day, I overran the ball and ended up catching it behind my back, waist high. Another time against Stan Musial, he hit a line drive my way and before I got to it, I slipped. I rolled over and ended up catching that one six inches off the ground. I fell at just the right spot."
On Playing for So Many Teams:
"I know exactly why. If you look at my numbers, I always had a decent year. The front office would tell me, 'You did good Dave, but we can't pay you anymore.' I always told them—well I'm pretty sure somebody will and they always did. So, they would trade me. One year with Philadelphia, I was the 18th best hitter in the American League and they said we know you deserve a raise but we can't afford to give it to you. I told them trade me and they shipped me out to Cleveland. Then off to Baltimore; back to the White Sox and off to Detroit. And then off to the Phillies and I can't even remember about the rest, although I do recall I ended my career with the Red Sox. The best team I played for was the 1954 Indians. They were a great team, but they thought they could just walk out on the field and win it, but you gotta go out that and beat people, that's the way it works. They just didn't feel like they had to give 100%, in my opinion. I think they thought they were good enough. We won 111 games and set a record, so I think some of those guys thought, this is gonna be easy. The problem was the New York Giants didn't feel the same way."
On Willie Mays' Famous Catch in the 1954 World Series:
"We saw him catch that ball and our reaction was, what a showboat! He slowed up just enough so that he could catch it over his shoulder. He could have easily turned around and caught it facing home plate, but he wanted to put on a show and he did it. That was the most ridiculously advertised so-called spectacular catch that ever happened."
On Reading a Pitcher:
"One time I hit a long home run off of Lew Burdette and he asked me how did I do it. I hit him hard every time. I told him I know when you're gonna throw that spitter. I'm waiting for it. That got him so mad. 'How do you know?' He asked me. 'They've been putting cameras on me for years and they can't find it. How can you tell?' 'When you reach down for that rosin bag, you only pick it up with one finger, because the other finger is loaded and wetter than the Mississippi." I told him. 'How did you figure that out? Burdette said. "It's my business to know that kind of stuff," I said. I was always watching the opposing pitchers and studying all their moves all the time. And that's why I was known for being a good pinch hitter and a good clutch hitter. If you do your homework on pitchers, you can get a better idea of what's coming."
On Stealing Signs:
"It was done and I know the Giants did it in the 1954 World Series. In the first game, I noticed a fella out in the outfield stands and he was signaling to the Giant dugout. For a fastball, I guess, he crossed his legs, and then for everything else he didn't cross them. I watched him for a couple of innings and was telling my teammates, but they thought I was crazy. Then, in the bottom of the 10th this pinch hitter, I can't remember his name (editor's note: It was Dusty Rhodes) hit a three-run homer off of a curve ball and I know damn well he knew that was coming. When I played in Chicago, we stole signs and flashed a light to tell our batters what was coming. Some of my teammates loved knowing the pitches ahead of time, but for other guys it screwed them up. If Sherm Lollar knew it was coming, he could bash it."