"I became known as one of the finest fungo hitters in this great game…One day, I hit a fungo out of the Los Angeles Coliseum, and Alston fined me $75…a few weeks later a batboy came up to me with a bag filled with $75 in quarters that were from O'Malley. I was happy to get the money back, but I wasn't happy that it came in quarters."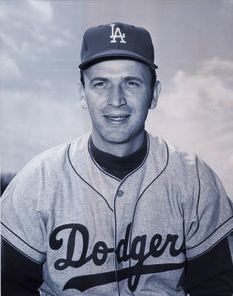 I love interviewing these old former baseball players. I tracked down former pitcher Ed Roebuck in 2018 on the phone, and at first, it didn't look promising.
Getting these guys to talk is sometimes difficult because I usually call them without warning. I used to send letters to these retired players first, but that took too long, and they rarely called me back using this method.
I caught him on the phone one afternoon.
"How long do we have to talk?" Roebuck asked.
Not off to a good start, I thought.
"If you want to stop talking, we stop," I said. "It's all your call, and I appreciate your time."
"You writers can be a little long-winded, that's why I asked. I'll give you 15 minutes and see how it goes. Okay, when do you want to do it?"
"Maybe on Thursday?"
"How about now?" he said. "You know, I'm 86. I'm not going to be around forever," he said. (Sadly, he passed away two months after this interview.)
"So, you might not make it until Thursday, is that what you're saying?" I said.
I figured he would find that at least slightly amusing, but it only irritated him more.
Initially, he was giving me one-word answers, and I thought maybe this gentleman is not a great storyteller. It happens.
But after about 10 minutes, he really got on a roll, and after we were done, I looked at my watch and realized that we talked for almost two hours.
He turned out to be a damn good storyteller, after all. Success!
"If I have any follow-up questions, can I call you back, Mr. Roebuck?"
"Absolutely, but call me Ed, Ed!"
Roebuck pitched for the Brooklyn/Los Angeles Dodgers, Washington Senators, and Philadelphia Phillies and appeared in the World Series with the Dodgers in both 1955 and 1956. His career record was 52-31 with 62 saves. His best year was in 1962 with Los Angeles when he was 10-2 over 64 appearances with nine saves and a 3.09 ERA.
As told to Ed Attanasio, This Great Game
Buzz Deal:
"Buzzie (Bavasi, the Dodgers general manager) called me into his office after spring training to let me know that I made the team and had me sign a contract for the minimum, which was $5,500 back then. We also agreed that if I stuck for a full month I would get a bonus, I think it was around $250. Right before the All-Star break, I talked to Buzzie in order to refresh his memory about the fact that 30 days had passed and my bonus was due. Buzzie then told me that they didn't give bonuses to players anymore because they gave one to Clyde King awhile back, and he didn't win another game during the rest of the season. So in my case, they didn't give me the bonus, and I didn't win a game the rest of the season either. Bavasi would talk out of both sides of his mouth a lot, and I never trusted the man. He would brag about how low the Dodgers' salaries were all the time and used to show players fake contracts to trick them during salary negotiations. He was O'Malley's boy, that is for sure."
On the 1955 World Series:
"I made one appearance in the 1955 World Series, and was thrilled to be involved in the first won by the Brooklyn Dodgers. We hated the Yankees, so beating them was so satisfying, you can't believe it. I faced eight batters in two innings and allowed one single in the sixth game, which the Dodgers lost, 5-1, in Yankee Stadium. That famous catch by Amoros and Podres' pitching set us up to finally beat them. Every once in a while, I look at my World Series ring, and it's great, but I'm afraid to wear it because part of it is crumbling. I got a really nice Red Sox ring in 2004 when I was a scout with them, and it looks like it came from Tiffany's in comparison to this 1955 ring. The Dodger ring is worth more because it's the first and only Brooklyn championship ring. But, I won't ever sell it."
On the 1956 Season:
"I had a solid first half in 1956 and finished with a record of 5-4 and a 3.67 ERA. I started striking out more and more guys than before and really hit my stride. I did not have a very good second half, but I pitched well in the '56 World Series, facing a total of 14 batters in three games and giving up one hit, a monster home run by Mantle. I also struck out Mantle two times, with no walks, but I didn't figure in the decision. My ERA in the World Series was under two (actually, it was 1.42), but they were all in losses. I never got stressed out in the big games for some reason, and I always seemed to find the right pitches at the right time."
On his Best Year:
"Everything fell into place in '62. My numbers were damn good. I pitched in all three playoff games against the Giants and shut them down for the first two. I relieved Johnny Podres in a tight spot in the sixth inning of that crucial third game with the bases loaded and no one out and got out of it when Jose Pagan, the Giants' shortstop hit into a force at home and then Juan Marichal hit into a double play. During the next inning, our best hitter, Tommy Davis, hit a clutch two-run homer, and we went ahead 3-2. Going into the ninth, we had a two-run lead, after Maury Wills created an insurance run by hitting a single and stealing second. Then when he stole third they messed up the throw, and Wills came home for our fourth run. At the time, it seemed like enough, and now we were getting ready for the Yankees. But as Yogi Berra said…it ain't over (until it's over).
So, I went out there for the ninth, and Matty Alou singled. Walter Alston came out to the mound to ask me how we were going to pitch to Harvey Kuenn, an old veteran and a darn good hitter. I told him, 'Kuenn always tries to pull my fastball.' Alston said that Kuenn went the other way a lot, but I insisted that he was probably going to try and pull the ball. We were standing there on the mound staring at each other when Wills said something like 'let's get this guy to hit into a double play.' Just like Maury said, I got Kuenn to hit into an easy grounder to Wills, but they missed (turning the double play) by a hair. I then pitched around McCovey, who walked, and Felipe Alou also walked on a pitch. Mays hit a hard liner to me, and the ball jumped out of my glove, which should have been another double play. They took me out, and Alston brought in Stanley Williams to save the game, but as we know, we lost when Davenport walked with the bases loaded.
The way that season ended affected me more than I realized. I started 1963 with a bunch of bad performances where I got drilled, and after that, I spent a lot of time on the bench. I wasn't getting very much support from Alston or his coaches, and I knew that I was on my way to their permanent doghouse. Alston was like that—if you weren't playing well you were dead to him."
On Being the Fungo King:
"I guess over the years, I became known as one of the finest fungo hitters in this great game. When I was a kid, I enjoyed hitting stones with a stick for hours and hours. Players on other teams often asked me to see if I could hit long fungo balls out of their stadiums. One day, I hit a fungo out of the Los Angeles Coliseum, and Alston fined me $75. Back when they were designing the Astrodome in Houston, they asked Walter O'Malley and some other top baseball front office people about how high their best fungo hitters could hit one? So, one day, while we were eating breakfast at Vero Beach during spring training, O'Malley asked me how high I could hit a fungo? I told him maybe 200 feet, but to be honest I was really guessing. So, I eventually hit a bunch of fungoes for O'Malley, maybe 50 total. When I was done hitting them he asked me, 'How much did Alston fine you for hitting that ball out of the Coliseum?' I said $75, and a few weeks later a batboy came up to me with a bag filled with $75 in quarters that were from O'Malley. I was happy to get the money back, but I wasn't happy that it came in quarters. Later, I got a chance to hit fungoes at the Astrodome, while it was still under construction. There wasn't any roof yet, but I hit a few off of the ceiling girders and their people got a little nervous."