"We were called the Naval Training Station Bluejackets and we had guys like Phil Rizzuto and Dominic DiMaggio on that squad. We beat up on pretty much everybody—man that team was loaded. We were the equivalent of a Triple-A team. Everyone knew that if you didn't do well, you might have to go to sea, and that was a great motivating factor."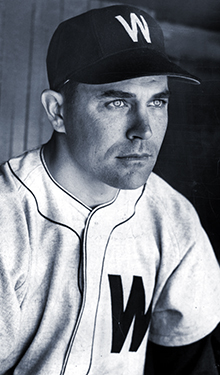 Eddie Robinson was a first baseman, scout, coach and front office executive who, during a 13-year playing career (1942; 1946–57), was on the roster of seven of the eight American League teams then in existence (with the Boston Red Sox as the sole exception). He is the author of an autobiography, published in 2011, titled Lucky Me: My Sixty-five Years in Baseball. He is also the last surviving member of the 1943 "Navy World Series."
The last living person to win the World Series with the Cleveland Indians, Robinson is also the oldest living player to play on a World Series-winning team and the oldest living member of the Baltimore Orioles, Cleveland Indians, Chicago White Sox, Detroit Tigers, New York Yankees, Philadelphia/Kansas City Athletics, and Washington Senators. Following the death of Val Heim on November 21, 2019, Robinson became the oldest living former MLB player.
Robinson had a stellar major league career, making four All-Star teams; his 29 home runs for the 1951 White Sox stood as the team home run record for nearly 20 years. He was the seventh player and first White Sock to hit a ball over the roof at old Comiskey Park; the first six were Hall of Famers Babe Ruth, Lou Gehrig, Jimmy Foxx, Hank Greenberg, Ted Williams and Mickey Mantle. Ted Williams declared that Robinson "was the most underrated and best clutch hitter I ever played against."
As told to Ed Attanasio, This Great Game
On A Hot Start in 1939:
"I was 18 and not hitting that well (.239), but I worked hard on my game and got better fast. I improved my fielding by spending hours catching throws in the dirt, but the White Sox didn't have much confidence in me. After the season was done, our manager (Bill) Morrell told me that I better go back to Paris, Texas (my hometown) and open an ice cream parlor. I didn't like that a bit but I did not let that get me down, and in 1940 in Valdosta I hit .323 and had a great year."
On Being In the Navy:
"I lost three seasons serving in the Navy. I don't think any of us wanted that war to happen, but it did. They had a team here, so we played on the team, and I had a good time doing it. We were called the Naval Training Station Bluejackets and we had guys like Phil Rizzuto and Dominic DiMaggio on that squad. We beat up on pretty much everybody—man that team was loaded. We were the equivalent of a Triple-A team. Everyone knew that if you didn't do well, you might have to go to sea, and that was a great motivating factor. It was a cushy gig, as long as you were winning games. In '43, we played our neighbors, the Naval Air Station Airmen, who had guys like Pee Wee Reese and some other major leaguers. We played against the Airmen in that year's Navy World Series, and I hit a big two-run homer in Game Three before winning the whole thing in seven games. A lot of people lost their best years in the war and that is a shame. But baseball kept me out of action, so I shouldn't really complain."
On His Early Years in the Majors:
"I made the major leagues for good in 1947 by hitting .245 for the Indians until I fouled off an Allie Reynolds pitch and broke my ankle. It knocked me out for six weeks and that was that. The next season, I made the team and was their starting first baseman. I hit a little better that year and wow, that Indians team was so strong. We ended up tied with the Red Sox, but we beat them in a one-game playoff for the American League pennant. Then we took the Boston Braves in the World Series in six games, in which I hit .300."
On Being Traded to D.C.:
"I just could not get along with Lou Boudreau, the Indians manager who didn't like younger players and tended to favor veterans. So, after the 1948 season I was traded over to the Washington Senators with a couple of pitchers Joe Haynes and Eddie Klieman for pitcher Early Wynn and Mickey Vernon. I liked Washington, DC and the team got off to a decent start. The fans were hungry for a winner. I was named the starting first baseman for the American League in the 1949 All-Star Game at Ebbets Field in Brooklyn that year. During my first at-bat, I hit a single off Warren Spahn to knock in Joe DiMaggio, which helped the American League to an 11-7 victory. I hit .294 with 18 home runs and 78 RBIs for a last-place team that won only 50 games."
On Getting Traded Twice:
"Getting traded is never fun. Your life changes instantly. I was trying to negotiate my contract for 1953 and I guess the White Sox didn't want to pay me. Their GM Frank Lane called and told me that I was traded in a five-player deal to the Philadelphia Athletics. I liked the A's and Philly is a great baseball city, although they will boo you at the drop of a dime. After that '53 season, I was traded again in a big multi-player deal, but this time I didn't mind because I was headed to the Yankees."
New York, New York:
"The Yankees already had a very good first baseman with Moose Skowron when I got there, so I didn't play a lot. I did pretty good as a pinch hitter (.306) and we won 103 games, but finished second behind the Indians. I knew I would never be a starter there which was frustrating. The next season (1955) I played part-time as expected, and hit 16 home runs in only 173 at-bats. We got into the World Series in '55 but we got beat by the Brooklyn Dodgers in seven games."
Oh No! Kansas City?
"The Yankees traded me to the Kansas City Athletics in 1956 at the trade deadline in a four-player deal. After that, I jumped from team to team. In 1957, I played for Baltimore, the Indians and the Detroit Tigers. When the Tigers cut me, I decided to retire. During World War II, I got hurt and the surgeons screwed up and did a terrible job on me. As a result, I developed a nerve problem in my leg and I was never the same after that. It made it impossible to play, so I started looking for another career, hopefully within baseball."
On Being in the Front Office:
"I got a job working with my old buddy Paul Richards with the Orioles in 1958. When he got hired in 1961 to be the general manager for the Houston Colt .45s, a new expansion team, he brought me along as his assistant general manager. I became their farm director for five years, and then Charlie Finley hired me in 1966 to become an assistant general manager for the A's under GM Eddie Lopat. After one year there, Paul Richards, who was now the general manager of the Atlanta Braves, brought me to Atlanta as the organization's farm director. Four years later, the Braves made me GM. I'm known for being the guy who traded Hank Aaron to the Brewers. I was also the GM for the Texas Rangers, but it's something I don't like talking about."
On Being a Master Scout:
"After I got out of the front office, I started a one-man scouting combine and worked for the Astros, Twins, Phillies, Giants, Reds, Expos, Red Sox, Mariners, Braves and the Yankees. During that time, I scouted a lot of players who became MLB players and some of them were on championship teams like the 1987 and 1991 Twins and the 1990 Reds."