"You have to be damn good to finish second. Everyone remembers the team that finishes first and wins the championship, but you can't ignore the talent and dedication that also goes into being almost the best. Finishing second does not mean that you failed."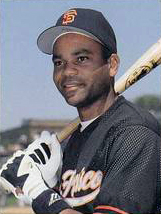 Erik Johnson's major league baseball career wasn't really much to write about. He played in just nine games for the San Francisco Giants from 1993-94 as a second baseman, pinch runner and shortstop. He got four hits in just 18 at bats and scored one run. But Johnson's story is of interest to many people, because he was at fame's doorstep at several points in his baseball career, only to finish runner up. His Little League team lost in the final game of the World Series in Williamsport, Pennsylvania in 1978; His high school team lost in the Central Coast Section (California) Finals in 1982; His USA Team lost in the finals in 1985 and during the two years he played for the Giants, they also finished second in the NL West. Today, Erik Johnson teaches hitting techniques to young ball players in the Bay Area and is a scratch golfer.
As told to Ed Attanasio, This Great Game
On Playing in the Little League World Series:
"We were the San Ramon Valley Little League All-Stars from Danville, California. For 12 of us, it was the time of our lives, winning 16 straight games to get there and then losing to Taiwan in the final game in Williamsport. It was every kid's dream to be on the ABC broadcast to the whole country; that was awesome. It was a crazy scene surrounding that final game, but the huge crowds and all the reporters were actually comforting, like I was destined to be in front of people in that way. It was an all-star team and we only practiced together for two weeks before entering the tournament. Now, the Little League World Series is double elimination, but back then it was lose one and go home. So, to win 16 in a row as we progressed through the divisional games, regional games and West Coast games was pretty amazing. As kids, we were more concerned about things like the pool parties they threw for us after we won each regional. I was the losing pitcher in the final game against the Taiwanese team, because I walked the world that day. I walked 10 guys, but I also threw 144 pitches as a result. Even with all of my walks, we were down only 5-1. But, then I went over my pitch count and we had to bring in another pitcher and he got rocked for six more runs.
After that series, we were local heroes in the Bay Area and that was pretty special. I think my mother was very good at keeping it in perspective during that crazy period. She reminded me that I wasn't all that and I still had chores to do every day, just like other kids."
On his High School Years:
"I went to De La Salle and today the school is known as a football powerhouse, but back then it was considered a baseball school. Our freshman baseball coach was Bob Ladouceur, whose football teams went on to win 151 games in a row. Coach 'Lad' really taught us how to be excellent, basically. He wasn't mad when we lost as long as we gave 100% and that has lasted with me for many years. He taught us that a baseball can take weird hops that you can't control, but if you play the game right, you're going to win the majority of the time. We had a solid team at De La Salle, with great pitching and solid defense. We lost in the CCS Finals my senior year to El Cerritos High School. That team was loaded, with at least 5-6 guys who were pro prospects. We knew almost instantly that we were in trouble against that team and it helped us to realize that we were good, but they were great. That's a tough thing to realize in any sport at any level and we realized it that day for sure."
On Game Changers:
"For me, I was able to enjoy the journey and that's why I don't look back with regret. I saw guys that became better people through baseball, but I also saw the flip side of that. From a very early age, you're told by everyone how great and gifted you are and after a while you believe it. The big question is—how will you respond when you get beat or cost your team a victory? There were a lot of guys who would dwell on their failures and it would eventually take them down. So many top players never get out of the minor leagues and that's why I'm proud of the fact that I played at the highest level, even if for a short time. I played baseball for fun and I never allowed it to become a job, so I look back at my entire baseball career fondly, because it wasn't just baseball for me—it was life!"
On Playing in the South:
"When I was playing at Shreveport, Louisiana, racism was right in my face every day and it was sad, but I wasn't really surprised by it. My parents were from the South (Texas and Louisiana) so they had prepared me for this type of stuff. People called me the "n" word in Shreveport and that was from our fans. There were even separate sections in the stands for whites and blacks. It's an ugly part of life, but it is part of life. I played three years in Shreveport and the racism never wavered. I didn't like it, but I dealt with it."
On Finishing Second at Every Level:
"Yes, I am aware of that, it's not lost on me. But, I wouldn't regret any of it for one minute. You have to be damn good to finish second. Everyone remembers the team that finishes first and wins the championship, but you can't ignore the talent and dedication that also goes into being almost the best. Finishing second does not mean that you failed. I tell kids today, if you give everything you have and leave it all on the field, you've succeeded already and that's the way I look at my baseball career."