"There is no question that Candlestick Park took a lot of home runs away from guys like Willie Mays. I have to think that if Willie played in the same park Henry Aaron played in, he would have had just as many home runs as Hank got."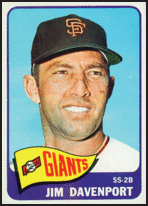 Jim Davenport played third base and shortstop for the San Francisco Giants from 1958 to 1970, finishing with a total of 77 home runs, 456 RBIs and a career batting average of .258. His best season came in 1962, when he hit .297, won a Gold Glove and was chosen to play in the All-Star Game. He played with greats like Willie Mays, Juan Marichal, Gaylord Perry, Orlando Cepeda and Willie McCovey, but got to the World Series only once, in 1962, batting .136 as the Giants lost to the New York Yankees in seven games.
Davenport never really intended to play baseball. He went to Southern Mississippi on a college football scholarship and wanted to be a high school football coach, but ended up playing baseball. Davenport managed one year at the major league level, in 1985 with the Giants, piloting a team that finished 56-88 in the NL West. He was also a third base coach for many years with the Giants, Philadelphia, Detroit, Cleveland and San Diego.
As told to Ed Attanasio, This Great Game
On Willie Mays:
"The Dodgers decided to stock up on shortstops. They picked me right between Bill Russell and Ted Sizemore. Bill was an All-Star and a fixture in L.A. for 17 years and Teddy was Rookie of the Year in 1969. I guess you can't have enough good shortstops. I had a small advantage because I could play every infield position except for first base and they would stick in my left field every once in a while."
On Being Blue for Life:
"The first time I saw Willie Mays play was when I was about 15 years old. Willie was from Birmingham, of course. My dad took me up to Birmingham to see the Black Barons play and Willie must have been about 16, and there he was, playing for the Black Barons. At that time I didn't know how great he was going to be. Then, years later when we played together on the Giants when I first came up, I didn't have a lot, and Willie many times gave me the jacket or sweater off his back. He was like that. And we're still great friends. Willie got along with everybody on the team. We were a very close-knit club at that time. He was the greatest ballplayer I ever saw. I got to see the things he did day in, day out, so I can say that without a doubt."
On Juan Marichal:
"The greatest pitcher I ever saw. It didn't matter what the count was, he could get the ball over the plate. I don't know how in the world he ever had such great control with that high leg kick, but he had outstanding control. He was a very, very smart pitcher. When we went over the hitters in the opposition's lineup, he knew exactly how to pitch these guys. It helped us in the field, too, because it you knew that he was going to pitch a guy a certain way, you could position yourself in a particular spot and they'd hit it there."
On Gaylord Perry:
"He was the most intense pitchers I think I've ever seen. That man came out to beat you any way he could. Of course, they talk a lot about his spitball and all that, but hey—he mastered it, I'll say that. He could throw it for strikes. It got him into the Hall of Fame. But, I think he would have had pretty good stuff even without the spitter. He was so intense that a lot of rookies were scared to death to play behind Gaylord, because if they made an error, he was liable to chew them out."
On Playing in Candlestick Park:
"It was a tough park to play in, no question about it. The wind really affected the balls. As the home club, I think we had an advantage over the visiting teams, because, of course, we had played there every day in the wind, and if a team had good players and they wanted a day off, they would take it when they came to play us in Candlestick Park, because it could get cold and very uncomfortable to play there. We never thought about it much, because back then you couldn't play out your option and go somewhere else. So you did the best you could. That wind could do some really funny things to the baseball when it got up there. We could handle it better, I think, than a lot of the visiting clubs could. The wind blew from left to right there and there is no question it took a lot of home runs away from guys like Willie Mays. I have to think that if Willie played in the same park Henry Aaron played in, he would have had just as many home runs as Hank got. The infield was lousy too, and they changed it all the time. They tried Astroturf on it and one time they used that kind of pea gravel on it, but nothing helped."
On managing the Giants in 1985:
"The year I managed everything that was bad happened with the Giants. We had those silly spandex orange uniforms that looked like pajamas. We had that Crazy Crab mascot, and we played about the same way he performed. They booed him and they booed us. It was quite an experience. I really thought that team in '85 was going to hit better than we did. I knew we didn't have any pitching, but I thought we would have hit better. In the outfield, we had Jeff Leonard, Dan Gladden and Chili Davis, who were three outstanding players. But, it was just one of those years when nobody hit. I think the leading RBI man knocked in 60-some RBIs, which now a lot of guys have before the all-star break. And, of course, our pitching was awful. And then Mike Krukow got hurt. I thought I was going to have a pretty decent bullpen, but then, Greg Minton did not have a good year. Scott Garrelts pitched well for me, but we lost a lot of 2-1, 3-2, 4-3 ballgames. But, it was a good experience. I wish I would have waited a little later to manage, maybe I would have had a little more experience and maybe I would have had a little better team. You know, things might have turned out better. But, when you get a chance to manage in the big leagues, you better take it because it might not happen again."
On bad moves and bad players at San Francisco in 1985:
"I was mad that they traded Jack Clark and got a kid named David Green, who didn't turn out well. By the time we got Manny Trillo he was about through at second base. Then, a kid we got at shortstop, Jose Uribe, didn't do all that well. Chris Brown was another youngster who had some ability and who I thought would do better, but he just didn't want to play, for some reason. I tried everything I could think of to try and motivate the kid, but I don't know what his deal was."
On incidents with Jeffrey Leonard:
"We butted heads a few times. I recall one situation we had when Leonard got into it with our third base coach Rocky Bridges in Cincinnati and Jeff came in the dugout all unhappy with Rocky, telling me, "You have to get rid of him." And I told Jeff, "Whoa, there, son. All of us need to look at ourselves in the mirror. You can't blame this one man for all the ballclub's problems. We all need to look in the mirror and say—hey, we can do better." It was just one of those things. I think it all kind of started because Leonard had been very good friends with Frank Robinson. And, of course, I replaced Robinson. And I don't think that set well with Jeff to start with. And I think he always held it against me for taking Frank's job. Jeff was a good player, but he did not do well in 1985."
On pranks in Chi-town:
"Yes, it's true. There was a statue of a horse in downtown Chicago that the team bus would pass every time we went from the hotel to play at Wrigley. And the older players used to make the rookies paint a certain part of the horse's body Giants orange. It was always the rookies. The vets would tell them, "This is what you gotta do if you want to stay on the ballclub." So, the rookies would get some paint and paint this statue of a horse on his you-know-what, and it was kind of funny, you know."