"One day at the park I was tired and a couple of guys gave me some speed. They called them greens or blues…But, it didn't do anything except that night I couldn't sleep a lick. I laid there tossing and turning and waiting for the sun to come up staring at the wall. And then I had a game the next day. I was beat that afternoon and I told myself right there that I would never take those silly pills ever again."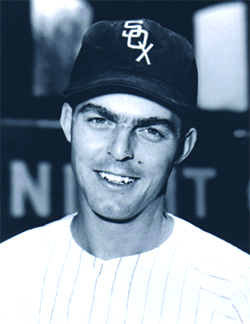 Jim Landis was signed by the Chicago White Sox as an amateur free agent in 1952 and played for eight years before being traded in 1965 to Kansas City Athletics, where he played for one year. He then moved on to the Cleveland Indians, Houston Astros, Detroit Tigers, and finally the Boston Red Sox. He was a member of the 1962 American League All-Star team, a five-time Gold Glove Award winner (all consecutively, from 1960-64) and played in the 1959 World Series. Landis played his final major league game with the Astros on June 28, 1967.
As told to Ed Attanasio, This Great Game
On his First Major League Game in 1957:
"I was a scared rabbit. Half the time I didn't even realize I was on the field. That's how nervous I was. All I can remember was facing Herb Score, who was throwing 100 miles per hour up there. My first impression was I better get my lunch pail out if I'm going to be facing guys like this all the time. I figured I better get a job doing something else. I was so nervous it was unbelievable. It was a problem for a while. That was an issue for me, because being in the big leagues was like a dream, but I couldn't wake up. I was sent out to Indianapolis, because I was playing so bad that first year."
On his Relationship with Manager Al Lopez:
"Let's put it this way, there are two sides to everything. He was one of the best managers for understanding how to handle people. He was like my psychiatrist. He knew when to pat players on the back and when kick 'em in the butt. Those were one of his best assets, I believe. He knew how to handle each player very well. On the other hand, he wasn't always a great judge of talent, in my opinion. If he didn't like a certain style of player, he'd bench 'em and leave 'em there.
On the Three Hall of Fame Teammates on the White Sox: "Luis Aparacio, Nellie Fox and Early Wynn were amazing just to be around. Aparacio was our team's leader, Nellie was one of the best all-around players I ever saw and I was happy that Wynn was on my team, because he was literally unhittable most of the time."
On the Three Hall of Fame Teammates on the White Sox:
"Luis Aparacio, Nellie Fox and Early Wynn were amazing just to be around. Aparacio was our team's leader, Nellie was one of the best all-around players I ever saw and I was happy that Wynn was on my team, because he was literally unhittable most of the time."
On the Toughest Pitchers he Ever Faced:
"Wow, there were so many great pitchers in the major leagues back then, different than it is today. We could go up against the last place team and we'd face three good pitchers on that team. We only had 16 teams, so it was more compact. As far as the great ones, like Whitey Ford, I had to battle your fanny off every time you faced that guy. He never gave in and he was just a darn good pitcher. Others I recall are guys you won't remember who were decent starters for so-so teams, like Dick Donovan (Cleveland), Hank Aguirre (Detroit), Bill Monbouquette (Boston) and Camilo Pascual (Minnesota)."
On Performance Enhancing Drugs Back Then:
"One day at the park I was tired and a couple of guys gave me some speed. They called them greens or blues—I don't know what it was. But, it didn't do anything except that night I couldn't sleep a lick. I laid there tossing and turning and waiting for the sun to come up staring at the wall. And then I had a game the next day. I was beat that afternoon and I told myself right there that I would never take those silly pills ever again."
Landis vs. the Comiskey Park Outfield Wall:
"I was never afraid of the wall and I think in some ways it was an asset. I remember running into that wall in Chicago and it was solid concrete. It was so bad, you know. I recall one time I ran into the wall so hard I was drowsy for the rest of the game. I was stumbling around and I don't know how I ever kept in that game. I didn't come around until that evening. If I had been afraid of that wall, I wouldn't have been able to make some of the plays I made, I believe."
On Getting Beaned in the 1959 World Series:
"(Johnny) Podres of the Dodgers hit me pretty good and years later I saw Podres at an event and he told me that he was throwing at me that day. "I have to admit," Podres told me. "We were trying to shake you guys up a little bit and they told me to brush you off." Well he brushed me off a little too close. Pitchers throw at you and it's part of the game. Most of the time they would hit me in the legs or on my back. I never got injured by a beanball. I was very fortunate in that way."
On Winning Five Golden Gloves in a Row:
"I'm very proud of that accomplishment. I always got a quick jump on the ball and it made my life in center field a lot easier. I anticipated well and I studied the hitters, trying to figure out where they might be hitting that ball. That helped a lot. You learn as you play more and you get better. I was very proud to play versus Mickey Mantle, but he lost a few steps in the field when he hurt his knee. When he was healthy, he was the best fielding center fielder I ever saw. He was my idol, really. I don't know how Mick played that huge center field, that cavern at Yankee Stadium. The monuments never bothered me that much, but it was a big outfield. Left center was plus 400 feet and it had this drainage out there where the ground dropped off a little for drainage. I lost my balance twice over that drainage area in one game. It was dangerous and that's where Mickey blew out his knee."