"The public thinks if you take steroids, suddenly you'll be hitting more home runs or as a pitcher, striking out more guys, but it's not true. For me, it's more of an ethical thing as opposed to a performance enhancement issue."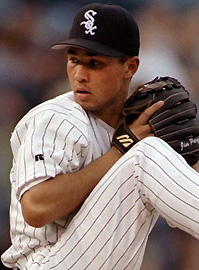 James Vo Parque pitched for the Chicago White Sox and Tampa Bay Devil Rays from 1998 to 2003. In 1996, he won a bronze medal in the Olympic Games in Atlanta. One year later, he led the UCLA Bruins to the College World Series and is still one of the school's most decorated pitchers in its history. In the 1997 supplemental draft, Parque was selected by the Chicago White Sox in the first round and made his major league debut the following year. During his career, Parque was 31-34 with a 5.42 ERA over 103 games. He had two complete games, 335 strikeouts and a 1.637 WHIP (walks and hits allowed per inning).
The 2001 season saw Parque pitch in only five starts after suffering a shoulder injury, which sidelined him for the rest of the season. He was never the same, and although he signed a minor league contract with the Seattle Mariners in 2007, Parque was released four months later. In December, 2007 he was linked to PED use, although he initially denied it in the Seattle Times. But in a July 23, 2009 article in the Chicago Sun-Times, Parque admitted using human growth hormone while rehabbing from a shoulder injury in 2003. Today, he runs Big League Edge Performance, a baseball school, with its headquarters in Auburn, Washington.
As told to Ed Attanasio, This Great Game
On his First Professional Start:
"When I got called up to pitch against the Yankees it was like my graduation. All of my friends and family members came up for the game, almost 30 people. My dad, who coached me throughout my entire life, and I were sitting there watching everyone getting all excited about the start, but we were calm. I looked over at my father and said, you know, we should be a helluva lot more excited than we are, because we're the ones who grinded it out all these years to be here. But, we came to the conclusion that we actually expected it, so when it happened it wasn't that big of a deal."
On his Coaches and Mentors:
"My dad and (former MLB pitcher) Jerry Reuss were my coaches and if I did not have those two people in my life, I wouldn't have ever made it to the major leagues. I had great coaches throughout my life, but these two were the real forces in my baseball career. I met Jerry one day when I was throwing to my dad at La Canada High School in Southern California. He came over and asked my father if he could he step in and take a look at me, and we didn't even know who he was at the time. He looked familiar because I collected baseball cards, but at that time he was retired, so I didn't put it together. But once he introduced himself, it all came together. I was shocked—Jerry Reuss is interested in me?
So, he told me to come back every Saturday and that's where it just kind of took off from there. He helped me with the mental approach to pitching; taught me my changeup; showed me how to get more movement on my pitches—all the upper level development coaching that eventually got me to the majors."
On Major League Scouts:
"The scouts weren't clamoring to see me, because I was small—about 5'6" and 120 lbs. in high school, but I threw hard and was left handed with great control. They did not consider me a real prospect due to my size. The scouts were coming to my games in high school (La Crescenta Valley High School in La Crescenta, California) because we had a shortstop that they were looking at, but I wasn't the reason they were there. The White Sox scout who eventually signed me said that they liked me, but because of my size, they could not draft me out of high school.
But, when I got to UCLA, I went 9-0 as a junior, the best record in NCAA Division I at the time and that's when the scouts got a little more serious about me. One amazing thing is that I had mono during that entire time, but I pitched anyway. A big scout—don't remember his name—came out to Jackie Robinson Field at UCLA to scout me, but they didn't want anyone to know, for some reason. So, they hid behind a bush just beyond the center field wall, which was not easy, because there aren't a lot of bushes back there. The White Sox eventually drafted me in the first round, so they must have seen something good from behind those bushes! I told my scout that I was going to be his first prospect to make it to the majors…and I was."
On his Mentors During his First Year with the White Sox:
"Ruben Sierra and Albert Belle were the two guys who took me under their wings and helped to get me acclimated to the majors. They turned me from a college pitcher to a major league pitcher by teaching me how to succeed at that level. Some rookies are in awe when they get called up, but I always thought I would be there, so it wasn't so daunting. When you're a rookie, you pretty much have to listen and learn and do all of the things they make you do as a rookie. Of course, I got hazed quite a bit, but it was all in fun. They locked me in the restroom in the team bus and I had to carry all the veterans' bags and get them coffee, but overall the players were great to me and very supportive."
On his Infamous Baseball Fight in 2000:
"Well, I was in about five of them, but the one that people still talk about was the one against Detroit. The pitcher for the Tigers that day (Jeff Weaver) was throwing at some of our guys, so I started doing the same. When I hit Dean Palmer, he charged the mound and it was on. He threw his helmet at me, which I dodged and then here comes the pile. I got a few punches in and got smacked around too—that's how most baseball fights go. I never left the mound so I didn't get ejected. It is what it is, but it still gets ranked as one of the best baseball fights ever, so I get asked about it every once in a while. In the majors, the manager never tells you to hit somebody with a pitch, because you just know when the time is right. You have to protect your teammates and if you don't do it, they will not respect you. It's not personal when you bean someone. We're just all very competitive, so stuff happens."
On Being in the Mitchell Report:
"My name showed up on that report, which really didn't surprise me. Mitchell claimed that he would contact everyone on the list before it became public, but he didn't. I took HGH, which was not a banned substance at that time, so I did not think that it was illegal. I got it through a prescription from my doctor. When the report came out, all the reporters were calling me and I tried to explain that HGH does not give you more velocity on the baseball. I only took it to help me after I was injured. I had a surgically repaired shoulder and it wasn't responding well after the surgery, so I was using it during my rehab.
People take greenies, Advil, Aleve, cortisone shots, inflammatory drugs—it's all kind of bunched into the same category—that was my reasoning. The way I look at steroids is that they don't really make someone that much better by taking them—you can get bigger and better, but you still have to be able to hit the ball. The public thinks if you take steroids, suddenly you'll be hitting more home runs or as a pitcher, striking out more guys, but it's not true. For me, it's more of an ethical thing as opposed to a performance enhancement issue."