Aliens vs. MLB 2021: The Perfect Nine to Save Mankind
When it comes to defending the planet, the Avengers and Justice League have nothing on baseball's 2021 All-World team.
By Eric Gouldsberry, This Great Game—Posted March 19, 2021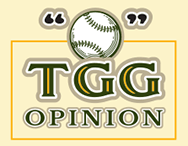 Planet Earth is under attack. Aliens have descended from hovering motherships, and they're vicious little suckers; they float idly down in bubbles to give an alarmingly serene appearance, but once they land, look out—they're fanged, angry and ready to cause some serious apocalyptic mayhem. Slim Whitman can't stop these nasty buggers. 
For all of their aggressions, these aliens don't lack intelligence; well before approaching Earth, they did their homework on mankind and its cultures. And once they caught the first baseball game beamed out from mlb.tv—their planet wasn't blacked out due to territorial restrictions—they got hooked, and even started playing a little bit of this great game themselves to the point that some of their best could rival Babe Ruth and reign supreme within the Galactic Pastime. 
The aliens thought they had it easy against us squabbling little Earthlings, but a good fight has ensued to the point of impasse. So they have proposed a generous offer to the human race: Get your best baseball players together, we'll get ours, and we'll play a game to decide the fate of the planet. If Team Earth wins, the aliens head home. If not, annihilation. The Earthlings agree—though it nearly falls apart when the aliens briefly and angrily hold MLB commissioner Rob Manfred at laserpoint after he suggests using the gift runner on second to start every extra inning. 
With the fate of the planet hanging in the balance, who do we call to best represent and save us from these evil ETs? The following lineup of our All-World, All-Star team is our best hope. See if you agree. 
Catcher: J.T. Realmuto, Philadelphia Phillies
He's Realmuto, and he's spectacular. J.T. rarely fails with the bat in his hand, and any opposing critter is taking a 50-50 chance on stealing a base on this guy's arm; back in 2019, he threw out nearly half of would-be basestealers. At age 30, he's not one of those cranky, rusting nuts-and-bolts catchers, so Borg beware. 
First Base: Freddie Freeman, Atlanta Braves
At 6'5" and 220 pounds, nothing's going to stop this bulk of a beast—and he just keeps getting better with every year, hitting .341 in 2020 with supreme power. Freeman survived the sucker punch from COVID-19 last year, and he can overcome the Andromeda Strain should the aliens wish to dish it out at him. 
Second Base: DJ LeMahieu, New York Yankees
Another wall of a man no alien can penetrate, LeMahieu can do it all; he hit for a career-high .364 for the Yankees last year, supplies a level of power curiously absent while playing a mile high at Denver, and fields among the best of defenders with three Gold Gloves standing proud on his war chest.  Sorry, Sontarans, your luck is slim with this California-bred champ. 
Third Base: Manny Machado, San Diego Padres
Uh oh, here comes real trouble for the xenomorphs. With all due respect to Cleveland's Jose Ramirez, Machado remains the most complete package at the hot corner, exhibiting strong power and electrifying defense with a badass attitude to match. Them aliens better hope for the expanded Triple-A bag at first—otherwise that's less real estate for Machado to "accidentally" step on the critter's back heel while trying to beat out the throw. 
Shortstop: Fernando Tatis Jr., San Diego Padres
Machado's infield partner in slime-fighting crime looks to be the real deal a couple of short years into his young and highly promising career. In 143 games thus far, Tatis is batting .301 with 39 home runs, 98 RBIs, 111 runs scored and 27 stolen bases. He's flashy, fast, gifted and can easily make starry-eyed victims out of those poor cosmic invaders. 
Left Field: Juan Soto, Washington Nationals
Baseball's fountain of fabulous youth doesn't start and end with Tatis. The 22-year-old Soto has already established himself as a bona fide star, with power and patience to make even the most veteran of ballplayers envious. If you're looking for someone to walk all over the alien force, start with this guy who's averaged 118 bases on balls for every 162 games played, adding immaculate, muscular hitting skills in a profitable three-year career to date. 
Center Field: Mike Trout, Los Angeles Angels
The ETs may let their guard down against a guy who looks like your average Boy Scout, but Trout has long since proven that he's no fish out of water. Both civilization and Cooperstown are already calling on our hero who wields a mighty swing, runs like lightning and leaps high above the wall to snatch away any Heptapod home run. And then he'll turn toward the invaders, smile, and walk away like it never was such a big deal for him. Gee, what a nice guy. 
Right Field: Mookie Betts, Los Angeles Dodgers
Don't ever bet against Betts. Nimble and potent, the perennial MVP threat can make up for his small size with big-time play and beat you any number of ways—with his bat, legs, glove or throwing arm. And once he's done his part on the ballfield, Betts will dunk a perfect 300 on the blasted beings from Out There at the bowling lanes, should they dare to request a best-of-three. 
Designated Hitter: Jose Abreu, Chicago White Sox
Got to have a DH, right? And who better to take on the job than Abreu, who normally plies his trade at first base but will gladly leave his glove to Freeman and focus on his lethal bat to help save the planet. Abreu shows neither fear nor weakness, armed with both brawn and the experience of going through hell and high Caribbean waters to escape Cuba in the dead of night. Alien invasion? Pshaw. Bring 'em on. 
And Your Starting Pitcher: Shane Bieber, Cleveland Indians
Debate may reign on who represents the best of the best on the mound, but as some are cool with (Gerrit) Cole while others prefer the Tower of (Trevor) Bauer, we'll leave it to Bieber to play the ace card. No pitcher is better—and the scary thing, especially for those doomed aliens who gotta face him, is that he still possesses upside at age 25. Bieber's arsenal is more equipped than a cutting-edge, multi-weapon deliverable; besides a 95-MPH fastball, he can mow an opponent down with a curve, slider, change or, as newly introduced in 2020, a cutter. This right-hander's nasty repertoire will tie any multi-legged alien in knots to resemble a straitjacket, packaged to return to sender with a bow on top.