Aliens vs. MLB 2022: The Perfect Nine to Save Mankind
Here's the impressive cast representing Baseball's All-World team as it once again comes to the rescue to save the world.
By Eric Gouldsberry, This Great Game—Posted April 6, 2022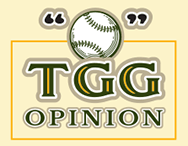 Planet Earth is once again threatened. Descending upon our world is an alien force with brute oppression on its mind. These aliens aren't flesh-and-blood, but nuts-and-bolts—insidious robots who rely on long-range warfare without a care for a world they hope to conquer. 
The good Earthlings are undeterred, calling out the androids as wussies too frightened to unplug themselves from their distant electrical outlets and meet us face-to-face. Fighting words, chirp the robots. They take the bait and agree to meet our request, promising to settle the score at our own game: Baseball. Because, they claim, they're no metallic slouches at our National Pastime. 
So it's up to our 2022 All-World team to put these animatronic appliances out of commission. Who rightfully gets the call to save the world and show, once more, that no one else can play this great game better? Find out below. 
Catcher—Salvador Perez, Kansas City Royals
One wonders if the burly, tireless Venezuelan, rebuilt through Tommy John surgery, is a mechanical mole snuck in by the enemy. After all, how is a mortal catcher capable of playing every game while pounding out 48 home runs? Perez may have that bionic touch, but he's bleeding-heart human and ready to swat the snot out of the bot. 
First Baseman—Vladimir Guerrero Jr., Toronto Blue Jays
Perez isn't the only ironman on our side who might be confused as a member of the robotic regiment. If we cloned a Hall of Famer and made him better, we'd get Guerrero Jr. as he has thus far proven by playing all but one game over the past two seasons while crushing 48 homers of his own in 2021. Vladdy 2.0 is bigger and more powerful than his creator—and he's ready to downgrade the droids to the cosmic scrap heap. 
Second Baseman—Marcus Semien, Texas Rangers
Here's another unwearied guy who'll grind the robots down to squeaky tin men with no hearts—nor courage nor brains. Semien played 162 games last year, after playing the full 162 two years before that; he can hit, mash, run and now even defend, as early career infielding issues have erased themselves with his first Gold Glove in 2021. And now he's a Ranger, one more reason not to mess with Texas as he'll make the mechanical enemies quiver and clank in their rusting boots. 
Shortstop—Fernando Tatis Jr., San Diego Padres
The robotic plot to seduce the talented Junior with flashy motorcycles worked over the offseason, but never underestimate the bounce back of a guy who played through incessant shoulder woes last year and still played at MVP level, crushing 42 homers in just 136 games. Keep trying with the Harleys, oh Galactic Gadgets of Desperate Gloom, but it won't do you any good as the resolve and resilience is strong on this cat. 
Third Baseman—Jose Ramirez, Cleveland Guardians
After dealing with all of the above Adonis types, the cyborgs think they can get a breather with Ramirez, whose physique is unassuming by comparison. But don't let the looks fool you; he's got power (36 home runs in 2021), speed (27 steals, in 31 attempts), and patience (72 walks) and he does it all with no help from an otherwise lackluster Cleveland lineup. Now just think what Ramirez can do when surrounded by All-Stars like him. Mr. Roboto won't know what short-circuited him before it's too late. 
Outfielder—Juan Soto, Washington Nationals
Baseball's toughest out might be too hot to handle for robotic ace Gort, who'll mumble "Klaatu, barada, nikto" (translation: "I can't take this anymore!") all the way back to its home multiport with its metallic tail between its legs. It doesn't take AI to figure out this outcome; Soto reached base nearly 50% of the time last year, with hits, homers and walks aplenty—and like Ramirez, he did it will almost no protection from his mates. 
Outfielder—Mike Trout, Los Angeles Angels
After missing the bulk of the 2021 season, baseball's star of stars is tanned, rested and ready to turn evil mechanical warriors into a Robo-slop of fried wires. What could have been for Trout last season; his .333 batting average and 1.090 OPS at the time of his injury was higher than any of his 10 previous excellent campaigns. Don't let Trout's laid-back, Southern California smile fool you; underneath that easygoing exterior is some mean-ass incentive. 
Outfielder—Bryce Harper, Philadelphia Phillies
Who better to rage against the machine than the reigning National League MVP, determined to run through walls, stop signs and any cutting-edge bot he wouldn't think twice turning into squish and chips. In the clutch, Harper can do it all—hit the ball hard, run the bases at lightning speed, and chase down fly balls with reckless abandon. Against this guy, ED-209 will be DEAD-209 by the end of the ninth. 
Designated Hitter—Shohei Ohtani, Los Angeles Angels
Move over, alien thingamabobs—it's Sho-time! Whether with an electrifying fastball from the mound or a wicked swing to pummel a baseball 500 feet, Ohtani is the double-barreled threat that will overheat the robots into melting mode. Let the numbers from 2021 speak for themselves: 46 home runs, 10 triples, 26 steals and a 9-2 pitching record with 156 Ks over 130 innings. Get the 27-year-old Japanese wunderkind into prime form, and it's cy-bye, cyborg. 
And Your Starting Pitcher—Jacob deGrom, New York Mets
He only pitched half a year in 2021, but what a half it was. Remember these numbers: A 1.08 ERA, just 40 hits allowed over 92 innings, and 14.3 strikeouts per nine innings. Just when you think he's down and out with the latest injury woe, deGrom will blast through the pod bay door, take command and reduce the Big Bot at the plate into a malfunctioning pile of pegs pathetically rambling the lyrics to Daisy.