The Delightful Confessions of a Spring Training Fan
If you're a big baseball fan and you've never made it to spring training, you're kidding yourself. Here's more push for you to make the pilgrimage.

By Eric Gouldsberry, This Great Game—Posted January 17, 2017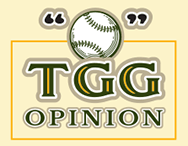 The first thing you feel is the heat, that balmy bliss that permeates you as you step off the airplane and into the jetway. It's a welcome blast of warmth that tells you you're no longer in Denver, Chicago, Seattle or any other city whose major league teams call the Cactus League home and remain in the dying grip of the shivering winter chill. 
Hurrying through the long passageways toward ground transportation, you spot others like you, wearing the emblems and colors of their favorite spring training team. But they're headed the other way and have this glum look upon them. You quickly get that it's not because they've had a rotten time here; on the contrary, they don't want to go home. They look at you, and wish they could trade their shoes for yours and stick around. 
Next comes the shuttle ride to the car rental facility. You sit across from a Giants fan who's sitting near a couple sporting Angels rags standing close to a family decked out in Royals blue. It makes one think that soccer's Premier League, with all the hooliganism and intensive rivalrous hate, could never pull off something like Spring Training without a daily brawl somewhere in town. Baseball fans are a different breed. Here, everyone gets along. A friendly jab on occasion, yes, but a friendly one all the same. 
Once you get past the tedious exercise of waiting in line for your rental, getting peppered with requests to sign your initials eight times among the fine print, and checking your car to make sure all the dings and dents are already there so they don't blame it on you later, you're free. You're on the road, headed into the Valley of the Sun, the Capitol of Spring Baseball, Nirvana for Seamheads. 
As it surely is in Florida with the Grapefruit League, Arizona's Cactus League—the Spring Training home for 15 major league teams—is a must for any baseball fan. To follow this great game without ever having made the journey is pure sacrilege. It may not be the cheapest trip you'll ever take, but it's a value you'll never regret.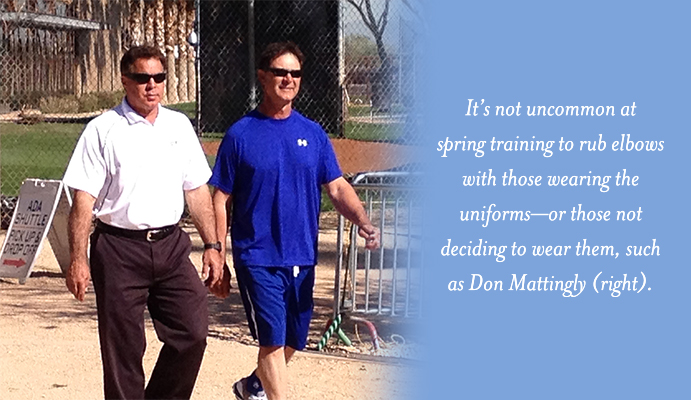 Once upon a time, the Cactus League was spread out. Teams were stationed from Palm Springs to Yuma to Tucson. But over the years, geographical contraction gradually magnetized everyone together into the Phoenix area; only 40 miles now separate the two ballparks furthest from each other, Surprise Stadium (home of the Rangers and Royals) and Mesa's HoHoKam Stadium, the refurbished elder statesman of Cactus League parks which now houses the A's. So there's choice, and there's diversity; you can watch the Giants walking distance from posh downtown Scottsdale, travel to Peoria where the Mariners and Padres share home amid the more suburban shopping malls, or drive out to the western edge of sprawl in Goodyear, where the Reds and Indians hold sway in a land that's half developed, half desert dirt—for now. 
About that statement a few paragraphs up, where this may not be the cheapest trip you'll ever take. That was a little harsh. Yes, the tourism industry will do what it can to zap you; flights are not cheap, hotels and rental cars are at a premium and, if you want to bring your golf clubs, prepare to pay through the nose to get in a round. Between the baseball and the perfect weather, it's instantly understood why Arizona in March is considered "in season." 
All that said, here's some tips to help you maximize your Cactus League pleasure. 
First, don't wait for the last minute to make reservations. It's most wise to make your plans, block your dates and start punching reservation buttons around November. Shoot for the middle, the Ides if you will, of March. Why? Because the exhibition season still feels fresh, the star players get in more than just a few innings of action, the crowds haven't quite yet peaked, and it's warmed up enough that you won't have to worry about lingering winter cold—or any early summer heat that sometimes sneaks in toward the end of the month. 
Next, you need to wait a month or so before tickets for the games are available. You might be thinking, "Okay, I've made all my plans, but how do I know I'll be able to catch my favorite team?" Relax. All teams play almost every day, and there's roughly eight games to choose from. Once you've figured out which games you want to see, then determine if it's best to get your tickets now or later. That will depend on who you're coming to see. If it's a team that "travels well" in the Cactus League—the two ballclubs that quickly come to mind are the Cubs and Giants—then get your tickets right away, because you might not get them later. If it's a team that doesn't bring a lot of supporters out of their wintry nests—think Reds, Indians and Brewers—then it's quite likely you'll be able to walk up and get good seats on the day of the game. Call it risk if you want, but the reward of buying at the ballpark is that you spare yourself the B.S. "convenience" fee when buying tickets online.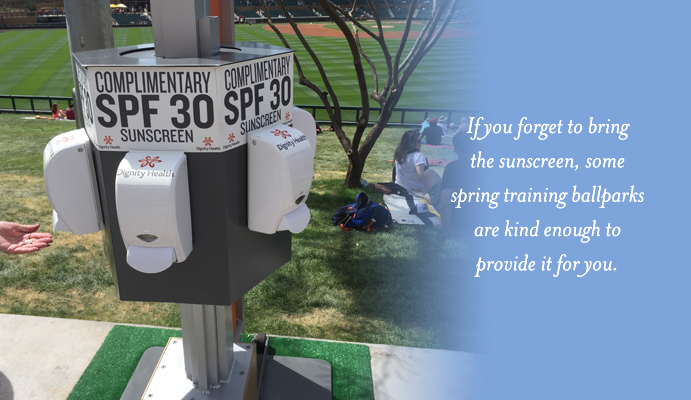 Let me turn the subject back to the high cost of Spring Training. It doesn't apply to the games themselves. The folks who've been flocking here for years may grouse over how tickets used to be a lot cheaper, but the experience is still a bargain compared to a typical regular season game; even the parking is a mere $5. (And if you don't even want to pay that, there are plenty of free spots to be found if you're willing to walk a little.) Inside, most seats between the poles fall in the $10-30 range, and they're all close to the action; there's little need for binoculars here. Behind the fences, bleacher seats at Cactus League parks typically consist of grassy inclines where families can unfurl a picnic blanket, spread out, rub the lotion over the skin and let the kids run about. And some ballparks even have free sunscreen dispensers, just in case you forget to bring your own. 
Speaking of sunburn, here's one last tip; picking a seat up higher increases your chances of being shaded by a grandstand overhang. The idea of worshipping the sun might seem tempting when ordering your tickets online in January while it's 30 degrees outside your window, but the reality is when the mercury hovers around 80 on the day of game, you might be wishing for a little cover. I was wise to find shaded seats for the day games I attended, all while looking down at overheating fans constantly fanning themselves with scorecards and the like. 
The laid-back, inviting atmosphere of Spring Training goes beyond the game itself. Most Cactus League facilities consist of more than a single ballfield; they're full-fledged training facilities with as many as a dozen different fields, some shared by two teams. On one early-morning trip a few years back to Glendale's Camelback Ranch—the new home for both the Dodgers and White Sox—I walked freely about and saw White Sox players doing exercises on one field, while on the next there was (then) Dodgers pitcher Chad Billingsley throwing off the mound, watched on by coaches; they were joined by (then) manager Don Mattingly, who quietly walked right past us and a dozen other fans taking in a beautifully warm, sunny morning of baseball warm-ups hours before an afternoon game. One might think the spectator element for these practice sessions is intrusive, but it's actually encouraged; ballpark attendants might even waive the parking fee if you show up early, as they did for us that morning, and the elder docents were accommodating in answering all your questions.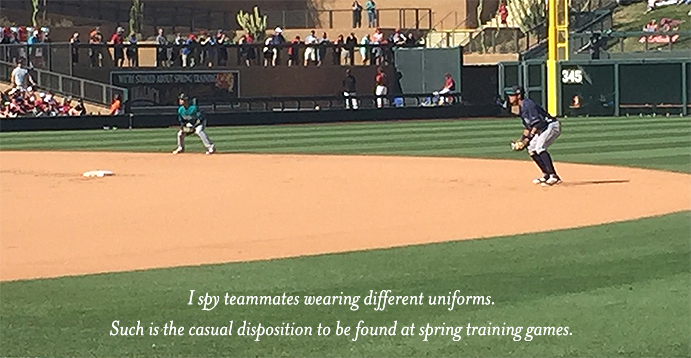 Okay, so maybe you don't want to show up four hours early and watch players do simple wind sprints or stumble upon a brush with baseball greatness like Mattingly, Joey Votto or Buster Posey. But don't show up moments before the first pitch, either. Give yourself at least an hour and be part of the pregame scene; have a drink and a hotdog, soak in the sun, shade and fans around you, and be as relaxed as you'll ever be. There is no such thing as stress at a Cactus League ballpark—unless you're one of those players fighting for their professional lives and trying to make it as the 25th member of the Opening Day roster. 
Once everyone files into the ballpark, you'll discover that the crowds are quiet. At one game at Hohokam Stadium between the A's and Giants, the volume of the sellout crowd of over 10,000 was so low that the applause for a called strike matched that of a PGA golfer walking off a green after notching a standard par. Part of this has to do with the demographic; the crowd mostly consists of older folks and retirees who have the time and, I guess, the money. Kids are few and far between, because many of them are in school. Working parents, they're working. That leaves college dudes, who you think would funk up the noise—but they're somewhat mum as well these days. Why? Because they spend more of their time looking at mobile devices than the action on the field. 
The loudest folks in the stands are the vendors, a real colorful sort. One guy at Goodyear was selling drinks and occasionally belted out the words, "You own it!" Another at Mesa looked like a hybrid of Burgess Meredith and Ray Walston dressed in a coat of agitation, yelling "Beer!" almost like he's not so much selling it as he is angrily looking for some. 
The only thing louder than the vendors is the pumped-up music to mimic that of a big-time regular season game. It doesn't work here; it's distracting, jarring and it destroys the relaxed, stress-free fabric that spring training should be all about. Not 'til Opening Day, fellows. 
That the starting lineups usually employ a smattering of the everyday players you're used to seeing in the regular season may upset some, but it's an exhibition game. You're paying relatively minor fees to experience springtime baseball in weather to die for. And in a sense, the totality of the players you'll likely see in a Cactus League game is a cool mix of the stars of today, tomorrow and, yes, likely never. The players with single-digit uniforms give way after four or five innings to those wearing numbers in the 70s, 80s and 90s. Sometimes the uniforms themselves don't even match. At one game at Salt River Field at Talking Stick, a visiting split-squad version of the Mariners included some players wearing teal tops—and a few others donned with dark blue. Apparently the on-field dress code is also lax at spring training.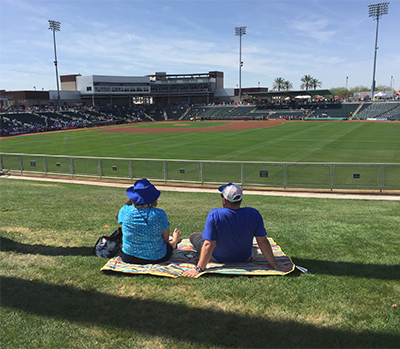 The one rotten thing about being a part of the Cactus League scene is the traffic. Getting to the ballpark for a day game isn't all that bad since the morning commute has diminished—but when most leave around 4:00, the afternoon rush is on and the freeways become an insufferable crawl. Aha, you might think, we're two or more people and can take advantage of the carpool lanes, right? Wrong. They're often slower than the others, which leaves me wondering just what's the point of it all. (Consider the back roads. You might just get to where you're headed next faster.) 
From the stress of the traffic jams, you arrive back at the hotel, with its swimming pool. Or the bar, with its happy hour. Or your friends, to talk about the wonderful day that's been—and what's in store for the next day. 
For some of us, it's back to the airport, to turn in our rental cars, grab our boarding passes and head home. And as I walk toward the gate, I watch as the new recruits walk the other way, feeling the same way I did days before when I arrived. Now I really know the glum of how those heading home earlier felt. It's my turn to look the newly arrived in the eyes, wish to trade shoes and stay another three to four days longer.