The Houston Astros' toxic front-office culture finally got the best of them, but one significant figure seems to have escaped baseball's guillotine.
By Eric Gouldsberry, This Great Game—Posted January 18, 2020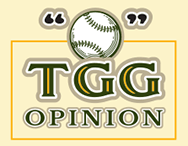 The Houston Astros have become the Albert Belle of Major League Baseball. 
You remember Albert, right? If not, let me refresh your memory. Belle was a talented but troubled soul. He fired baseballs at fans. Chewed out photographers and reporters for no reason. Once tried to break up a double play and in the process broke Fernando Vina's nose with a vicious forearm. A book was printed entitled Don't Call Me Joey, referring to Belle's original first name that no one dared to call him. 
Belle was also a cheater, once caught using a corked bat. His teammates tried bailing him out, with one of them inching through a crawlspace into the umpires' locker room to replace the confiscated bat with an uncorked one. The umpires weren't fooled; Belle was suspended 10 games. 
The sum total of Belle's maleficence easily offset the fact that he was a helluva player, racking up impressive power numbers throughout much of the 1990s—Hall of Fame-worthy stuff. But Cooperstown voters prioritized Belle's bad over his greatness; on his first Hall ballot, he didn't even get the 5% approval necessary to qualify for future ballots. 
Which brings me back to the very first three words of this article: The Houston Astros. Over the past three years, this franchise became everything Albert Belle represented: Impressive, antagonistic, bully-like. 
They also cheated. Quite possibly, all the way to a world title. 
I can personally relate to the toxic culture the Astros have set down from top to bottom, all the way down to the security apparatus "guarding" their precious home building, Minute Maid Park. 
Last July, I went to Houston partially to enjoy an Astros game with relatives, and partially on assignment for This Great Game, taking photographs and notes for our upcoming page on the Astros' 20-year-old ballpark. While my relatives patiently waited near the gate, I did a quick 360 around the facility, snapping the usual glamour shots of the architecture and other fascinating detail. On the ballpark's north end, where entry access is minimal and foot traffic is light, I locked my camera in on one of the retractable roof tracks that protruded out of the structure, soaring high above me as if a monorail would be gliding by at some point. Suddenly, I heard shouting. "Stop! You can't take pictures!" yelled a woman, one of several folks standing guard over a private gate to the ballpark. 
I was briefly startled, then thought to myself: I'm on a public street taking a picture of a public building. (Minute Maid Park is owned by the Harris County-Houston Sports Authority, a public entity.) I'll take whatever pictures I want, thank you very much. Instead of brutally making the point, I played nice. Politely, I physically and audibly pointed out to the amped-up security detail that, yes, I was standing in front of the gate, but the camera was aimed up at the tracks well above. There was little reaction, which I sensed as an understanding, and quietly continued on my loop around the ballpark. 
Shortly after reconnecting with my relatives, I got a tap on the shoulder and heard the words, "Excuse me, sir." I turned and saw an Astros security guard—or maybe it was even a policeman put on the ballpark beat, I don't know. He asked me if I had been taking pictures on the other side of the ballpark. 
Okay, you got to be kidding me, I thought. This was not the treatment I received at other ballparks I've profiled for This Great Game. In Seattle, long-time team rep Rebecca Hale wonderfully went out of her way to give me access to areas of T-Mobile Park that the average fan couldn't—the press area, private diners, even the booth that operated the retractable roof—and, oh, she gave me a ticket 10 rows behind home plate. In San Diego, the Padres gave me free tickets as well, and the Petco Park soldiers helped rather than harass, giving me cool insider tips on what to take pictures of and where. 
But now here I was at Minute Maid Park in Houston—and the Astros are putting out a friggin' APB on me? I mean, what we're they hiding behind that gate on the other side to get so worked up about my presence? Uranium? Jimmy Hoffa? Piles of unaccounted-for Enron cash? 
I hopped over the theater rope and huddled with the security guy to explain things. I showed him the pictures I had taken around the park just to let him that everything I snapped was of the wonderful building the Astros call home, none of them showing a stupid security gate. He looked through my slide show, leaned to his shoulder walkie-talkie and relayed the story—probably with the folks on the other side—and turned back to me with the first bit of sanity I experienced over the previous 20 minutes. "I'm sorry, sir," the security guy let me know, "It was a big misunderstanding. Enjoy the game." 
In the months to follow, the Astros continued to go full Albert Belle, raging against the machine. Much of this you probably already know. There was ace pitcher Justin Verlander getting the nod by Astros management to ban Detroit Free Press reporter Anthony Fenech from the clubhouse because of something Fenech earlier wrote that he didn't like. There was assistant GM Brandon Taubman, in the midst of the Astros' ALCS clubhouse celebration, profanely shouting point blank at female reporters about how thrilled he was to have closer Roberto Osuna, who Houston had traded for a year earlier amid allegations of domestic abuse. There was the front office, who initially and aggressively defended Taubman while attacking the credibility of the witnesses, calling out their reporting as "irresponsible." And, last and not even close to being least, was the ratting out of the Astros by ex-Houston pitcher Mike Fiers about a hi-tech sign-stealing scheme that went back to their 2017 championship season—ultimately costing the team its manager, general manager, four future draft picks, $5 million and the managers of two other major league teams who were members of the Astros at the time of the ploy. 
Needless to say, there's been a great deal of debate on whether the Astros got off lightly on MLB punishment. But commissioner Rob Manfred boxed himself in. He had decreed, two years earlier after the Yankees and Red Sox had accused each other of digital sign-stealing, that any further discipline would be severe and burdened solely upon the manager and general manager. That made Houston skipper A.J. Hinch and GM Jeff Luhnow—who claims he wasn't even aware of the Astros' scheme—the easy fall guys. Trying to dock the players would have been a messy process, and the union would have defended them to the death (or at least to court). 
That leaves Jim Crane, the Astros' top dog, head cheese and Lord. Manfred conveniently sidestepped discipline on Crane, claiming that as the man running the Astros' business operations, he has nothing to do with the baseball operations side. But Crane is the owner—he runs everything. And thus, he should be responsible for everything, whether it's a championship trophy or the game's worst scandal since the Black Sox threw the World Series 100 years earlier. 
The culture of any business starts at the very top. That's Crane. In light of all the controversies, that culture has been assailed as "toxic" and "fear-based," among other unpleasant adjectives. Past and (anonymous) current employees cast the environment as cold, ruthless and thoroughly unpleasant. Manfred himself alluded to the front office atmosphere, citing that as additional reason to suspend Lunhow. Just days before Fiers spilled the beans, Astros executive advisor Nolan Ryan—who's as good-guy as it gets in baseball—jumped ship, and rather abruptly. When asked to comment by a local TV station, Ryan texted back confirmation of his departure and added, "Will leave it at that." 
Whether Crane intentionally sculpted this tense culture or played laissez faire and let the culture create itself, it doesn't matter. He's in charge. 
But Manfred didn't want to go there. Why? Perhaps because the commissioner is no longer Kenesaw Mountain Landis, who held stratospheric power over the game. Manfred is an owner's tool. If he ever felt compelled to oust an owner who helps pay his salary, he might be too scared to carry out the discipline. 
Crane apologized to the Sports Illustrated reporter who broke the story on Taubman (whom Crane fired), but only after he had signed off on the team's initial response attacking the messenger. He also apologized for the sign-stealing scandal, though he never acknowledged that it helped the Astros reach the 2017 World Series and win it. But Crane needs to take a hard look at himself in the mirror and ask: Do I want this club to exist within a successful, upbeat and employee/player-friendly environment? Do I want to tell security people to lay off people like that guy trying to take pictures of our wonderful ballyard? Or do I want to continue to be Albert Belle? 
If he takes the latter approach and plays the status quo, look for a lot of fans to take it out on him and his franchise. At this point, they probably will anyway. 
Just don't call the team Joey.