Baseball's 2020 Postmortem: Why It May Get Worse Before It Gets Better
Looking for a return to normalcy in the baseball world? You may have to wait until 2023.
By Eric Gouldsberry, This Great Game—Posted November 6, 2020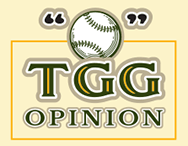 Congratulations, Baseball.
You survived a 2020 season that few thought you could live through. You played your 60-game schedule through to the end with only a few hiccups—otherwise known as scary clubhouse outbreaks—with resiliency, seven-inning doubleheaders, and gratuitous gift runners on second base. Even more impressively, that expanded, neutral-site postseason of yours went off without a hitch. 
So now that all that is behind, you can breathe a sigh of relief and feel that you're in the clear for 2021, right? 
We don't think so either. 
Just because the baseball season has come to an end doesn't mean that the pandemic has ended with it. In fact, COVID-19 is showing us that its viral best is yet to come. The experts—yeah, those guys, the ones Donald Trump likes to dump on—all told us that we'd be in for a rough winter. So far, they're looking to be quite right. As November started, America was close to averaging an unprecedented 100,000 new cases a day, with 1,000 daily deaths. Those figures are expected to double, perhaps triple—perhaps worse—when it gets really cold, in December and January. If we're lucky, we'll have a vaccine by then. If we don't, then the answer to any questions related to baseball's short-term future will be the same as that given in 2020: "That depends on the virus." 
From a baseball perspective, you might be thinking, "Okay…so what?" All that's happening in the Dead of Winter are free agent signings, award announcements and GM meetings, which nobody pays to see. But then comes mid-February, and the reporting of pitchers and catchers to start Spring Training in Florida and Arizona. If the virus is still raging and it's no bueno on vaccine progress, does anyone really think that the 30 MLB ballclubs are just going to move forward as scheduled, like the band playing on the Titanic? 
Should baseball proceed with Spring Training at its normally scheduled time, and there's no vaccine ready—even if the pandemic has started to ebb—expect the fans to be locked out. That means empty grandstands, outfield berms and complex grounds without fans being able to mill around and watch minor leaguers in major league uniforms shag flies. 
But let's say the pandemic is still a major factor come April 1, 2021—for now, MLB's official Opening Day. And let's say that cardboard cutouts continue to reign in the stands. Will we even have baseball at that point? April Fools!
Look, MLB would love to return to a 162-game schedule. But if it knows that fans won't be allowed back into ballparks until, say, mid-summer—and even then, at 25-50% capacity—it's not going to keep hemorrhaging money and pay players full salary after losing $3.1 billion in 2020. You can bet that the owners will call the players back to the negotiating table and let them know that without fans in the stands, a 162-game schedule just ain't going to happen. Nor will a 154-game sked. Or 120. Or maybe not even 100. It comes down to a price point; how much playing time is MLB willing to absorb and maintain fiscal sanity at the same time? 
And god forbid, under this scenario, what of the minor leagues? Who's going to bail them out if they have to shut down for a second straight year? Mitch McConnell? 
Not to depress you even more, but it has to be said: You may not see a 162-game schedule played out again until 2023. While prospects for a full 2021 season grow increasingly dubious, there's also 2022—which could also be truncated. Not because of the pandemic—at least not directly, as we assume it should largely be behind us by then. But indirectly, the pandemic has increased the odds of a work stoppage as a new Basic Agreement between players and owners looms at the end of 2021. Tensions between the two sides boiled over before the shortened 2020 season as they bickered over schedule length and prorated salaries. It left scars that certainly will be on display when a new pact is fiercely negotiated, because money is scarce. 
In pre-pandemic times, baseball's pot of gold was so full, it was just a matter of which side would get the few extra pennies upon the riches both were sure to enjoy. But that pot has emptied a bit due to financial losses in the pandemic era; thus, the owners and players will come to the table with claws sharpened. Expect more scars—and a work stoppage that could cancel Spring Training 2022, unless the owners are gutsy enough to bring in replacement players. Who would those players be? Chances are, they'll be minor leaguers just looking for a chance to play somewhere, anywhere if minor league operations remain shut through 2021. 
Some of you may be reading this in our future, via our Opinion archive, and thinking how overly alarmist this whole story is. Hopefully that will be your view; that means that much, or even none, of the above will ever have happened. So hopefully we'll be back at full strength in 2021. The ballpark gates will swing open, and vaccinated fans will happily flood through by the tens of thousands. Gift runners on second and seven-inning doubleheaders will become a thing of the past. And owners and players will face each other at the bargaining table, sing Kumbaya, quickly shake hands on a new deal without worrying where the nearest hand sanitizer is, and spare us all a work stoppage. 
Yes, all of that is a possibility. 
But that depends on the virus.