Can the Teasers of 2016 Prove They Belong in 2017?
A look at the best of 2016's call-ups who impressed at the end of the season, and their chances for providing an encore over 162 games in 2017.
By Eric Gouldsberry, This Great Game—Posted February 22, 2017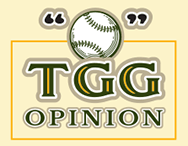 Toward the end of every baseball season, hundreds of minor leaguers are called to the majors in their cherished hopes to show their stuff on the big stage. For those who make the most of it, it's a big boost for their odds of making the following year's Opening Day roster; at the very least, they'll get to hang at the next spring camp to prove that their end-of-year auditions from the season before were no fluke.
As we do every year, we peruse the numbers and come up with our list of 10 players who best produced, turned heads and likely got handshake promises from front office types saying they couldn't wait to see them next spring. These players are what we called the "Teasers."
Just being graduated to the Teaser level doesn't guarantee success at the big-league level. Over the years, some of them have gone on to stardom, while others have fallen off the radar and never been heard from again. So following is this year's list of prospects who shined brightest last August and September, and their chances for the season to come—followed by our list of last year's Teasers and how they fared in 2016.
Jharel Cotton, Oakland. After a rough start to 2016 in which he fumbled about on the Dodgers' Triple-A affiliate, the U.S. Virgin Islands native was traded to Oakland as part of the deal that sent Rich Hill and Josh Reddick to Los Angeles; eight days later, Cotton came within an out of throwing a perfect game at the A's top minor league club in Louisville. Such results, made possible by a settling down of his mechanics, led to a late-season promotion where he furnished a 2-0 record and 2.15 earned run average in five starts for the A's. Cotton begins spring training penciled in at the #4 spot in the rotation.
Grant Dayton, Los Angeles Dodgers. Corey Seager wasn't the only rookie on the Dodgers to earn ecstatic applause last season. There was also Dayton, a reliever who appeared destined to be a career minor leaguer until, in his seventh year of trying, he finally made it to the big time and took advantage of most every moment, posting a 2.05 ERA and 0.76 WHIP (walks and hits allowed per inning) in 26.1 innings while striking out 39 opponents. The 29-year-old Alabaman is aiming to be the Dodgers' top set-up lefty in 2017.
Robert Gsellman, New York Mets. As Jacob deGrom faded to the shelf late in August, along came Gsellman—the "G" is gsilent—and performed a pretty good impersonation, with the gsame height (6'4"), gsame shoulder-length hair and gsame strong results. In eight appearances, seven of them starts, the 23-year-old right-hander produced a 4-2 record and 2.42 ERA. Unless Zack Wheeler gets healthy and stays sharp, the fifth and final spot in the Mets' order will likely belong to Gsellman.
Trey Mancini, Baltimore. That we're promoting a guy who appeared in just five games and batted 14 times at the very end of last season may seem to be a bit of a stretch, but show us someone else who's homered in each of his first three major league starts. Mancini's noteworthy debut follows a pretty strong minor league career to date, but will all of that propel him to an Opening Day roster spot? The chances of that are less likely now that Mark Trumbo has re-upped with the Orioles, and they'd be remiss not to remind Mancini that, as powerful as his audition was, it still came within a very slim sample size.
T.J. Rivera, New York Mets. The 28-year-old second baseman may be the second coming of Daniel Murphy, given his exceptional contact hitting skills in the minors (.324 average through six years)—and his late-season stint with the Mets, hitting .333 in 105 at-bats after Neil Walker went down with a season-ending injury. Walker is healthy and likely to reclaim his starting spot, meaning Rivera may have to settle for being a reliable source off the bench—but he's good enough to have landed a spot on the Puerto Rican WBC roster.
Hunter Renfroe, San Diego. After ruling the Pacific Coast League as its MVP with a .306 average, 30 homers and 115 RBIs, the 24-year-old Mississippi native didn't wilt against major league pitching—hitting .371 with four jacks and 14 RBIs in 35 at-bats, including a two-homer, seven-RBI performance on September 27 against the Dodgers. The Padres, who have regressed back to an anonymous state of being, could use some star power and look ready to bet it on Renfroe, who is likely to start somewhere in the outfield on Opening Day.
Alex Reyes, St. Louis. With a wicked 100-MPH fastball that contributed to a 4-1 record, 1.57 ERA and 0.89 WHIP late in 2016, Reyes understandably had Cardinals fans salivating for what he could bring over a full season in 2017. Alas, they'll have to wait until 2018. The 22-year-old New Jersey native arrived at St. Louis spring camp with a torn muscle in his elbow, and it was immediately decided that he'd have to undergo Tommy John surgery. So there will be no Reyes of hope at Busch Stadium this season.
Matt Strahm, Kansas City. Despite a 3-8 record and okay 3.43 ERA at the Double-A level, the 24-year-old southpaw was given a jump to the Royals and responded with big-league efficiency, posting a stifling 1.23 ERA and 30 strikeouts over 22 innings of relief. Strahm looks to have a decent shot of making the Opening Day roster for Kansas City.
Dansby Swanson, Atlanta. The best known of this year's Teasers (for now), the overall #1 pick from 2015 will forever grate at the psyche of an Arizona front office that gave him (along with some other pretty good talent) to the Braves for 2016 pitching disaster Shelby Miller. Swanson got his call to Atlanta in mid-August and impressed with a .302 average, three homers and 17 RBIs in 38 games, all while playing terrific defense at short. It's not a question of whether he'll start on Opening Day, but whether he can show continued growth and start the All-Star Game.
Andrew Toles, Los Angeles Dodgers. Corey Seager and Grant Dayton weren't the only rookies on the Dodgers to earn ecstatic applause last season. There was also Toles, who made a meteoric rise from A+ to AA to AAA to the Dodgers all within one season—and played as if he was looking for an even higher level after hitting .314 for Los Angeles late in the regular season, followed by eight hits in 22 at-bats during the postseason. Toles makes a crowded Dodgers outfield even more cramped, but if he keeps elevating at this pace, he'll find room on an everyday basis.
And now, a look at last year's Teasers, how they fared in 2016 and where they currently stand for 2017:
Greg Bird, New York Yankees. The young slugger can relate to Alex Reyes above; he had to sit out all of 2016 as he recovered from a serious shoulder injury. That's too bad, because after making a strong impression late in 2015 (11 homers and 31 RBIs in 157 at-bats), the Yankees were eager to see what he could do over a full season. If he makes the New York roster for 2017, he'll have to fight for time with the newly acquired Chris Carter (he of the 41 homers in 2016) and Tyler Austin, once he comes back from a spring training injury.
Silvino Bracho, Arizona. The young Venezuelan reliever looked sharp in a very short (12.1 innings) stint late in 2015, but he couldn't carry the momentum to 2016, sustaining a woeful 7.30 ERA in 24.2 innings of work. The only reason he gets a chance to return to the 2017 roster is that the rest of the Arizona bullpen looks to be a mess.
Mychal Givens, Baltimore. Unlike Bracho, Givens stayed focused and sharp in his follow-up to his Teaser effort, securing an 8-2 record and 3.13 ERA in 66 appearances for a Baltimore bullpen that often found itself bailing out its starting rotation. He looks here to stay.
Dalier Hinojosa, Philadelphia. The Phillies thought so much of the 30-year-old Cuban after a strong call-up effort in 2015 that they gave him the closer role to start 2016. It didn't go so well; he didn't earn one save and broke his hand before April was over. Now they don't think so much of him; he's in camp, but as a non-roster invitee. Which means: If he's to make the Opening Day roster, he'll have to fight hard to do it.
Mikie Mahtook, Tampa Bay. After smashing nine home runs in 105 at-bats during his 2015 call-up, Rays fans hoped Mahtook would keep it up for 2016 and become some sort of power partner alongside Evan Longoria. Instead, Mahtook's part-time existence last season was a sour mirror image of his sweet audition, at one point mired in a 0-for-34 slump at the plate. Even a decent September couldn't hoist him over the Mendoza Line, finishing the season at .195 along with just three homers in 185 at-bats.
Steven Matz, New York Mets. One of the latest in a seemingly endless string of quality starting pitchers for the Mets (see Robert Gsellman above), Matz tore out to a 7-1 record at the end of May before cooling off; an elbow injury in mid-August ended his season prematurely, but an overall 9-8 record and 3.40 ERA in 22 starts ain't all that half-bad. He enters 2017 camp feeling no pain from offseason surgery.
Jarrett Parker, San Francisco. The Giants were kind of, sort of hoping that the left-handed slugger could leverage a massive blast binge to end 2015 (six homers in 49 at-bats, including a three-homer game) to 2016, but it kind of, sort of didn't happen. Parker batted a weak .236 while poking out five homers in 127 at-bats—not awful, but far from ideal. Still, the Giants plan to platoon Parker with Mac Williamson in left field in the free-agent absence of Angel Pagan.
Shawn O'Malley, Seattle. The ultimate utility man, O'Malley did a little bit of everything in his September trial of 2015, but in 2016 it took another month in the minors—where he hit .317—to finally convince the Mariners that he should be brought up for the long term. It was tough going, however, for the local kid from Richmond, Washington, batting .229 in 89 big-league games while playing six different positions. But it's that latter versatility that will likely keep him retained on the 2017 roster.
Corey Seager, Los Angeles Dodgers. National League Rookie of the Year, All-Star Game participant, Silver Slugger winner, third in the NL MVP vote. I think you know what this guy did in 2016.
Trayce Thompson, Los Angeles Dodgers. Despite a surplus of outfielders, the Dodgers were very happy to grab Thompson (the younger brother of NBA star Klay Thompson) from the White Sox in a complex three-team trade, and his part-time value early in 2016 seemed to affirm his affecting end-of-2015 effort. But his play quickly went south, hitting just .165 after June 11; by mid-August it was discovered why, as docs found two fractures in his back to end his season. Thompson enters spring camp still struggling with those ills; he'd better get healthy in a hurry, because with all those outfielders the Dodgers still have, it's going to be hard to crack through.