Things to do in Denver When You're Wanted
What happened when the guy who said the Colorado Rockies would never win a World Series was forced to make a stopover in Denver during the team's unstoppable run in late 2007.
By Eric Gouldsberry, This Great Game—Posted March 9, 2008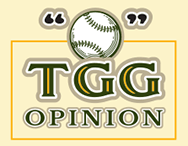 The date: October 11, 2007. The place: Denver, Colorado. I was disembarking from a Frontier Airlines flight into the main terminal of Denver International Airport. To most everyone walking around, it was just an airport. For me, it was something more: A potential hornet's nest.
I could have strolled anonymously among the many going to and fro, but no, that would have been too easy. When you make a statement, you stand by it on the outside as well as the inside. So I pulled out my This Great Game cap in all of its red brick and goldenrod glory. It might as well have been a big fat target on the top of my head.
Walking past a gate with my wife, I heard a few airline attendants working behind the counter, obviously locals. They gave me an innocent glance that quickly turned into a piercing stare when they noticed the cap. "It's him," one muttered, loud enough for me to hear. "He's here."
I headed into the men's room and settled into an enclosed stall. Another guy walked into the one next to mine, but not before he noticed the cap. He didn't nudge my foot like Larry Craig, but instead kicked at it in disgust. "Anti-Rockie-tite," the guy grumbled. Washing up, I looked carefully about and realized you could tell the Rockie fans without a scorecard; they were the ones giving me the icy stare.
The hostess at Chef Jimmy's Bistro walked up and readied to greet us with her contractually obligated smile. Then she noticed the cap, and contract be damned; her smile turned dark in a nanosecond. She sat us at the table closest to the hi-def monitor showing Game One of the National League Championship Series between the Colorado Rockies and Arizona Diamondbacks, because she was going to make darn sure I wasn't going to miss what was unfolding before my eyes. She then delivered the cherry on top of my angst, thrusting the menu at me and, with a smile that was as devious as it was obligated, blurted, "Oh, look, the Rockies appear to be on their way to the World Series! Now isn't that stunning!"
Here's the thing: Back in 2005, I wrote our first opinion piece for This Great Game. It was a doozy: I submitted that the Rockies would never win a World Series. I got a bit of heat for it.
And as I sat there at Chef Jimmy's watching the seemingly unstoppable Rockies pounce on Arizona, I realized there was a very good chance I was going to get burned by my own words.
A burly man turned on his bar stool during a commercial break and noticed me sitting with my cap. Another local. He toasted me from afar with his drink and yelled to the bartender, pointing in my direction, "How 'bout a Schnapps for Carnac the Idiot over here?"
The flight home to San Jose couldn't have come any sooner.
Okay, so my pride took a hit. The Rockies came close. I sweated, I rubbed the rabbit's foot, I all but prayed to the East five times even though I'm not Muslim. And I survived. And I'm still right. The Rockies didn't win the World Series. They still haven't won one.
And they will never win one.
In short, what I said in 2005 was this: The Rockies score tons of runs because of the mile-high elevation and thin air, but they also give up a ton. The visitors suffer, too, but they only have to put up with Coors Field no more than nine times a year. The Rockies have to deal with it 81 times. Because they give up so much offense, Rockie pitchers throw more pitches. Many of those deliveries often get hammered. The pitchers grow tired, fatigued and emotionally incredulous. They get little if any chance to recover. By September, the long haul has gotten to them. They're deflated by the lack of thin air, by the offensive torment, by the exhaustion that affects their heads as much as their vertically-challenged lungs.
And that's why I came to the conclusion that the Rockies could never win a World Series.
At the time I wrote the opinion, I honestly thought of adding this caveat: "Of course, thanks to the wild card, the Rockies could some day sneak in, catch lightning in a bottle as other eventual World Series champions of late have done, and prove me wrong."
I sulked out of Chef Jimmy's, reached an obscure spot of the terminal and decided it was about time to put away my cap. Feeling the stress, I walked toward my gate and caught a small massage boutique out of the corner of my eye. I felt I could use 10 minutes from a masseuse, so down I sat to have some relaxation restored to my body. After about five minutes, the masseuse must have looked downward and noticed the TGG cap peaking through the unzipped part of my bag.
And with that, the relaxing portion of my massage came to an end.
A month earlier, the Rockies did catch their lightning in a bottle. But to do what they did—to go through a 38-day stretch with just one loss—they also had to be lucky. Lucky to watch the team to beat in the NL, the New York Mets, blow a seven-game lead with 17 to play and miss out on the playoffs. Lucky to watch San Diego blow a two-game lead over the Rockies with two games to play. Lucky to have home plate umpire Tim McClelland rule Matt Holliday safe at home for the winning run of the wild card playoff against the Padres, even though Holliday never touched the plate. Lucky, in the NLDS, to sweep past a Philadelphia Phillie team that only made the postseason due to the Mets' collapse. Lucky to conquer the NL flag over the Arizona Diamdonbacks, a team that, in spite of the NL's best record, allowed more runs than they scored.
In short, the Rockies were lucky to take advantage of a pathetic National League.
I realized that no one in the senior circuit was going to stop Colorado, as I glimpsed yet again at the NLCS action while walking past a bar near my gate. Sitting down, my wife was more than happy to pick up where the angry masseuse left off, fueling calm back into my shoulders. In regards to the Rockies and This Great Game, I said nothing, wore nothing, expressed nothing. It was time to go home.
Ultimately, the Boston Red Sox proved that I was right all along. The American League represented reality for the Rockies, and the Red Sox were the best of that far more superior circuit. The magic at Blake Street hit a brick wall as hard as the Coors Field facade; four and out went Colorado, which played as if it had no business being in the World Series. My point, exactly.
But, you have to give the Rockies credit for getting as far as they got, given that management had been acting out of a bureaucratic coma in recent years, given that team veteran Todd Helton reportedly sulked about staying in Colorado after a preseason trade to Boston fell through, given that the average Rockie player seemed to barely be above legal drinking age. They managed with young or well-traveled veteran pitchers who suddenly succeeded at 5,280 feet where almost everyone before them had failed, including known All-Star qualities like Darryl Kile and Mike Hampton. They managed while wearing those high-top, sleeveless black-and-purple uniform tops that resembled something left over from Ultra Man.
So, does all of this mean I'm giving a mea culpa to those who thought I was way off base in 2005? No. The Rockies gained my respect in a way I didn't think was possible, but they have yet to prove me wrong. They have a good team with some great young hitters going into 2008, and a lot of prognosticators out there are no doubt itching to say that the Rockies are strong favorites to win the NL West.
But to me, everything always comes back to the elevation. Lightning doesn't strike twice in the same place. Coors Field felt the bolt of energy in 2007, but for the Rockies to do it all again in 2008, they'll once again have to overcome the mile-high handicaps as they always have. It doesn't matter if the humidor is plugged in or not.
My plane ascended out of Denver airspace and over the Rocky Mountains. I looked back at the lit-up metropolis that had tormented me for the past few hours, and I felt like tipping my TGG cap to all the Rockie fans who hated me before and were feeling the good life of winning baseball for the first time in their lives.
It's too bad they wont be reliving it again anytime soon.

Altitude-Challenged: Why the Colorado Rockies Will Never Win a World Series So long as the Colorado Rockies are stuck playing half of their games in the thin air of Denver, their chances of winning the Fall Classic will be suffocated.