Can the Teasers of 2014 Prove They Belong in 2015?
A look at the best of 2014's call-ups who impressed at the end of the season, and their chances for providing an encore over 162 games in 2015.
By Eric Gouldsberry, This Great Game—Posted March 3, 2015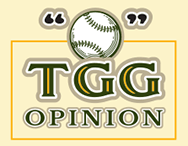 Every year since 2008, we've been doing something that's a little statistically fun: Corralling a group of first-time call-ups who impressed in their short stay as a possible hint of future major league stardom. It's a list that solely trusts the metrics of their short-sampled efforts—so as they say in the fund industry, past performance is not an indicator of future success. And while some of the players we've spotlighted over the years have faded into the trash bin of could've-beens, others have made the grade and then some. Among those in the latter group: David Price, Craig Kimbrel, Madison Bumgarner, Chris Sale, Pablo Sandoval and Matt Harvey. 
So what follows is not only our list of Teasers from 2014 who may or may not break out in 2015, but a look back at last year's group and how those players progressed—or not. 
Christian Colon, Kansas City. The speedy Puerto Rico native tripled and doubled twice in his first major league start last summer, hit .333 in limited time during regular season action and, in the Royals' memorable wild-card playoff victory over Oakland, knocked in the tying run before scoring the game-winner moments later. You would think Colon would have been rewarded with more than just one brief appearance through the rest of October, but there you are. Yet spring is here and the Royals haven't forgotten about Colon, who is projected to be the team's top back-up infielder—and maybe a starter if one of the everyday regulars gets hurt. 
Ben Paulsen, Colorado. After six years in the minors, the 6'4" first baseman got the call to Coors Field and hit well—and while you might be inclined to add the mile-high asterisk, be aware that three of his four homers hit after his arrival came on the road, to go with an overall .317 average. Paulsen is considered to be on the bubble in regards to making the Opening Day roster; his chances depend on whether the Rockies' experiment to start catcher Wilin Rosario at first fails miserably in camp. 
Aaron Sanchez, Toronto. A first-rounder in the 2010 draft, Sanchez was brought up by the Blue Jays late last July despite a so-so (3.95) ERA on the year to date in the minors. Nevertheless, some players rise to the occasion when they step on a major league field, and Sanchez was apparently one of them—posting a terrific 1.09 ERA in 24 relief appearances with three saves and an opposing batting average of just .128. The native from Barstow, California—yes, the same place where Budd of Kill Bill fame settled—is highly regarded as it is within the Toronto organization, and he's likely to make the Opening Day roster; the only question is whether he'll be a fifth starter, reliever or even the team's closer. 
Chasen Shreve, New York Yankees. Having already locked down the title for the collest name on this list (sorry, Christian Colon), now he has to prove his long-term worth in the majors after a nice bit of action in Atlanta late last year, registering a 0.73 ERA in 15 appearances out of the bullpen. Despite a thinning Braves relief corps, Shreve was traded to the Yankees during the offseason and is considered a 50-50 chance to make the final cut. If he does, he'll potentially provide critical left-handed relief and provide first-person accounting of Alex Rodriguez's return to action, so expect TGG's Ed Attanasio to interview him on that latter subject in about 20 years. 
Carson Smith, Seattle. Okay, so 8.1 innings of year-end work is a small sample even by our standards, but the right-hander with a unorthodox sidearm delivery retired 24 of the 29 batters he faced (only two of the other five managed a hit) and struck out 10, keeping in sync with his strikeout rate of over 11 per nine innings through a fairly fast rise within the minors. Smith will have a strong camp to earn an Opening Day roster spot, but the Mariners are pretty sure if he doesn't make it for April, he'll be in Seattle soon enough. 
Jake Smolinski, Texas. Despite a relatively pedestrian (and long) minor league existence, the short but muscular Smolinski raised his game in the uniform of the Rangers last July, hitting just south of .400 before, like everyone else on the team, he got hurt. Two months later in September, he returned and showed little let-up, finishing with a .349 average, three homers and 12 RBIs in 86 at-bats. Smolinski is in the mix for the left-field job or a spot as a part-time DH. 
Jorge Soler, Chicago. While Javier Baez got most of the buzz among the heralded Cubs call-ups last year despite striking out every second at-bat, Soler put on a more disciplined and prodigious performance, hitting .292 with five homers and 20 RBIs in 89 at-bats. Fragility is the only issue with the 23-year-old Cuban who's looked solid every step of the way in the minors when healthy; he's our bet to be the one guy on this list who'll join the other big-name graduates from TGG Teaser Academy. 
Cory Spangenberg, San Diego. It was a nifty debut for the left-handed Pennsylvania native, showing good on-base skills (.290 average), speed (four steals) and even a little power (two homers) in 20 games for the Padres. His defense was awful, but it's hardly a reflection of his solid glovework in the minors. As the Padres go all out to muscle up with All-Star power, Spangenberg's chances of making the club for 2015 may be diminished; if he makes the roster at all, it will be in the role of reserve infielder and pinch runner. 
Andrew Susac, San Francisco. Hurried from the minors last year to perform back-up duty to Buster Posey after Hector Sanchez developed concussive issues, Susac played with both confidence and competence, hitting .273 with three homers and 19 RBIs in just 88 at-bats. In the perfect world, he'd take Posey's spot if the Giants' matinee idol moved permanently to first or third as has been rumored, but for now he's been told that if he keeps up his solid work this spring, he'll remain #2 on the depth chart at best. 
Rafael Ynoa, Colorado. After years being stuck in the Los Angeles Dodgers' minor league system, Ynoa escaped to the Rockies, ascended to Denver and put forth an impressive September call-up session by hitting .343 in 67 at-bats. Like Ben Paulsen above, the Coors Field effect must be considered, and it should be noted that Ynoa hit .433 at home and .234 on the road with his compact package of numbers. The best hope for the 27-year-old infielder is to land a back-up role with the Rockies. 
Now that you've met the Teasers of 2015, let's take a look back at last year's list and see how those players did—and if you even now know any of them: 
Kevin Chapman, Houston. The southpaw reliever made the Opening Day roster last year after thrilling the previous September, but was utterly unconvincing one month in and sent down to the minors—where he revived his confidence with a very sharp 1.23 ERA in 43 games. That helped Chapman in his return to the Astros in August, allowing just one run over 13 late-season appearances. He is considered borderline to make his second straight major league cut. 
Jarred Cosart, Houston/Miami. After a near-magical late-season 2013 effort in Houston which saw him garner a 1.95 ERA (but just one win) over 10 starts, Cosart found it easier to acquire wins (nine in 20 starts) to start 2014—but at the cost of a less convincing 4.41 ERA that may have led him to being shipped to Miami. This may be the Astros' loss; with the Marlins, Cosart really came around with a 2.34 ERA and 4-4 record in 10 starts. Cosart is set for the middle of the Marlins' rotation—but with many worthy arms in Miami, he could find himself in long relief if he doesn't deliver. 
Billy Hamilton, Cincinnati. A preseason consensus for Rookie of the Year last year after a spectacular debut late in 2013 (and record-breaking minor league numbers before that), the speedy Hamilton led off from the season's first day to the last and stole 56 bases, but his .250 average, .292 on-base percentage and 23 times caught stealing (leading the majors) need work. But at least he's laid down the roots for strong future growth. 
Erik Johnson, Chicago White Sox. We said a year ago that a job in the 2014 Chicago rotation was the highly ranked prospect's job to lose after solid numbers both in the minors and in his brief work in the majors. Lose it he did, being dumped down to Triple-A after a 6.46 ERA in five April starts. It only got worse in the minors, where Johnson suffered through a 6.73 ERA in 20 more assignments. Shoulder inflammation and a loss of command were said to be main issues, issues he'd better address this spring. 
Tommy Medica, San Diego. Medica showed taut power in his lead-in to 2014 but proved not yet to be the second coming of Adrian Gonzalez, knocking nine out of the park in part-time play with a soft .233 average. Like Spangenberg above, Medica could be the victim of a bulked-up roster that might squeeze him down to the minors. And just in case Medica is thinking about it, he should keep his day job and not dabble more in the world of music videos. 
Jimmy Nelson, Milwaukee. The brewers' top prospect started last season as expected in the minors and was dynamite with a 10-2 record and 1.46 ERA at Triple-A Nashville—but he couldn't replicate that success with a second-half tour at Milwaukee, winning just two of 11 decisions with a 4.93 mark as opponents nearly hit .300 against him. It was just a case of growing pains, or so the Brewers hope; they have Nelson penciled in the #5 spot within the rotation for Opening Day—with stress added to the word "penciled." 
Chris Owings, Arizona. The young shortstop had a decent rookie showing (.261 average, six homers, 26 RBIs in 91 games) that was interrupted by a shoulder injury that required offseason surgery. The Diamondbacks were satisfied enough that they traded equally talented Didi Gregorius to the Yankees in order to give Owings the full-time job at short. 
James Paxton, Seattle. After a terrific and unexpected tease to end 2013, the Canadian southpaw experienced shoulder problems early in 2014 but, once healthy, impressed anew in 13 starts for the Mariners with a 6-4 record and 3.03 ERA. He's on the staff to stay—so long as he doesn't suffer silly injuries like the one that strained his pitching arm during agility drills at the beginning of camp this spring. 
Josmil Pinto, Minnesota. The Venezuelan native had all the momentum going for him after a sizzling finish to 2013 and Joe Mauer's move to first that gave him a shot at the full-time catching gig, but things didn't work out as planned with a poor 2014 follow-up (.219 average in 57 games) and an unexpected career performance by teammate Kurt Suzuki that kept him seated on the bench. And thus, Pinto is slated to back up Suzuki for 2015. 
Tanner Roark, Washington. A rookie at 27 last year, Roark followed up his 7-1, 1.51 ERA effort to end 2013 with an excellent 15-10 mark and 2.85 ERA in 31 starts for the Nationals. But with the arrival of Max Scherzer, Roark somehow finds himself as the odd man out, on the outside looking into a crowded and talented starting rotation. It's an unlucky but short-term situation as the Nats realize they'll have to move potentially pricey pitchers such as Jordan Zimmermann or Stephen Strasburg to lessen their payroll and allow Roark (who's playing for the minimum) back in.