Can the Teasers of 2015 Prove They Belong in 2016?
A look at the best of 2015's call-ups who impressed at the end of the season, and their chances for providing an encore over 162 games in 2016.
By Eric Gouldsberry, This Great Game—Posted February 23, 2016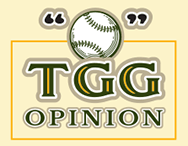 One of This Great Game's lasting traditions over the years is to round up a list of unknowns who put up the best late call-up numbers from the previous major league season and assess their chances for the upcoming campaign. The selections are purely based on statistics, so go ahead and call us lazy for letting the numbers do all the brainwork for us. For us, it's just fun to point out these guys who really thrived in limited activity and hope to leverage their numbers toward future greatness. 
Not all the Teasers we name make it; in fact, some of them are never heard from again after looking so good the previous September. Maybe they got lucky and faced a bunch of other call-ups who weren't up to the task or veterans tiring from the grind of a 162-game season in this, the post-amphetamine age. But then there are others we name who are definitely the real deal, whose debut numbers are the rule to the exception as they start a long and fruitful career. 
So who looked hot to end 2015, and what's expected of them for 2016? Take a look. And then, let's review last year's list and see how the Teasers of 2014 did in 2015.
Greg Bird, New York Yankees. We start on a peculiar note because we know what's in store for the Colorado native in 2016: Nothing. Shoulder pains that hampered Bird before being called up to the Yankees flared up in the offseason; it got o bad, he had to go under the knife—and as a result, he'll be lucky to see any action in 2016. And that's a shame for the Yankees, who were hoping to have Bird back up the fragile Mark Teixeira at first base—especially after knocking out 11 homers with 31 RBIs in 157 at-bats in 2015. 
Silvino Bracho, Arizona. After garnering a 1.52 ERA in 134 career minor league appearances, the Venezuelan-born Bracho was catapulted from Double-A to the Diamondbacks—who could always use a few good relievers—and he delivered with a 1.46 ERA in 13 relief appearances, striking out 17 opponents (while walking just three) in 12.1 innings. If he can continue to maintain a high-end consistency in spring training, he should be a lock for the Opening Day roster. 
Mychal Givens, Baltimore. Givens' recent past is a virtual mirror image of Bracho's; A fast track to from Double-A to the majors, low ERA (1.80), high strikeouts (38 in 30 innings) and good control (only six walks). He should stick with the Orioles' Opening Day roster, hoping to do setup work for closer Zach Britton. Not bad for a guy who converted from shortstop to the mound just a few years back. 
Dalier Hinojosa, Miami. These days, it seems like teams will shell out a lot of money to grab anyone from Cuba, even if a player hasn't looked all that impressive on paper—like Hinojosa, who posted a career 4.21 ERA on the island and still was given $25 million by the Boston Red Sox to make it in MLB. But Hinojosa didn't make it for Boston, which gave him up to Philadelphia—where, suddenly in a late-season stint, he flowered with a 0.78 ERA in 18 appearances. At age 30, he is experienced, but given his modest-at-best track record both in Cuba and the minors, he'll have to put together a strong spring effort to prove his way onto Philadelphia's Opening Day roster. 
Mikie Mahtook, Tampa Bay. Here's a typical case of a Teaser who exceeded expectations after putting up inferior minor league numbers. Mahtook's nine home runs, 19 RBIs, 22 runs and four steals in just 105 at-bats late last year turned heads, and it's hard to think that he doesn't make Opening Day for the Rays. But it's a young, crowded outfield at the Tropicana Dome, so the 26-year-old Louisianan will have to count on injuries elsewhere (as it happened last year) to get a crack at more playing time. Then he can show that last year's Teaser numbers weren't a fluke. 
Steven Matz, New York Mets. The Mets need more top young pitchers like the Middle East needs sand, but they'll be happy to take the 24-year-old right-hander, who started six games last year and finished 4-0 with a 2.27 ERA. In the midst of this impressive debut was a two-month stay on the disabled list, so his initial stay would have been much longer (and likely would have disqualified him from this list) had he stayed healthy. But Matz certainly figures to be part of a youthful, dreamlike New York rotation that includes Matt Harvey, Jacob deGrom, Noah Syndergaard and (when he returns later this year from Tommy John surgery) Zack Wheeler. 
Jarrett Parker, San Francisco. The Giants, who've had trouble developing homegrown outfielders over the years, were pleasantly surprised to see the 27-year-old Parker go bonkers last September, smoking six homers among 17 hits in just 49 at-bats. Parker's short-sample highlights included the longest home run (454 feet) hit by a Giant all season, a three-homer game at Oakland, and five homers over nine at-bats to make him the first Giant to accomplish that since some guy named Barry Bonds. The explosive audition makes it likely that Parker will get a roster spot as a reserve, but given the current fragility of the Giants' starting outfield, look for him to get more than his expected share of at-bats in 2016. 
Shawn O'Malley, Seattle. Okay, so the local kid from Richmond, Washington hit a fair .262 in 42 at-bats. So how's that supposed to tease us, you ask? The devil is in the details, and that includes 10 runs, three steals and 12 walks—interesting, given that O'Malley only drew 19 passes in 89 Triple-A games before being called up. But beyond his grit, speed and determination, O'Malley is also a jack-of-all-trades, someone who can be plugged in anywhere in the field. The Mariners could use some spunk on their roster, and O'Malley just might be the right guy. But the reports sound like he's going to have to play well in camp to earn a roster spot. 
Corey Seager, Los Angeles Dodgers. Amid the many unknowns and few "oh yeah, him" guys on this list comes Seager, the Chosen One, the #1 major league prospect, the all-consensus pick for this year's Rookie of the Year. His late-season debut with the Dodgers certainly underscored the hype; in 27 games, he hit .337 with four homers and 17 RBIs. This, after hitting a relatively quiet .278 at Triple-A. But he's succeeded at every level of play thus far, so the sky remains the limit for the Charlotte native who turns just 22 in April. Seager just needs to understand the game's intangibles, like minding third base when necessary—something he didn't do last October when the Mets' Daniel Murphy grabbed an easy and crucial extra base on Seager's watch, or lack thereof. 
Trayce Thompson, Los Angeles Dodgers. We're not done with the Dodgers, and that's a very good thing for fans at Chavez Ravine. The 24-year-old Thompson—the younger brother of basketball star Klay Thompson—hasn't blown away the critics through seven years in the minors, but he showed enough power and speed to convince the Chicago White Sox to bring him up toward the end of last season. Thompson made good on the opportunity, hitting .295 with eight doubles, three triples and five homers over 122 at-bats. In order to get Todd Frazier, the Sox had to give Thompson up to Los Angeles as part of a three-team deal; now he has to bust through a crowded Dodgers depth chart in the outfield, so he's borderline to make the Opening Day roster. He might have had a better shot in Chicago. 
And now, a look at last year's Teasers, how they fared in 2015 and where they currently stand for 2016: 
Christian Colon, Kansas City. As expected, the speedy Puerto Rican performed utility duty for the Royals, hitting a respectable .290 in 43 games—but he stole only three bases and was caught twice. Yet for the second year, he made the most of preciously scant opportunity in October, knocking in the World Series-winning run in his only postseason at-bat for the Royals. News is that Kansas City will give Colon a shot at unseating incumbent second baseman Omar Infante, whose bat went south in 2015. 
Ben Paulsen, Colorado. The tall first baseman pretty much became an everyday guy once Justin Morneau fell to injury, and he played solid if not spectacular baseball, with a .277 average, 11 homers and 49 RBIs. With Morneau gone, Paulsen's activity at first will be determined by whether first-year Rockie Mark Reynolds hits more home runs than usual or keeps striking out, as usual. 
Aaron Sanchez, Toronto. After a sparkling 2014 tune-up, we knew Sanchez would make the cut for the 2015 Blue Jays—we just weren't sure if it would be as starter, reliever or closer. The Jays weren't sure themselves, giving him 11 starts and 30 bullpen appearances—but he was good in either case, posting a 3.22 season ERA before throwing 7.1 near-flawless postseason frames (he got the win in the Jays' crazy ALDS Game Five triumph over Texas). Sanchez has reported to camp 20 pounds heavier—it's all muscle, they say—yet it's still not known whether he'll be in the pen or rotation. 
Chasen Shreve, New York Yankees. After a nifty (0.73 ERA in 15 apps) audition with Atlanta in 2014, Shreve found himself with the Yankees and proved his value as a major league pitcher, going 6-2 with a 3.09 ERA; the numbers would have looked a lot better had it not been for a September collapse in which 22 of the last 36 batters Shreve faced reached base—with four of them circling the bases after going deep. As part of a very strong Yankee bullpen, Barring a continuation of his September woes in March, Shreve should continue to do early relief work before Andrew Miller, Dellin Betances and (suspension notwithstanding) Aroldis Chapman take over. 
Carson Smith, Seattle. After a very limited but still impressive (8.1 shutout innings) debut in 2014, Smith forged ahead in 2015 and developed into the Mariners' most reliable reliever, authoring a 2.31 ERA and allowing just 49 hits over 70 innings with 92 strikeouts. His reward? A trade to Boston, where he could very possibly set up for closer and fellow first-year Red Sock Craig Kimbrel. 
Jake Smolinski, Texas-Oakland. Sometimes things just don't work out as planned. Smolinski made the Rangers' roster on the strength of his 2014 call-up numbers (.349, three homers in 86 at-bats) but could only muster a rotten .133 average before being waived in June. The A's claimed Smolinski and he slightly righted himself, hitting .226 with five homers and 20 RBIs in 41 games. The addition of Khris Davis—another right-handed power bat in the outfield—only makes Smolinski's already tough odds of making Oakland's Opening Day roster even tougher. 
Jorge Soler, Chicago Cubs. Given his success at all levels—including an inspired late 2014 appearance with the Cubs—we were so sold on him that we projected him to win NL Rookie of the Year honors instead of teammate Kris Bryant. The Cuban émigré wasn't bad, hitting .262 with 10 homers and 47 RBIs in 101 games, but we simply expected better. Yet his postseason effort—9-for-19 with three doubles and three homers—could be a sneak preview of a superior sophomore performance. 
Cory Spangenberg, San Diego. The second baseman was one of the few pleasant surprises for a 2015 Padres team full of disappointment, looking better and better with each passing month as he accrued more playing time. He'll have a chance to build on his .271 average, as he's the projected starter at second with the departure of Jedd Gyorko. 
Andrew Susac, San Francisco. Stuck on the Giants' depth chart behind Buster Posey is probably not the most enviable position to be in if you're aspiring to be a starting big league catcher, but Susac managed to get himself into 52 games last year as Posey commuted to first base more often thanks to Brandon Belt's continued chronic health issues. Still, Susac wishes for a do-over after hitting just .218 and allowing 29 steals in 35 attempts in 2015. 
Rafael Ynoa, Colorado. As anticipated, the young utility man split his time last season between Triple-A Albuquerque and the Rockies' bench, managing to slip in 128 big-league at-bats for a .260 average that's rather pedestrian by mile-high standards. His value as one who can play any position on the field will serve as a plus in his attempt to stick with the parent team in 2016.