Can the Teasers of 2017 Prove They Belong in 2018?
A look at the best of 2017's call-ups who impressed at the end of the season, and their chances for providing an encore over 162 games in 2018.
By Eric Gouldsberry, This Great Game—Posted March 10, 2018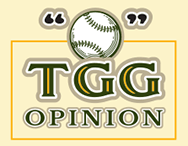 Like the Masters golf tournament, our annual naming of the Teasers is a tradition unlike any other. That's because no one else really bothers to mimic the approach we take in coming up with our list. Yeah, you get those experts who burn the midnight oil and pore through every conceivable metric to come up with their ideas for the upcoming year's best prospects. But that's not for us. We take a more relaxed approach; we simply look at the players called up late the year before and write down the 10 who performed best. Okay, so maybe some of these guys don't rate highly and just happened to catch lightning in a bottle, or they were lucky enough to face the Tigers over and over last September. That doesn't matter to us. Fact is, they played well. They put up honorable numbers. For this list, they belong. There are no yeah-buts allowed. Go ahead, accuse us of letting the numbers think for us. But at least we're not overthinking.
In the 10-plus years we've been doing this, it's guestimated that 25% of the Teasers we've selected have gone on to play long enough in the majors to qualify for a lifetime pension. Within that 25%, we've seen a good share of All-Star talent, including Chris Sale, Madison Bumgarner, Corey Seager, David Price, Craig Kimbrel, Daniel Murphy and Matt Harvey.
So who's on this year's list as those who excelled late last year, with the hope of maintaining that streak of good play in 2018? And how did the Teasers of 2016 fare in the 2017 regular season to follow? It's all below for you to check out.
Lane Adams, Atlanta. In Bravesville, everyone's talking about top hotshot prospect Ronald Acuna, but give a little love for Adams, a guy who turned his back on a college basketball scholarship and toiled in the minors for eight years before finally getting quality time at the big-league level late in 2017. And quality it was; he hit .275 in 109 at-bats with five home runs, 20 RBIs and 10 steals without once getting caught. He was so anxious to get the new year started, he reported to Braves camp when only pitchers and catchers were required to show. Reports are that Adams needs to fight hard just to make the Opening Day roster; if he does make it, the next question will be whether he'll be the odd man out when Acuna likely gets the call early in the year to give the Braves one more year of contractual control over him. 
Jorge Alfaro, Philadelphia. The husky 24-year-old Colombian-born catcher showed good strength with five home runs and six doubles over 107 at-bats for the Phillies in 2017, but his .318 average was particularly impressive given he's been more of a .250 hitter in eight minor league seasons. Mirage or momentum? The Phillies will have no choice but to find out at the big-league level as Alfaro is out of options and must be on the Opening Day roster unless he clears waivers. But given his power and the local proximities to Citizens Bank Park's bleachers, the team will be most happy to oblige. 
Nicky Delmonico, Chicago White Sox. The 25-year-old Tennessee native hit .262 average to start the season in the minors last year and, what do you know, hit .262 after being called up to the White Sox—but he added power by clubbing nine homers over 141 at-bats. It's said that will help to leverage him toward an Opening Day spot either in left field or the DH spot. For Delmonico, he'll just be happy to be there, and for more than just the usual clichés; he's overcoming an Adderall addiction that led him to rehab several years back. 
Phil Ervin, Cincinnati. Mobile, Alabama has a rich history of major league beginnings—Hank Aaron, Billy Williams, Willie McCovey, Satchel Paige, Ozzie Smith—so the 25-year-old Ervin is aiming to join that list. He did pretty well after being called up in mid-August, belting three homers with 10 RBIs and four steals in 58 at-bats. A .259 average was nothing to write home about, but for Ervin it's never been about that; he's hit .251 in 526 career minor league games. Between his power and speed, Ervin's hoping to gain a roster spot as a back-up outfielder to start the 2018 campaign. 
Andrew Kittredge, Tampa Bay. Like many of the players on this year's list, Kittredge has toiled for much of the 2010s in the minors before finally getting his shot late last season. It wasn't bad; in 15 games, the 27-year-old reliever furnished a 1.76 earned run average with 14 strikeouts. This, after posting a spiffy 1.49 ERA and 0.95 WHIP (walks/hits allowed per innings) for the good ol' Durham Bulls in Triple-A. Unless he flubs up camp, Kittredge should become part of Tampa Bay's 25-man roster in 2018 because, among other things, he's inexpensive—and the Rays, really, really trying to pare down payroll, like that. 
Austin Maddox, Boston. The 26-year-old right-handed reliever was even more impressive in his major league debut late last year, producing an excellent 0.52 ERA in 17.1 innings with 14 strikeouts and just two walks. He was so good, the Red Sox put him on the postseason roster, where he gave up a run in two innings against Houston. Many believe Maddox needs to have a good camp to hook onto the Red Sox' talent-heavy roster. So what happens? He's been dealing with inflammation that has kept him out of action. He may be back with the Red Sox, but more likely later than sooner. 
Brett Phillips, Milwaukee. The Brewers brought Phillips up in 2017 after executing baseball's triple-double (23 doubles, 10 triples, 19 home runs) in just 105 games at Class-AAA Colorado Springs—elevation, 6,000 feet. So could the 23-year old duplicate that success at Milwaukee—elevation, 600 feet? As a matter of fact, he could. In 87 at-bats with the Brewers, Phillips parked four long balls beyond the fence and added 12 RBIs and five steals. Will all of this translate to an Opening Day roster spot? Well, that could be the problem. Phillips is an outfielder on a Brewers team loaded with too many of them. If one of the other OF's are traded as is highly rumored, then Phillips' chances are pretty good. Otherwise… 
Magneuris Sierra, Miami. Finally, we have ourselves a kid. At 21, Sierra jumped from Double-A to St. Louis last year and hit .317 in 60 at-bats—okay, so all 19 of his hits were singles, but .317 is still .317. The Cardinals dealt him away to Miami in the deal that sent Marcell Ozuna to Missouri, and with the rest of the Marlins' starting outfield traded away, you would think Sierra has a pretty good shot at making the Opening Day roster. Yet the experts think he's on the bubble, so a good spring camp could help. 
Chance Sisco, Baltimore. We usually hesitate to include someone on this list on the basis of just 18 at-bats—a paltry few even for a call-up—but the 23-year-old Cisco kid warrants his appearance here as he had six hits, four of them for extra bases and two of those for home runs. So while the Orioles like his bat, they want to be more convinced of his defensive abilities; in his short bit of action late last year, he allowed five steals without nailing anyone, committed one passed ball and let two wild pitches get past him. While a recent mlb.com story has Cisco actually starting on Opening Day behind the plate, others believe the Orioles will let Caleb Joseph do the catching duties and send Sisco down to the minors, give him more backstop prep, and then bring him back at mid-year.  
Christian Villanueva, San Diego. After nine years toiling in the minors for three different organizations, the 26-year-old Guadalajaran finally got his call to the majors and played as if he'd been long past ready—bashing four homers among 11 hits in 32 at-bats for the Padres. The third baseman has continued to crush it early in camp, leaving some to wonder why San Diego went through all that trouble to bring back Chase Headley. Villanueva is yet another piece of raw but promising talent on the Padres' expanded roster; his chances of making the 25-man cut will depend on whether the team sees value in him as a pinch-hitter/sub, or as one getting more hacks in El Paso to keep him fresh. 
And now, a look at last year's Teasers, how they fared in 2017 and where they currently stand for 2018: 
Jharel Cotton, Oakland. The right-handed pitcher made the starting rotation for the A's in 2017 and finished 9-10—and that sounds okay, right? Not really. He posted an awful 5.58 ERA and served up 28 home runs in just 129 innings. The A's haven't given up on Cotton—yet—and he's hoping that a bigger reliance on a changeup will lessen his troubles. 
Grant Dayton, Atlanta. The Dodgers had a lot of good relief pitchers in 2017, yet Dayton didn't quite qualify as one among them. In 29 games he produced an iffy 4.94 ERA and had issues avoiding walks. And then he was told he needed Tommy John surgery. Waived after the season by Los Angeles, Dayton was picked up by the Braves, who are content to be patient with his long recovery process. 
Robert Gsellman, New York Mets. With the Mets' vaunted rotation crumbling to injury last season, the 24-year-old right-hander found himself getting a bit more action than anticipated—but when his ERA rose to 6.16, off he went to the minors. The change of scenery did Gsellman some good; when he returned in mid-August, he was 3-2 with a far more respectable 3.50 ERA in eight starts. With his rotation mates back to being healthy—for now—Gsellman is fighting to remain as the #5 starter for 2018. 
Trey Mancini, Baltimore. It only took 14 at-bats at the end of 2016 for people to wonder if Mancini (five hits including a double and three home runs) was presenting a sneak peek to something truly amazing in 2017. And while the 25-year-old Florida native didn't pull an Aaron Judge, his output was quite satisfactory to the Orioles; in 147 games, he hit .293 and hammered 24 homers with 78 RBIs. The question now becomes whether Mancini will build upon his freshman experience and deliver advanced numbers in 2018. 
T.J. Rivera, New York Mets. After hitting .333 in an impressive late 2016 look, the powerless but strong contact-oriented infielder was given more playing time and mildly mirrored his initial numbers, hitting .290 with five home runs in 231 at-bats before succumbing to an elbow tear that required Tommy John surgery. That's a shame on several fronts: Because he was hitting very well up until the injury (over .310 in his last month and a half) and because the long recovery means he's not likely to make it back to the Mets until June at the earliest. 
Hunter Renfroe, San Diego. San Diego fans were truly salivating over what the Mississippi-born slugger might give the Padres after a 2016 MVP turn in the Pacific Coast League, followed by an excellent trail run with the Friars in which he hit .371 with four homers and 14 RBIs in 35 at-bats. Given an everyday role, Renfroe evoked Dave Kingman more than Babe Ruth, showing good power (26 homers), poor average (.231) and a lot of strikeouts (140 in 445 at-bats). We'll see if he has room for improvement. 
Alex Reyes, St. Louis. We knew exactly what would happen to the highly thought-of pitcher with a 100-MPH fastball in 2017: Nothing. That's because he spent the entire season on the shelf recovering from Tommy John surgery after reporting to spring camp in pain. His mend won't be complete until a few months into the 2018 season, so expect to hear his name more often come June.
Matt Strahm, Kansas City. Was the southpaw's 2016 debut (1.23 ERA in 21 relief appearances) a mirage? His 2017 follow-up suggests that, well, yes. Strahm's ERA was at 5.45 with Kansas City before he underwent season-ending knee surgery in July; if that wasn't enough, he was traded shortly after going under the knife to San Diego as part of a six-player deal. The Padres see grandeur—delusional, visionary, or otherwise—in the 26-year old and hope to add him to the rotation once he's back at full strength. 
Dansby Swanson, Atlanta. Everyone pretty much had the former #1 pick penciled in as 2017 NL Rookie of the Year, but Swanson didn't stick to the script; while his shortstop play improved (and he is good defensively), he lost his hitting game and batted just .232 after a .302 listing in call-up action late in 2016. It got so bad, he was given a brief recharge at the Triple-A level. Swanson is still listed as the Opening Day starter at short, but he can't afford another year like 2017. 
Andrew Toles, Los Angeles Dodgers. Toles earned Teaser status in 2016 by climbing all the way from Single-A to the Dodgers, hitting .300-plus at every level. Hard luck caught up to the 25-year old when he tore an ACL crashing into the Dodger Stadium wall last May, after a decent start in which he hit .271 with five home runs and 15 RBIs over 96 at-bats. He's recovered now and looks to be hitting the ball well at camp, but he's projected to be an outfield reserve on the Opening Day roster at best.