Can the Teasers of 2018 Prove They Belong in 2019?
A look at 10 ballplayers who got their first taste of the major league life late in 2018—and their chances of sticking around in 2019.
By Eric Gouldsberry, This Great Game—Posted March 6, 2019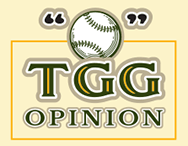 In 2008, a year in which we can now begin to categorize as "way back when," we began one of our biggest traditions by assembling the 10 players who best took statistical advantage of their late-season call-ups from the minors—players we affectionally refer to as "Teasers"—and assessed their chances for future success. We've gone by these same guidelines year after year, using a purely analytical approach that's sure to leave seasoned scouts scoffing at us. But as always, we're trying not to pick who we think are the 10 players who are most likely to succeed in 2019; we're simply saying, these are the guys who performed best when brought up late—let's see if they can keep it up. Some of them have; among the Teasers who've graduated to bigger and better things are Chris Sale, Madison Bumgarner, Corey Seager, David Price, Craig Kimbrel, Daniel Murphy and Matt Harvey. 
What follows is our 12th annual collection of Teasers—and a look back at the list from our 11th collection to see how they fared last season. 
Willians Astudillo, Minnesota. In the tradition of Teaser alumnus Pablo Sandoval, Astudillo is a shamelessly heavy, Venezuelan-born catcher who will eventually settle in as an infielder and do anything to make contact with the ball. It took him 10 years in the minors to finally make it to the majors, but he didn't disappoint at all upon donning a Twins' jersey, hitting .355 with three home runs and 21 RBIs over just 93 at-bats. But here's the wild thing about Astudillo: In 848 career games as a professional (minors, majors and various Winter League stints), he's struck out just 99 times. That's a half-season's worth of Ks for some major leaguers today. Astudillo's not likely to start behind the plate, but because of his defensive versatility—to say nothing of his flamboyant presence on the field—the Twins would be stupid not to give him a roster spot. 
Taylor Cole, Los Angeles Angels. Like Astudillo, the right-hander from Simi Valley, California took the long and winding road to reach the majors last year, making his Angels debut just a month shy of his 29th birthday. (He did pitch one inning for the Blue Jays in 2017—and got badly knocked around.) Given his blasé career minor league credentials (36-40 record, 3.70 ERA), not much was expected—but in 20 appearances, Cole posted a 4-2 record, 2.75 ERA and allowed just 20 hits in 36 innings. That ERA shrinks to 1.34 if you take away two "starts" in August—basically, he was the first to take the mound in 'bullpen' games—as he gave up six runs over 2.1 frames over those two outings. Cole's got a decent shot to make the Angels' bullpen, but it will be helpful for him to pick up where he left off from 2018. 
Josh James, Houston. The odds of anyone taken in the 34th round of the amateur draft making it to the majors are pretty low, so for James to climb up to The Show just four years after getting selected by the Astros must have made him feeling pretty giddy. The bonus for the right-hander with a 100-MPH fastball was that he impressed upon showing up, furnishing a 2-0 record, 2.35 ERA and 29 strikeouts over 23 innings in six appearances, three as a starter. After making the postseason roster, James was a bit shakier against the Red Sox in the ALCS—but then again, that's not unusual for anyone having to face the potent world champions-to-be. The Astros were eyeing a possible rotation spot for James to start 2019, but a quad issue at camp has, of this writing, tabled that thought. 
Ryan O'Hearn, Kansas City. The big left-handed-hitting first baseman was not having the best of seasons at Triple-A with a meek .232 average—but the Royals were having a worse year, so they told him to come on up anyway. After a slow debut, O'Hearn quietly impressed even himself, batting near .300 through the final month-plus of the year and totaling 12 homers and 30 RBIs over just 149 at-bats for a Royals team that could use some sock for now and the future. O'Hearn's bust-out cameo was strong enough that he's been penciled in as Kansas City's starting first baseman for 2019, so it's his destiny to lose. 
Daniel Poncedeleon, St. Louis. It's been a noteworthy last few years for the right-hander with an exotic last name that people aren't sure whether to break into three words or keep as one. In 2017, Poncedeleon nearly died after his brain swelled up from a liner to the head; recovered a year later, he made his major league debut for the Cardinals and pitched seven no-hit innings before being removed, because that's what often happens these days to pitchers who have a no-no going (especially those who are making their first appearance). Poncedeleon made 10 more appearances for St. Louis and finished the year with a 0-2 record and 2.73 ERA, but overall it was a fine first impression on top of a solid minor league ledger (34-17, 2.66) to date. It's not a sure thing he'll start the year with the Cardinals, but if he doesn't make the cut it's hard to believe he'll be stuck in the minors all season. 
Victor Robles, Washington. If you think the Nationals are heartbroken over the free agent exodus of Bryce Harper, let it be known that the 21-year-old Robles has gone to Washington to ease the pain. The Nationals' #1 prospect—#4 overall in the majors—tantalized in a late 2018 trial, hitting .288 with three doubles, a triple, three homers and three steals over 59 at-bats. He'll probably lack the hype that accompanied Ronald Acuna Jr. to Atlanta last season, but he can be every bit as good a ballplayer. We're likely to find out sooner than later; Robles is slotted in as the Nationals' starting center fielder for 2019, and could potentially form a formidable 1-2 punch with Trea Turner at the top of the batting order. Who knows—if he exceeds the lofty expectations, he could have D.C. fans chanting, "Bryce who?" 
DJ Stewart, Baltimore. There were very few silver linings to be found in a miserable (47-115) season for the Orioles in 2018. One of them, however, came courtesy of Stewart, a bulky, Kyle Schwarber-esque slugger who spun the hits with strong power. Stewart aped his career .250 minor league average in his late-season debut with Baltimore, collecting 10 hits in 40 at-bats—but six of those hits were for extra bases (including three home runs) and he knocked in 10 runs; he also added a pair of steals. Given that the Orioles have done virtually nothing to improve their roster, it's likely that Stewart will catch on as a reserve outfielder and get a decent amount of game action.  
Rowdy Tellez, Toronto. The big (6'4", 220 lbs.) first baseman burst onto the major league season after six years of toiling in the minors, becoming the first-ever big leaguer to double in each of his first three at-bats; in fact, every one of his first seven hits were for extra bases, matching three other players (including Johnny Mize and Carlos Gonzalez) who also managed the feat. By the end of his trial run, Tellez batted a hefty .314 with 13 of his 22 hits going for extra bags. Tellez may make the Opening Day squad, but as long as veterans Justin Smoak and Kendrys Morales stay healthy and contribute at first base and DH, respectively, don't expect the Sacramento native to break into the everyday lineup. 
Framber Valdez, Houston. Like Josh James above, Valdez hopes to earn an opening spot on the Astros' rotation this year after an impressive (and surprising) introduction late last year. After middling results amid Double-A and Triple-A activity (6-5 record and 4.11 ERA), the 24-year-old Dominican native got the call to Houston and posted a 4-1 mark and 2.19 ERA in eight appearances (five starts). The last hurdle for Valdez to conquer toward major league stability is control; in 37 innings with the Astros in 2018, he gave up more walks (24) than hits (22)—and he also found time to hit five batters and uncork four wild pitches. If he can tamp down on the wildness, he might make it as a #5 in the Houston rotation to start the year. 
Patrick Wisdom, Texas. The 27-year-old corner infielder snuck into the Cardinals' lineup and smacked four homers in 50 at-bats, lending promise to a career that included 31 minor league wallops a year before. But with Paul Goldschmidt brought in at first and Matt Carpenter not leaving third anytime soon—and with the Cardinals stacked with infielding backups—Wisdom was given a new chance with the Rangers, where he has a chance to fill in for the retired Adrian Beltre. But first, Asdrubal Cabrera—the guy ahead of Wisdom on the Texas depth chart at third—needs to get hurt or hit .100. Wisdom also will need a solid spring just to make the roster. 
And now, a look at last year's Teasers, how they fared in 2018 and where they currently stand for 2019: 
Lane Adams, Philadelphia. As we expected, the Oklahoma-born slugger/speedster kept an outfield spot warm for eventual Rookie of the Year Ronald Acuna Jr.; he was demoted less than a week before Acuna's arrival. From there, things really went downhill for Adams; he was released and signed by the Cubs, who sent him to Triple-A—where he batted .136 in 32 games; released again, he returned to the Braves where they sent him to their top minor league outfit in Gwinnett, hitting just .191. Still, he got a call up to Atlanta for the final month, and overall had six hits (including two homers) in 25 at-bats. The Braves let Adams go again after the year—because, why not—and now he's fighting for a spot on the Phillies' 40-man roster. It doesn't look like he'll get there. 
Jorge Alfaro, Miami. The young, bulky catcher from Colombia leveraged a terrific 2017 audition into a quasi-starting role in 2018, hitting a decent .262 with 10 homers in 108 games—but he hurt himself with a low on-base percentage (only 18 walks) and too many strikeouts (138 in 344 at-bats). After the season, the Phillies were preferring Miami's J.T. Realmuto as their everyday catcher and sent Alfaro to the Marlins to get him. The move means that Alfaro will likely by the #1 guy behind the plate at Marlins Park for 2019.
Nicky Delmonico, Chicago White Sox. After hitting nine homers in 43 games to finish 2017, the left fielder had visions of stardom for 2018—but a sluggish (and slugless) start was compounded by a broken bone when hit by a pitch in May, costing Delmonico the next two months. The power stroke came back when he returned, but overall it was a disappointing season with a .215 average and eight home runs in 88 games. 
Phil Ervin, Cincinnati. The former first-round draftee split time between the Reds and Triple-A in 2018—and performed pretty much as expected, batting .252 with seven homers and six steals in 78 games at Cincinnati. There's always room for improvement and Ervin has shown that thus far in spring training, but he's going to find it tough fighting for an outfield roster spot given the arrival of veterans Matt Kemp and Yasiel Puig and the rise of Jesse Winker. 
Andrew Kittredge, Tampa Bay. As a 28-year-old rookie, Kittredge parlayed his terrific end-of-year effort from 2017 into a spot on the Rays' starting rotation—such as that was, given Tampa Bay's inclination to bullpen it throughout the year—but eventually he settled in as a reliever, and not too good of one. He was sent to Triple-A to get himself straight after an awful first two months (9.72 ERA), then returned to the Rays with better but not exceptional results. Kittredge enters spring camp trying to earn back a spot on the 40-man roster. 
Austin Maddox, Boston. After giving up just one run over 17.1 innings at the end of 2017, Maddox looked ready to rock his way into an active role in the Red Sox' bullpen for 2018. But injury issues in camp derailed any chances of him making the Opening Day roster, and things only got worse in the minors as he posted a 14.09 ERA over eight games at three different levels. Finally, he had offseason rotator cuff surgery and is not likely to see any action in 2019 as he rehabs his way back. 
Brett Phillips, Kansas City. The young Floridian seemed to vindicate a promising minor league resume with a solid debut for Milwaukee late in 2017 that mixed speed and power, but he spent most of the early portion of the 2018 season back at Triple-A with so-so results. Apparently the Brewers weren't in any hurry to bring him back up, so they traded him and another player to the Royals for Mike Moustakas at midseason. At least it gave Phillips a chance to jumpstart at the big-league level—but it was a rocky refresh, as he hit just .188 with an equally poor .565 OPS at Kansas City. If he makes the Opening Day roster, it will likely be as an outfield reserve. 
Magneuris Sierra, Miami. A .317 average over 60 at-bats in a 2017 call-up wasn't enough to give the 22-year-old Sierra an Opening Day spot on the Marlins, and he didn't get another call-up until July. Like most everyone else in Miami, Sierra couldn't hit—producing a meager .190 average with just three extra-base hits (all doubles) among a total of 28. The Marlins have done little to improve this offseason, so maybe that gives Sierra a better chance to make a better impression. At least he's gotten credit already this spring for making the highlight reel, throwing a cup of baseball back to the infield.  
Chance Sisco, Baltimore. The 23-year-old catcher from California got the starting nod behind the plate to begin the 2018 season, but gradually his game withered to the point that he was sent to the minors at the end of July with a .196 average. He returned in September and absorbed even more misery, going 0-for-11. But spring training is a new day for everyone, and as of this typing Sisco has impressed, to say the least; he's 5-for-10 with four home runs. 
Christian Villanueva, San Diego. The 27-year-old boomer from Guadalajara quickly asserted himself with a three-homer performance in his second game of 2018, and added six more with a .317 average by May 1. Then he went hitless in his next 37 at-bats and never really recovered, finishing the year with a decent home run total (20) but only a .236 average with a .299 on-base percentage. So where's Christian now? He's in Japan, ready to ply his trade for the Yomiuri Giants. Don't think he's unhappy with the move; he actually relishes the challenge.