Let's Abolish Baseball's Automatic Gift Runner on Second Base
Why baseball's dumbest rule needs to be purged yesterday.
By Eric Gouldsberry, This Great Game—Posted April 27, 2021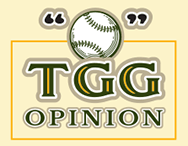 Can we talk about this automatic runner on second base rule?
If you agree with me that this is one of the worst things devised for baseball, you've come to the right place.
If you don't agree and you think it's good for the game, you've really come to the right place—because I'm going to try and convince you why this rule sucks.
First, for the few of you who don't know what the automatic runner on second base is, here's the basic definition: When a baseball game goes into extra innings, each team is allowed to place a runner at second base at the start of their turn at bat until the game is decided.
To call this runner on second "automatic" is being way too generous. Let's call it for what it really is: The "gift" runner. The guy just shows up there, like a magician waiving a wand and yelling "presto," through no fault of the opposing pitcher or the defenders behind him, already halfway home without really having earned his way there.
And that's my big problem with this rule. In baseball, everything should be earned. Even unearned runs are, in a sense, earned because hitters put the ball in play that lead to the errors that lead to unearned runs. But the gift runner has no connection to the competitive element. It's a gratuitous, "hurry-up-and-end-this" tactic. It's a gimmick. It's a gift.
And it's no way to decide a baseball game.
Look, I get it. The gift runner was instituted in 2020 because Major League Baseball had two months to wedge in a pandemic-shortened, 60-game schedule in order to have an expanded, revenue-hogging postseason before ballparks iced over in November. MLB was concerned that a long extra-inning game would create a relatively long period of physical and mental fatigue that would have an expanded impact on a truncated season. The gift runner rule was inserted to reduce the odds of a marathon and keep teams fresh for the long haul.
Even though we're back to a 162-game schedule in 2021, MLB has kept the rule. Why? Because COVID-19 remains a thing, and the worry persists that a contagious clubhouse could upend a whole team and put it out of action for a long stretch, creating a possible domino effect for the entire MLB schedule. That concern has been realized with mini-outbreaks involving the Washington Nationals and Minnesota Twins in the season's first month. So to avoid the potential bunching up of innings to make up, the gift runner rule remains in effect.
It's assumed that we'll all be back to a pre-pandemic normal in 2022, the ballparks will be full again, and any shutdown will not be the result of the virus but, instead, a strike or lockout as the Basic Agreement expires at the end of 2021—another abrasive topic, for another time. But even if everything goes right—if the virus is fully contained, if players and owners are singing Kumbaya in unison at the negotiating table—I still smell a rat the size of MLB Commissioner Rob Manfred, who has all but made it his mission to retain the gift runner (along with a bunch of other silly new rules) on a permanent basis.
Alas, Manfred may not face much pushback from the many forces that make up baseball's ecosystem. Managers and coaches are probably in favor of it, because they won't have to insert pitchers into the lineup as position players—and vice versa—when it gets deep into an overtime contest. The various TV networks, from Fox to ESPN to the regional sports networks, are certainly embracing it as it's less likely to mess with their postgame schedules. Beat reporters haven't been critical of the rule because it helps them meet deadline. And what do the players think? Gauging their opinion is hazy at this point, but they seem receptive to the gift runner. After all, there the ones who dread the rare 18-inning affair and middle-of-the-night drives home.
That leaves us, the fans. If Twitter was a barometer, the gift runner would be snuffed out with the snap of a finger. Anytime someone comments about the rule, the vox populi seems to run some 80/20 against it. That's down from, say, 95/5 before the rule was instituted in 2020, suggesting that some have conceded to the ploy. But if there has been any momentum toward acceptance of the gift runner, it's been glacial—thus showing that there's still a substantial base of fans who believe in the purity of a righteous outcome.
Why does MLB make such a big deal of avoiding marathon extra-inning games when there's so few of them to begin with? Before the gift runner, the average number of games going 15-plus innings per season was roughly 10. Hardly an epidemic.
Okay, so no one outside of extreme purists and sadomasochists want to see a really long game, like the 18-inning classic in Game Three of the 2018 World Series between the Dodgers and Red Sox that lasted over seven hours. I admit, even I got exhausted just watching that one to the end. So what's the solution? Simple. Play regular, gift runner-free baseball for 14 innings—and if the game remains tied, that's it. Just call it a tie.
Wait, what—a tie? That's so un-American, shout the kneejerks. But is it? The major leagues have had lots of tie games over its long history. In 1938, 16 games finished in a tie. The Washington Senators had five alone in 1937. As late as 1974, the Chicago White Sox had three. Just five years ago, the last official tie was recorded as the Pirates and Cubs were stopped by bad weather in a late-season game knotted at 1-1. Did the 19,991 fans at PNC Park, who were never going to get their money back, rebel? Did they tear down the ballpark? Were they seen running up the Avenue of the Americas to storm MLB headquarters? No.
But if ties truly aren't your thing, I'll swing back to my previous point: We're talking a season average of 10 games that go 15 or more innings. Is it so hard for major league players—and we're talking the world's 800 very best, well-conditioned, highly-paid professionals at this particular craft—to go beyond 15?
The great Ernie Banks once said, "Let's play two!" That was back in the day when ballplayers apparently loved the game. Granted, we assume that today's players still love it. But there seems to be this anathema to play 18 innings, whether it's broken into two games or all at once. (And please, don't get me started on seven-inning doubleheaders…)
Call me a purist. Fine, thanks. I understand that baseball is not pristine. When they build a domed ballpark, you have to replace real grass with artificial turf. But artificial endings should not be part of the program. The gift runner is baseball's processed junk food that leads to junk endings.
In the perfect world, I would say let them play until a true, earned run crosses the plate to win it. But I can bend. I'll take the tie. I'll take designated hitters after so many innings to remove lineup stress, since most of the extra-long marathons seem to involve National League teams. I'll even take all games moving to the daytime so no one has to play well past midnight.
But I will not take the gift runner. Because you've got to earn your runs.