Why is My Team Wearing Pink—And Other Complaints About Baseball's "Special" Jerseys
While there's good heart to acknowledge behind baseball's special event uniforms, isn't this an exercise in fashion that's starting to get out of hand?
By Eric Gouldsberry, This Great Game—Posted June 19, 2017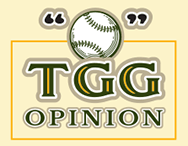 During the 1970s, when legendary actor Laurence Olivier was in the midst of a string of films portraying frail Jewish characters, critic Roger Ebert remarked: "Laurence Olivier has such a great British accent—I wish he'd use it again someday." 
Fast forward to today, where all 30 MLB teams have such nice uniforms. 
I wish they'd wear them again someday. 
Yet again, under an edict from the commissioner's office, all teams recently wore a variation of their uniforms and caps with light blue, almost teal tones—a look that came off more as a nod to the 1993 Florida Marlins than to their actual goal of celebrating Father's Day and raising awareness for prostate cancer. This came on the heels of camouflage caps worn during Memorial Day weekend and the pink hues that saturated jerseys for Mother's Day. Oh, and there's an upcoming weekend where players will be allowed to put whatever name they want on the back of their jerseys, borrowing a page from the long-extinct XFL—where one player famously requested the name "He Hate Me" above his uniform number. 
Call me a traditionalist, but I've got to tell you that I've reached special uniform fatigue. I get that all of this is for a good cause and that it generates strong awareness—even in this divided world of ours, nobody is going to argue that cancer is good—but do we have to be reminded every time we look at the uniform? 
Can we tone it down and maybe put an auxiliary patch on the jersey above the heart or on the sleeve, and leave the rest of the uniform be? Or maybe place something graphic on the side of the cap, like they've done in the World Series since 1996? 
Ah, but the money. That's the bottom line in all of this. After the special uniforms are worn and done with—you can't have Father's Day every weekend, after all—MLB auctions off the jerseys to the highest bidder. The MLB web site has an auctions page for just that purpose; a quick glance as this was being written noticed a Jose Altuve "Camo" jersey from Memorial Day weekend ready to sell for a minimum of $1,150. A similar uniform worn by San Francisco reliever Hunter Strickland reached $1,500 before MLB pulled it—because of the notoriety Strickland gained from wearing it while engaging in a heated on-field fistfight with Washington star Bryce Harper. Baseball just didn't think it was cool to profit off a jersey that was meant to commemorate veterans who fought to preserve democracy—not a ballplayer's fragile ego. 
You would hope that the profits from these online auctions go to relative charities—cancer research, veterans groups, etc.—and they probably do. But you got to bet the house that MLB is also doing this to swill a little coin into their coffers, because it knows that there are people out there who will want to get the latest cap, the latest jersey, the latest little variation—however crazy it might look. Baseball didn't become a multi-billion-dollar business without tugging at every little rope of revenue deep within the stream. 
Look, I'm all for the pregame ceremonies, between-innings tributes and awareness promotions, both in the park and on the air. The "Stand Up to Cancer" bit done every postseason, where fans are asked to raise signs with the name of someone they know who's been affected by cancer? Thumbs up to that. But don't let it interfere with the game. And when I say that, I mean let's not be graphically reminded every waking second when we see a team like, say, the Oakland A's forced to shed their traditional Kelly green and gold in favor of red, white and blue because it's the Fourth of July weekend. 
I understand that the future of the world is hardly riding on this. Heck, the future of baseball is hardly riding on this. Some people will take my argument, shrug their shoulders and chortle, "So what?" But it bugs me. I want to see the Dodgers wear Dodger Blue. I want to see the Pirates wear black and gold. I want to see the Diamondbacks wear…well, anything but those gradated charcoal kits. Leave the tributes to a well-promoted sideshow and milk it for all it's worth. But lay off the brands, those familiar jerseys and caps that have taken years and millions in marketing research dollars to cultivate, grow and become tradition. 
So please, MLB, proceed with more appropriate discretion. If not, then be careful for what you wish for. I'll know you've jumped the shark when you honor Elvis Week in August by making the ballplayers wear leather jackets and frilly jumpsuits.

After Further Review: Making the Right Call on Replay As baseball struggles to grasp video replay, here's our suggestion on how to expand upon it and make it efficient—if not flawless.