Should Baseball Consider Pro/Rel?
It may seem too foreign and potentially chaotic, but the use of promotion and relegation could increase baseball's competitive verve.
By Eric Gouldsberry, This Great Game—Posted September 13, 2019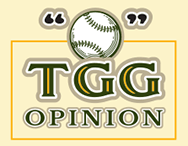 One of our more loyal Twitter supporters sent a note lamenting an upcoming September series between the Baltimore Orioles and Detroit Tigers, two teams destined for 100-loss incompetence—maybe 110—with no hope, no aim and almost no reason to finish out the season except to fulfill contractual obligations. He finished his thought by wondering, in the parenthetical, if it was "time to seriously consider relegating both teams." 
For a hardcore baseball fan like myself, it seemed a silly notion. Yeah, right—instead of sending players down to Triple-A, let's demote the entire franchise. 
But actually, he may be onto something. 
There are four premier sports leagues in North America: MLB, the NFL, the NBA and NHL. It could be argued that there's also a fifth: Major League Soccer. Since its 1996 inception, MLS has come a long way, averaging 20,000 fans per game, building soccer-specific stadiums, and raising global awareness. But MLS still has some growing up to do. First, unlike the four other leagues, it's the not the cream of the crop for its particular sport. In fact, it's not even close, when you consider the plethora of more talented leagues in Europe and Latin America. And what do all of those other leagues have in common with one another—but not with MLS? Promotion and relegation. Every spring, there's two highly watched battles going on in each soccer circuit, whether it's the Premier League, the Bundesliga or La Liga. One is, of course, which team is going to finish in first place. The other, and perhaps far more intensive, drama involves which teams will be relegated to the second division—and who from that lower tier will be promoted upward to take their place.  
MLS is stiff-arming the idea of pro/rel because it's a threat to all the investors who currently see the league, with payrolls much smaller than MLB, as easy money. It's understandable; you don't want to plunk all your money down on a franchise, only to find out a year later that you're in the Triple-A of soccer, playing with the likes of Fresno, Tulsa and Rio Grande. 
Advocates for pro/rel insist that it will enhance MLS' competitive nature; teams fearful of future demotion will do everything they can to ensure a fighting chance (or better) of competing for championship glory. Less competitive teams who normally would shrug and say "wait 'til next year" may rudely discover that next year will be all about earning your way back to the first division. It's the survival of the fittest in its purest form. 
Which gets us back to the Tigers and Orioles. And Royals, and Mariners, and Marlins and other teams who have basically punted this season as they reload, rebuild and take the abuse of a 162-game schedule—with the hope that they could win at least 62. 
What if pro/rel was a reality they would have to face? 
The concept of tanking for the long-term has taken on a chic existence in the majors of late. It's a brutal process; you clean out the roster, shed the big contracts, and start from scratch. In some cases, it pays big dividends; witness the success of the Royals, Cubs and Astros in the past five years, winning world titles after years of excessive hammering from opponents as they refreshed from the basement. The depths for which the Astros, in particular, went was particularly extreme; they took their lumps in every conceivable way, easily lost 100 games for a number of years, played in an attractive but empty ballpark, and at its nadir literally drew a 0.0 local TV rating for one of its games. 
This turbulent method of swinging from one extreme to the other is not good for baseball. And pro/rel would eliminate it. 
Consider the Tigers and Orioles. Both teams began the 2019 seasons resigned to the fact that they had no chance of competing. But if pro/rel existed, they would have no choice but to compete. There would be more urgency to sign top free agents, make proactive trades, and to just simply compete. If they didn't, they'd be looking at spending the 2020 season in the International League. You can hear it now on the public address system at beautiful Oriole Park at Camden Yards: "Welcome to today's game…here now is the lineup for today's opponents, the Lehigh Valley IronPigs…" 
Yes, that's a depressing thought. But you know what's more depressing? Teams who don't give a damn for the short term. And that's what too many MLB teams are doing these days. What's the risk? None. There's no relegation, after all. 
The flip side of pro/rel is that you galvanize the "lesser" markets. Don't think that people in Scranton/Wilkes-Barre, Gwinnett, Norfolk, Round Rock or Reno wouldn't get excited at the opportunity of seeing their teams play well enough to get promoted…and become part of The Show. You can see the future schedule now: Omaha hosting the Yankees, or El Paso welcoming in the Dodgers. 
Great, you might be thinking. So when will all of this happen? 
Never. 
First, you need to shed minor league franchises of all affiliation with MLB clubs, leaving them to operate entirely as independents. The only way that's going to take place is if MLB has its antitrust exemption, which it has clung onto with sharp claws for over a century, stripped away. And baseball can take comfort in that it has too many Congressional friends—Republicans and Democrats—who have the power to strip it but won't. 
So all of the above amounts to one big "What If?" It would be fun for an otherwise meaningless game between the Tigers and Orioles to mean something, with big-league survival literally at stake. But it's not going to happen. Not now, not soon, not anytime in the foreseeable future. Instead, malignant complacency will rule. All that will be at stake is pride. 
That is, if either the Tigers or Orioles have any pride left. 
And frankly, that's a shame.