"I went to San Francisco to interview Joe DiMagggio, and he avoided me like the plague. I had a nice lobster dinner at his family's restaurant and then just went on to the next interview. By having DiMaggio stand me up, in a way it sort of added to the mystique."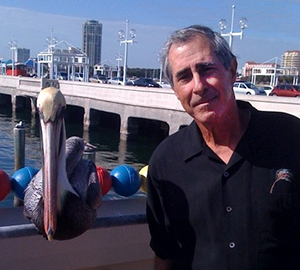 Peter Golenbock is undoubtedly one of the nation's best-known sports authors and has written nine New York Times bestsellers including Dynasty: The New York Yankees 1949-1964, The Bronx Zoo (with Sparky Lyle), Number 1 (with Billy Martin), Balls (with Graig Nettles), Personal Fouls, Idiot (with Johnny Damon), Presumed Guilty (with Jose Baez), American Prince (with Tony Curtis), and Driven (with Donald Driver). He also covered the old Brooklyn Dodgers teams in Bums: An Oral History of the Brooklyn Dodgers (which won the 1984 CASEY Award for the best baseball book of the year) and has written books on NASCAR, the New York Mets, and the Boston Red Sox (Fenway: An Unexpurgated History of the Boston Red Sox was updated and re-released in 2005 as Red Sox Nation), just to name a few.
As told to Ed Attanasio, This Great Game
On How he Got Started:
"I read a book when I was a kid called The New York Yankees by Frank Graham that was published originally in 1946 and I read it in the Stamford, Connecticut public library where I grew up. I was mesmerized because it contained conversations with Babe Ruth, Lou Gehrig and Joe DiMaggio and I was just enthralled. And so when I was working at Prentice Hall, one of my goals was to do a sequel to Frank Graham's book. So with that in mind, I went down to talk to Nick D'Incecco, the head of Prentice Hall's trade book division. I was working there at the time in their licensing department. How did I come up with this idea and how did I think it would fly? I'm not sure, but I somehow knew that I could do it. I had success writing at Dartmouth and people seemed to like my stuff, so I gave it a shot and pitched D'Incecco. He told me to write a proposal for the book and I had no idea how to do a proposal, so I put together some facts about the Yankees from 1949 to 1964 on four pages and it worked. D'Incecco liked the idea and gave me a contract, almost on the spot. I thought the name I came up with was pretty good—Dynasty—and I got started on writing it. I am grateful that Nick D'Incecco was a rabid Yankee fan like me. I often wonder what would have happened if he had been a Detroit Tigers fan?"
On Writing "Dynasty":
"They gave me a $2,500 advance and I was only making $7,500 for the entire year at Prentice-Hall, so that was a substantial sum. So, I quit that job after being there for only six weeks, because I wanted to go to Yankee Stadium to do this book. So, I went there every day and became close to Marty Appel, the Yankees PR guy. He told me that if I could get a book deal, I could come to the stadium and do my research and I know he was shocked when I got one. He let me hang around for a few months, which was great. But after awhile, I realized that I can't do this book based on just news clippings. I need to get out there and interview current and former Yankee players. So, I went back to D'Incecco and told him what I needed to do and that I needed another $2,500 and he said okay.
I interviewed Mickey Mantle at Yankee Stadium; Roger Maris and Clete Boyer at Clete's place in Atlanta, and Johnny Lindell, Joe Demaestri, Don Larsen and Andy Carey in California. I went to San Francisco to interview Joe DiMagggio, and he avoided me like the plague. I had a nice lobster dinner at his family's restaurant and then just went on to the next interview. By having DiMaggio stand me up, in a way it sort of added to the mystique. Later, I was around him at Yankee Stadium and he was actually a very well-spoken, interesting guy who loved talking about baseball, but only with his friends. He was an intelligent but very suspicious guy. After doing all these interviews, I had a wealth of material to work with. It was the only book I intended to write, because my goal was to be a newspaper editor at the New York Times, because I always thought editing was my strong suit."
On "Number 1":
"Billy Martin's agent called me one day and said he wanted me to talk to Billy about a book. In Dynasty, I wrote that Martin was as important to the Yankees as Mantle and Whitey Ford were and no one had ever written that about Billy before. Most people thought he was just a thug, but I loved the guy. We sat down for hours and hours and he brought me into his circle and he was wonderful. After reading what I wrote about him, Billy decided that I should be the person to do his biography, which turned out to be Number 1, another bestseller." 
On "The Bronx Zoo":
"The same agent who represented Billy Martin also represented Sparky Lyle, the 1977 Cy Young Award winner for the Yanks. So, I got to do a book with Lyle. Who wants to read the musings of a relief pitcher, I thought? But, I went down to Fort Lauderdale to hang out with Sparky and all of the other players who were there, including Thurman Munson, Reggie Jackson, Craig Nettles, Ron Guidry, Willie Randolph, Mickey Rivers and Bucky Dent—I'm thinking holy s**t! It was surreal. So, one day I told Sparky let's do this like a diary of the 1978 season, what do you think? And he said yes. He wanted to take a tape recorder on road trips and then record his thoughts. So, after that first road trip, he came back and said this isn't going to work. He could not think of anything to say. And I could understand—he's a ballplayer and not an author. So, I started asking him questions about the team and that's how we ended up doing it. Four-to-five times every week I would drive to his house (we lived 14 minutes apart) and shoot the breeze and that's how we wrote The Bronx Tale. Sparky was a delight, because he had the eye of a reporter and he was a lot of fun to be around. One of the reasons why he wanted this book is that he wasn't happy with Steinbrenner, who had brought in Goose Gossage to be the closer even though he had won the Cy Young Award the year before.
On Billy vs. George:
"Martin absolutely hated Steinbrenner and George loved the fact that he had what Billy wanted and that was the Yankees. Billy had nothing but contempt for George and he wasn't afraid to show it. Steinbrenner's personality is very much like Donald Trump's. They are very similar people—George took his dad's shipping business and made it successful and he always thought that he was the smartest person in the room and that he knew more than anyone who worked for him. And that's why he fired his managers and general managers all the time. He was a sick dude, that Steinbrenner."