"When I first arrived there and walked into Ebbets Field, I was in shock. It was an amazing sight…It was a real scene at Ebbets and the fans were rabid, really. They were so close to the players that you could pretty much hear everything they were saying, which was good or bad, depending on how you were playing."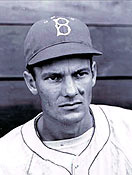 Ray Hathaway appeared in four games for the Brooklyn Dodgers in 1945. The 28-year-old rookie right-hander, a native of Greenville, Ohio, stood 6'0″ and weighed 165 lbs. Hathaway is one of many ballplayers who only appeared in the major leagues during World War II. He made his major league debut on April 20, 1945 in relief against the New York Giants at the Polo Grounds. In his one major league start on May 28, the Dodgers lost to the Chicago Cubs at Wrigley Field, 5-3. He pitched in four games overall, going 0-1 with a 4.00 earned run average over nine innings. Hathaway had a lengthy career as a minor league manager following his playing days, and is the uncle of former major league pitcher Dave Burba. At the time of this interview, Hathaway was the third oldest living ex-major league pitcher; he passed away on February 11, 2015.
As told to Ed Attanasio, This Great Game
On his Early Years:
"I was born on Friday the 13th and I was the 13th child in my family. When I was 12 years old, I set my sights on becoming a major league player and I never thought of doing anything else. Everything I did was going in that direction and I figured as long as I worked hard, I could make it. There aren't very many people out there who pursue their dreams their entire lives and then achieve them. I was playing in three different leagues for three different teams in my hometown of Greenville. There was a boy's league, a church league, and my brother had a Sunday team, and I played on all of them—so I played baseball all week long, weather permitted.
At first, I was a pretty terrible pitcher, but after a while, I slowly got better. I had a fastball, curve ball and a change and I relied on those three. Occasionally, I could throw the fastball by them, but most of the time I had to be crafty to get them out."
On Spring Training with Brooklyn:
"I was very impressed with our coach Leo Durocher, because he was smart and a great teacher. I liked everything about him. He rubbed some guys the wrong way, but I had no problems with the man. The other pitchers on that Dodgers team never gave me any advice or helped me with my pitching in any way. If you asked them a question, they would not respond. Their attitude was—why should I help this kid because he might take my job? You were on your own in that regard.
Spring training back then was like a cattle call—400 players all at Vero Beach together. Every player on each minor league team was there—Montreal, St. Paul, Hollywood, Mobile, Fort Worth, Elmira, Pueblo, Greenwood—I can't remember them all, there were so many. George Sisler worked with all of the first basemen, Pepper Martin worked with the second basemen; Andy High took care of the shortstops, etc."
On Branch Rickey:
"He helped me tremendously. The man knew more about baseball than anyone else who ever lived. He was a genius. He started the farm system that still exists today and the Dodgers back then were the first team to use things like batting cages, pitching machines and batting helmets. He was also one of the first people to rely heavily on statistics and he even hired the first full-time stats guy, a man by the name of Alan Roth. Of course, everyone remembers Rickey for bringing Jackie Robinson to the majors, but he did so many other great things most people don't know about. The most important thing about him was that he was honest and fair with everybody he worked with. He was a devout Christian and he lived a Christian life."
On the 1945 Brooklyn Dodgers:
"When I first arrived there and walked into Ebbets Field, I was in shock. It was an amazing site. They got me a room at The New Yorker Hotel and man, I figured this was heaven. Mickey Owen was the team's catcher and of course, he's known for making the error that cost them the World Series. Dixie Walker was there too and the guys were fairly nice—most of them. Eddie Stanky was a real competitor. He was always trying to figure out a way to beat the other team. It was a real scene at Ebbets and the fans were rabid, really. They were so close to the players that you could pretty much hear everything they were saying, which was good or bad, depending on how you were playing."
On Jackie Robinson:
"I played with him at Montreal and he was a delight to watch. After seeing him in a few games, I asked myself—what can't he do? Hit, run, field, steal—he did it all! Jackie was the first black player I had ever played with up until that time and he was a great teammate. I had no issues with black people playing professional baseball and later when I managed at Knoxville in the Tri-State League, I played a third baseman who was the first black man to play in Tennessee, which created a lot of controversy. I wanted to win and he was the best third baseman I had, so he played. But the fans booed him and they were hoping that he wouldn't play well, but he did."
On his Managing Career:
"For many years, I was a player-manager, and that was challenging to say the least. It was hard to pitch and then also manage at the same time. After 1952, I started taking myself out of the rotation to focus on running the ballclub. The only time I pitched after that was if the pitching staff was getting knocked around. I'd come in and try to stop the bleeding and I did that until I was around 48 and then that was the end of that. I managed a lot of great players, including Hall of Famers Dick Williams, Willie Stargell and Bill Sharman, who became a basketball star."