"I was in the hospital having my gall bladder removed. My wife came up to see me and brought this paper and it said right across the headlines on the front page 'Tiger Starter Traded to the Browns', and I had a relapse…"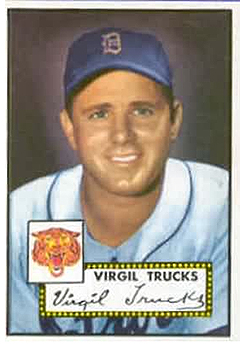 Virgil Oliver Trucks (1917-2013) was a starting pitcher from 1941-1958, playing for the Detroit Tigers (1941–1943, 1945–1952, 1956), St. Louis Browns (1953), Chicago White Sox (1953–1955), Kansas City Athletics (1958) and New York Yankees (1958). In a 17-season career, the right-hander born in Birmingham, Alabama posted a 177-135 record with 1,534 strikeouts and a 3.39 ERA in 2,682.2 innings pitched. In 1952, despite a 5-19 record, Trucks became just the third major league pitcher to hurl two no-hitters in one season (two others have since matched the feat). After retiring as a player, Trucks joined the coaching staff of the Pittsburgh Pirates, who won the 1960 World Series against his old team in the Yankees. He continued coaching with the Pirates, then the Atlanta Braves before finally ending his MLB career with the Tigers in 1974. Trucks is the uncle of Butch Trucks, a founding member of the Allman Brothers Band; Trucks' great-nephew, Derek, is also currently a member of that band and fronts his own group, The Derek Trucks Band. In addition, several of Trucks' other relatives are accomplished musicians.
As told to Ed Attanasio, This Great Game
A future in baseball:
"Well, I think it didn't dawn on me until I got to the major leagues. I knew once I got there that I could, but you know, I just loved the game, and I just wanted to play, I didn't care if it was the minor leagues, sandlot, or whatever. On the sandlots in Birmingham, I was playing with adults, and I was only like 12-16 years of age. I was the only teenager, so to speak, on the ballclub.
The first organized team that I played for was in Andalusia, Alabama. I was 19. Detroit signed me off the sandlots of Birmingham as an outfielder, and they gave me a $100 bonus, and later I became a pitcher, but I went and played semi-pro ball before I went to Andalusia, and a catcher on the ballclub by the name of Bruner Nicks, he got me to come up to the semi-pro town to play baseball for him. And we played three days a week, like Monday, Wednesday and Saturday. And it was a semi-pro league, and mostly all the towns were cotton mill towns, and he transformed me into a pitcher and I won ten and lost none in that league. After that, I went down to Andalusia in 1937, and they were allowed to get a professional player, or any player to fill in this spot if they wanted to play in that playoff series. They played with another town, Union Springs. And an umpire who saw me play told them about me up there in Andalusia, because he lived there. They contacted me and said they'd give me a game to pitch, and if I didn't pitch in it, they'd give me $35 just to be there, and pay my transportation from Birmingham to Andalusia, which is about 200 miles. I had nothing else to do, and I said, 'Okay', and went down there and I pitched two games in the playoffs and won both of them.
So the owners of that team gave us an outing at this big resort in Fort Waldon Beach, Florida, for a three-day treat after we won the playoffs. And afterward they come up to my room to give me my expense money, which would probably be around, well, $70 for the two games, and bus fare was probably only sixty bucks. So, I went up and they're these guys, and they owned the club, at that time. All minor league towns owned their own ball clubs. They did have a few scattered-out players owned by the major leagues, but not many, they were owned by the local towns. They told me they would give me my money and to be up in their office at 2:00. So, I go up and there's about five or six guys there—they owned the ball club–bankers, lawyers, and people like that, So they said 'how about signing with us and we'll give you a $700 bonus', and I had never heard of that kind of money before. So, I thought, well, I've already signed a contract with Detroit, but I took their money anyway.
I went home with about 800 bucks in my pocket, and I knew come Spring Training, I was probably going to end up in jail, you know, for signing the two contracts, but it all worked itself out."
On his Early Limited Repertoire:
"All I threw was fastballs, because, I hadn't learned to throw a curve ball, I didn't learn to throw a slider until I was in the major leagues. But back then all I needed was the fastball, really. They did check me with an old army gun and it showed up at 105."
On his Tigers Teammates and Friends:
"Well, I would have to say my best friends on that team were Schoolboy Rowe and Al Benton and the old-timers like Tommy Bridges, pitchers that were there and they were just about at the end of their lines, but at least they were nice. The only character on that team as I remember was Dizzy Trout. He was a character; he was always doing something, lighting peoples' shoelaces or something, you not knowing about it until they were burning, and he done quite a few little things. I can't remember them all, but I know he kept the party alive. He was a reliever just to start out with, but he went up before I did. And he started some, I guess. I wasn't there. But he was a starter when I went. The starters were me, Newhouser, and Trout, as you know, and in the World Series they called us TNT. It was Trout, Newhouser and Trucks. TNT. I liked Newhouser, but he was sort of a crybaby type (laughs). If you got a base hit off him, Newhouser didn't like it one bit. I remember one day, Joe D. hit a home run off of him and he watched DiMaggio as he ran all around the bases. He watched every step he took. That was his attitude. He didn't think anybody should get a base hit off of him. But we got along just fine. We even roomed together at one time in Detroit.
Yeah, we roomed together, we were pretty good friends. I never disliked Hal, he was all right. He was dominant during the war, but when all the stars came back, he never was that type of pitcher again. When all the players had gotten back, I don't know—I never saw him as an exceptionally great pitcher. He did have a good curve ball and I guess his fastball was in the 90s."
On Getting out of the Minors:
"Oh, I definitely thought I would eventually. I thought if I didn't make it with the Tigers, I'd find a place to play somewhere, because I was the type of person who did not want to be left out of playing ball. I wanted to play and as I said before and I didn't care where it was, as long as I got to play. And, the salaries weren't that good anyway, so no matter where you played you weren't going to make a lot of money."
On his Great Rookie Year:
"I went 14 and eight with a 2.74 ERA with two shutouts and complete games, so everybody was talking about it. They were giving me good credits and was very well outspoken about how good they thought I was, and then the next year I won 16 games. So, first day of Spring Training in 1942, they said you're on the staff. They had some pretty good prospects there besides me. I wasn't the only possible starter, or player on that team. It was now Al Benton, Dizzy Trout, Hal White, Hal Newhouser, Tommy Bridges and Virgil Trucks. And Escobar Roland was there, too. We had excellent pitching, but the whole time I was with Detroit, they finished in the second division. They just didn't score enough runs to win close games. I just couldn't get any runs. You can't win without runs. There was little run support. I didn't know who led the club in home runs, but he sure didn't hit more than 24 and our leading RBI man probably didn't have more than 75. I'd go out and they'd get me one or two runs, and then they'd say, 'There's your lead, now hold it.'"
On his Two No-hitters in 1952:
"And I almost pitched three that season. That's right. Let me explain. Eddie Yost was the leadoff hitter the next time we faced Washington, which was about a month later after the other no-hitter. And Yost singles between third and short, and that was the only hit they got for the rest of the game. And I got guys out after that…no more runs. No more hits. I don't know what the score of that game was. We probably didn't get more than two or three runs. (Detroit won, 1-0.) No, in the Washington game, it was all routine plays. It was nothing outstanding by the defense. But in the Yankee game (Trout's other no-hitter of 1952), now there was two catches made by Johnny Grove, who made two backhanded catches."
No Relief for Busy Starters:
"We always pitched every fourth day. As long as I was in the major leagues, we pitched every four days. The older pitchers missed turns. Most of the time I roomed with Hal White, because Hal and I played in the minor leagues together, and we were in the service together in the same area. Well you know, he made the team in '41 and went back with the team, and I didn't. And, of course, they finally brought the cut-down date and they farmed him out to Buffalo to join me."
On the Best Hitters he Faced:
"Well, the guy who had all the pitchers' numbers was Ted Williams. He is still, in my estimation, the greatest hitter that ever played ball. He hit, he wasn't a great outfielder, but he was the greatest hitter that ever put on a uniform. The only way to pitch to him was low and behind him, to hold him to a double. No, there was no set way you could pitch him. He had the most knowledge of anybody I ever saw figuring out pitchers. Once he saw them one time, he knew what they were going to throw, he knew, always knew their best pitch. And he knew this, and later gave me credit for it, saying that I didn't let up on him. It was power against power. You give him your best pitch and if he hit it, there was nothing you could do about it.
I'll tell ya, I had no problem with DiMaggio. Joe would tell you that himself. And I threw him mostly sliders and fastballs in. Joe had an open stance, you know. He had such good power that he didn't have to have a full swing like most hitters do. He could hit the ball out of the park with just his wrist. But, he never hit me too well. He'd admit that himself. I know, he signed a picture for me once, and he said, 'To Virgil Fire Trucks, gas up to everybody was old Joe.' That's the way he signed it. Old Joe, he was a good fellow. I talked to him quite a bit.
Nellie Fox never hit me that well, but you know, I played with him almost three years and he was a great little ballplayer, I'll tell you that. He didn't hit me too well, but lefthanders were always tough on me. But, the only man that I can remember I ever had any problem with was Williams."
On being Traded:
"In '52 I was traded at the end of the season. I was in the hospital at the time having my gall bladder removed. My wife came up to see me and brought this paper and it said right across the headlines on the front page 'Tiger Starter Traded to the Browns', and I had a relapse, I think. It was enough to give me one. I got traded five times in my career, but they never told me personally that I had been traded. Each time, I read it in the newspaper or heard it on the radio. One year, I was already home here in Alabama, I was driving along the highway, and it mentioned on the radio program that I had been traded and I almost ran off the road. That was when I got traded from the Browns to the White Sox. So, it was a surprise each and every time, with Bob Elliott for Daryl Johnson, Lou Kretlow and $75,000."
On Playing for the Yankees:
"Well, it was great and all them Yankees treated me as well as you want to be treated. They all accepted me as just one of their buddies. I hadn't been around that much, but Yogi (Berra) was great, and (Harry) 'Suitcase' Simpson, another catcher, was great!"
On Mickey Mantle and Casey Stengel:
"Well, he made the statement, and I know he did, that he thought he was gonna die at an early age. You know, his dad died when he was in his 40s, and they both had the same problem of that osteomyelitis. And, he thought he was going to go, and he just was just going…enjoying life. So meanwhile, he was just going to enjoy himself. And he did, and did a great job of playing ball on top of it. And, no telling what he could have accomplished if had taken care of himself, but he never thought he'd live to be in his 60s. He was just one of the greatest outfielders, and a better outfielder than Joe D., definitely.
There's none better than Joe DiMaggio, but I thought Mantle was equal to anyone. The catches he made, the throws he made—he had everything. And there's no telling how great he'd would have been with his speed, had he not had that problem with osteomyelitis, a chronic bone disease. More than a few times, I watched him wrap his own leg from just above his ankle all the way up to his hip. He'd wrap it with an ace bandage every day when he played, and when he'd come in after the game was over, there would be blood oozing out of it, where it leaked through the skin. And you had to feel for a guy like that because he was playing and running, and the greatest bunter I ever saw in my life with two strikes on him.
And I never forget the no-hitter I pitched against him. Casey (Stengel) was up on the top step stomping and Mantle was one of the hitters in the ninth inning, and I was surprised to see him there, because Casey would sleep on the bench all the time. That's right. Yeah, he'd nap on the bench.
One time, Joe Ginsberg told me after he played for the Mets, they were playing one day and you know, the Mets weren't any good when they first came into the league. But he said they were playing one afternoon and the opposition hit a home run, and old Casey jumped out of his sleep and said, 'Atta way to go!' cheering him on. But it was the opposing team. He thought it was one his players!
They said that Casey was a player's coach, but not in my case. I really got teed off at him in the '58 Series when we won the pennant, and he took me off the active list and put Murray Dixon on. They took me off the list and I can't forget what Andy Carey said about me, 'He's got more stuff than any pitcher on the ball club!' That was really upsetting, you know, because this Dixon guy wouldn't have started a World Series game, but they put him on the list for the World Series anyway. I wasn't allowed to sit on the bench. Half of the Yankees players told me they were very surprised. I threw the ball at a hundred miles an hour. Well, at least I got a full share for the Series. The players voted on that. If Stengel had any say in that, he probably wouldn't give me anything. But the players voted me a full share and also a World Series ring."
On Satchel Paige:
"Oh, yeah. I met Satchel Paige over in St. Louis when I played there. Oh, he and I became very good friends. We were friends all through that time. He was sort of a comical person, always enjoyed a laugh, and he could make you laugh. He was definitely one of the better companions I had anywhere. They said he was a crazy driver, so I never got into a car with him. Wait a minute, I better take that back. The only time I drove with him, we played in an All-Star game when we were with the Browns. We played the Los Angeles Angels, but they weren't in the major leagues at that time. And, uh, they had won the Pacific Coast League and they picked All-Stars from all the major league teams that were playing out there and Satch and I got picked off the Browns. And we played there, and we didn't pitch any. In fact, I was real nervous to get that I met him."
On Meeting the Legendary Ty Cobb:
"Well, it was quite an honor, that's for sure. But, I had met him before when I was in the service. I was at Great Lakes going through boot camp, and he came out to visit Mickey Cochrane. Mickey was the manager, you know, at Great Lakes. Cobb was a real nice guy. He didn't seem like the guy that would cut you up with his spikes at second base. He was really a nice person."
On How he got his Nickname:
"A sportswriter in Birmingham with the Birmingham News came down to see me pitch, and he gave me the nickname of "Fire Truck", because I could throw the ball so hard, and having the last name of Trucks, he just figured it right in as "Fire Truck". And, a lot of people today, they don't even know that my name is Virgil. They call me Fireball, or Fire Trucks, or something like that."
On Being Chosen to the All-Star Team:
"Well, I enjoyed it, it was my first one in '49, and we played in Ebbets Field, and Mel Parnell started the game, and I came in after him. I got credit for the win, and I enjoyed it because mostly the new black ballplayers were on the team we played against. Brooklyn Dodgers like Jackie Robinson and Don Newcombe, and the catcher, (Roy) Campanella. I wanted to see if they were as good as people were saying. And then I got picked again in '54, and that time I got credit for the save. That was in Cleveland and I got out all three batters I faced. I remember that Stan Musial was one of them, but I don't recall who the other two were, but I got all three of them. (The other two were Gil Hodges and Randy Jackson.) There were men on base at the time, I know that."
On Salary Drama:
"I figured I'd get a nice hefty raise for 1954 because of my performance in 1953, but back then you had to fight for a raise. You'd send the contract back and they'd send it back to you. Detroit was very bad about giving raises. I know, one time when they had the 25% rule on, they still tried to cut Rudy York 25%. And that was the year that he hit some important home runs in August and drove in a hundred and something runs, and they wanted to cut his salary 25%. They were tough to deal with. And back then they had no agents, so you had to do all your own negotiating. I think playing in today's times I wouldn't be able to negotiate my own contract. I would need an agent."
On Drugs back in his Day:
"Well, they, they might have had some, but I didn't know about them, the strongest thing that I ever took during my career was an aspirin for a headache or something. There were no drugs that I know of, the only drug, I guess, was the alcohol drug, and I think they did say some ballplayers did consume a lot of that and even played under the handicap of it. I mean, other than Mickey, I'd say Mickey was the main one that you knew didn't take very good care of himself. But, steroids, I don't know. I don't think those players like Bonds or McGwire should have taken them, but, I don't know whether they should bar them from baseball or not. Gamblers? No one ever approached me to throw a game, and I'd a probably hit 'em right in the nose, if they had of asked me."
On Groupies:
"They've been in existence since the game started. Oh, yeah, I was married, but they would still come around; that didn't bother them, especially in New York. New York, I think, was probably the worst. I didn't really notice that much, but some of the guys would tell me about how they would try to make out with them. In fact, I got accused of it one time, but it wasn't so. The House Detective tried to prove that I had a girl in my room, and I'm in the room with my roommate, he's laying right there asleep in the bed next to me. And they came up and knocked on my door, and I wouldn't let them in, and they called me on the phone and said, 'Get the girl out of your room.' I told them there's no girl in my room. So they came up. We were staying at that hotel in Cleveland, and they were really tough about that. You had to have any guest of the opposite sex out of your room unless they were registered there by 11:00 a.m. That was the rule they had. So they came up and did that to me, and finally they came up and opened the door, and you know I had the chain on the door, and I went over and I saw the arm through the door, and I went over and shoved it shut, and if he hadn't got his arm out there, I'd probably cut it off. And then I opened the door, and they started to come in and I hit the one that started to come in and knocked him down, and he knocked the other guy down. There were two of them. They took off out the hall and running and I chased them. And I got one of them, one of them went round the other aisle, and got the one by the elevator, and I whacked him a couple of more times and that time, I looked up and other one was down the hall, and he was looking at me, and I said, 'Come here. I just want to talk to you.' He wouldn't come.
He made a dart like an iguana, he took off again. And then they accused me of it, and I got fined for that. And I didn't do anything. There was no girl in my room. Whitey (Ford) would tell you that, because he was there in the room with me. It was just really an embarrassing situation. When it came down to it with these women, well, the temptation was there, I'll tell you that. You're on the road all alone, because you couldn't afford to take your wife or if she had children, like you can today. They can afford to get their own private jet or hire a jet to fly from town to town nowadays. But you all traveled together and no wives could go come along, because you couldn't afford it. And you're gone like almost six months out of the year before you see them again."
On Off-season Jobs:
"Oh, in the off season, I had a job. You had to, in order to make ends meet. In most cases, we were allowed to barnstorm. For fifteen days after the season was over, but that was it. And that was after the World Series was over. You couldn't do it until the World Series ended, then you could go barnstorming for 15 days, and you could only take four players off of any one team. I would make maybe $100 a day for those 15 days, and that would last through the winter until you got your paycheck again. But, I was always looking for some other job after barnstorming. I had one job in Birmingham where I worked for the mayor. He gave me a job keeping people from throwing ashes out on the sidewalk and the street. You know, everybody had a coal stove and they didn't have gas or anything, so they burned coal in their heaters, and they'd take their ashes and dump them out on the curb. So my job was to write them a citation if they didn't quit. And I got $25 a week for that.
After my career was over, I went over and barnstormed with Satchel Paige. I was living in Kansas City, and that's where he lived. Oh, I've been in his house and everything, and so he called me one day, and he had a barnstorming tour lined up, and just he and I were going, and they had a busload of Cubans who were our teammates. All of 17, 18-year-old kids. And, of course, the Manager could speak English, but none of those kids could speak English. So we went on this tour, we left Kansas City and went to Mexico and then came back into the States. And we weren't getting the money we were supposed to get. The guy that booked the tournament or the tour, we were supposed to get like $150 a game, or $650 a week, that's what we were supposed to get. And, we were just getting a little dab at the time, course he was paying for our food and everything, and we were riding with him, with just Satch and me with the booking agent. And, so we get back to one of those towns somewhere on the West Coast there, and Satch says to him, "Yancy, I want my money." Yancy says, "I'll give it to you tonight." This is after about a week or 10 days, and he didn't come up with the money.
So Satch got on a bus and came back home. Of course, I stayed and went to the rest of that tour, into Beloit, Wisconsin. And we went all up the coast of Oregon, Washington and into Montana and then into Colorado, back into Beloit, and that's where the tour ended. At that time, Castro sent out a message that all the Cubans that were in the United States had to get back into Cuba. Castro told them that they had to come to Cuba right now, or they wouldn't get back in. So that busload of Cubans took off for Havana, and they left out of Beloit and went to Miami and got on a boat or something, and went back to Cuba. That's the last I heard of them. And I was in Beloit, where the guys had booked the teams and I was going to get out of there and go back to Birmingham, where I was living. I decided to call Danny Murtaugh who was the manager of the Pirates. I knew him from the Texas League. He played for Houston when I was with Beaumont, and so, he was the manager, and I told him, 'I'm throwing real good, I've been on a tour, my arm is in good shape', and they were in first place, you know, in '60. So I said, 'I can throw batting practice for you and help your club that way.' And he said, 'Let me talk to Joe Brown', who was the general manager of the Pirates at that time. 'He'll call you.' So, about two hours later, Brown called me and he told me he'd give me $750 a month, and I would throw batting practice, and travel with the club on the road and be just like one of the coaches. So, I said, 'Sure.' He'd also said he would pay my plane fare there from Chicago, and he'd pay my plane fare home at the end of the season.
So I went, and I threw batting practice for the rest of the season, this was in July. They won the pennant, and as you know, won the World Series. I was allowed to sit on the bench there, if I wanted to. And they gave me a part share of the World Series. I was saying all the while that Casey thought he could win that series with his secondary pitching. And if he'd have started Ford, he'd have won the World Series. But he didn't, he didn't start Ford. And Ford won two games and both by lopsided scores. He started Terry, I guess, which was the best one he had that was available, and that's what happened to him."
On the Best Managers he Played for:
"I would say Steve O'Neill and Paul Richards. Richards, he knew a lot about pitching and he surely helped me a lot. He taught me a pitch that helped me a couple, three more years in starting when I was with the White Sox. He called it a slip pitch. And, it was a change up and very good, in that it was just the perfect pitch, and especially a guy that could throw the ball 100 miles an hour, it makes it great."
Did he Throw at Batters?
"No, never did, but I hit a few. I didn't intentionally throw at them, I just pitched inside. Because we would pitch inside, outside, up and down. Now if you do that, you're gonna have a fight. Even if it doesn't touch him, he wants to fight you. Somebody asked me one day, 'How long would it take you to pitch in a day?' and I said, 'Five hours.' 'Five hours, why so long?' I said, 'Two hours and a half pitching and two hours and a half fighting.' That's about the sum of it."
On being a Member of a Musical Family:
"My cousin Derek was with the Allman Brothers and I played the harmonica. My dad played the guitar and he could play the piano, and he could pretty much play any instrument he wanted to. He never took any lessons, but he wasn't a professional, but he could play good music.
I do like the Allman Brothers' music; it's between country and the other type of music. I'm not particularly a great music lover, but I like to hear good music. I do know quite a few country stars. I knew Charlie Pride, you know, he's a black country singer and Jones and Roy Clark, I know real well. Roy has a tournament, a gold tournament, in Lynton, Indiana, every year now. I used to play a lot of golf, but I quit about a year ago. I played right up until I was 90, and at one time I had a two handicap. But, you know, I got older and got up to about 12 or 14. I had six holes in one over the years, which was really fun! It's like pitching a no-hitter. You pitch one, you're lucky. Get a hole in one, you're lucky."