The 1980s: Corporate Makeover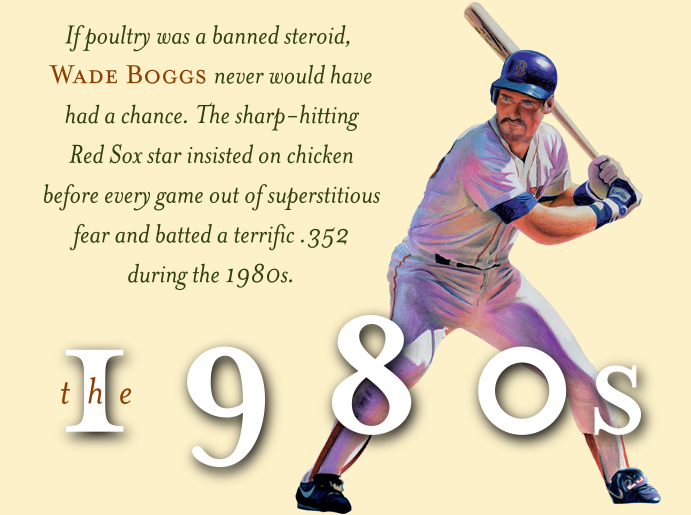 Tom Wolfe wrote that you could never go home again. Baseball in the 1980s nearly proved him wrong.
Baby boomers who grew up viewing baseball as a graying, archaic instrument of the establishment had aged and mellowed from their rebellious youth, and were now likely to be season ticket holders at the local ballpark. These were hardly power-driven yuppies trying to impress, but merely people trying to reconnect with something they lost and longed to return to. To them, baseball was the perfect metaphor.
The National Pastime was in again, its nostalgic value at an all-time high. Memorabilia sales boomed. Trading cards were given the same financial credence as mutual funds. Moviegoers lined up to see one hit baseball flick after another, including The Natural, Eight Men Out, Bull Durham and Field of Dreams. Spike Lee exhibited baseball hip by wearing an unbuttoned Jackie Robinson/Brooklyn Dodgers jersey in Do the Right Thing. And rocker John Fogarty, who raged against the machine in the 1960s with Credence Clearwater Revival, now wistfully sang of playing center field.
Baseball's renewal was hardly the result of collateral interests. Major league executives were preached the gospel of effective corporate sponsorship from commissioner Peter Ueberroth—who floored the world by steering the 1984 Summer Olympics in Los Angeles to staggering financial success. With a tradition-be-damned attitude, Ueberroth spurned baseball's folksy, long-time corporate relationships and put bids for just about anything out to the highest bidder. Such new and profitable streams of revenue became more and more necessary as player payrolls showed no sign of ending their meteoric ascent.
On the surface, baseball between the lines seemed to be living a relatively benign and peaceful existence—the 1981 players' strike notwithstanding. Dynasties gave way to diversity. One decade before, only eight teams made it to the World Series; in the 1980s, 14 different teams applied, with only one multiple winner—the Los Angeles Dodgers of 1981 and 1988, two virtually different teams featuring only a few players who could say they played for both.
But under the game's rediscovered, homespun veneer lay a dark underbelly of corrupted excess and abuse.
The owners, smarting from a succession of labor losses, illicitly took matters into their own hands late in the decade when they conspired to keep salaries down, refusing to sign other teams' free agents. The plot worked so well it became obvious what was up, and investigation soon led to evidence that found the lords guilty, and they paid heavily for it.
As if collusion wasn't enough, the players dealt with demons from within as their increased riches led to the specter of widespread drug abuse. A non-stop parade of players fell under the spell of addiction, with the roll call reading like a virtual All-Star team: Dwight Gooden, Dave Parker, Keith Hernandez, Lonnie Smith, Tim Raines, Willie Wilson, LaMarr Hoyt and Darrell Porter, among many others. The ultimate poster boy for these troubled times was Steve Howe, a Rookie of the Year to start the decade—and an out-of-work cocaine addict to end it, with six suspensions from baseball behind him. (A seventh would be in front of him for 1991.)
By and large, baseball's endemic culture of recreational drug use would fade out in the 1990s—to be replaced by another that embraced performance enhancement.

Forward to the 1990s: To Hell and Back Relations between players and owners continue to deteriorate, bottoming out with a devastating mid-decade strike—souring relations with fans who, in some cases, turn their backs on the game for good. Recovery is made possible thanks to a series of popular record-breaking achievements by "class act" stars.

Back to the 1970s: Power to the Player Curt Flood's sacrificial stand to win free agency opens the door for the biggest challenge yet to the reserve clause, which is eventually shattered—but not without fans suffering from numerous player strikes and holdouts.