The 1990s: To Hell and Back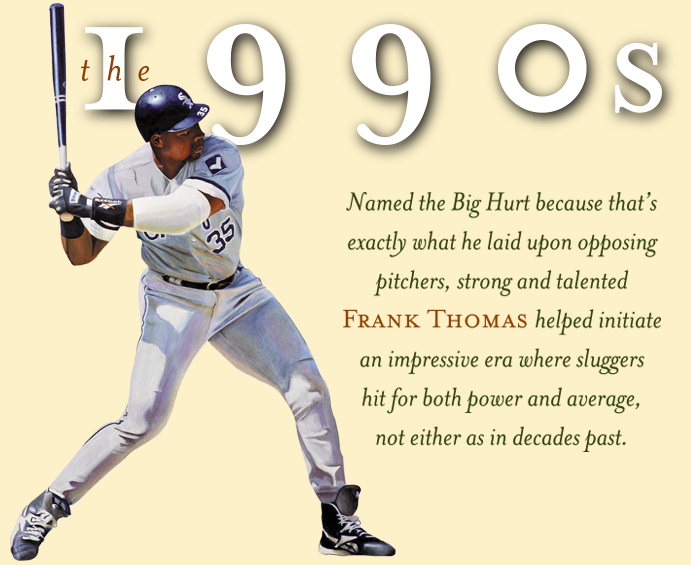 For those who ran and played the game of baseball, the 1990s were theirs for the taking. The upcoming decade was primed to be the best of times; talent was plentiful, attendance was rising, a wave of wonderful new retro ballparks was being built or planned and, most importantly, revenue was abundant.
It's a shame that none of it was spent on common sense.
Baseball's goose that laid its golden eggs was thrown on life support when the devastating 1994-95 player strike—which cost varying chunks of both seasons and, most egregiously, the 1994 postseason—sank the game to its lowest point since the Black Sox Scandal.
The game's public image took a tremendous battering from angry fans, while others waived baseball off and threatened to become permanently fixated on more mod pastimes such as the X Games.
Part of the problem lay with selfish owners who, unlike their counterparts in other pro leagues, behaved as if their motto was "None for All, and All for Me." They stiff-armed each other on revenue sharing and slammed their fists on City Hall podiums demanding new publicly funded ballparks for their teams, typically using St. Petersburg as leverage. Such greedy theatrics only fueled the growing abyss between so-called big-market and small-market teams, though it was really more about owners with big pockets and small pockets. Such pockets got deeper depending on who had the glitzy new ballparks of yesteryear—and the rich revenue streams that came along with them.
On the field, two teams dominated the decade—one a bona fide dynasty, the other one of the greatest dynasties never to be. In New York, the Yankees' George Steinbrenner finally understood the merits of not giving away his blue-chip prospects and, as a result, his big-budget mix of homegrown stars and marquee free agents turned it up toward decade's end to win three World Series. Meanwhile, the Atlanta Braves, easily baseball's best regular season performers of the 1990s with 925 wins, had only one World Series triumph to show for it—losing four others while getting knocked out three other times just trying to get there.
Meanwhile, fans of the 1990s asked: Where was the pitching? Beyond Greg Maddux, Randy Johnson and Pedro Martinez, excellence on the mound was almost non-existent. There was much to blame: Smaller ballparks with almost no foul territories, two rounds of expansion, miniscule strike zones, allegedly juiced balls—and allegedly juiced hitters.
Cecil Fielder ignited baseball's most prodigious onslaught of offense since the Roaring Twenties when, in 1990, he became the first player in 13 years—and the first of six in the ensuing decade—to top 50 home runs in a season. The round-tripping madness reached a crushing crescendo in 1998 when Mark McGwire and Sammy Sosa obliterated Roger Maris' long-standing season record, with McGwire topping out at 70.
Baseball owed its life to McGwire and Sosa, even as they would soon not be without scandal of their own. The chase for Maris' record marveled the world, and helped the game complete four years of stormy rehabilitation with those who had turned their backs on in 1994, those who ultimately help paid its bills: The fans.

Forward to the 2000s: Driven Deep to Disgrace The new century gives Major League Baseball a decidedly more international flavor with a healthy rise in foreign-born talent—but a disturbing pall is cast over the sport as one megastar after another is exposed for using steroids.

Back to the 1980s: Corporate Makeover Baseball enjoys a healthy boom on several fronts, with increased attendance, corporate sponsorship and memorabilia sales; players also continue to enjoy skyrocketing salaries, but some abuse their newfound riches by delving into illegal drugs.