1999: The Umpires Strike Out
Years of rising tensions result in a power play put forward to management by the game's arbiters, under the combustible leadership of Richie Phillips; it proves to be their undoing.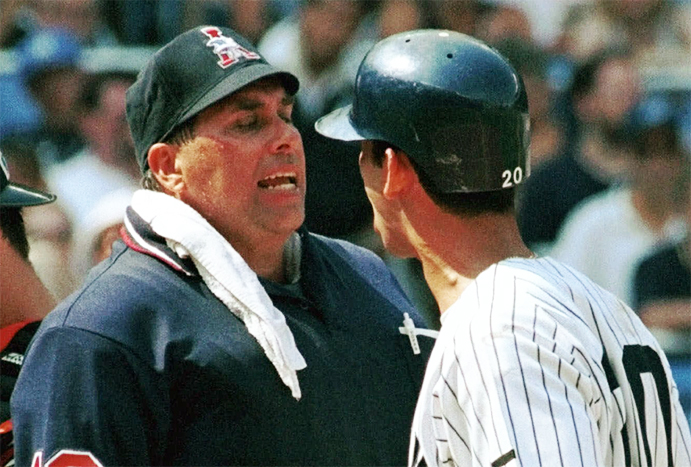 The New York Yankees' Jorge Posada jaws away at umpire Greg Kosc, on the verge of heat exhaustion, in a sequence that only grew worse when Posada later publicly criticized the men in blue for not being in shape. (Associated Press)
When the 20th Century began, major league baseball umpires were the punching bags of the game, knocked around by intimidating players and managers, tormented by rowdy fans and ignored by neglecting owners. American League czar Ban Johnson put a stop to it, giving the arbiters much-needed backbone while restoring civility and credibility to the game.
A hundred years later, baseball's modern-day umpires were beginning to wonder if Johnson's men in blue had it better.
Grumbling among the umpires had grown louder over recent years as they began to feel their leverage on the field slipping away. They still had the ultimate say with their calls, as opposed to other sports—which increasingly relied on video replays. But the umpires were increasingly rankled by an intensifying level of aggression from players arguing their calls, while suspensions and fines for excessive altercations were repeatedly watered down to nothing by a powerful players' union. The Roberto Alomar-John Hirschbeck incident at the end of 1996, in which the All-Star second baseman received a transparent slap on the wrist for spitting in umpire Hirschbeck's face—and his heartless comments afterward—sparked the umpires' present foul mood.
In late June, the boiling point was reached when another player-umpire altercation resulted in the unprecedented suspension of the umpire, Tom Hallion, after allegedly bumping several members of the Colorado Rockies during a game in June. Upon hearing the news, the Major League Umpires Association exploded.
To some, the umpire union's fiery leader, Richie Phillips, was a bully prone to temper tantrums, so his reaction was hardly anything new. Phillips had taken over as head of the union in 1978 and instantly began an acrimonious relationship with baseball management that was on a combative par with the more publicized labor wars between the owners and players. Under Phillips, the umpires engaged in various (and mostly short-lived) work stoppages during 1978, 1979, 1984 and 1995. With a blue-blood, blue-collar attitude, Phillips' manner of speech was less legalese, more blunt—as evidenced when he publicly labeled New York Yankees catcher Jorge Posada a "jerk" for criticizing the physical condition of 325-pound umpire Greg Kosc.
BTW: Kosc left a game with Posada behind the plate because he was exhausted; Posada, after hearing that Kosc was a diabetic, apologized for his criticism.
The umpires had enough of player leniency, owner evaluation and a perceived failure to have their decisions backed. Phillips demanded that unless baseball did something about it, 57 of his 66 unionized umpires would quit on September 2.
Baseball yawned. Major League Baseball Executive Vice President Sandy Alderson, who was as sharp as they came, made baseball's position on the matter firm and savagely sardonic when he said of Phillips' edict: "It's a threat to be ignored or an offer to be accepted."
Oops.
Alderson was no fool; nobody paid their good money to enter a ballpark to watch umpires. He was also quite aware that many of the umpires' strike zones had defiantly deviated from the rulebook's definition; perhaps a fresh dose of umpires from the minors could do better. If Phillips' umpires wanted to quit, thought Alderson, let them.
Panic erupted at Phillips' headquarters. Umpires desperately tried to rescind their resignations. Tough luck, said baseball; we've ordered up the replacements—and this time, they're not temps. Phillips took his matter to court to win the umpires' jobs back, but in a rare instance, the judge sided with management—stating that since the umpires quit, they were no longer provided job protection.
In the end, 35 of the 57 umpires would be allowed back, because they were smart enough to do it early and not follow Phillips any further on his reckless path to self-destruction. But the 22 other umpires—some of them among the best in the game—stuck with Phillips and weren't as lucky.
In ensuing negotiations with the umpires, management was open to bringing the 22 accidental retirees back in; its ultimate goal was to oust Phillips. That was taken care of by the growing anti-Phillips faction within the umpires' ranks. After the season, they voted to decertify the union and start anew, leaving Phillips out in the cold.
As the new union, called the World Umpires Association, settled in and brought upon a new labor agreement in September 2000, Phillips and his 22 men out struggled to slide back through baseball's door via a series of negotiations and lawsuits. By and large, the padlock remained secure, as those on the inside went about their business of calling balls and strikes.
The umpire sideshow hardly detracted from baseball on the field, with the two best teams of the 1990s—the New York Yankees and the Atlanta Braves—ultimately hooking up to determine the majors' last champion of the century.
The paths toward World Series glory for both the Yankees and Braves were nearly identical, displaying mirror-imaged characteristics throughout the season.
The Yankees dealt with adversity. They traded 1998 fan favorite David Wells to Toronto, angering Yankee loyalists even as the trade brought over one Roger Clemens. Manager Joe Torre was diagnosed with prostate cancer in spring training, while Darryl Strawberry, himself recovering from colon cancer, relapsed to the dark side when he was charged with drug possession and solicitation. Three Yankees—Paul O'Neill, Scott Brosius and Luis Sojo—lost their fathers during the year, All-Star second baseman Chuck Knoblauch suddenly couldn't make a routine throw to first, and George Steinbrenner returned to sounding off, publicly knocking overweight, underwhelming Japanese import Hideki Irabu as a "fat pussy toad."
BTW: Torre would undergo successful treatment and return 36 games into the season, after bench coach Don Zimmer started the Yankees off at 21-15.
The Braves dealt with adversity. Veteran slugger Andres Galarraga, coming off a prodigious three-year burst of hitting, was also stricken with cancer—in his lower back. Catcher Javy Lopez missed 100 games due to injury. One closer (Mark Wohlers) was lost when he suddenly couldn't find the strike zone, a second (Kerry Lightenberg) was lost for the year with a season-ending elbow injury, and a third (John Rocker) pitched just fine so long as he kept his outspoken opinions to himself.
The Yankees overcame adversity with star talent that was budding or in full bloom. Second baseman Derek Jeter (.349) and center fielder Bernie Williams (.342) both set career highs in batting average, each adding 100 walks, 100 runs scored and 100 knocked in. On the mound, Clemens' first, mediocre year in New York (14-10, but with a career-worst 4.60 earned run average) was offset by Orlando Hernandez (17-9, 4.12), who possessed an electric, high leg-kick motion and, like his brother Livan, had escaped his native Cuba for a chance to go major league. In the bullpen, Mariano Rivera remained the AL's most ferocious closer, saving a league-high 45 games while not allowing an earned run after July 21.
Babe and Lou Anew
Derek Jeter and Bernie Williams both hit over .340 with at least 20 home runs, 100 runs, 100 RBIs and 100 walks in 1999. Only one other pair of teammates has paired up to achieve similar marks: Babe Ruth and Lou Gehrig, who did it numerous times.

The Braves overcame adversity with star talent that was budding or in full bloom. Switch-hitting third baseman Chipper Jones had a spectacular year that netted him the National League's Most Valuable Player award—accruing 45 home runs, 110 RBIs, 116 runs scored, 126 walks and 25 steals (in 28 attempts) to go with a .319 batting average. Right-handed starter Kevin Millwood, at age 24, practically pitched as the ace of the esteemed Braves rotation, producing a team-best 2.68 ERA to go with an 18-7 record. And the aforementioned Rocker saved 38 games with a 2.49 ERA.
Both the Yankees and Braves entered the postseason with the best records in each of their leagues, and had little trouble advancing through the first round to the League Championship Series—where they awaited wild card entries from their own divisions.
BTW: For the second straight year, the Yankees totally frustrated the potent Texas Rangers—allowing, as in 1998, a single run in a three-game sweep over the AL West champions.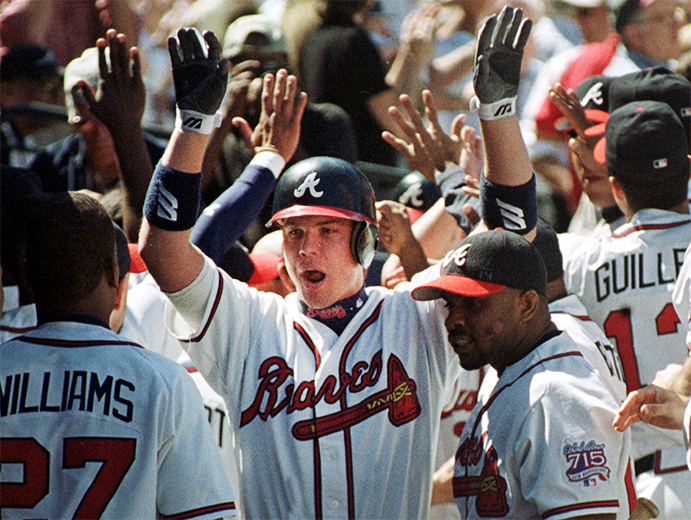 In a long Hall-of-Fame career for the Braves, Chipper Jones had no better year than in 1999—winning the NL MVP and setting career highs in home runs, walks, steals and slugging percentage. (Associated Press)
The Yankees matched up with longtime nemesis Boston, runner-up to New York in the AL East—but also the team that gave the Yankees the most fits during the regular season, winning eight of 12 head-on. The Red Sox were coming in on a high, having disposed of the high-powered AL Central-winning Cleveland Indians in a five-game series that featured an obesity of offense—79 runs and 17 home runs, including a 23-7 rout by Boston in Game Four.
The ALCS might had been closer had the umpires, already beaten up in the press for Richie Phillips' ill-fated strategies, not made a series of badly blown calls that would kill the Red Sox.
The two most egregious umpiring errors involved the beleaguered Chuck Knoblauch. In Game One, he appeared to drop a ball at second base on a force play of the Red Sox' Jose Offerman—but umpire Rick Reed ruled he had control and was merely exchanging the ball to his throwing hand for a possible relay to first. In Game Four, Knoblauch took a grounder and attempted to tag out (again) Offerman—and missed by a wide margin before throwing on to first. Yet umpire Tom Tschida imagined and ruled Knoblauch had made the tag.
With television replays nakedly proving the umpires wrong, the two blown calls ended significant Red Sox rallies in the late innings of tight games; left rising star shortstop Nomar Garciaparra on deck with a chance to take advantage of Knoblauch's should-have-been errors; and spirited the Yankees to immediately follow with game-winning rallies. The Red Sox were deflated after the first miscue, angry after the second; an inning after the latter incident, Garciaparra was called out on another questionable call—and the Sox and their Fenway Park faithful boiled over, littering the field with debris and holding up the game for 10 minutes.
In losing the ALCS to the Yankees, four games to one, the Red Sox had themselves just as much to blame as the umpires—committing 10 errors in just five games.
The Braves' NLCS experience lacked controversy but was no less intense. Their challengers: The New York Mets, who after a weak start nearly caught the Braves before settling for the NL wild card spot. From Atlanta's perspective, this was an eerie scenario: Two years earlier, it was the Florida Marlins, second in the NL East, who had toppled the Braves in the NLCS as a wild card. The Braves were determined to avoid another embarrassment at the hands of the division's second best.
It started as a breeze, albeit a tight one, for the Braves—winning the first three games over the Mets by a total of four runs. But New York scratched and clawed back with everything they had, winning the next two in narrow fashion—including an exhaustive, 15-inning Game Five classic that lasted nearly six hours. The Braves again had their hands full back in Atlanta for Game Six, fighting off one New York comeback after another, finally overcoming the Mets in the bottom of the 11th when Andruw Jones drew a bases-loaded walk that gave the Braves a 10-9 victory—and their fifth NL pennant of the 1990s.
BTW: While the Mets stood on the edge of the dugout as Game Six drew to its climax, malcontented and over-the-hill stars Bobby Bonilla and Rickey Henderson nonchalantly played cards in the Mets' clubhouse.
As baseball's two pre-eminent powers, the Yankees and Braves were hyped up as a clash of baseball titans guaranteed to excite America with a World Series classic to end the 20th Century.
It instead became a classic mismatch.
In Game One at Atlanta, Orlando Hernandez—by now better known by his nickname, "El Duque"—allowed just one hit through seven innings and struck out 10 Braves. David Cone mimicked Hernandez for Game Two and allowed just a hit through seven innings himself. The Yankees kicked aside Greg Maddux and Millwood by respective scores of 4-1 and 7-2.
Atlanta bats awoke for Game Three at Yankee Stadium, tearing out to a 5-1 lead—but they couldn't hold it. The Yankees peppered starter Tom Glavine with enough small rallies to even the score by the eighth inning, and reserve Yankees outfielder Chad Curtis led off the 10th with his second homer of the night to grant New York a 6-5 overtime victory.
BTW: After stepping on home plate, Curtis snubbed NBC sideline reporter Jim Gray, who created a firestorm for grilling Pete Rose with questions about his alleged gambling just after Rose had been honored as part of baseball's All-Century Team before Game Two.
Roger Clemens and closer Mariano Rivera wrapped up the sweep in Game Four with a 4-1 shutdown of Atlanta, crowning the Yankees with their 25th championship. Rivera, who saved two games and won another, was named the Series' MVP—finishing the postseason with 12.1 innings of shutout ball to go with the 30.2 he pitched to finish out the regular season.
Automatic in the Clutch
If, from August through October (postseason included), you were trying to mount a comeback against the Yankees with Mariano Rivera on the mound, forget it. The fifth-year closer did not allow a single earned run from August 1 on.

For the Braves, it was a disappointing end to a bittersweet decade in which they won eight straight divisional titles (the canceled 1994 season discounted), yet had only one World Series title to show for it. Maybe the 21st Century would be theirs; they had, for the moment, the organization strong and sound enough to suggest it.
But for now, this year—and the entire 20th Century—belonged to the Yankees, as their latest display of baseball dynasty would attest. 

Forward to 2000: New York, New York The first Subway Series in 44 years is spiced with antagonism thanks to an ongoing feud between Roger Clemens and Mike Piazza.

Back to 1998: The Maris Sweepstakes Mark McGwire and Sammy Sosa embark on a historic record-breaking pursuit of Roger Maris' long-standing season home run mark.

1999 Leaders & Honors Our list of baseball's top 10 hitters and pitchers in both the American League and National League for the 1999 baseball season, as well as the awards and honors given to the game's top achievers of the year.

The 1990s: To Hell and Back Relations between players and owners continue to deteriorate, bottoming out with a devastating mid-decade strike—souring relations with fans who, in some cases, turn their backs on the game for good. Recovery is made possible thanks to a series of popular record-breaking achievements by 'class act' stars.