1990: The Dynasty Dies Nasty
Led by a vicious bullpen of effective, hard-throwing relievers, the Cincinnati Reds hand Oakland with its second upset defeat in three years at the World Series.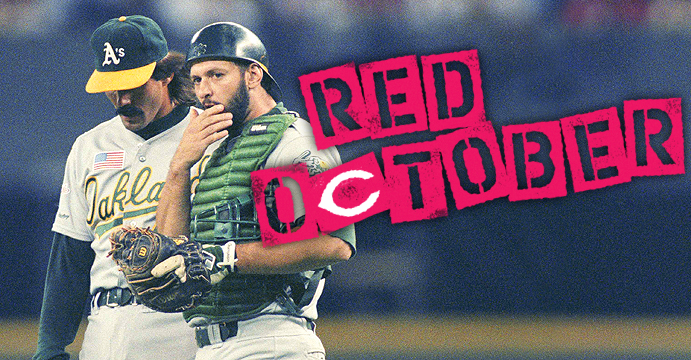 Oakland star closer Dennis Eckersley and catcher Terry Steinbach brood over their limited options late in Game Two of the World Series. The A's would fall in four straight games to the underdog Cincinnati Reds. (Associated Press)
For three straight years, the Oakland Athletics had sped through the American League with a license to dominate. Averaging 102 wins a year with a roster strongly balanced in every facet of the game, the A's were an equal opportunity destroyer, picking apart postseason combatants and cellar dwellers alike.
The World Series, however, had proven to be a far more frustrating stage for the A's to get their message across. They were emotionally jarred by one swing of Kirk Gibson's bat in 1988 and, a year later, their impressive intra-market sweep of the San Francisco Giants took a backseat to the earthquake that nearly cancelled it, leaving a sobering varnish upon their celebration.
Returning to the Fall Classic in 1990, the A's were anxious to get it right, to prove their supremacy and bask in undisturbed glory without intrusion from improbable heroics or Mother Nature's fury.
The Cincinnati Reds simply wouldn't cooperate.
Given an attitude adjustment by a fiery new manager and backed up by a ferocious trio of charismatic relievers nicknamed the Nasty Boys, the Reds came out of nowhere to take the National League flag before upending the almighty A's in one of the World Series' most eye-opening upsets.
For much of the late 1980s, the Reds were a talented bunch that always came up short, finishing second in the NL West four straight years under manager Pete Rose. The team all but collapsed in 1989 under the weight of Rose's betting scandal and, perhaps more critically, a major injury outbreak. With Rose banned after 1989, the Reds brought in Lou Piniella, who immediately had two strikes on him: One, he was a career American Leaguer getting his first taste of the senior circuit; two, the owners' spring training lockout handicapped any chance for him to get acclimated to his new surroundings.
Once the work stoppage was resolved, Piniella immediately asserted himself. Nicknamed Sweet Lou purely out of sarcasm, the tough-minded Piniella was to be obeyed or else—in stark contrast to Rose, a solid tactician who seldom communicated with his players. Feeling like driftwood in search of guidance from Rose, the Reds embraced Piniella's relative totalitarianism and proved it by winning their first nine games—a defining pacesetter for a 30-12 start. By July 23, the Reds had the best record in all of baseball—the A's included—at 59-33, and although they sputtered home with a sub-.500 record the rest of the way, they never encountered a major threat within the NL West.
BTW: The Reds finished by five games over Los Angeles and by six over the reigning NL champion San Francisco Giants.
There was Myers—nicknamed "Psycho"—who when not in uniform often dressed in militia survivalist fatigues, complete with hand grenades (assumed to be disarmed). There was fellow southpaw Charlton, a more good-natured but very active prankster. Then there was Rob Dibble, who was best avoided following a bad outing—as evidenced when he once wrecked havoc on picnic tables during a spring training game. Dibble's further moments of rage during the regular season—throwing at hitters, precipitating brawls, chucking bats in anger—made him a frequent target of fines and suspensions from baseball's executive offices.
The Nasty Boys' numbers were as feared as their reputations. Working a combined 234.2 innings of relief, the three relievers struck out 291 batters, saved 48 games and allowed opposing hitters to bat just .202. Myers became the full-time closer in the season's second half—sending an unappreciated Dibble into one of his patented fits—and Charlton was even called to the rescue of an injury-depleted starting rotation late in the year, winning six of 11 decisions with a 2.60 earned run average in 16 starts.
Offensively, a thorough balance was struck as everyone chipped in for the Reds while MVP votes for individual brilliance were cast elsewhere. But the heart of the team's strength—and its national public image—was set by three wild and crazy bullpen artists. These were the Nasty Boys: Randy Myers, Norm Charlton and Rob Dibble.
BTW: The Nasty Boys borrowed their name from a late-night NBC show following real-life cops in Las Vegas.
While the Reds triumphantly rebounded from a wretched off-year, the Pittsburgh Pirates—their NLCS opponents—triumphed in the NL East after a wretched off-decade.
Throughout the 1980s, the Bucs were one of baseball's continuing horror stories, staggered by drug scandals and clubhouse dissension that brought the team to rock bottom by 1985 with a 57-104 record. With nowhere to go but up, the Pirates went up, way up, with a bevy of new and prosperous talents under the intense focus of crusty new manager Jim Leyland.
Unlike the total team effort given by the Reds, the Pirates relied principally on three key stars. Starting pitcher Doug Drabek was the unquestioned ace of the Pittsburgh staff, not so much because he won an NL-high 22 games but because only one other starter won as much as 10. Bobby Bonilla, with 32 home runs and 120 runs batted in, was the most proven offensive threat, but opponents were increasingly growing far more scared of fellow outfielder Barry Bonds. Those opponents' fears were justified when Bonds, after four years as a raw and unrefined prodigy, broke out and produced baseball's first .300-100-30-100-50 season: A .301 average, 104 runs scored, 33 home runs, 114 RBIs and 52 steals. With those numbers, Bonds won the first of a record seven MVP awards—with Bonilla finishing runner-up.
BTW: The Pirates' pitching staff featured 13 different starters during the season, and a NL-record 19 players who earned at least one win.
Barry Bonds, the Early Years
Before breaking out in 1990 with the first of many MVPs to come, Barry Bonds spent the first four years of his career struggling to discover himself.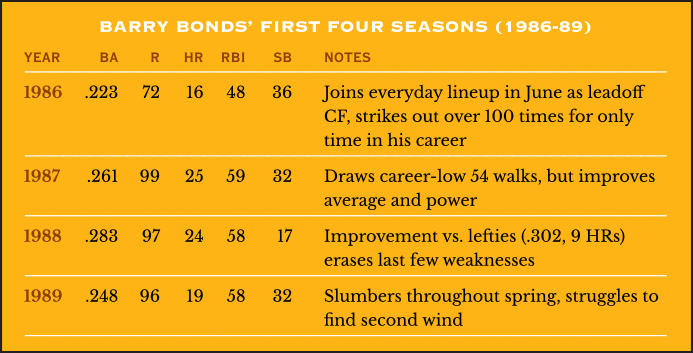 Many believed Bonds and Bonilla by themselves would render the Nasty Boys useless at the NLCS, giving Cincinnati little opportunity to protect a lead. But three stubborn Red starters—Jose Rijo, Tom Browning and Danny Jackson—performed their end of the bargain and stifled Bonds, Bonilla and the rest of the Pittsburgh lineup. That allowed the Nasty Boys to do their thing. Myers, Charlton and Dibble grouped to throw 15.2 innings, allowing just one run on six hits while striking out 20 batters. In winning the NLCS four games to two, the Reds held the Bucs to a paltry .194 average—with Bonds and Bonilla limited to a combined .179 mark and just two RBIs.
BTW: The Reds and Pirates, who last met in the 1979 NLCS, were the only two NL teams absent from postseason play in the 1980s.
Now it was time for the Reds, baseball's David, to take on its Goliath: The Oakland Athletics.
For the third straight year, the A's were an untouchable force in the American League. The starting rotation, injury-free all year, included three pitchers who set career highs in victories: Staff workhorse Dave Stewart (22-11), free-agent bargain Scott Sanderson (17-11) and veteran Bob Welch, whose 27 wins (against six losses) were the most in the AL since Denny McLain's 31 in 1968. In the bullpen, Dennis Eckersley was the most effective closer of this, or perhaps, any year—producing a stunning 0.61 ERA with 48 saves in 50 opportunities and just four walks allowed in 73.1 innings. At the plate, a more injury-hampered offense was carried by Rickey Henderson, clearly at the top of his game with a .325 average, 28 homers, 119 runs scored and 65 bases stolen.
Like putting a bazooka to a fly, the hardly content A's fattened up an already prodigious lineup late in the year by acquiring sure and steady slugger Harold Baines and Willie McGee, who was leading the NL with a .335 batting average. The A's obviously were out to spare no exorbitance in keeping from being tripped up in the postseason.
BTW: McGee's departure from St. Louis locked in his NL-high batting average, which would not be surpassed by season's end.
Thirty-Flirty
With 27 wins in 1990, the A's Bob Welch came as close as anyone to reaching 30 victories since Denny McLain last reached the golden barrier in 1968. Here's a list of pitchers who got to 25 or beyond since McLain hit 30.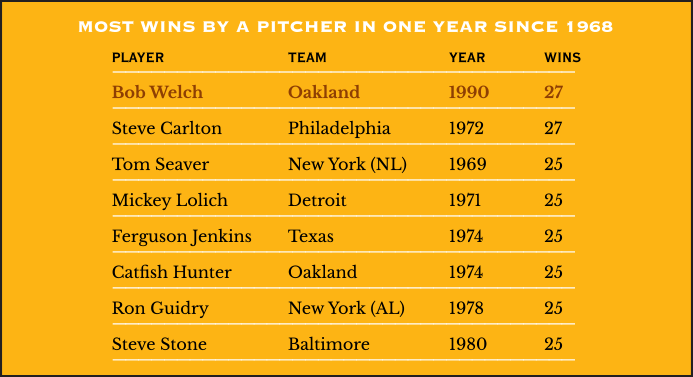 For the second time in three years, the Boston Red Sox landed the unfortunate role of trying to unravel the A's at the ALCS. Once again, it was they who would unravel.
More than ever, the Red Sox lived and died behind Roger Clemens, who won 21 of 27 decisions and produced a 1.93 ERA that would register as the second best of his storied career. (He would post a 1.87 mark for Houston in 2005.) Clemens' season, and that of Boston's, was nearly derailed in early September when a shoulder injury put him on the disabled list. Up 6.5 games at the time in the AL East, the Red Sox quickly saw it vanish when the Toronto Blue Jays rampaged past them, but got it back for good with a week to go when they took two of three from the defending AL East champions—with Clemens coming off the shelf to win a crucial start.
Red Sox batters led the AL in hitting at .272, but it was a lightweight figure punctuated with the majors' sixth-lowest home run total. Boston's lack of muscle contributed to, once again, a four-and-out at the ALCS against Oakland, scoring precisely one run in each game. But Roger Clemens had bigger fish to get fried over. One was Dave Stewart, who won two duels against the Rocket in the series to run his career mark against him to 8-0. The other was Game Four home plate umpire Gerry Cooney, who bore the brunt of Clemens' frustration when, after a walk, he ejected Clemens for reciting several of George Carlin's seven dirty words toward him. After the game, Clemens said he was merely cursing at himself, but close-up television replays of a clearly agitated Clemens firing one expletive after another towards Cooney made his story hard to believe.
BTW: In fairness to Clemens, Cooney initiated the altercation when he challenged Clemens, after the walk, as to why he was shaking his head at him.
The A's were amazed with laughter at the Red Sox' implosion, but the grins faded away—and never returned—in the World Series against the Reds. 
Cincinnati startled the A's in Game One at Riverfront Stadium with a 7-0 rout of Dave Stewart, then took a tense 10-inning affair in Game Two, 5-4—scoring the winning run off Dennis Eckersley. Those first two games sent the A's into a funk as they returned to Oakland, and even as they took early leads in Games Three and Four, the negative vibes had set in as the A's sensed that, sooner or later, the Reds would find a way to win. It was sooner in Game Three, when the Reds piled on seven third-inning runs off Oakland starter Mike Moore, the one disappointment (13-15, 4.85 ERA) in the A's rotation, and it was later in Game Four, when the Reds batted around for two eighth-inning tallies to tip the A's, 2-1. The A's couldn't even salvage the finale despite early-inning injuries to the Reds' Billy Hatcher—a season-long sparkplug who earlier set a World Series record by hitting safely in his first seven at-bats—and Eric Davis, the one and only Red with "superstar" written all over him, though he'd been bedeviled with knee problems all year long.
Norm Charlton, Randy Myers and Rob Dibble continued to be Nasty, Nastier and Nastiest against Oakland, firing a combined 8.2 shutout innings while allowing just six hits. But the Reds' starters, as they had been in the NLCS, were every bit as tough. Jose Rijo, an ex-Athletic and son-in-law of Hall of Famer Juan Marichal, bragged and pitched as if he was lobbying to apply for a Nasty Boys membership. Rijo helped set the pace for the series with seven shutout innings in Game One, talked up a series upset afterward, then after allowing an early run in Game Four set down 20 straight A's before Randy Myers closed it out in the ninth.
Nasty From Start to Finish
Whether it was the regular season, the NLCS or the World Series, the Reds' vaunted Nasty Boys—Rob Dibble, Randy Myers and Norm Charlton—consistently snuffed out one opponent rally after another with their stunning relief work on the mound.

The totally frustrated A's, who in four games hit .207 and scored just eight runs—none after the third inning—couldn't believe they had been soundly beaten by a definitive underdog and looked for a higher cause. They found it in the inability of star slugger Jose Canseco, whose sloppy defense and 1-for-15 effort at the plate made him a public scapegoat by disgruntled teammates and manager Tony La Russa—even as Canseco played with a beat-up back and sore wrists.
The A's franchise that had begun back in Philadelphia in 1901 had twice before won three straight AL titles—in 1929-31 and 1972-74—and in both cases it had further proven its dominance at the World Series. But for the A's of 1990, being swept by the Reds finished a bittersweet chapter in which another three straight AL pennants had been answered with a disaster-obscured triumph sandwiched in between two major upset losses. This dynasty could not be claimed.
For A's fans, it was a Nasty shame.

Forward to 1991: From Worst to First Out of nowhere, the Minnesota Twins and Atlanta Braves leap to the top and put on one of the most memorable World Series.
Back to 1989: Of Triumph and Tragedy In the glow of its renaissance, baseball gets burned by a series of unwanted events.

1990 Leaders & Honors Our list of baseball's top 10 hitters and pitchers in both the American League and National League for the 1990 baseball season, as well as the awards and honors given to the game's top achievers of the year.

The 1990s: To Hell and Back Relations between players and owners continue to deteriorate, bottoming out with a devastating mid-decade strike—souring relations with fans who, in some cases, turn their backs on the game for good. Recovery is made possible thanks to a series of popular record-breaking achievements by 'class act' stars.