2005: At the End of the Primrose Path
After a decade of living high on the hog with an unparalleled power play of offense, baseball is forced to owe up as to why it looked the other way while some of its players illicitly muscled up on steroids.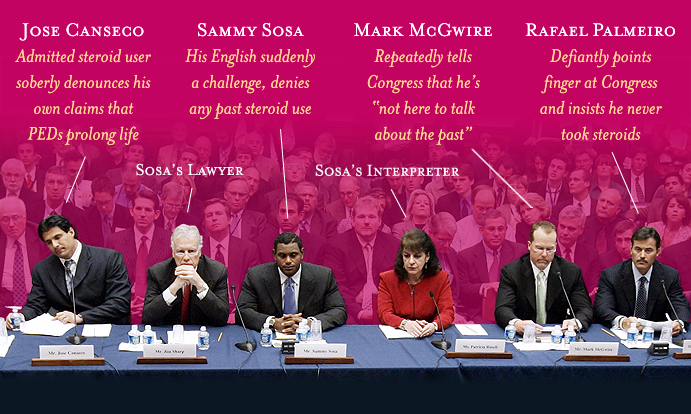 When Mark McGwire and Sammy Sosa engaged in their historic and thrilling chase to break Roger Maris' season home run record in 1998, Major League Baseball tightly embraced the moment as the perfect pill that would purge the ghosts of the 1994-95 player strike and return the game to financial, emotional and philosophical good health.
Yet the cure that was McGwire-Sosa and the many other impressive feats of slugging that dominated baseball's post-strike era would show to have major side effects by the midway point of the new century's first decade, relapsing the sport back to a pestilent state of notoriety and scandal it had desperately sought to rid itself of 10 years earlier.
As Babe Ruth and a tailwind of increased offense sped up the erasure of bad thoughts held over from the Black Sox Scandal in the 1920s, baseball reaped a similar fortune of furtive hitting in the late 1990s that helped take the minds of angry fans off what the crippling strike had wrought.
Then and now, people knew what made the offense of the 1920s click: The elimination of the spitball, a whiter, fresher ball, and a novel willingness for players to go deep as a result. But when it came to the offensive growth spurt of the 1990s, consensus was absent. Opinions included longer games, expansion, smaller strike zones, increased pitch counts, a glut of new hitter-friendly ballparks…and an unparalleled preponderance of muscle mass built up by the players.
The topic of anabolic steroids in baseball had been around since McGwire and Jose Canseco started bashing home runs on a routine basis for the Oakland A's in the late 1980s. But any public outcry was confined to occasional mockery from fans in the stands, while investigation was deemed unnecessary as the balance of hitting and pitching in the majors remained at an equitable level. Baseball didn't seriously look into the matter then, and it certainly wasn't about to after the strike; the last thing the game needed was to engender more rotten PR.
BTW: MLB did bring up steroid testing in its 1994 talks with the players' union, but the issue was a low priority compared to more financially-sensitive issues that led to the strike.
So as players who once hit 40 home runs were now slamming 60, as those who once hit 10 were now in the 20s, 30s and 40s—as Brady Anderson leapfrogged to 50—baseball looked the other way and celebrated the splurge rather than question it. The media followed suit; when androstenedione, a virtual steroid, was found in McGwire's locker during his momentous 1998 pursuit of Maris, reporters caught up in the ongoing episode of home run history granted lip service to the story, if anything else, perhaps because "andro" wasn't even illegal within baseball.
But soon the chickens began coming home to roost, as players past and present began confessing to what they knew. Former MVPs Canseco and Ken Caminiti admitted to steroid use, while current stars like outspoken ace pitcher Curt Schilling believed that a majority of major leaguers were juiced. Embarrassed, MLB introduced a gag order on the subject and told everyone to shut up.
In 2003, baseball finally instituted a steroids testing policy, but it was widely assailed as weak, with critics ridiculing its call for a lifetime ban on the fifth offense while incredulous that the pact didn't address amphetamines—a drug whose usage was considered far more pervasive within baseball. Commissioner Bud Selig responded that it was the best deal he could get out of the union, while the union acted as if it didn't understand what all the fuss was about—most curiously reflected in the query by the union's second-in-command, Gene Orza: If testing for steroids, why not cigarettes as well?
Baseball's band-aid solution only invited more trouble, and after the 2004 season it was absorbing steroids-related issues on two fronts. One was Canseco's tell-all book in which he implicated ex-teammates McGwire, Rafael Palmeiro and Juan Gonzalez, among many others. But the other, more troubling development was the grand jury trial regarding BALCO, the San Francisco Bay Area-based "dietary supplement lab" that was accused of issuing steroids to numerous major leaguers—including megastars Barry Bonds, Jason Giambi and Gary Sheffield.
If baseball hoped for these stories to vanish with the chill of the offseason, they were in for a rude winter. Canseco and his book got prime time exposure on 60 Minutes, while BALCO founder and Federal indictee Victor Conte got marquee treatment on 20/20. Leaks from BALCO grand jury testimony revealed that both Giambi and Bonds admitted to steroid usage, though Bonds said under oath that he believed the "clear" and "cream" handed to him was, in fact, flaxseed oil. Meanwhile, Bonds—whose head reportedly grew two cap sizes in advance of his record 73-homer season in 2001—was being dogged in the press by an alleged ex-mistress who claimed Bonds switched to the juice in 1999 and fretted over his sudden change in appearance as a result.
BTW: When the Yankees got wind of Giambi's confession, they reportedly considered voiding the remainder of his $120 million contract.
Baseball, already feeling the heat from Washington—where even President George W. Bush used his 2004 State of the Union address to rally against steroids—convinced the players' union to reopen the 2002 Collective Bargaining Agreement and ramp up the penalties for steroid use. But the increase was minimal, and the public again rolled its eyes in response.
At that point, Congress went into action.
The House Government Reform Committee set up hearings on steroids in baseball, and when invitations failed to bring in players and executives to testify, they sent out subpoenas.
BTW: Only the White Sox' Frank Thomas and a retired Jose Canseco initially agreed to appear.
Too big just for C-SPAN, the March 17 hearings were televised live by CNN, ESPN and other major media outlets to a public more transfixed on steroids in baseball than other, more mundane Capitol Hill topics such as Social Security reform and misleading Iraq War intelligence. But the expected aura of sensationalist entertainment was given a somber undercurrent early on when parents of teenage athletes who indulged in steroids—then committed suicide—spoke out, layering the day's agenda with tragic substance. It was from this backdrop that the players walked in.
A nervous Canseco, worried about a lack of immunity, spoke anyway and refuted glossy claims in his book that steroids were healthy. Frank Thomas, via satellite from Arizona, made an opening statement and signed off. Curt Schilling, brought in for his habitual candor, was unusually careful and conservative in his comments. Sammy Sosa, all but hiding behind his lawyer and interpreter, said little in an English more broken than usual.
Mark McGwire, Sosa's partner in history during 1998, looked all but lost as he hopelessly clung to the same response with every question asked regarding his possible steroid use: "I'm not here to talk about the past." A virtual taking of 'the Fifth,' McGwire's redundant refrain undercut almost all the credibility 70 home runs gave him seven years earlier. He entered the room a hero and left it a pathetic fraction of his own glory, his reputation and Hall-of-Fame chances left in shreds.
Finally among the players, there was Rafael Palmeiro, who angrily shook his finger at the panel and voiced, unequivocally, that he never took steroids.
For all of the public's fixation on the players, the executives who followed merited the most intense exchanges on the day with the panel. The whipping boy, for the moment, was commissioner Selig, who was continually grilled on the sport's lack of an effective steroid policy—and, with the revised drug-testing agreement in the panel's hands, severely rebuked over a fine-print clause that would have allowed a first-time offender to avoid a suspension and public outing by paying a $10,000 fine at Selig's behest. Rob Manfred, Selig's right-hand man sitting to his left, described the clause as an error and promised it would be deleted.
Bloodied from the hearings, baseball limped into the 2005 season with its first public suspension: Utility player Alex Sanchez was given a 10-day penance, the first of 12 given to big leaguers during the year. It was no surprise that most of the guilty were borderline players, risking detection to earn a minimum major league salary far above what the minors could possibly offer. What did surprise the public was that half of the players testing positive were pitchers.
BTW: Besides the major leaguers, nearly 100 minor leaguers were also handed suspensions.
Then, in August, came the biggest surprise of all, with the first suspension levied on a star player: Rafael Palmeiro.
The defiant man who came off as the most believable in the March hearings was nailed by the system in May—though baseball waited nearly three months to make it official. After his convincing performance in Washington, Palmeiro's credibility flopped in explaining his suspension. At first he said he had no idea how steroids ended up in his body, but an inside source later revealed that the drug detected was stanozolol, which was virtually impossible to ingest accidentally. After returning from his suspension and enduring booing so intense that he resorted to wearing earplugs, more news leaked of Palmeiro claiming he got the offending drug through a B12 boost from Baltimore teammate—and star shortstop—Miguel Tejada. Banged up by injuries, Palmeiro was asked by the Orioles to go home, rest—and stay home for the rest of the year. He never played again.
BTW: Echoing the criticism of many from the outside, Curt Schilling—back to sounding off—lambasted MLB for giving Palmeiro preferential treatment and delaying the suspension until after his 3,000th career hit.
In midseason, Commissioner Selig publicly gave the players' union yet another, this time more substantive, proposal to toughen steroid punishment: Fifty days for the first offense (up from 10), 100 for the second, and a lifetime ban for the third. It also finally called for penalties on amphetamine usage. The union brass reluctantly weighed the overture while the public waited and Congress tapped its fingers in advance of a reply.
On the field, the year would belong to the Chicago White Sox, who entered 2005 with an 88-year World Series drought even longer (if nowhere near as legendary) than that of the Boston Red Sox a year earlier.
For decades, the White Sox seemed incapable of escaping a reputation akin to a poor boy sandwich. They were all but forgotten in a city that worshipped the Cubs, endlessly spinning their wheels in the middle of the American League's weak Central Division behind a manager (Ozzie Guillen) whose sparkling play for 13 years as a adept, light-hitting White Sox shortstop was itself second-tier in the national consciousness to the other Ozzie (Smith) down in St. Louis.
But the outspoken Guillen, in his second year as the Sox' pilot, engendered a loyal, disciplined attitude into his team, concentrating his players on a brand of back-to-basics baseball that demanded as much focus on the bunt, steal and hit-and-run as with the home run—an alluring temptation, given U.S. Cellular Field's tight dimensions.
From the word go, White Sox players absorbed Guillen's confidence and displayed a passion for winning that would seldom let him down. Chicago led at some point in each of its first 37 games, a major league record; tore apart its divisional opponents to the tune of a 52-22 record, and survived a 12-16 August—its only losing month of the season—and a late charge by a young, no-name Cleveland Indians squad to take the AL Central with the league's best record at 99-63.
BTW: The White Sox' second worst month of the season came in July—at 15-11.
Clutch performance would be the godsend for the White Sox on both sides of the roster. Although the Sox placed a lowly 11th in AL hitting (at .262), they batted .278 with runners on base. Conversely, opposing hitters batted a hopeless .222 in the clutch against Chicago pitching, easily baseball's staunchest—with a quartet of starters (Jon Garland, Mark Buehrle, Freddy Garcia and Cuban escapee Jose Contreras) producing sub-4.00 earned run averages and a combined 63-33 record.
Having hit, pitch and execute to perfection during the regular season, the White Sox would get lucky to boot in the playoffs.
After dethroning the defending champion Red Sox in three straight games to start the postseason, Chicago got off to a rough start in the ALCS with the Los Angeles Angels of Anaheim, a team coming off an exhausting ALDS triumph over the high-priced New York Yankees. The White Sox lost the first game at Chicago and appeared headed for extra innings in Game Two when catcher A.J. Pierzynski swung and missed to apparently end the ninth. Umpire Doug Eddings motioned the third strike, but not the third out; because he felt Angels catcher Josh Paul had trapped the ball off the dirt with his glove, the play was still alive. But no one on the field—not even the other umpires—understood Eddings' interpretation, and headed to the dugout. An alert Pierzynski bolted to first and was ultimately declared safe; Pablo Ozuna pinch-ran for him, stole second, and scored the winning run when the next batter, Joe Crede, doubled him home.
BTW: Eddings defended his body language by saying he was using his "strike three mechanic" many confused for the third out.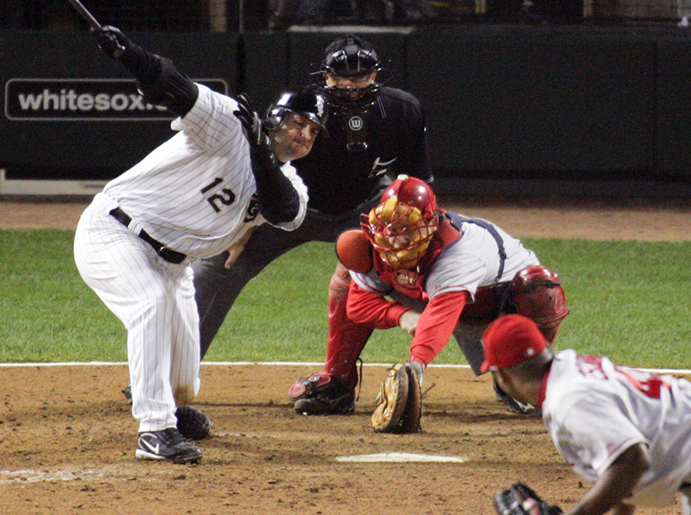 In the 2005 postseason's most controversial moment—and the turning point for the Chicago White Sox' fortunes—A.J. Pierzynski turns a strikeout into a game-winning opportunity when umpire Doug Eddings subtly declares that Angels catcher Josh Paul trapped the ball and never tags him. (Associated Press)
Throughout the rest of the ALCS, Pierzynski would continue to be a lightning rod of controversy, getting away with catcher interference during a crucial moment of Game Four and, one game later, being called out running down the first base line by a phantom tag (the umpires overruled and gave Pierzynski first base). But from start to finish, Chicago starting pitching made such debate frivolous—and its bullpen irrelevant. White Sox relievers threw a grand total of 2/3 innings for the entire series, and were benched completely in Games Two through Five, all started, finished—and won—by Sox starters.
BTW: No postseason team had pitched four consecutive complete games since the 1956 Yankees, whose streak included Don Larsen's perfect game.
The White Sox moved on to the World Series for the first time in 46 years against the Houston Astros, who were just happy to be there—and not just because they were going to the Fall Classic for the first time.
The Astros suffered through a horrendous 16-31 start that included a 2-21 mark on the road, and the team's early, complete absence of hitting was best reflected in ace pitcher Roger Clemens, who at age 43 bolted out of the gate with a 1.30 ERA over his first 11 starts—and yet got only a 3-3 record to show for it.
Having severely handicapped themselves, the Astros engineered a rebound behind revived hitting (achieved largely off the back of one-year wonder Morgan Ensberg, who clubbed 36 home runs), continued pitching excellence and the wild card—which allowed Houston into the postseason for the sixth time in nine years. After taking NL East titlist Atlanta to the limit and prevailing in the NLDS, Houston next sucked it up for a NLCS rematch with divisional rival St. Louis, owner of a league-high 100 wins and an easy first-round playoff sweep of San Diego.
After suffering three previous NLCS losses by the barest of margins, the Astros would finally make the grade against the high-powered Cardinals. St. Louis scored just 16 runs and hit .209 in the six-game Houston triumph, and the Cardinals were particularly stifled by 20-game winner Roy Oswalt, who emerged as a definitive stopper and pitcher of record for the Astros' first and fourth victories—both of which followed St. Louis' lone two wins.
The Astros' bid to become the fourth consecutive wild card entrant to win the World Series would come to a screeching halt against the White Sox. Houston revived its early-season hitting woes by batting .203 against a Chicago pitching staff abetted by its bullpen, rested and ready after virtually two weeks off. The White Sox continued to execute at their best when they needed to the most, played stellar defense all around, and once again got the luck of the questionable calls—most notably in Game Two, when they secured the lead for good on a Paul Konerko grand slam that was preceded by a two-out, hit batsman call for Jermaine Dye, though replays clearly showed that Astro reliever Dan Wheeler's pitch glanced off the bottom of Dye's bat. After laboring to win Game Three, 7-5, in a 14-inning affair that lasted a then-Series-record five hours and 41 minutes, the White Sox closed out the sweep with a 1-0 victory at Houston, giving the Windy City its first baseball title in nearly nine decades.
Late in the year, Congress' patience ran out. It summoned Bud Selig and Don Fehr back to Washington for more hearings, and this time saved most of its venom for Fehr, whose ignorance of Selig's offer to dramatically increase the penalties for steroid use was interpreted as obstructionist. The congressional panel laid it out in simple black and white: Enact Selig's tougher steroid policy, or we'll come up with one even tougher—and we'll enforce it.
If this rare instance of being out-powered was uncomfortable enough for Fehr, it would soon be embarrassing as well. For Fehr quickly realized that he held a decided minority opinion within his own camp, as player after player voiced their willingness to toughen the sentencing and put the kibosh on the public's blanket suspicion of all major leaguers.
In December of 2005, the union voted to accept Selig's new offer. The tally, involving nearly 50 players that made up the union's executive board, was unanimous.
Fehr discovered—as Selig before him—that the best cure for what ails sometimes comes from within.

Forward to 2006: Two Reluctant Enemies Best of friends, Tony La Russa and Jim Leyland overcome various hurdles and face off against one another in October.

Back to 2004: Four Score and Six Years Hence Down 3-0 in the ALCS, the Boston Red Sox burst to life and spectacularly exorcise the Curse of the Bambino.

2005 Leaders & Honors Our list of baseball's top 10 hitters and pitchers in both the American League and National League for the 2005 baseball season, as well as the awards and honors given to the game's top achievers of the year.

The 2000s: Driven Deep to Disgrace The new century gives Major League Baseball a decidedly more international flavor with a healthy rise in foreign-born talent—but a disturbing pall is cast over the sport as one megastar after another is exposed for using steroids.