2009: The Salvation of Alex Rodriguez
The New York superstar, cornered by damning steroid evidence and wrecked by a career-threatening hip injury, takes the long road back toward redemption by lifting the Yankees to their first championship in nine years.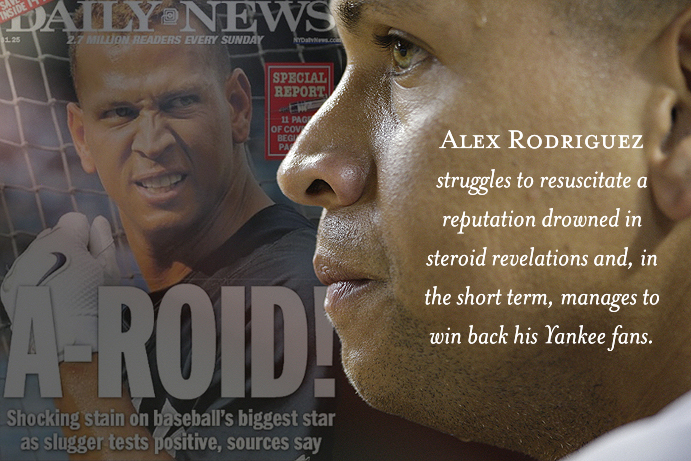 (New York Daily News/Associated Press)
In January 2010, Alex Rodriguez gracefully accepted the award for being the Most Valuable Player of the 2009 postseason and, gushing with as much relief as joy, blurted out, "What's next, the good guy award?"
Nearly one year earlier, soaked in national scandal and hobbled by serious injury, Rodriguez's prospects of winning any kind of award would seem as distant as the faintest stars. The man arguably considered baseball's greatest slugger of the moment was about to unwillingly embark on a whirlwind season of emotions that ran the gamut from shame to doubt to atonement to, at the end, solace from a forgiving redemption.
With his stunning breakout season in 1996 at age 21, Rodriguez quickly cemented himself as one of the game's premier power threats, an annual lock to provide prodigious strength in numbers. Over his first 13 full seasons, Rodriguez averaged 42 homers, 122 RBIs, 122 runs scored, 21 steals and a .308 clip at the plate. After turning 32 in 2007, Rodriguez became the youngest player to reach 500 career home runs; in the wake of Barry Bonds' controversial ascension past Hank Aaron on the all-time longball list that same year, purists turned to Rodriguez as The Great Clean Hope, embracing him as a steroid-free heir apparent to Bonds' performance-enhanced record.
All the while, an image-conscious Rodriguez carefully cultivated a congenial yet cautious reputation, quick to sport an All-American smile in front of cameras and fans that, at closer inspection, seemed to carry a more unconvincing and wary detachment.
Outside of a recent divorce, life was good for Rodriguez as spring training neared in 2009. He was reveling in the early stages of a 10-year, $275 million contract with the New York Yankees, themselves feeling good vibes mostly paid for with megawatt free agent acquisitions CC Sabathia, Mark Teixeira and A.J. Burnett, and a brand new, sparkling Yankee Stadium worth over a billion dollars.
But, overnight in February, Rodriguez's clean image became permanently stained.
Excerpts from a new book penned by Sports Illustrated reporter Selena Roberts claimed that four sources independent of one another had knowledge that Rodriguez was on a list of 104 major leaguers who tested positive for steroids in 2003. That list was to be anonymous and destroyed by the players' union, but it incredulously sat around and was eventually seized by Federal agents working on the BALCO investigation. Roberts approached Rodriguez with the information at a Miami gym, where his amiable façade turned cold. Rodriguez told her: "You'll have to talk to the union. I'm not saying anything."
The Rodriguez steroid story exploded across America; A-Rod sarcastically became rebranded as "A-Roid" and "A-Fraud" by sports talk, bloggers and big, bold newspaper headlines. Those hoping to see Rodriguez unseat Bonds one day as the new home run king now cowered their heads and looked instead to future candidates Albert Pujols and Ryan Howard—dearly hoping that those boomers, too, would eventually not be nailed as users of illegal stimulants.
Rodriguez knew of the pain that lay ahead of him in asserting damage control; he could deny and attack the allegations as Bonds and Roger Clemens before him, or he could display vague contrition as Yankee teammates Jason Giambi and Andy Pettitte had done when confronted with evidence of performance enhancement.
Rodriguez took somewhat of the latter route and confessed, admitting he took "boli" from 2001-03 through a cousin connected to a well-known Dominican trainer banned from MLB clubhouses since 2001. He did not address—and later declined to discuss—some of Roberts' other damning details in her book, which alleged that Rodriguez took steroids as early as high school, likely continued taking them after 2003 and, outside of the realm of steroids, tipped opponents off on what pitches were coming in blowout games in the hopes that they would do the same for him.
BTW: When Rodriguez said he was using "boli," experts assumed he was talking about either Dianabol or Deca-Durabolin; according to Roberts' book, he tested positive for Primobolan in 2003.
By the time the Yankees assembled into camp at Florida, Rodriguez was beset by a new problem: A bad hip. It was discovered that he had a torn labrum, and Rodriguez was once again faced with two options: Play in pain and have surgery after the season, or immediately go under the knife and miss a lengthy amount of action. Already burdened by the steroid rap, the news of the injury spiraled Rodriguez's emotions, shaking him down to the point that he considered retirement.
With Rodriguez opting for surgery and a hoped-for fast-track rehab of his hip, the Yankees felt initial relief that, at least, the media circus had left town with him. But it became clear that they were missing his presence in the lineup. The team stumbled out of the starting blocks, struggling to adjust to a new Yankee Stadium playing the role of an unforgiving bandbox. Mark Teixeira, left naked in the lineup without Rodriguez, was being pitched around and hitting below .200. CC Sabathia was nowhere near the $161 million saving grace on the mound the Yankees had hoped, while another effective Yankee hurler of recent years, Chien-Ming Wang, was absolutely pummeled in his first three starts, allowing 23 runs in six total innings. As if that weren't enough for Yankee fans to stomach, the team also lost its first eight head-to-head matchups of the year to the archrival Boston Red Sox.
BTW: It was later discovered that Wang's shoulder was ailing; he was shut down for the year in July after posting a 1-6 record and 9.64 ERA.
A-lone Without A-Rod
Newly-signed Yankee Mark Teixeira found out how difficult it was to hit with an injured Alex Rodriguez absent from the lineup to protect him—and how easy it was when he was there. Here's the breakdown of Teixeira during his first 25 games as a Yankee—when Rodriguez was on the shelf with a hip injury—and the 131 games after Rodriguez returned.

A healthy Rodriguez rejoined the Yankees ahead of schedule on May 8 in Baltimore with the team's record at 13-15—inexcusable by Yankee standards—but lagging only a game and a half out of last place in the AL East. Rodriguez's teammates braced for the media onslaught and hostile crowd reaction that would greet him, but within a few hours they experienced a feel-good game that would ultimately serve as the turning point for their season. Rodriguez greeted a loud mix of boos and cheers by homering on the very first pitch thrown to him. Sabathia started the game and finished it—firing a four-hit shutout over the Orioles.
Rodriguez's return was like a booster shot for the Yankees, who badly needed one. Even though Rodriguez would struggle for much of the season, the other Yankees came to life—especially Teixeira, who was now benefiting from getting better pitches to hit batting in front of Rodriguez. Sabathia was 17-5 after the shutout at Baltimore, and the team in general socked away at opponents, eventually taming the wild, offensively friendly conditions at the new Yankee Stadium but still punching out a franchise-record 244 home runs—with seven different players hitting at least 20, tying a major league mark.
The Yankees were 90-44 after Rodriguez returned; enriching the experience, the wins were high on satisfaction and dramatics. They caught up and passed the Red Sox in the standings, winning nine of the final 10 meetings against Boston after dropping those first eight; and of their 57 wins at home, 15 of them came in the final at-bat, with Rodriguez himself providing the walk-off knock thrice.
Rodriguez finally came alive in the home stretch, batting .348 with 11 homers and 42 RBIs over the last two months; he saved his best for last, clubbing two home runs and an AL-record seven RBIs in a single inning during the regular season finale at Tampa Bay to finish the year at an even 30 homers and 100 RBIs in 124 games.
BTW: It was the 13th time Rodriguez collected at least 30 homers and 100 RBIs in a season, setting a major league record.
This strong finish gave Rodriguez extra fuel for his confidence entering the postseason, an area where he'd badly suffered through his Yankee tenure and reached rock bottom embarrassment during the 2006 ALDS against Detroit when he was placed eighth in the lineup. As Rodriguez's fortunes went, so went those of the Yankees—who hadn't won a playoff series in five years.
Fortunately for the Yankees and Rodriguez, those fortunes were about to go on a long-overdue upswing.
For New York's first two playoff series against Minnesota and Los Angeles of Anaheim, Rodriguez's bat not only stayed healthy, but was timely as well. He delivered clutch magic often, including crucial game-tying home runs to help the Yankees sweep away the Twins in the ALDS, and another to extend Game Two of the ALCS, eventually won by the Yankees to give them a critical 2-0 series lead over a feisty Angels team that would ultimately concede in six games. Overall, Rodriguez hit .438 with five homers and 12 RBIs in nine games over both series, clearly removing one monkey off his back. One remained: Winning the World Series, something the Yankees hadn't done in eight years—and something Rodriguez himself had never personally experienced.
To do that, the Yankees would have to overcome the defending world champions.
The Philadelphia Phillies began the 2009 season sensing slight disrespect from the many who predicted the New York Mets, empowered with a new ballpark of their own and a strengthened bullpen, to take the National League's Eastern Division. Playing sluggishly for the first few months, the Phillies felt no urgency to make a quick statement as the Mets sank badly in the standings with a massive disabled list full of star players.
Patience, indeed, would win the day—and the season—for the Phillies. They caught fire in July, winning 19 of 22 games to grab a strong hold on a first-place spot they would not relinquish for the rest of the year.
Making the Phillies' return to the top all the more impressive was that while everything had gone right the year before, such was hardly the case in 2009. Closer Brad Lidge, unblemished in 2008, was a mess from start to finish, lucky to retain his ninth-inning role into the postseason. A patchwork rotation was revived late in the year with two midseason acquisitions: A trade with Cleveland for reigning Cy Young Award winner Cliff Lee, and the signing of 37-year-old Pedro Martinez, who had sat unemployed all year after struggling through an injury-plagued 2008 with the Mets. In 21 combined starts for Philadelphia, Lee and Martinez won 12 games and lost five with a 3.47 earned run average, returning solidity to the rotation.
BTW: Lidge suffered all season from a bothersome knee that, he suggested, had occurred during the Phillies' on-field celebration after winning the 2008 World Series.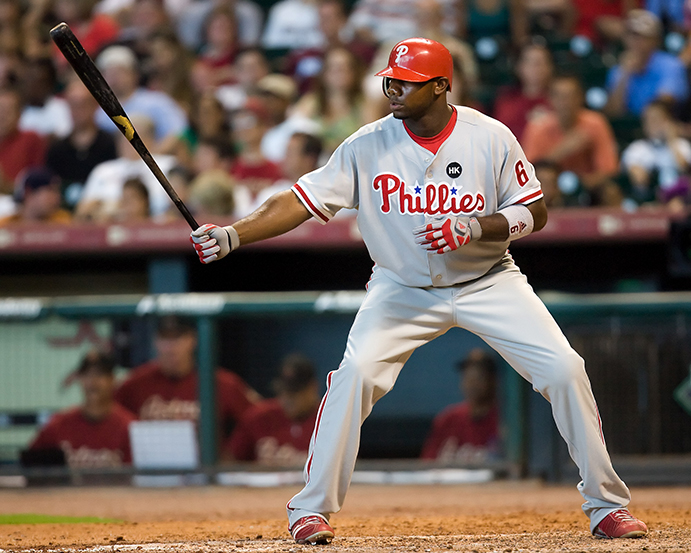 Philadelphia's Ryan Howard strikes his familiar pose while maintaining his stance as the Phillies' prime boomer, finishing off an awe-inspiring four-year run in which he averaged 50 home runs and 143 RBIs per season. (Associated Press)
There was never an issue for the Phillies regarding their offense, one of baseball's most potent. Four players—Ryan Howard, Chase Utley, Raul Ibanez and Jayson Werth—each hit over 30 home runs, with Howard the prime power source at 45 long balls and a major league-leading 141 RBIs. In total, the Phillies hit a NL-high 224 homers and also led the league in runs and slugging percentage; they also finished second in steals—and last in grounding into double plays, suggesting that the prodigious combination of Philadelphia power and speed led to few runners being left exposed for a double killing.
In the NLDS, the Phillies snuffed out visions of déjà vu by extracting revenge on the Colorado Rockies, the team that had knocked them out two years earlier and, after a late season rampage to the postseason, threatened to make another impressive October run at the Phillies' expense. But the Phillies held their breath as Lidge eked out saves in the final two games to deny Colorado by a 3-1 series count. From there, Philadelphia moved on to a NLCS rematch with the Los Angeles Dodgers, hoping, in this case, that the script would remain the same. With carbon copy ease, it did; for the second straight year, the Phillies moved past the Dodgers in five games, bashing away with 10 home runs while being supported on the mound by Lee and Martinez, both of whom stifled Los Angeles.
In the first two games of the World Series at Yankee Stadium, the Phillies appeared to have Alex Rodriguez's number. A-Rod went hitless in eight at-bats and struck out six times for the Yankees, who were fortunate to come away with a two-game split thanks to A.J. Burnett's solid start in Game Two. But the confidence that Rodriguez had absorbed through the Yankees' first two postseason series had not abandoned him—and it showed when the Fall Classic moved to Philadelphia.
After the Phillies took an early 3-0 lead in Game Three, Rodriguez's two-run home run ignited a Yankee comeback that ultimately culminated in an 8-5 win. In Game Four, his double off Lidge played a big role in a three-run, tie-breaking ninth that gave New York a 3-1 series lead. Despite an 8-6, Game Five Yankee loss that helped the Phillies stave off elimination, Rodriguez did what he could to propel his team—smacking two doubles and knocking in three runs. Back at Yankee Stadium for Game Six, the Phillies had resigned themselves to pitching around Rodriguez, but all that did was leave the rest of the talented Yankees to collect, and they did—wrapping up their 27th championship, and Rodriguez's first—with a 7-3, Series-clinching victory.
Finally Rising in the Fall
During his first five years as a New York Yankee, Alex Rodriguez achieved a dubious reputation as a postseason choke, failing repeatedly in the clutch and aiding to the team's absence from the World Series. That changed in 2009.

For the Phillies, the goal of back-to-back world titles fell short despite belting 11 home runs, including a record-tying five from all-star second baseman Chase Utley. Much of the failure to deliver fell on the shoulders of Ryan Howard, who struck out a Series-record 13 times (in just 23 at-bats); Pedro Martinez, the long-time Yankee nemesis who finally ran out of gas after his impressive late run; and Cole Hamels, one of the Phillies' postseason heroes from the year before, but suddenly a struggling enigma who blurted out the Series' strangest comment when he confessed to reporters that he "couldn't wait for (the World Series) to be over."
BTW: Hamels' white-flag comment reportedly riled fiery teammate Brett Myers to the point that they nearly came to blows in the clubhouse.
There was more to the Yankees' Series triumph after a nine-year absence than just Alex Rodriguez. Derek Jeter, who earlier in the year became the franchise's all-time hit leader, added 11 more knocks to lead the team; designated hitter Hideki Matusi made the most of his part-time duties and earned the Series MVP with an 8-for-13 performance that included three homers and eight RBIs; the offense, continuing its power surge from the regular season, stroked a Yankee-record 20 postseason home runs; and incomparable closer Mariano Rivera continued his dominance in the fall, allowing just one run over 16 playoff innings to improve his career postseason ERA to an astonishing 0.74 over 133.1 innings.
From the self-inflicted tortures of winter and spring, Alex Rodriguez rose reborn from his own ashes, came half-circle and accomplished what few in his position before him had experienced: Redemption. Though, in the long run, the steroid revelations would taint his reputation and jeopardize his future Hall-of-Fame chances, Rodriguez made the most of his public rehabilitation and greatly reduced the odds of being stigmatized as an outcast by understanding that, while the baseball public does not like cheats, it accepts forgiveness. Especially from those who win.
It's a shame, over the next few years, that he would piss away all the newfound goodwill.

Forward to 2010: Torture and Joy Combining excellent pitching and edge-of-your-seat thrills, the San Francisco Giants finally win it all.

Back to 2008: Out of Darkness, Rays of Light The Tampa Bay Rays, baseball's eternal doormats, complete one of the majors' most startling one-year turnarounds.

2009 Leaders & Honors Our list of baseball's top 10 hitters and pitchers in both the American League and National League for the 2009 baseball season, as well as the awards and honors given to the game's top achievers of the year.

The 2000s: Driven Deep to Disgrace The new century gives Major League Baseball a decidedly more international flavor with a healthy rise in foreign-born talent—but a disturbing pall is cast over the sport as one megastar after another is exposed for using steroids.