Baseball's 10 Greatest Season Performances by a Pitcher—Revised
Amid popular demand and an errant way of ranking, we returned to the drawing board to provide a more accurate list of baseball's most dominant pitching seasons. Turns out, we were mostly right all along.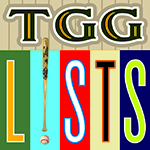 Amid popular demand and an errant way of ranking, we returned to the drawing board to provide a more accurate list. Turns out, we were mostly right all along.
A number of years back, we put together a list of the 10 most dominant set of season numbers ever produced by a Major League Baseball pitcher in the modern (post-1900) era, based on their relative performance to other pitchers from that year. And boy, some of you folks were not happy. There was an especially angry contingent of Ron Guidry fans wondering, in the name of the pinstriped Yankee god, how his 1978 campaign (25 wins, 3 losses, 1.74 ERA) didn't make the cut.
As we took our lumps from the Guidryites and other readers who fumed over this guy and that guy missing from our list, we came to the conclusion that our process of determining the list was technically misguided and short-sided. Originally, we based our results on how good a pitcher was compared to the next best pitcher from that year. Right there, we exposed ourself to the flaw of, well maybe, the next best guy was also so much better than everyone else as well. So to be more accurate, we rethought the matter and put together our new list based on how the best pitcher performed relative to the collective average of all pitchers. Using this formula, based on This Great Game's statistical indices (one for efficiency, the other for productivity) used for our various lists throughout the site, we would develop a more accurate picture of just how truly dominant these pitchers were.
Gee, whaddayaknow: Our initial selections weren't so far off the grade. In fact, in the revised list below, nine of the 10 performances embraced in our first list remain. There was a little musical chairs at work with the swapping of some places, and we do have a new #1. So there's that.
As with our initial list, some of the most legendary seasons produced by major league pitchers will not be found here. Not Jack Chesbro's 41 wins from 1904, nor Denny McLain's 31 from 1968, nor Bob Gibson's 1.12 earned run average from the same year. Big names like Sandy Koufax, Christy Mathewson, Nolan Ryan and Cy Young are absent. Why? Because they all gave us their peak years when pitching in general was in vogue thanks to the conditions of the times (i.e., Deadball Era, 1960s), so their relative dominance wasn't as strong.
Finally, we hate to break it to you Ron Guidry fans, but he's still not in the Top 10. Oh, and this: He didn't make the Top 20, either.
Enjoy, embrace, or complain.
Bob Feller, 1940
27 wins, 11 losses, 2.61 earned run average
The fastballer's superb campaign, at the age of 21, is all the more impressive considering the turbulence his Cleveland team tortured itself through, as manager Ossie Vitt was besieged by clubhouse dissension that bordered on mutiny. Still, Feller had the opportunity to make it all smiles in his final start of the year, the beginning of a season-ending, must-sweep opportunity against the first-place Detroit Tigers. Feller did his part, allowing two runs on three hits in a fine complete-game effort. His teammates didn't do theirs; they were shut out by Detroit call-up Floyd Giebell, who tossed a six-hit shutout. 
That aside, it was a sensational year for Feller, who had well established himself as Cleveland's ace—and baseball's premier pitcher—after making his debut four years earlier with a rocket-like heater not witnessed since Walter Johnson. 
In 1940, Feller fired the only Opening Day no-hitter in major league history, setting the pace for an accomplished set of numbers that included a career-high 27 wins, his only ERA title (2.61), and AL highs in complete games (31), shutouts (four), innings (320.1) and, naturally, strikeouts (261). More importantly, Feller managed to keep a lid on his voracious habit for walking opponents, racking up 118 after surpassing 200 a few years earlier. That he slaved hard for Vitt as the season grew more desperate for the Tribe—often pitching on three and sometimes two days' rest with an occasional relief appearance sprinkled in—without faltering was a testament to his incomparable strength and skills.
Lefty Grove, 1930
28 wins, 5 losses, 2.54 earned run average
The lanky and cranky Hall-of-Fame super-ace, acquired by the A's five years earlier for a record fee from the minors, did field lower season ERAs in other seasons over his Hall-of-Fame career. But consider the time and place. After all, this was 1930, a season that reached historic hitting levels as baseball bats went nuts to the tune of a record-setting .292 batting average. Yet Grove was pitching as if the ball was still dead; his 2.54 ERA was nearly a full run better than that of second-place Wes Ferrell, while his opponents' .247 batting average was just one of three sub-.250 marks allowed by major league pitchers. 
It seemed that anytime one looked at the A's mound, there was Grove to be found, putting the peak of the live ball era on pause. Besides winning the triple crown of pitching—leading the AL in wins, ERA and a career-high 209 strikeouts—Grove also appeared in more games (50) and earned more saves (nine) than any other AL pitcher. Grove had a solid shot at a 30-win campaign he would earn the following year; he reached 28 on September 16, nine games and 12 days away from the end of the regular season, and yet wasn't given another start by manager Connie Mack, instead appearing twice in relief. Theories abound as to why; besides the conspiratorial "sit him to deny his bonus" belief that allegedly screwed Eddie Cicotte days before the Black Sox Scandal took root, Mack might have been resting Grove up for the World Series—or perhaps he just didn't think he could reach 30 because many of the day's major newspapers, typically not in sync with official statistics, had Grove down for 27 wins, not 28. 
Grove wrapped up his impressive campaign with a 2-1 record and 1.42 ERA in three appearances at the World Series against St. Louis, giving the A's their second consecutive championship.
Ed Walsh, 1908
40 wins, 15 losses, 1.42 earned run average
Imagine if Grove has escaped the live ball lunacy of 1930 and took a time machine back to a completely different baseball environment: 1908, and the height of the Deadball Era, when pitchers unquestionably ruled. He probably would have ended up with numbers like those of Walsh—maybe. 
Walsh was the definitive workhorse of the Deadball Era, and he was never better than in 1908. Though arguably equal in effectiveness when compared with some of the other great pitching efforts of that season—including a 1.16 ERA for Cleveland's Addie Joss and a 1.26 for 41-year-old Cy Young in Boston—the tireless right-hander was on a wholly different level when it came to volume. He was one of just two pitchers in the modern era to win 40 games (Jack Chesbro, with 41, being the other from 1904); started 49 games, completing 42 of them with 11 shutouts; relieved in 17 other games, saving six of them; and tossed a jaw-dropping 464 innings, roughly twice what a league leader accumulates today. 
As the White Sox furiously competed for the AL pennant with three other teams down the stretch, they turned to the 27-year-old Walsh at every conceivable moment; of the team's 33 final games, he participated in 17 of them, 14 as a starter. The expected burnout did not occur; on the contrary, Walsh seemed to get better with each passing appearance toward season's end. On September 29, he started, finished and won both games of a doubleheader against Boston—allowing just a run in 18 innings—and then on two days' rest struck out a career-high 15 Cleveland betters, only to lose 1-0 as Addie Joss threw a perfect game. Many historians label the matchup as baseball's greatest pitching duel.
Pedro Martinez, 1999
23 wins, 4 losses, 2.07 earned run average
At the end of the 20th Century, the Steroid Era was in full juice mode and threatening to turn the majors into a muscle-bound hitters' paradise that the titanic sluggers of 1930 would have been in awe of. But while almost every pitcher collapsed under the weight of the chemical madness, Pedro Martinez—a highly talented refugee from financially strapped Montreal who found peace and prosperity in big-budget Boston—not just survived, but thrived. 
In his second year with the Red Sox, the 27-year-old Dominican right-hander hit a high stride unequaled by few pitchers before or since. He reigned victorious in 23 of 27 decisions for a league-high .852 winning percentage; struck out a career-best 313 batters in just 213.1 innings of work; started and won the All-Star Game, earning MVP honors by retiring all six batters he faced—five by strikeout; and saved his best outing of the year for the archrival New York Yankees, firing a one-hitter (Chili Davis' homer was the only knock) while striking out a career-high 17 at old Yankee Stadium. In the postseason, Martinez—by now aching on almost every pitch thanks to an ailing shoulder—somehow continued to shine, tossing 17 shutout innings amid three appearances including a six-inning, hitless relief stint in the deciding Game Five of the ALDS against an offensively loaded Cleveland team to move Boston on to the next round. 
Martinez's 2.07 season ERA was next followed in the AL by the Yankees' David Cone, at 3.44; the 1.37 differential was the highest yet recorded by an ERA leader. 
But that was all before Martinez's 2000 campaign, as you'll soon read about.
Pete Alexander, 1915
31 wins, 10 losses, 1.22 earned run average
No National League pitcher won more games than the legendary right-hander from Nebraska (he's tied with Christy Mathewson at 373), and he was at his absolute best in 1915, when he began a three-year tear in with 30-plus victories each season. 
Using an exceptional assortment of pitches with a fluent side-arm motion, Alexander racked up 376.1 innings of work and allowed only 253 hits (opponents batted just .191 against him), struck out a NL-best 241 and delivered a 1.22 ERA that's been since bettered only once (by Bob Gibson in 1968). What's sometimes lost in the conversation about Alexander the Great was that he managed to pitch so effectively in a small ballpark (Philadelphia's Baker Bowl) which typically and heavily favored the hitter; he was, in fact, a slightly stronger pitcher on his home turf, finishing 18-5 with a 1.20 ERA. 
Remarkably, Alexander never pitched a no-hitter—but he made up for it in 1915 by hurling four one-hitters, a major league record that still exists. His first was a no-no broken up with two outs in the ninth by the Cardinals' Artie Butler; his last came in his final start of the year, clinching the NL pennant for the Phillies—who greatly valued Alexander's contributions as they conquered a very tight NL race in which only 21 games separated first place from last, the closest margin in pre-division (1969) history.

Lefty Grove, 1931
31 wins, 4 losses, 2.06 earned run average
After his fantastic display of anti-rabbit ball hurling in the hit-happy 1930 season, Grove took advantage of a slightly deader ball introduced by the majors—just as he hit peak form in general. The 1931 season would thus cement a stretch remembered as one of baseball's most dominant; in a remarkable six-year period for the A's, the southpaw won 152 games, lost just 41 and nabbed four ERA titles, all in succession. Within this run of domination, Grove hit peak in 1931; he shook the American League down with a 31-4 record (his .886 winning percentage was the highest among any 30-game winner in history), a career-best 2.06 ERA, and led the league for the seventh straight (and last) time in strikeouts with 175. 
Grove's most memorable achievement was a 16-game winning streak that tied an all-time AL mark; even more memorable was how he reacted to not breaking the record. Facing off against the lowly St. Louis Browns, Grove got tagged with a tough 1-0 loss thanks to a badly misplayed fly ball by outfielder Jim Moore—subbing for injured star Al Simmons. An enraged Grove, fuming that Simmons might have been just sitting this one out, went nuclear in the clubhouse afterward—tearing apart locker after locker while throwing anything and everything in random direction.
After settling down, Grove won his next six starts—giving him an impressive 22 wins over 23 decisions—and at season's end was bestowed with the AL's first current-day iteration of the MVP award, handed out by the Baseball Writers' Association of America.
Pedro Martinez, 2000
18 wins, 6 losses, 1.74 earned run average
Three spots earlier, we noted the excellence of Martinez during his 1999 campaign for the Boston Red Sox—but that was mere prologue to 2000, when the crafty right-hander proved that he was totally in a league of his own.
Consider how successfully removed Martinez was from the ongoing Steroid Era and its affliction upon his fellow pitchers in 2000. The great Roger Clemens was runner-up in the AL ERA race to Martinez's 1.74, but Clemens wasn't breathing down Martinez's back. Instead, he was being lapped with a 3.70 ERA nearly a full two runs behind Martinez, by far the highest disparity between first and second ever witnessed in the majors. 
Thanks to Martinez, the Red Sox led all AL teams in ERA with a 4.23 mark; take away his numbers, and that number shot up to 4.69—leaving the Seattle Mariners, at 4.49, as the league's best. Martinez's presence apparently didn't inspire his teammates. After Martinez, Jeff Fassero had the team's best starter ERA—at 4.78. Pete Schourek checked in at 5.11, Tim Wakefield at 5.48. Martinez couldn't even rub his magic off on his older brother Ramon, whom he reunited with in Boston; despite a 10-8 record, Ramon's ERA was an appalling 6.13. 
Martinez's numbers would have raised eyebrows even had they occurred at the height of the Deadball Era. Opponents hit a paltry .167 against him, and they were worse (.133) in those rare moments when baserunners reached scoring position. If trying to reach base by a hit proved difficult, getting on via the walk was an even harder task; Martinez allowed just 32 passes all year and, at one point, tossed 41 straight innings without issuing one. What was the more likely outcome for hitters facing Martinez was the strikeout, as he piled up 284 K's over 217 innings; in 22 of those frames, he struck out the side. All added up, Martinez's WHIP (walks and hits allowed per inning) was an incredible 0.74—the lowest ever recorded by any major league pitcher, regardless of era, league, or discrepancy in rules. 
Martinez's sensational 2000 season was #1 on our previous list. But after a more accurate recount, three others have nosed ahead of him.
Walter Johnson, 1913
36 wins, 7 losses, 1.14 earned run average
Throughout the 1910s, the legend known as the Big Train left everyone choking on his locomotive steam, dominating the decade as no other pitcher would in any similar stretch of time before or since. His incredible reign for the Washington Senators peaked in 1913 when he added a curveball to compliment his lightning-quick fastball, making him virtually invulnerable. 
Johnson set an unmistakable tone to the year when he allowed a single run over his first five starts; later in the season, he embarked on a 14-game win streak—surpassed only by the 16-game run he forged a year earlier—and had it end when he lost an 11-inning, 1-0 duel to the Red Sox' Ray Collins. By the time he was finished for the year, Johnson had won 13 more games than the next best guy with a career-high 36—making him the only AL pitcher to earn multiple 30-win campaigns, both in succession; he also set personal bests in ERA, shutouts (11), win percentage (.837) and on-base percentage allowed (a ridiculous .220 mark). Johnson's contributions to the Senators were so enormous, he single-handedly turned the team from a middle-of-the-road straggler into a genuine contender; when Johnson didn't figure in the decision, the Senators were 54-57—but with his stellar record added, they finished at 90-64, just six games behind the pennant-winning Philadelphia Athletics. 
It was a very good year for Johnson on other fronts: He met his future wife, the daughter of a Nevada Congressman, and likely impressed her with a Chalmers automobile—given to Johnson as a reward for winning the AL Most Valuable Player award.

Greg Maddux, 1995
19 wins, 2 losses, 1.63 earned run average
Like Pedro Martinez after him, the brilliant yet mild-mannered right-hander with uncanny, pinpoint pitch control stood head, shoulders, waists and legs over his fellow pitchers, toying with the very same hitters who hammered everyone else into submission. And while people (mostly fans and pitchers) don't look back fondly at the crippling 1994-95 work stoppage that cost MLB an entire postseason, you can't blame Maddux for recalling good vibes over the remarkable results he produced during that particular time. His only beef was that he was unable to show off for a full 162-game schedule. 
Though Maddux's 1.63 ERA in 1995 was not a career high, his entire package of numbers was still miles ahead of the rest of the pack. Because of the strike-shortened schedule (reduced to 144 games) Maddux was deprived of a likely 20-win camapign, settling for 19—one of five seasons in which he'd finish a game shy of 20 throughout his illustrious career. Yet he only lost twice, the fewest defeats ever recorded by a pitcher with 19-plus wins. Want more numbers? Here they come: Maddux was a remarkable 13-0 on the road with a 1.12 ERA, and his .220 on-base percentage allowed—he walked a mere 23 batters in 209.2 innings—is the lowest in modern NL history; only one other pitcher, the Los Angeles Dodgers' Hideo Nomo, had a lower opposing batting average than Maddux's on-base figure in 1995. 
As if Maddux's pitching wasn't enough to baffle opponents, his sharp reflexes with the glove only frustrated them more. Maddux scooped up everything hit his way—leading the NL in both assists (53) and fielding percentage (a perfect 1.000) at his position, earning him his sixth straight Gold Glove, one of a record 18 he would achieve. 
Although Maddux, oddly, was something of a postseason washout with a career 11-14 record, he was on target for the Braves in October of 1995—winning three of four decisions with a 2.84 ERA. As Maddux went, so went the Braves; they won their only world championship amid 15 years of first-place dominance.
Greg Maddux, 1994
16 wins, 6 losses, 1.56 earned run average
As incredible as Mad Dog's 1995 season was, it was a mere follow-up to the even better effort he put forth the year before. 
It's such a shame that he wasn't allowed to finish it. 
The 1994 season was simply magical before the owners and players ganged up to kill it with a crippling work stoppage two-thirds of the way through the regular season schedule. While most eyes were focused on Tony Gwynn's pursuit of the .400 barrier and the legitimate assault on Roger Maris' then-season record of 61 home runs by numerous players, what was equally impressive—if not equally hyped—was the staggering effort of Maddux, who effortlessly stiff-armed baseball's growing tide of offense as the Steroid Era began to bloom full flower. 
In his second year with the Braves after spending his first seven with the Chicago Cubs, Maddux grew more superhuman by the start; over his last eight outings before the strike, he produced an exceptional 0.93 ERA. Even when he was off, he was still on; in a June 1 game at San Francisco, Maddux walked a career-high six batters unintentionally—and still threw eight shutout innings against Barry Bonds, Matt Williams and the rest of the Giants. 
Maddux's white-hot momentum was halted in midstride by the player's strike in mid-August; he was on pace, had the strike not interfered, to earn 23 wins, 14 complete games and 287 innings pitched—all of which would have been career-high numbers for the Hall of Famer. His 1.56 ERA—which was the best of his 23-year career, and the third lowest since the end of the Deadball Era—was followed next in the NL by the Mets' Bret Saberhagen, who posted nearly double the number at 2.74. As a result, Maddux became the first major leaguer to win three consecutive Cy Young awards; his 1995 effort (#2 above) would make it four straight.