Baseball's 10 Greatest Season Performances by a Pitcher
Nobody was more dominant on the mound through a single baseball season than these major league pitchers who stood head and shoulders above the competition.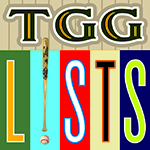 When a pitcher becomes too good for the minor leagues, he gets promoted to the majors. So what happens when he gets to be too good for the majors? Every generation, there comes a pitcher who's so stratospherically brilliant, it's almost as if he should be promoted to a higher league. But because there is no such thing as the Supermajors, the elite of the elite becomes the problem of the relative mortals who have to face these accomplished aces every four to five days. 
There are no flukes on this list. These are all legends who sparkled for the long term—and the 10 seasons below represent the peaks of their greatness. Just like our similar review of the 10 most dominant hitting seasons, these superb campaigns are based on the relative value of the pitchers' numbers compared to what others produced in those years. And that's why you won't find some memorable performances on this list, such as Denny McLain's 31 wins in 1968, Dutch Leonard's 0.96 ERA from 1914 or anything from Sandy Koufax's reign of greatness.
Lefty Grove, 1931
31 wins, 4 losses, 2.06 earned run average
The great Grove had long established a groove that would be remembered as one of baseball's most dominant; in a remarkable six-year stretch for the Philadelphia Athletics, the lanky and cranky Hall-of-Fame southpaw won 152 games, lost just 41 and nabbed four ERA titles, all in succession. During this legendary run, Grove saved his best numbers for 1931; he shook the American League down with a 31-4 record (his .886 winning percentage was the highest among any 30-game winner in history), a career-best 2.06 ERA and led the league for the seventh straight (and last) time in strikeouts with 175. 
Grove's most memorable achievement was a 16-game winning streak that tied an all-time AL mark; even more memorable was how he reacted to not breaking the record. Facing off against the lowly St. Louis Browns, Grove got tagged with a tough 1-0 loss thanks to a badly misplayed fly ball by outfielder Jim Moore—subbing for injured star hitter Al Simmons. An enraged Grove went nuclear in the clubhouse afterward, tearing apart locker after locker while throwing anything and everything in random direction. Grove won his next six starts, giving him an impressive 22 wins over 23 decisions, and at season's end was bestowed with the AL's first current-day iteration of the MVP award, handed out by the Baseball Writers' Association of America.
Bob Feller, 1940
27 wins, 11 losses, 2.61 earned run average
The young fastbeller's superb campaign was, like Grove's in 1931, tarnished by what he couldn't deliver; in Feller's case, it was an AL pennant. Paired against Detroit call-up Floyd Giebell in the first contest of a critical season-ending, three-game series against the first-place Tigers, Feller's assignment was considered a gimme for his Cleveland Indians, who needed a sweep; but Giebell shockingly outdueled him, 2-0, applying a sour coda on a controversial season in which Feller's manager Ossie Vitt was besieged by clubhouse dissension that bordered on mutiny. 
That aside, it was a sensational year for Feller, who at 21 had well established himself as the Indian ace—and baseball's premier pitcher—after making his debut four years earlier with a rocket-like heater not witnessed since Walter Johnson. He fired the only Opening Day no-hitter in major league history, setting the pace for a accomplished set of numbers that included a career-high 27 wins, his only ERA title (2.61), and AL highs in complete games (31), shutouts (four), innings (320.1) and, naturally, strikeouts (261). More importantly, Feller managed to keep a lid on his voracious habit for walking opponents, racking up 118 after surpassing 200 a few years earlier. That he slaved hard for Vitt as the season grew more desperate for the Tribe—often pitching on three and sometimes two days' rest with an occasional relief appearance sprinkled in—without faltering was a testament to his incomparable strength and skills.
Lefty Grove, 1930
28 wins, 5 losses, 2.54 earned run average
Grove's warm-up to his sensational 1931 campaign (above) carried a slightly lower wow factor, but this was 1930, a season that reached historic hitting levels as baseball bats went nuts to the tune of a record-setting .292 batting average. Yet Grove was pitching as if the ball was still dead; his 2.54 ERA was nearly a full run better than that of second-place Wes Ferrell, while his opponents' .247 batting average was just one of three sub-.250 marks allowed by major league pitchers. 
It seemed that anytime one looked at the A's mound, there was Grove to be found, putting the peak of the live ball era on pause. Besides winning the triple crown of pitching—leading the AL in wins, ERA and a career-high 209 strikeouts—Grove also appeared in more games (50) and earned more saves (nine) than any other AL pitcher. Grove had a solid shot at a 30-win campaign he would earn the following year; he reached 28 on September 16, nine games and 12 days away from the end of the regular season, and yet wasn't given another start by manager Connie Mack, instead appearing twice in relief. Theories abound as to why; besides the conspiratorial "sit-him-to-deny-his-bonus" belief that allegedly screwed Eddie Cicotte days before the Black Sox Scandal took root, Mack might have been resting Grove up for the World Series, or maybe he didn't think he could reach 30 because many of the day's major newspapers, typically not in sync with official statistics, had Grove down for 27 wins, not 28. 
Grove wrapped up his most dominant campaign with a 2-1 record and 1.42 ERA in three appearances in the World Series against St. Louis, giving the A's their second consecutive championship.
Pedro Martinez, 1999
23 wins, 4 losses, 2.07 earned run average
At the end of the 20th Century, the Steroid Era was in full juice mode and threatening to turn the majors into a muscle-bound hitters' paradise that the titanic sluggers of 1930 would have been in awe of. But while almost every pitcher collapsed under the weight of the chemical madness, Pedro Martinez—a highly talented refugee from financially strapped Montreal who found peace and prosperity in big-budget Boston—not just survived, but thrived. 
In his second year with the Red Sox, the 27-year-old Dominican right-hander hit a high stride unequaled by few pitchers before or since. He reigned victorious in 23 of 27 decisions for a league-high .852 winning percentage; struck out a career-high 313 batters in just 213.1 innings of work; started and won the All-Star Game, earning MVP honors by retiring all six batters he faced—five by strikeout; and saved his best outing of the year for the archrival New York Yankees, firing a one-hitter (Chili Davis' homer was the only knock) and striking out a career-best 17 at old Yankee Stadium. In the postseason and by now aching on almost every pitch thanks to an ailing shoulder, Martinez somehow continued to shine—tossing 17 shutout innings amid three appearances, including a six-inning, hitless relief stint in the deciding Game Five of the ALDS against an offensively loaded Cleveland team to move Boston on to the next round. 
Martinez's 2.07 season ERA was next followed in the AL by the Yankees' David Cone, at 3.44; the 1.37 differential was the highest yet recorded by an ERA leader. 
But that was all before Martinez's 2000 campaign, as you'll soon read about.
Pete Alexander, 1915
31 wins, 10 losses, 1.22 earned run average
No National League pitcher won more games than the legendary right-hander from Nebraska (he's tied with Christy Mathewson at 373), and he was never better than in 1915, when he began a three-year tear in which he would win 30 or more games each season. 
Using an exceptional assortment of pitches with a fluent side-arm motion, Alexander racked up 376.1 innings of work and allowed only 253 hits (opponents hit just .191 against him), striking out a NL-best 241 and delivering a 1.22 ERA that's been since bettered only once (by Bob Gibson in 1968). What's sometimes lost in the conversation about Alexander the Great was that he managed to stay this efficient in a tight ballpark (Philadelphia's Baker Bowl) considered to heavily favor the hitter; he was, in fact, a stronger pitcher on his home turf, finishing 18-5 with a 1.20 ERA. 
Remarkably, Alexander never pitched a no-hitter—but he made up for it in 1915 by hurling four one-hitters, a major league record that still exists. His first was a no-no broken up with two outs in the ninth by the Cardinals' Artie Butler; his last came in his final start of the year, clinching the NL pennant for the Phillies—who heavily valued Alexander's contributions as they conquered a very tight NL race in which only 21 games separated first place from last, the closest margin in pre-division (1969) history.

Cy Young, 1901 
33 wins, 10 losses, 1.62 earned run average
One of the NL's premier pitchers of the 1890s, the marvelous Young embraced the newborn AL in 1901 because the money and the security would be better; the Boston Americans (Red Sox) offered him a three-year deal at a then-generous $3,500 per season, a contract not matched by the incumbent St. Louis Cardinals—who believed that the 34-year-old Young would be overpaid, overweight and over the hill laboring in an inferior circuit. And while the AL's talent level was initially on the crude side, there was little doubting Young's rebound to greatness. 
The portly right-hander toyed with the new league, hitting a groove after a rough start as he piled up win after win pitching often on three days' rest—and sometimes even less. He won his only ERA title with a 1.62 mark—the second lowest of his career, and well ahead of second-place Nixey Callahan (2.42). Control was never a problem for Young; in devouring up 371.1 innings, he walked just 37. 
The 1901 season was also notable for Young as he recorded his 300th career victory—but to really show the Cardinals what a mistake they made in letting him go, he was just beginning a long, highly productive resurgence in baseball—leading the AL in wins for the first of three successive seasons, on his way to a total of 200 more victories as he played on through his mid-40s—finishing his career in 1911 with an unimaginable 511 wins.
Walter Johnson, 1913
36 wins, 7 losses, 1.14 earned run average
Throughout the 1910s, the legend known as the Big Train left everyone choking on his locomotive steam, dominating the decade as no other pitcher would in any similar stretch of time before or since. His incredible reign for the Washington Senators peaked in 1913 when he added a curveball to compliment his lightning-quick fastball, making him virtually invulnerable. 
Johnson set an unmistakable tone to the year when he allowed a single run over his first five starts; later in the season, he embarked on a 14-game winning streak—surpassed only by the 16-game run he forged a year earlier—and had it end when he lost an 11-inning, 1-0 duel to the Red Sox' Ray Collins. By the time he was finished for the year, Johnson had won 13 more games than the next best guy with a career-high 36—making him the only AL pitcher to earn multiple 30-win campaigns, both in succession; he also set personal bests in ERA, shutouts (11), win percentage (.837) and on-base percentage allowed (a ridiculous .220 mark). Johnson's contributions to the Senators were so enormous, he single-handedly turned the team from a middle-of-the-road straggler into a genuine contender; when Johnson didn't figure in the decision, the Senators were 54-57—but with his stellar record added, they finished at 90-64, just six games behind the pennant-winning Philadelphia Athletics. 
It was a very good year for Johnson on other fronts: He met his future wife, the daughter of a Nevada Congressman, and likely impressed her with a Chalmers automobile—given to Johnson as a reward for winning the AL Most Valuable Player award.
Greg Maddux, 1994
16 wins, 6 losses, 1.56 earned run average
The 1994 season was simply magical before the owners and players ganged up to kill it with a crippling work stoppage two-thirds of the way through the regular season schedule. While most eyes were focused on Tony Gwynn's pursuit of the .400 barrier and the legitimate assault on Roger Maris' then-season record of 61 home runs by numerous players, what was equally impressive—if not equally hyped—was the staggering effort of Maddux, who was effortlessly stiff-arming baseball's growing tide of offense as the Steroid Era began to take hold. 
Maddux was a very good pitcher with the Chicago Cubs who became great in 1992 as free agency loomed and brought him to Atlanta; two years later with the Braves, he became phenomenal, mixing up numerous pitches with uncanny pinpoint control. As the 1994 campaign progressed, the mild-mannered right-hander grew more superhuman by the start; over his last eight outings, he produced an exceptional 0.93 ERA. Maddux's white-hot momentum was halted in midstride by the player's strike in mid-August; he was on pace, had the strike not interfered, to earn career-high 23 wins, 14 complete games and 287 innings pitched. His 1.56 ERA—the best of his 23-year career, and the third lowest since the end of the Deadball Era—was followed next in the majors by Oakland's Steve Ontiveros, who checked in at 2.65.

Greg Maddux, 1995
19 wins, 2 losses, 1.63 earned run average
The strike behind him, Maddux returned to the mound rested and definitely ready after his bravura 1994 effort and reigned even more supreme, helping to lead the Braves to their only world championship amid 15 years of first-place dominance. 
Maddux's 1.63 ERA was slightly higher than the year before, but his entire package of numbers was still miles ahead of the rest of the pack. Because of another strike-shortened schedule (this one at 144 games) Maddux was deprived of another 20 wins, held short at 19—one of five seasons in which he'd finish a game shy of 20 throughout his illustrious career. Yet he only lost twice, the fewest defeats ever recorded by a pitcher with 19-plus wins. Want more numbers? Here they come: Maddux was a remarkable 13-0 on the road with a 1.12 ERA, and his .220 on-base percentage allowed—he walked a mere 23 batters in 209.2 innings—is the lowest in modern NL history. 
As if Maddux's pitching wasn't enough to baffle opponents, his sharp reflexes with the glove only frustrated them more. Maddux scooped up everything hit his way—leading the NL in both assists (53) and fielding percentage (a perfect 1.000) at his position, earning him his sixth straight Gold Glove, one of a record 18 he would achieve. 
Although Maddux historically (and strangely) was a washout in the postseason with an 11-14 record, he was on target for the Braves in October of 1995, winning three of four decisions with a 2.84 ERA.
Pedro Martinez, 2000
18 wins, 6 losses, 1.74 earned run average
Seven spots earlier, we noted the excellence of Martinez during his 1999 campaign for the Boston Red Sox—but that was mere prologue to 2000, when the crafty right-hander proved that he was totally in a league of his own. 
Consider how successfully removed Martinez was from the ongoing Steroid Era and its affliction upon his fellow pitchers in 2000. The great Roger Clemens was runner-up in the AL ERA race to Martinez's 1.74—but Clemens wasn't breathing down Martinez's back; instead he was being lapped with a 3.70 ERA nearly a full two runs behind Martinez, by far the highest disparity between first and second ever witnessed in the majors. 
Thanks to Martinez, the Red Sox led all AL teams in ERA with a 4.23 mark; take away his numbers, and that number shot up to 4.69—leaving the Seattle Mariners, at 4.49, as the league's best. Martinez's presence apparently didn't inspire his teammates. After Martinez, Jeff Fassero had the team's best starter ERA—at 4.78. Pete Schourek checked in at 5.11, Tim Wakefield at 5.48. Martinez couldn't even rub his magic off on his older brother Ramon, reunited with him in Boston; despite a 10-8 record, Ramon's ERA was an appalling 6.13. 
Martinez's numbers would have raised eyebrows even had they occurred at the height of the Deadball Era. Opponents hit a paltry .167 against him, and they were worse (.133) in those rare moments when baserunners reached scoring position. If trying to reach base by a hit proved difficult, getting on via the walk was an even harder task; Martinez allowed just 32 passes all year and, at one point, he tossed 41 straight innings without issuing one. What was the more likely outcome for hitters facing Martinez was the strikeout, as he piled up 284 K's over 217 innings; in 22 of those frames, he struck out the side. All added up, Martinez's WHIP (walks and hits allowed per inning) was an incredible 0.74—the lowest ever recorded by any major league pitcher, regardless of era, league, or discrepancy in rules.