Ten Most Noteworthy Players Who Hit a Home Run in Their First At-Bat
Special and memorable moments among those who went deep the very first time they stepped up to a major league plate.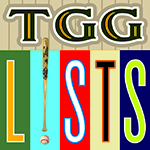 There have been roughly 23,000 baseball players who can claim to have played in a major league circuit. Of those, only 133—or 0.05%— can claim something additional: Drilling a home run in their very first at-bat. There's probably a real good story to tell with each of these debut dingers, but the following 10 strike us as being among the moments that are the most historical, memorable and/or truly unexpected.
Earl Averill (April 16, 1929)
One of baseball's oft-told mistruths was that Averill became the first American Leaguer to hit a home run in his inaugural at-bat; that was later proven to not be true, as you'll later read. The 26-year old's first appearance at the plate resulted in a drive that sailed over the tall right-field wall and screen extension at Cleveland's League Park, putting the Indians on the board in a game they'd win in 10 innings over the Detroit Tigers, 5-4. Averill is currently one of two Hall of Famers on the list of players go deep in their first at-bat; the other, which we'll talk about momentarily, may surprise you.
Will Clark (April 8, 1986)
One of the more famous premiere blasts isn't known so much for its historical or trivial value, but for the players involved. Clark was a cocky but energizing and promising rookie for the San Francisco Giants who batted second on Opening Night at the Astrodome against the Houston Astros; facing him was the legendary Nolan Ryan, still at the top of his game at age 39. Ryan's first pitch was a curve that left Clark almost laughing in bewilderment, but the next pitch was full of Ryan's famed heat—and Clark ripped it to straightaway center, clearing the wall for a stunning first act of a superb career. Upon rounding the bases and touching home plate, Clark slapped his hands and emphatically pointed to his parents, sitting in the stands behind the Giants' dugout. The home run would be Clark's lone hit in an 8-3 victory over the Astros.
John Miller (September 11, 1966)
The California native is one of two major leaguers to hit both a home run in his first—and last—career at-bat. But Miller had more homerless at-bats (64) in between his bookend blasts than the other (John Gillespie in 1922), so he makes the cut here. Miller debuted late in 1966 for the New York Yankees, crushing a two-run homer against the Red Sox at Boston's Fenway Park; later in the day, he added a single. But in five more games to finish the season, Miller failed to reach base in 18 plate appearances, and was thus let go by the Yankees. Picked up by the Los Angeles Dodgers, Miller toiled for the next two-plus seasons in the minors before making the Dodgers' Opening Day roster in 1969—but he struggled anew, barely seeing any playing time. He didn't even have an RBI until he poked out a solo homer on September 23 at Cincinnati in what would be the final at-bat of his major league career. Miller played three more years in Japan, worthy enough to at least be an everyday player with 20-something homers every season.
Walter Mueller (May 7, 1922)
Starting out with the Pittsburgh Pirates, Mueller didn't merely hit a homer in his first at-bat; he did it on the first pitch, something no major leaguer had previously done. And he had to work hard to make it happen, lining a shot off Chicago Cubs Hall-of-Fame ace Pete Alexander to the deepest reaches of Wrigley Field (then called Cubs Park) and hauling fast around the bases for an inside-the-park home run. The bizarre thing about the homer is that it was mistakenly credited in the official box score to Claude Rohwer, who was shipped out of Pittsburgh a few days earlier and never played in the majors; it took a number of years for the oversight to be corrected. Mueller, whose son Don Mueller featured as an outfielder for the Giants during the 1950s, played bit roles in the outfield for the Pirates for four years, hitting only one other homer over 344 at-bats.
Kevin Kouzmanoff (September 2, 2006)
So how do you top Walter Mueller? By hitting a grand slam on the very first pitch you see. After Kouzmanoff batted .379 with 22 homers over 94 minor league games in 2006, Cleveland was very curious to call him up at the start of September and see what he could do against major league pitching. After that first pitch—belted to straightaway center at Arlington against the Texas Rangers' Edinson Volquez—they found out. Kouzmanoff's slam would be a core moment in Cleveland's 6-5 win; he would go on to have a decent (if somewhat brief) career, primarily for the Indians and San Diego Padres. Daniel Nava would join him as the only other big leaguer to clear the bases on the first pitch he saw, in 2010 for the Boston Red Sox.

Bill Duggleby (April 21, 1898)
Duggleby also cleared the bases in his first at-bat, and while he didn't smack it on the first pitch offered to him, he would be the only player to claim a grand slam in his first up for 107 years, before Jeremy Hermida joined him in 2005—quickly followed by the aforementioned Kouzmanoff. But what made Duggleby's claim to fueled fame more eye-opening is that he was a pitcher struggling to make the grade with the Philadelphia Phillies. Here's some added irony: Duggleby's slam, hit in the second inning of the Phillies' 13-4 win over the Giants, was cracked off of Cy Seymour—who gave up pitching at the turn of the century and developed into a star hitter with a career .305 batting average. Though he wouldn't stick with the Phillies on a full-time basis until 1901, Duggleby ultimately would have a decent tenure, sporting a 93-102 record and 3.18 earned run average.
Tyler Austin and Aaron Judge (August 13, 2016)
Only twice had two players each hit their first home runs in their first at-bats on the same day, but they didn't do it for the same team—nor did they do it in back-to-back plate appearances, until Austin and Judge came along and made a bit of history of a hot summer afternoon at new Yankee Stadium against the Tampa Bay Rays. With Greg Bird and Brett Gardner on the shelf due to injury, Austin and Judge were both called up to fill in the gaps—and boy, did they ever. In the second inning of a scoreless game, Austin ripped a drive down the right-field line, barely clearing the wall for his first homer; the titanic (6'7", 290 lbs.) Judge followed up in typical Judge fashion, crushing Matt Andriese's changeup 446 feet to dead center field. Both players would later add a single—not back-to-back—and help give the Yankees an 8-4 win. Austin's MLB career would be disappointingly short, lasting four years before being exiled to Japan; Judge, meanwhile, has since become one of baseball's biggest stars, and looks primed to surpass Gary Gaetti (360 career homers) for the most four-baggers by a player who hit #1 in his first appearance.
Hoyt Wilhelm (April 23, 1952)
The knuckleball pitcher of 21 years is the other Hall of Famer, after Earl Averill, to go deep in his first career at-bat. (We said it might surprise you.) In his third pitching appearance for the New York Giants, Wilhelm took over for starter Roger Bowman in the third inning, then came to bat in the fourth and greeted just-inserted Boston Braves reliever Dick Hoover—making his second and last major league appearance—with a two-run homer, capping a four-run rally to give the Giants a 7-3 lead. Wilhelm's first long ball would help net him his first career win, as he pitched 5.1 innings in a 9-5 victory; he would never again go deep over 431 at-bats, batting just .088.

Bob Nieman (September 14, 1951) and Keith McDonald (July 4-6, 2000)
For these two guys, stepping up to the plate for the first time and smacking a ball over the fence wasn't enough; they did in their second at-bat as well. The 24-year-old Nieman doubled his strength for the St. Louis Browns early in a game that, all too fittingly for this laughingstock of a franchise, lost at Fenway Park to the Red Sox, 9-6. While Nieman would go on to have a solid big-league career—batting .295 with 125 homers over 12 seasons—McDonald would be a curious case of here today, gone tomorrow. Born in Japan, the 28-year-old catcher had toiled for six-plus seasons in the minors before finally getting the call to the St. Louis Cardinals on the Fourth of July—drilling a debut deep fly as a pinch-hitter late in a 14-3 rout against Cincinnati. Two days later, asked to start against those same Reds, McDonald opened the second inning with his second bomb in as many at-bats. He would add a third nine days and four at-bats later in another pinch-hit role, and was then sent back to the minors—where he became stuck for another six years with the exception of two hitless at-bats in 2001.  He's the only player with three career hits—all of them being home runs.
Luke Stuart (August 8, 1921)
We earlier mentioned Earl Averill as being mistaken as the first American Leaguer to go yard in his first at-bat. Which brings us to Luke Stuart, a name so obscure in the endless pages of baseball data that it took 70 years for historians to realize that it was he, not Averill, who actually should get credit for rounding the bases in his first go at the plate; even SABR (Society for American Baseball Research), which rarely leaves no stone unturned to nibble at every conceivable piece of baseball info, missed on this one. And you would think that Stuart's blast, a line drive smoked to left field at Washington's Griffith Stadium, would have been less lost in history because the guy he drilled it off of was none other than the legendary Walter Johnson. But he managed to pick up a complete-game win over Stuart's St. Louis Browns, 16-5—with the 19-year-old Stuart tacking on his team's final two runs in the ninth with his now-noteworthy homer. 
After impressing in his debut, Stuart was given a start at second base the next day, reaching on an error and striking out before being replaced by Marty McManus in an 8-6, 19-inning victory. He never appeared in a major league game again, stuck down in the minors for two more years before quitting the sport. Stuart remained, until 2005, the only player to have his first at-bat homer represent the lone hit of his career.

TGG Baseball Lists Index Our growing collection of baseball lists you always wanted to know but never had the time to go out of your way to find them.