Ten Baseball Legends Who Briefly Played Where You Would Least Expect
Iconic ballplayers practically synonymous with the teams they starred for logged cameo time with other ballclubs—and it just didn't make sense.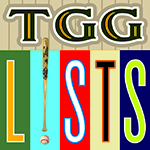 Envision Derek Jeter and you instantly see him wearing Yankee pinstripes. Or think George Brett, and Royal blue splashes into your consciousness. Or be reminded of Ted Williams, and there he is wearing Boston Red Sox apparel in your mind. 
Some baseball players thrived for so long with a single team, it would twist the mind to see them wearing any other uniform. Remember when Joe DiMaggio, the Yankee Clipper, took a job coaching for the Oakland A's in the late 1960s and walked around wearing Kelly green and gold with the white cleats? Or Yogi Berra, another beloved Yankee lifer, accepting his own coaching gig at Houston in the 1980s and schlepping around in the Astros' modern test-screen palette of bright warm colors? It just didn't add up. 
Derek Jeter understood this. When the iconic Yankee's contract expired in 2010 and he became a free agent, he couldn't fathom the concept of blindly accepting the highest bid and discovering himself wearing the jersey of the Red Sox or Seattle Mariners or Arizona Diamondbacks. With already $200 million in his bank account (before taxes, union dues and agent fees), Jeter valued respect over a few extra bucks. He didn't want his prestige watered down by playing out the string in a "foreign" uniform. Once a Yankee, always a Yankee. 
Jeter is hardly alone in this thinking. Cal Ripken Jr. probably felt the same way playing his entire career for the Baltimore Orioles, or Willie Stargell for the Pittsburgh Pirates, or Ozzie Smith for the St. Louis Cardinals. 
The following legends did not—or could not—take the one-career, one-team approach. They found themselves, usually at the end of their careers, in an environment alien from what they had been used to, far from where they had been adored for so long. They wore estranged jerseys, like Mahatma Gandhi wearing a gladiator outfit or Jerry Garcia donning a business suit. And the fans saw them in their new clothing, took a step back, shook their heads Looney Tunes-style and blurted: "What?" 
Hank Greenberg, 1947 Pittsburgh Pirates
The cerebral, often hard-nosed slugger hit .319 and averaged 37 home runs and 146 runs batted in per 154 games over a 17-year stretch for the Detroit Tigers—a period dotted with occasional absence due to major injuries and wartime service. After returning early from World War II in the middle of 1945 to lift the Tigers to a world title—and following it up in 1946 with an American League-leading 44 homers and 127 RBIs—Greenberg was unceremoniously dumped on the waiver wire by the Tigers. Management pointed to his age (36 in 1947) and lack of overall hitting; his .277 average in 1946 was the first sub-.300 mark by anyone hitting 40 homers in a season. But the Tigers were especially incensed by a Sporting News article claiming that Greenberg relished the idea of playing for the Yankees, something he later denied and confronted the baseball weekly over. 
Greenberg considered retirement, but when the Pirates knocked on the door he agreed to play one more year—on the condition that Forbes Field's distantly placed fences from left to left-center be brought in anywhere from 30 to 50 feet. The Bucs promised they would, and he promised—and delivered—25 homers, with a fair share deposited into the newly created bullpen area called "Greenberg's Gardens" behind the shortened left-field fence, even as he struggled all year with loose bone chips in his elbow. For the Pirates, Greenberg's presence produced positive residuals; attendance at Forbes nearly doubled—even as the team finished tied for last—and his mentoring of Ralph Kiner paid off as the young slugger belted 51 homers in 1947. Still, for someone so accustomed to winning in Detroit, the Pittsburgh experience didn't sit well with Greenberg, who later wrote, "Coming to a strange league and a last-place ball club was so demoralizing."
Reggie Jackson, 1976 Baltimore Orioles
Most of the entries on this list cover players at the end of their careers, but Reggie Jackson presents a different case. In between his breakout years with the Oakland A's and his tumultuous, highlight-reel tenure with the Yankees, Jackson squeezed in a single year with the Orioles which everyone seems to have forgotten. 
It was no April Fool's joke when Oakland owner Charles Finley, looking the advent of modern free agency straight in the eye, shipped Jackson and Ken Holtzman to the Orioles for Don Baylor and Mike Torrez a week before the start of the 1976 season. Jackson was no fan of Finley, but coming to Baltimore was not what he had in mind—and he showed it by not reporting to the Orioles, only saying he'd do so once the team upped his 1976 salary to $200,000. After the Orioles caved, Jackson put together a decent year by his standards, hitting .277 with 27 homers, 91 RBIs and a career-high 28 steals for a Baltimore team that finished second in the AL East, well behind the Yankees. But it was clear to everyone that Jackson's stay in Baltimore would be short. He pouted over his situation, ripped the fans and only looked happy when talking about the future, something very much reflected when he appeared on a Sports Illustrated cover in August and ID'd as the "No. 1 Free Agent." Sure enough, Mr. October would pass on the Orioles' offer to stay for five more years and $1.5 million, taking a deal of similar length—but twice the wages—with the Yankees.
Nellie Fox, 1964-65 Houston Colt .45s/Astros
The Hall-of-Fame second baseman was such a stalwart for the Chicago White Sox—13 years to be exact, though it seemed far longer to faithful fans on the South Side—that it was jarring to see Fox leave an established AL team playing in a rustic ballpark and ultimately find himself deep in the heart of Texas for the expansion Colt .45s, who then became the Astros after moving into the space-age confines of the Astrodome, for which Fox really must have felt out of place—especially when he warmed up alongside grounds crew members dressed in astronaut suits. 
Fox neither wowed nor wilted in his time in Houston, hitting a firm .265. His most noteworthy moment wasn't exactly an ideal one, committing a late error that led to teammate Ken Johnson's no-hit loss. In the end, he kept second base warm for a young Joe Morgan, who took over everyday duties midway through 1965. Fox stayed on as a coach and mentored Morgan into a Hall-of-Fame talent of his own.
Pete Rose, 1984 Montreal Expos
La grande Rose! For the eventual all-time hit king, a wayward baseball post where English isn't even the spoken language of choice must have felt so…well, foreign. From afar, fans long familiar seeing Rose as a Cincinnati Red and later a Philadelphia Phillie found it weird to see him taking the field wearing the Frenchy-looking logo of the Expos. 
Fans at Le Stade du Parc Olympique (translation: Olympic Stadium) bore direct witness to a major Rose milestone on April 13 when he smacked a double for his 4,000th career hit. But that was essentially the lone highlight to a short and underwhelming stay for Rose. The Expos took a risk and stuck the 43-year-old in left field, and when that didn't work out they moved him to first. But Rose's lack of power forced the Expos to bring in another ex-Red (Dan Driessen) to take his spot and reduce him to a pinch-hitter. From there, Rose was rusty—collecting 10 hits in what would be his last 60 at-bats, mostly off the bench, before the Reds rescued him with a mid-August trade that made him player-manager in Cincinnati.
Jimmie Foxx, 1945 Philadelphia Phillies
Many great players wound down their careers back where they got started, albeit with different teams; Willie Mays' return to New York and Hank Aaron's Milwaukee encore quickly come to mind. But for mega-slugger Jimmie Foxx, who played his first 11 years for the Philadelphia A's, a return to the City of Brotherly Love so long after his reign and with a team (the Phillies) so removed from major league competence still had to feel like a punch in the gut. 
Of course, this was 1945, when world war was winding down but its impact on baseball never more severe, with big league rosters depleted everywhere. Foxx, like many other veteran players, attempted to enlist in the military—but was rejected due to sinus issues. He had to settle for a job with the Phillies, a woebegone franchise trying to get back on its feet after a decade of atrocious results and merry-go-round ownership. Against an inferior level of competition littered with military rejects and minor leaguers, the 37-year-old Foxx managed to hit a decent .268 with seven homers in 89 games, but he couldn't help the Phillies win (46-108) or draw (less than 4,000 per game). Ironically, Foxx was at his best not at the plate but on the mound, pitching in with nine appearances including two starts and a 1.59 ERA over 22.2 innings. His only decision came with a win against Cincinnati on August 19 as he out-Foxxed the Reds' Howie Fox. 
The return of baseball's regulars after the war spelled retirement for Foxx, who would do numerous (and brief) coaching jobs—including a gig managing the Fort Wayne Daisies of the All-American Girls Professional Baseball League, a stint which inspired the character played by Tom Hanks in the 1992 movie A League of Their Own.

Christy Mathewson, 1916 Cincinnati Reds
The legendary Deadball Era ace was a New York Giant from his first game to his last—almost, that is. After suffering through his first subpar campaign (by his standards) in 1915, Mathewson was off to an even weaker start in 1916 with a 3-4 record in his first 12 appearances, half of them in relief. Big Six also began relishing the idea of managing but knew he wouldn't have the chance to do it in New York so long as the great John McGraw remained firmly in charge. McGraw, who held Mathewson in great respect, knew this as well, and decided midway through the year to send him off to the Reds—but only on the condition that he manage. The Reds obliged, and for good reason; while they gave up two players including infielder Buck Herzog (about to enjoy his third stay with the Giants), the Reds also received future two-time NL batting champ Edd Roush as part of the deal. 
Mathewson took over in Cincinnati, and from all accounts it appeared that his playing days were over. But when the Reds traveled to Chicago for an early September series against the Cubs, he realized that Three Finger Brown, his old nemesis of glory days gone by who was also at the end of his great career, would be given a start—likely, his very last one. So Mathewson picked up a glove, a ball and headed to the mound to take him on one last time. It might as well have been Old Timer's Day; the two went the distance but neither was good, as Mathewson outlasted Brown by a 10-8 count. It was the only time Mathewson pitched in a major league uniform other than the Giants. 
As nostalgic and semi-embarrassing as the win was, Mathewson's victory over Brown—the 373rd and last of his storied career—carried historical significance. Because of it, Pete Alexander could only tie, not surpass, Mathewson 13 years later when he won his 373rd game to form a two-man tie for the most wins in NL history.
Harmon Killebrew, 1975 Kansas City Royals
The advent of the designated hitter in 1973 created many strange bedfellows as aging sluggers were given an extra lease on major league life, allowed to pad their career numbers without having to look buffoonish on the field. To this end, probably the most awkward pairing revolved around the presence of Killebrew, the long-time Minnesota Twins standout, with the Royals. 
The Twins let Killebrew go after he declined their offer to become a full-time coach, and the Royals quickly grabbed him. Killebrew, the home run and singles man, seemed an odd fit for a Royals team built on speed and lashing line drives that produced many doubles and triples but few home runs. Between that and being 38, things predictably didn't go so well for Killer, who hit just .199 with 14 home runs in 106 games. The silver lining for his uninspiring coda was that he belted his 573th and final career home run in Minnesota against the Twins, the team had had long starred for. 
Killebrew's Kansas City experience was lost on many folks, including David Letterman—who in a quirky 1986 airing of his late night show decreed "Harmon Killebrew Night" kept confusing Killer's employer in Kansas City for its earlier major league team, the Athletics.
Duke Snider, 1964 San Francisco Giants
There are few things more shocking in baseball than to see a longtime Giants player suddenly put on the uniform of the archrival Dodgers—and vice versa. Some just can't take on such an assignment; Jackie Robinson refused to do it when the Brooklyn Dodgers sent him to the Giants after 1956, preferring instead to step away from the game. With one obvious exception (as we'll soon reveal), the most jolting instance of a top player switching allegiances between these two teams has to be Duke Snider. 
The famed slugger was so emotionally aligned with Brooklyn and Ebbets Field, it was odd just seeing him in a Los Angeles Dodgers jersey. Then he was exiled to the fledgling New York Mets in 1963, which made some sense given he was returning close to his major league roots. But a year later, Snider found himself back on the West Coast, in San Francisco. Veteran Dodgers fans moaned, "Say it Ain't so, Duke." The Dodgers themselves admitted that had they knew Snider was on the trading block, they would have grabbed him back before the Giants did. They were no less happy about it when Snider, off to a 0-for-13 start to the 1964 season, singled and homered against the Dodgers at Chavez Ravine on May 2. 
Snider's year with the Giants would represent his swan song in baseball, which was no surprise given that his bat was about as cold as the chilly Candlestick Park winds; in 167 at-bats, he hit a career-low .210 with just four homers.

Babe Ruth, 1935 Boston Braves
No entry on this list is more celebrated than the one year the great Ruth returned to his Boston roots and suited up for the third-class Braves in a short, failed marriage that had desperation written all over it. 
His invincibility worn off as he turned age 40, Ruth was let go by the Yankees after the 1934 season and, in search of a team that would allow him the opportunity to manage as well as hit, he found few takers until the Braves came along and promised him the chance to pilot the club—down the line. A patient Ruth trudged on as player only—and things looked promising when he homered in his first game as a Brave. Things went downhill, and very steeply, from there; after homering again a week later, a beat-up and badly out-of-shape Ruth could only snare three hits over his next 44 at-bats. Realizing that his playing days were likely numbered in the single digits, Ruth gave it one last remarkable hurrah on May 25 at Pittsburgh when he clobbered three home runs—the last clearing Forbes Field's upper-deck roof down the right field line. Friends and family pleaded with Ruth to call it a career right there and then, but he labored for another week—going hitless in what would be his final nine at-bats. 
As bad as it was for Ruth on the field, the Braves' carrot-stick routine of leading the Bambino toward a managerial job was nothing more than a charade. Owner Emil Fuchs never seriously considered Ruth to lead the club in any capacity, and it all became moot anyway when, a day after Ruth retired, Fuchs announced he was selling the club. With the Braves sinking toward a 38-115 record—the worst in modern NL history—it was no wonder that everyone, Ruth included, wanted to jump ship.
Juan Marichal, 1975 Los Angeles Dodgers
Earlier we noted the Giants, the Dodgers and the intrinsic dangers of swapping jerseys with the enemy. But it had to be an outright death wish for Marichal, ex-Giants ace still hated in the twilight of his baseball life by hordes of angry Los Angeles baseball fans, to put on the uniform of the Dodgers. This was, after all, the man at the center of baseball's most notorious brawl when, in 1965, he took issue with an inside pitch from Dodgers counterpart Sandy Koufax—and then took a bat to the head of catcher Johnny Roseboro in response. To see him wearing Dodger Blue, even 10 years after that unforgiveable incident, left fans at Chavez Ravine aghast to say the least. 
When news of the Marichal signing hit Los Angeles, the Dodgers' front office was hit with a flood of angry calls and letters. Marichal's new employer and teammates defended his presence, and even Roseboro—who had recently smoked the peace pipe with Marichal—went publicly out of his way to tell the fans to chill. Marichal himself shrugged his shoulders at the furor, knowing he couldn't erase the memories. He simply answered one reporter's query with, "It happened." 
Marichal's time with the Dodgers would be brief and unsatisfying—but at least survived with his health intact. In his Dodger debut, he gave up five runs in three-plus innings at Houston; four days later at Dodger Stadium, before 36,578 fans who greeted him with a mix of cheers and boos, he didn't make it past the third against the Reds, giving up four runs on six hits. It would be the last—and very likely the strangest—appearance of his major league career.