Baseball's 10 Worst Performances by a Reigning Cy Young Award Winner
Ten major leaguers who followed up a dream season earning baseball's top pitching prize with a nightmarish encore.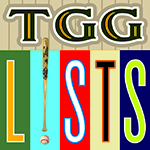 The Cy Young Award. It's the pinnacle of pitching excellence, the high point of one's career. It doesn't, however, guarantee you everlasting success. Just ask these 10 pitchers who reached the top, earned the prestigious honor and then stumbled, very badly, the next season. Some rebounded. Some did not. Let's find out who they are.
Rick Porcello, 2017
11-17, 4.55 ERA
Through the first seven years of his career, Porcello struggled to graduate from the promise of greatness as a 20-year-old full-time starter, scuffling through one .500-type season after another. The Boston Red Sox held faith in the youngster, giving him a four-year, $82 million extension in 2015, and their intuition paid off—at least in 2016, as Porcello finally busted out with a 22-4 record and 3.15 ERA to land him the Cy. Being given nearly seven runs of support per start from the potent Red Sox offense certainly didn't hurt. 
Porcello won his first start of 2017 but then went winless in his next five, losing four of them—matching the total number of losses he suffered the year before by the start of May. Not much improved from that point; by the end of July, he was 4-14 and was looking at the ignominy of going from a 20-game winner to a 20-game loser. It wasn't a total collapse; Porcello gave his six or so innings every time he took the mound, but opponents found him pretty easy to beat down. Fortunately, his teammates came to the rescue and starting giving him oodles of runs once again, leading him to win seven of his final 10 decisions even though his ERA climbed during this time to a season-ending 4.55 figure.
Steve Carlton, 1973
13-20, 3.90 ERA
Lefty's 1972 Cy Young performance was such a fortuitous circumstance for his Philadelphia Phillies because, without him, they might had ended up worse than the 1962 New York Mets. Consider: Carlton was 27-10 for the Phillies. The Phillies, when he didn't pitch, were 32-87. 
The 1973 season saw a reversal of fortune for the Phillies—and unfortunately, for Carlton, who became the first pitcher to follow up a Cy year with a 20-loss campaign. And that was too bad for the Phillies; a 1972 version of Carlton might have been all the Phillies needed to kick themselves into contention amid a weak NL East that was ultimately conquered by the Mets (82-79). Carlton's 7-12 record against divisional opponents didn't help. Nor, probably, did a testy relationship with sportswriters that ultimately led the enigmatic Carlton to refuse taking questions from the media.
Bret Saberhagen, 1986
7-12, 4.15 ERA
The two-time Cy winner had a weird habit of following up one good year with a bad one. This was never more illustrated when the encore to his breakout 1985 campaign—which included a 20-6 record and a 2-0 mark in the World Series for the Kansas City Royals—amounted to a bit of a breakdown. 
After a pleasant start to the season, Saberhagen gradually grew more fragile; complicating matters was that the defending champion Royals were dissolving as a whole throughout the season. It got so bad for Saberhagen that he was demoted to the bullpen in July, then placed on the shelf with a bum shoulder before finishing out the year in September with a number of generic starts, none of which lasted more than five innings. "It'd be one thing if I was walking a lot of people or wasn't throwing the ball good," Saberhagen ruminated early on to reporters. "If you guys figure it out, let me know."
Randy Jones, 1977
6-12, 4.58 ERA
Part of a unwanted tradition of early Padres lore in which 20-game losers were the norm (see also Clay Kirby and Steve Arlin), the man with the golden-haired perm developed a devastating junkball that confounded opponents and led to successive 20-win campaigns—the last of which earned him the Cy after leading the National League in wins (22), complete games (25), innings (a prodigious 315.1) and double play grounders (34). 
But in his last start of his Cy-winning campaign, Jones injured a nerve in his throwing arm. He had the entire offseason to do something about it, and he went under the knife so doctors could see if anything was wrong; apparently, they couldn't come up with an answer. The start of Jones' 1977 season paled by his recent standards and it only went downhill from there as the same nerve issue forced him to miss six weeks in midseason. His return in August saw no improvement; his first start back was his worst of the year, getting shelled for eight runs in three-plus innings by the Chicago Cubs. 
Jones never regained his A-game, producing a post-Cy record of 43-69 with a pedestrian 3.80 ERA. He pitched his final game in 1982 at the age of 32.
Steve Stone, 1981
4-7, 4.60 ERA
Through the first nine years of his major league career, the Ohio-born righty was a serviceable pitcher at best, good enough to win some 10 games a year—and bad enough to lose 10. Frustrated with the continued commonality, Stone in 1980 decided to go for broke and rely extensively on a curve ball that he knew would make him a better pitcher—at the expense of a longer career. It worked as planned; he won 25, lost just seven and posted a 3.23 ERA in winning the AL Cy. And then, he was never the same. 
The taxation on his pitching arm from all the curves would be immense. He finished weak in 1980 with a 4.40 ERA over his last seven starts. He started 1981 in much worse shape, his arm dying from the stress of throwing the curve. By late in the year—even after a three-month layoff—Stone had almost nothing left, and he knew it. Rather than return to a life of baseball mediocrity, he quit. 
Of course, Stone would get a second wind in the game not from the mound but inside the booth, playing the straight-man analyst opposite colorful play-by-play guys in the Cubs' Harry Caray and the White Sox' Ken Harrelson.

Vern Law, 1961
3-4, 4.70 ERA 11 games, 10 starts
The 1960 season was a storybook success for the veteran right-hander: A 20-9 record, a league-leading 18 complete games and a 2-0 mark against the mighty Yankees in that year's World Series. (Law also started the fabled Game Seven but did not earn a decision.) 
But in the raucous environment that was the Pirates' pennant-clinching celebration, Law was held down on the team bus while teammate Bob Oldis tried to tear off his shoes. Oldis succeeded, but in the process Law had his knee sprained; he pitched well in the World Series to follow, but also did so with greater stress on his arm to make up for his injured knee. It wasn't until early the following year that he realized he had torn his shoulder muscle as a result. By the time he went on the shelf for good in early July, Law just wasn't looking right; beyond the 3-4 record and 4.70 ERA, he had surrendered 10 homers in 59 innings and walked almost as many batters (18) as he struck out (20). 
Law would pitch six more seasons with some success—most notably with a 17-9, 2.15 performance in 1965—but the consistency of strength that predated his Cy was missing.
Denny McLain, 1970
3-5, 4.63 ERA
The post-Cy downfall of McLain is likely the most celebrated and infamous you'll find on this list. A gregarious personality with a thirst for the good life and Pepsi—we mean, lots of Pepsi—McLain entered the 1970 season coming off not one but two Cy Young Award seasons totaling 55 wins, including his legendary 31-6 campaign of 1968. But trouble was brewing even before the 1970 season began; Sports Illustrated did a wintertime cover piece on McLain's ties to the mob, and once commissioner Bowie Kuhn looked into it he suspended the pitcher for three months. Two months after his return, he dunked reporters with ice water—ice included. That earned him a seven-day suspension from the team, one that extended for the rest of the season when he was later found carrying a gun on a team flight. 
When McLain managed to actually pitch, he just wasn't the same, winning just three of 14 starts with an ugly 4.63 ERA. It would only get worse for McLain, losing 22 games the next year toiling for the Washington Senators before burning out for good in 1972.
Pete Vuckovich, 1983
0-2, 4.91 ERA
A big, imposing pitcher who had the look of one you wouldn't want to run into alone in an alley, Vuckovich was a presence so menacing that when he was given a role in the film Major League—not as a pitcher but, instead, the evil slugger taking on the Indians' Ricky Vaughn (Charlie Sheen). For much of his career, he was also awfully good; his 1982 Cy performance for the pennant-winning Milwaukee Brewers culminated a four-year run in which he sported a terrific 59-29 record. 
But toward the end of the 1982 season, Vuckovich pitched an 11-inning effort that required 163 pitches; from that, he would never be the same. Vuckovich lost his final two regular season starts and went 0-2 in the postseason to follow; the next spring, doctors determined that he had a torn rotator cuff. Vuckovich ignored their advice and tried a conditioning program to pull himself back into shape. It didn't work. He managed to make three uninspired starts late in 1983—winning none—then missed the entire 1984 season. When Vuckovich was well enough to pitch again in 1985, he was nowhere near his old self. After an unsuccessful minor league stint in 1987, he retired.

Bartolo Colon, 2006
1-5, 5.11 ERA
The portly Dominican native grabbed the 2005 AL Cy by pacing the league with 21 wins for the Los Angeles Angels of Anaheim—but like so many other players on this list, it was an injury at the end of his stellar season that ruined his follow-up. In Colon's case, it was a partial tear of the rotator cuff suffered during a postseason game against the Yankees. 
The tear nagged Colon throughout 2006—and, really, for the next five years to follow as he labored with great difficulty to return to anything near Cy form. He was shaky in a trio of April starts, was rested for two months, returned only to find he had gotten no better—a four-hit shutout at Seattle for his only win of the year notwithstanding—and went back on the disabled list again at the end of July, never to return for the season. 
Colon's post-Cy career has been a mixed bag to say the least: A long rough stretch followed by a return to prominence with Oakland in 2012—only to be suspended 50 games for steroid use.
Mark Davis, 1990
2-7, 5.11 ERA, 6 saves, 4 blown
Throughout the 1980s, the Bay Area-born southpaw was as ordinary as they came, bouncing back and forth between the rotation and bullpen before the San Francisco Giants gave up on him and dealt him to San Diego midway through the 1987 season. Suddenly, a year later, he clicked—saving 28 games with a 2.01 ERA for the Padres. But that was mere prologue to what he had in store for 1989, when he grabbed the NL Cy with a 1.85 ERA and 44 saves in 48 attempts. He was so good, he saved once five games in five days—a major league first. 
It was all great timing for Davis, a free agent in line for big-time riches following his Cy campaign. And the Kansas City Royals anted up—giving him a four-year deal worth $13 million. This was not reliever money; it was Rickey Henderson money, Jose Canseco money. 
But the Davis who showed up to Kansas City looked more like the unexceptional Davis of his early years. He blew one save opportunity after another and, by June, his ERA was locked in around 6.00. Royals fans voraciously booed Davis and threw whatever loose change they had at him to protest his huge payday. A shaken Davis emotionally recoiled within the clubhouse, feeling in no mood to be cheery with his teammates. One of them, Kevin Seitzer, told the Los Angeles Times' Bob Nightengale: "We heard all about him and what a great pitcher he was and stuff. And now we're saying, 'OK, where is he? Come on, where is he?'" 
Injuries had nothing to do with it: There was no rotator cuff tear, no ligament damage requiring Tommy John surgery, no dead arm, no ill-effects from any teammate horseplay. Davis simply just lost it. The Royals plunked him into middle relief, then even tried him as a starter with disastrous results. Hoping to get some ROI on their big expenditure, the Royals brought in Pat Dobson—Davis' pitching coach in San Diego—in desperate hopes to have him fixed. It didn't work. 
In the seven years to follow, Davis bounced around as a nomadic reliever, the luster of his Cy having been long since tarnished. Even a return to San Diego paid no dividends. By 1997, Davis gave up, retiring from the game with a career 51-84 record and 4.17 ERA. But he'll always have the Cy.