Baseball's 10 Worst Performances by a Reigning MVP
Trying to maintain an elite level of baseball excellence proved most difficult for these 10 MVP winners, whose performance hit the skids just a year after earning the big prize.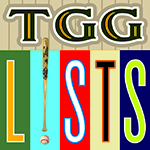 In the game of baseball, like everything else in life, nothing lasts forever. The New York Yankees inevitably suffer the losing season, Tony Gwynn stops winning batting crowns, and Nolan Ryan's fastball will, at some point, finally dip below 95 MPH. 
The same goes for recipients of the game's Most Valuable Player awards. That said, no one expects a MVP to suddenly go south the following season. And while most defending honorees played at or near peak level in the years to follow, others radically dropped from tops to flops. Here's the 10 most precipitous such falls ever seen in the majors.
Jim Konstanty, 1951
One of the unlikeliest MVP winners, Konstanty began the 1950 season in Philadelphia as a 33-year-old journeyman reliever who lived in virtual baseball anonymity over 10 previous years split between the majors, minors and military. Then, suddenly, he became the face of Philadelphia's famed "Whiz Kids" Phillies, who surprised the National League with their first pennant in 35 years. Konstanty was nearly an everyday event coming out of the bullpen, appearing in a then-record 74 games while piling up 16 wins and 22 saves. 
A year later, it was back to the anonymous life for Konstanty. Nobody seemed surprised; many experts felt he'd been overworked performing his MVP turn and, as he entered his mid-30s, knew Konstanty couldn't constantly stay in star form. He may have been his own worst enemy; after thriving with an overhand palmball the year before, he reportedly introduced a side-armed fastball that may have messed up his mechanics. Konstanty saved nine games but lost 11; opponents who a year earlier had been gnashing their teeth by hitting just .202 against him were now closer to .300. Worse, it seemed, the more tense the situation, the more Konstanty failed. And that's not a good prescription for great relief. Toward season's end, he was replaced as the Phillies' top reliever and spent much of the year's waning weeks sitting idly in the bullpen. 
Konstanty's baseball journey continued for another five years, living the life of a common player who, unlike many other such players, could at least recall his good ol' days as a one-hit wonder.
Johnny Bench, 1971
The gifted catcher from Oklahoma won the Rookie of the Year award in 1968, made solid improvement in 1969 and then—bam!—had a monstrous 1970 season for the Cincinnati Reds in which he hit .293 with 45 homers and 148 runs batted in. He was the offseason toast of baseball, working the post-MVP circuit as if he'd won the World Series, Super Bowl and Olympic gold medals all rolled up into one. Reds manager Sparky Anderson insisted that it wasn't all the travel that left Bench exhausted when he showed up at spring camp; it was all the smiling. 
Bench had concentrated so much on the spoils, he had forgotten the very traits that got him there in the first place. He played the 1971 season with little discipline and tried to get rich on home runs—and although he did connect 27 times, he batted just .238 and knocked in only 61 runs. Word was that Bench was trying too hard to make up for a Reds team wracked by injury and other individual sub-efforts, but the noble gesture was lost on Cincinnati fans who booed him; he returned the lack of love by refusing to tip his cap to the crowd when he did please them with a round-tripper. Bench's downfall equated to one for the entire team, as Cincinnati posted its only losing record during the 1970s. 
With the wintertime agenda considerably lighter than a year earlier, Bench found time to concentrate on becoming a good hitter again. It worked. He won a second MVP in 1973.
Willie McGee, 1986
Nicknamed the Rooster for his diagonal hen-like trot, the switch-hitting speedster from the Bay Area was the epitome of the 1985 St. Louis Cardinals, who might have been world champions were it not for Don Denkinger's infamous umpiring error. Like the rest of his team, McGee lacked power but displayed a tenacious tact for reaching base and stealing more once he got on; he led the National League with a .353 average, 216 hits and 18 triples, and his 56 steals were second (behind Vince Coleman) on a team that swiped an unbelievable 314 during the season. 
Later claiming that the exhaustion from going the distance in 1985 zapped the Cardinals of mental energy in 1986, McGee skirted the .200 mark into May, managed to ramp it up to .250—but then hit a stubborn ceiling as that pedestrian figure held for the balance of the year. Hamstring and knee issues didn't help, as he missed over a month of play in mid-summer. When all was said and done, McGee finished at .256—nearly a full hundred points less than his 1985 MVP effort—and he managed to steal just 19 bases in 35 attempts. As McGee went, so went the Cardinals; the team finished with a major league-worst .236 figure and poked out just 58 homers, almost half that of the next lowest team (Montreal, 110). 
McGee regained some of his star luster in 1987 and the Cardinals re-awoke with him, winning another NL pennant; he would grab another batting title in 1990 and maintained a near-.300 career average until his final game in 1999.
Barry Bonds, 2005
There was no better player in 2004—or perhaps any year, for that matter—than the surly, age-defying superstar-turned-superhuman. A 40-year-old Bonds won his fourth straight MVP and seventh overall with a league-leading .362 mark and 45 home runs in just 373 at-bats. Though the latter figure suggests he didn't play often, remember that walks don't count as at-bats; ergo, Bonds had 232 such non-at-bats, 120 of them when opposing pitchers, frightened out of their minds to dare Bonds, obliged him intentionally. Steroids, for which he had admitted taking (albeit unknowingly) when pressed about the topic a year earlier in his BALCO grand jury appearance, obviously had something to do with it. 
Father Time, to say nothing of his PED-fueled past, caught up to Bonds in 2005. He underwent surgeries on both knees, the latter procedure taking place just weeks before Opening Day—leaving him unlikely to return until mid-summer, if at all. Meanwhile, his Secret Steroid World was being exposed for all to see; his grand jury testimony was leaked, his buddy/PED pimp was going to trial, and a former mistress came out of the shadows to confirm that he very well knew what he was taking through BALCO. A hostile Bonds responded to the revelations by engaging in several heated spring training interview sessions with reporters, challenging their own honesty and barking, "You wanted me to jump off a bridge, I finally did." 
As he rehabbed his knees, Bonds remained a recluse within his Beverly Hills mansion, rarely showing up at AT&T Park to say hi to his San Francisco Giants teammates. When he finally returned, midway through September, Bonds still wielded strong power—at one stage he homered in four straight games—but his fragile knees sapped him of his dominance and made him a defensive liability. A regressed Bonds toiled for two more years, just long enough to push past Hank Aaron on the all-time home run list.
Bobby Shantz, 1953
Fear didn't exactly strike batters when they faced Shantz, who at 5'6", 139 pounds was one of the lightest major leaguers ever to take the mound. But the little guy found so many ways to beat you: With a curveball, an occasional knuckler and snappy defense that made him a perennial Gold Glove winner. The mighty Shantz was at his mightiest in 1952, compiling a 24-7 record and 2.48 ERA; he completed 27 of the 33 games he started (including one 14-inning gem over the Yankees) and, in his one inning of work at the All-Star Game, struck out all three batters he faced—including Jackie Robinson and Stan Musial.  
But the prologue to the misery that lay ahead for Shantz was written in his final start of 1952. While at bat, his pitching wrist took a direct hit from Washington pitcher Walt Masterson, breaking two bones. His first start of 1953 was worse; he tore a muscle in his shoulder, some say because he was favoring the wrist that had yet to fully heal. No fan of doctors, Shantz trudged on and, while the season progressed, he regressed. Shantz finally was forced to sit out, first for all of June and then for much of the last two months; he finished at 5-9 with a 4.09 ERA, a far cry from his MVP effort of a year earlier. "I wasn't worth a damn all year," Shantz later recalled, "I just couldn't throw." 
Shantz never fully recovered from the bum shoulder, as his newfound fragility gradually forced him into a bullpen role; he briefly rose to a resurgent level in 1957 when he won an ERA title (2.45) mostly throwing as a starter for the Yankees, but became a virtual reliever for hire by pitching for five teams over his last four years before bowing out of the game at age 39.

Cal Ripken Jr., 1992
After a terrific start to his career that included a first MVP in 1983 and all those games without a day off, Ripken settled into a lesser existence at the plate in which he annually put up numbers in the .260-20-80 area—nice figures, but not exactly the stuff of MVPs. Then, in 1991, Ripken showed off an impressive rejuvenation; he hit .323 and belted 34 home runs with 114 RBIs. It seemed there wasn't an honor he didn't win; besides a second MVP, Ripken also won the All-Star Game MVP and the Home Run Derby before it, along with his first-ever Gold Glove at shortstop. With a new, hitter-friendly ballpark (Oriole Park at Camden Yards) and an improved team lying in wait for 1992, it was fully expected that Ripken would build on his 1991 success and maintain his mid-career renaissance. 
It was not to be. In fact, it wasn't even close. Ripken retracted back to his pre-1991 grind and then some. Folks within the game noticed that Ripken's bat speed and defensive range had been greatly reduced, as if he had aged five years overnight. Others wondered aloud if Ripken's everyday pursuit of Lou Gehrig's legendary consecutive games mark was heading on a collision course with a brick wall of fatigue—and it appeared he had done just that by mid-summer, as he hit .198 without a single homer over July and August. By season's end, Ripken established career lows with 14 homers and 72 RBIs to go with a paltry .251 average; he was worse at Camden Yards, hitting .237 with just five deep flies. Baltimore fans began to do the unthinkable: Boo Cal.
At first, Ripken blamed his season-long letdown on a unusually high collection of aches that came with playing every game; he later admitted that ongoing contract negotiations had affected his play, believing that the Orioles were somehow playing "mind games" with him in hopes of reducing his asking price. That conspiracy theory went out the window when Ripken and the Orioles agreed on a five-year, $30 million deal that was, at the moment, the richest in baseball.
Dennis Eckersley, 1993
For five straight years, the veteran starter-turned-closer had become the King of the Ninth Inning, using pinpoint accuracy from a wicked mix of fastballs and sliders that completely baffled opposing hitters. In 1992, Eckersley was finally honored with both an MVP and Cy Young award for his efforts in lifting the A's to their fourth postseason appearance in five years with a career-high 51 saves, 7-1 record and 1.92 ERA. 
A year later, Eckersley went from invincible to vulnerable with not just a bad start, but a prolonged bad start. The 38-year-old's velocity and strikeouts were still there, but the control wasn't as hitters were suddenly finding it easy to tag hits off him. It resulted in a series of blown saves—a career-worst 10 in all before season's end—and a very un-Eck-like 5.00 ERA into June. He stabilized by summer, but he still wasn't the fearsome closer from just a year earlier. Eckersley finished the season with a 4.16 ERA, and he found the experience equally humiliating and humbling, reflecting in his typically laid-back yet articulate demeanor: "Sometimes the whole world thinks you suck." 
Eckersley pitched on past his 44th birthday, continuing to close but without the dominance that marked his prime years of 1988-92. With 197 wins and 390 saves to vouch for, he still became an easy choice for the Hall of Fame.
Don Baylor, 1980
They called the veteran outfielder Groove, and Baylor certainly lived up to that name in 1979 after tearing apart the American League with a .296 average (after skirting .250 in each of his three previous years), 36 home runs and league-high figures in 139 RBIs and 120 runs scored. His performance led the Angels to their first-ever postseason appearance, and management was grateful enough that it gave Baylor an end-of-year $100,000 bonus—big money in the infant days of free agency. What he or anyone else didn't know was that he had played a good chunk of the year with a broken bone in his left wrist. 
While the wrist issue didn't bother him in 1979, it certainly would a year later. The growing pain inhibited his play and, after finally learning about it in mid-May, underwent surgery; rushing back a little too quick, Baylor continued to struggle and, by the end of July, was languishing with a .230 average and just one home run on the year to date. He salvaged some long-sought power in August before being sidelined again for the season's final month, this time with a bad foot. When it was all added up, there wasn't much to add up; Baylor followed his titanic 1979 effort with a Titanic-sinking .250 average, five homers and 51 RBIs in 1980. He was booed in Anaheim, and the Angels front office—which had wholeheartedly embraced Baylor a year earlier—turned ruthlessly hardball on him with contract extension talks.
Baylor followed up his best and worst of times by returning to pre-1979 form and eventually became a DH-for-hire, finishing his career playing for three consecutive AL champions: Boston (1986), Minnesota (1987) and Oakland (1988). His biggest claim to fame came toward the end of his baseball life when he set the all-time mark for getting hit by pitches, a record to be later surpassed by Craig Biggio.

Kirk Gibson, 1989
The legend of Gibson's first year in Los Angeles is well known; exiled from Detroit after being disrespected by Tigers management, breathing intense fire into a lackadaisical Dodgers clubhouse, a MVP effort during the regular season and a fantastic postseason in which he thrived until his knees couldn't take it anymore. And then he hit his legendary home run off Dennis Eckersley in Game One of the 1988 World Series to propel the Dodgers towards a championship. 
The sight of Gibson struggling just to round the bases with his historic blast was so ingrained in the minds of many that it didn't seem he could possibly forge a mint condition follow-up in 1989. They were right. But at first it didn't look to affect his play; as late as June 18, Gibson was hitting .281 with seven home runs, sturdy numbers considering he had already missed a month to give his ailing knees a rest. But the forced sabbatical did little to rejuvenate Gibson; not only did the pain grow worse, so did his numbers, as he hit just .121 over a 26-game stretch before finally giving in to season-ending surgery on a torn hamstring. He finished the year hitting an atrocious .213 with nine homers in 71 games. 
Gibson didn't return until midway into the 1990 campaign, but he simply wasn't the player who threw his health away going hard at opponents in 1988. It took a reunion with the Tigers in 1993-95 to restore some statistical luster as he safely DH'ed his way toward an honorable career finish.
Roy Campanella, 1954 and 1956
It's probably a good thing fantasy baseball leagues didn't exist in the 1950s—that's because those drafting the Hall-of-Fame catcher would have torn their hair out trying to figure out which Campanella was going to show up from year to year. 
No player saw his career yo-yo as did Campy, the short, stocky, powerful brickhouse of a player. What leads him to the top of this list is that he sharply plunged from MVP grace twice in succession—following up award-winning performances in 1953 and 1955 with hugely disappointing encores in 1954 and 1956. 
Campanella had been consistently good through his first six years in the majors—but he was at his absolute best in 1954 when he hit .312 and spanked 41 homers with 142 RBIs—both figures amounting to the highest accumulated by a catcher until Johnny Bench (above) came along. The next spring, Campanella broke his wrist while trying to break up a double play in an exhibition game; he refused the doctor's recommendation to go under the knife and played in pain. But after hitting just .161 in April, he changed his mind and went with the surgery. The procedure went well, but the rehab didn't—in part because Campanella rushed his way back into action after a month of what was supposed to be a two-month bout of R&R.  Only one other major leaguer hit lower in more at-bats than Campanella (.207) during the 1954 season; his 19 homers and 51 RBIs in 397 at-bats were less than half his output of a year earlier. 
Offseason surgery appeared to do Campanella a world of good; he returned to MVP form in 1955 and earned his third plaque in five years with a .318 -32-107 line in just 123 games. But warning signs for the coming 1956 season were sounded late in the year when his reworked hand began to ache. The pain grew worse into the next year, and it didn't help that Campanella further injured his hand when a follow-through on a pick-off throw hit an opponent's bat. It hurt to hold his own bat after a while, with alternate numbness and extreme pain from loose bone chips; he bottomed out in June and July when he combined to hit just .171. The power (20 homers) was still there—it always would be at cozy Ebbets Field—and he put in more time behind the plate than any other NL catcher in 1956, but Campanella was clearly (and once again) a shell of a former MVP. 
Hopes for a third renaissance in the 1957 season, the Dodgers' last in Brooklyn, never came to fruition as Campanella—now 35, old age for any baseball player, let alone a catcher—regressed further with stubborn aches and pains. His late-career blues went from sour to tragic after the season when he became permanently paralyzed from the shoulders down following a single-car accident on an icy Long Island winter evening.