The Wildest Wild Pitches of the 2010s
Seriously—did that really happen? A look back at some of the craziest things that took place in the baseball world from 2010-19.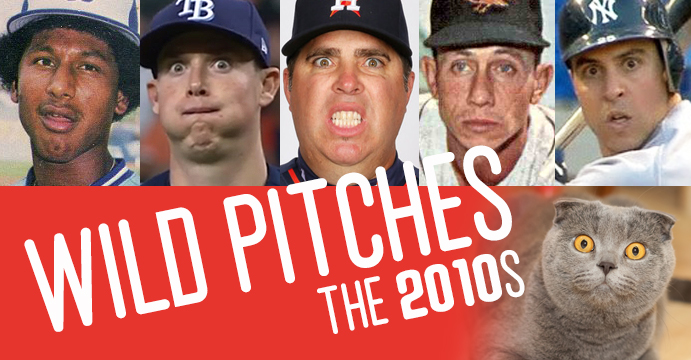 By Eric Gouldsberry, This Great Game—Posted November 26, 2019
Seriously—did that really happen? A look back at some of the craziest things that took place in the baseball world from 2010-19.
In the long, fact-packed history of the This Great Game's Comebacker section, we've found room for items that have sparked humor, irony, disgust and flat-out OMG reactions. These are the fun, colorful bits that have spiced up the Comebacker and provided balance against the more mainstream stories of this team's winning streak, that guy's all-time record-breaking feat and the latest off-field controversy. When we turned the Comebacker into a monthly in 2015, we even gave the odd items its own sidebar, poetically naming it Wild Pitches.
With the 2010s at an end, we have accumulated the wildest of the wild, the oddest of the odd, the most ironic and OMG-worthy of the past decade and piled them all together for your amusement. So pull up a chair and enjoy the craziest stories that the past decade had to offer.
Ploy Vey!
Israel WBC team member Cody Decker put the team's stuffed mascot in the passenger seat of his car so he could use the carpool lane in Phoenix.
Dollar Tree Special
The Rangers sold reliever Ernesto Frieri to the Mariners for a buck.
Ah, Soot
Three Korean baseball games were postponed on a single day due to pollution.
It's a Primal Scream
A New York mental health facility offered free therapy to Mets fans in the midst of one of their awful campaigns.
That's so Premature of You
Atlanta manager Fredi Gonzalez was accidentally tipped off to his own firing when the Braves emailed him a flight itinerary of a Pittsburgh-to-Atlanta flight three days before the Braves were to finish their series with the Pirates and move on to Philadelphia.
Did He Fall Asleep in Court?
A fan shown taking a nap during a Sunday night Yankees-Red Sox game on ESPN sued the network for being called out by the game's commentators (Dan Shulman and John Kruk) for using an "avalanche of disparaging words" including "stupor, fatty, unintelligent and stupid."
No Shard Feelings
After having three of his bats broken by pitches thrown from the Angels' C.J. Wilson, the Rangers' Adrian Beltre sent Wilson a bill for the bats.
Just Call Him Mr. .278
Toronto outfielder Kevin Pillar hit .278 in 2015, and while that sounds pretty ordinary, here's the curious bit: He hit .278 against righties, .278 against lefties, .278 before the All-Star Break and .278 after.
Just Call Him Mr. .247
Oakland's Khris Davis batted .247 four seasons in a row.
When Will You Little Fans Ever Learn?
Cincinnati's Joey Votto was so incensed when a first-row Reds fan interfered with him on a foul ball that he briefly grabbed the fan's shirt in anger.
As Harmonious as Steinbrenner and Martin
After signing off, the Tigers' TV broadcast team of Mario Impemba and Rod Allen had to be separated by co-employees after getting into a "severe" altercation over a chair.
Crazy Rich Persuasions
A Brewers fan, upset by the upcoming name change to Miller Park, set up a GoFundMe.com page to raise $30 million to help the switch from taking place. After one month, he had raised $15.
How Many Braves Does It Take to Fill Up a Stuck Elevator?
A Denver elevator containing roughly half of the Braves' 25-man roster got temporarily stuck; it took firefighters to get them out.
Two Aces the Cardinals Could Have Used
St. Louis pitching coach Mike Maddux, during a morning round of golf before 2019 NLCS Game Three, hit two holes-in-one.
You Know the Pirates Are Bad When…
The Pirates fired one of their pierogi racers (the Bucs' answer to Milwaukee's sausage racers) when he criticized team management on his Facebook page.
Marlins Mascot Confidential
Marlins president David Samson was so upset that the costumed octopus that's never supposed to beat the shark, stone crab and sea dragon actually won the daily between-innings race, he stormed into the locker room and threatened to fire them all.
Doing All One Can Do to Perk up a Bad Housing Market
Miami owner Jeffrey Loria sat down with Marlins infielder Jose Reyes for dinner and encouraged him to buy a house in the Miami area. A few days later, Loria traded Reyes to Toronto.
Are We Sure Loria Has Left the Building?
Long-time scout Marty Scott was fired by new, Derek Jeter-led Marlins management while recuperating in a hospital following colon cancer surgery.
Are We Really Sure Loria Has Left the Building?
Miami sports talk host Andy Slater had his press credentials revoked by the Marlins after he exposed the team's "headquarters" in the British Virgin Islands as nothing more than a post office box.
Wounded of the Weird
The Angels' Kendrys Morales broke his leg while stomping on home plate to celebrate a game-winning home run.
Hold My Beer, Kendrys
Braves prospect Braxton Davidson broke his foot somewhere between third base and home after connecting on a game-winning homer for the Peoria Javelinas in the 2018 Arizona Fall League championship game.
No—Hold My Beer
Angels hitting coach and former MVP Don Baylor had his leg broken while trying—and failing—to catch the ceremonial first pitch thrown by Vladimir Guerrero on Opening Day 2014.
That's Just Nuts
A former Jimmy Fund patient threw out the first pitch at Fenway Park and badly missed his home plate—but threw a strike to a photographer not far behind.
Double Ouch
On one pitch, Cincinnati catcher Ryan Hanigan experienced pain both below the belt and above the neck.
Just When We Thought Shoe Horns Were Out of Fashion…
Milwaukee reliever Will Smith tore a knee ligament in spring camp while taking off his cleats in the clubhouse.
Are You Going to Blame Sam or Diane?
Texas reliever Jake Diekman went on the 15-day injury list after cutting his hand reaching into his suitcase to take out a Cheers souvenir glass mug—which happened to be broken into sharp pieces—following a trip to Boston.
That's a Lot of Bull
Texas pitcher Martin Perez suffered an offseason broken elbow in Venezuela after being knocked over by a bull. He got even by eating the animal.
Rubbed the Wrong Way
The Astros' Carlos Correa suffered a broken rib while getting a massage.
Bug Off!
A moth flew into umpire Bruce Dreckman's ear during a Yankees-White Sox game at Chicago. He had to get help from the Yankees' team trainer to get it out.
Don't Try This at Home—Or Anywhere, For That Matter
A game between the Phillies and Mets at New York was halted for 10 minutes because umpire Brian O'Nora accidentally swallowed his tobacco chew, went into the Mets' dugout and made it halfway down the clubhouse tunnel before he succumbed to some lovely tobacco vomit.
Did Statcast Time the Throw?
Boston reliever Carson Smith went on the injury list after injuring his shoulder while angrily throwing his glove in the Red Sox' dugout following a bad inning.
Insult and Injury, Part I
The Yankees' Brett Gardner angrily reacted to a deep fly out by slamming his helmet at a dugout wall. The dugout wall fired back.
Insult and Injury, Part II
A Yankee Stadium bleacher fan who caught a home run from Toronto's Jose Bautista and wasn't happy about it and threw it back on the field—where it hit Gardner in the back of the head.
Does He Have AAA?
Hideki Matsui, in his one and only year for the Los Angeles Angels of Anaheim, tagged a spring training pitch foul over the ballpark's overhang and into the parking lot beyond—cracking the windshield of Angels owner Arte Moreno's Mercedes.
I'm Your Car, Foolishly Parked Behind the Outfield Fence
Milwaukee prospect Jacob Nottingham launched a home run in batting practice that smashed the windshield of his own car in the players' parking lot.
Some People Just Don't Get It
Career minor leaguer Prentice Redman, hit with a 50-game ban for illegal performance enhancement, tested positive again while serving that suspension and received another for 100 games.
Would You Like Some Fremanezumab for That Migraine…
"Hey, I'm from the Bronx, I'm not a scholar." —Convicted steroid dealer Kirk Radomski, testifying in the Roger Clemens trial, after he mispronounced the name of a steroid.
…Or Just How About Some No-Doz?
Two jurors in the Clemens trial were let go because they kept falling asleep.
Is the Fruit Juiced?
Shortly after Alex Rodriguez's association with the Biogenesis scandal was revealed, a Brooklyn grocery owner had to change the name of his store, which had been called A-Rod Grocery.
Shame on Faux Shane
ESPN Radio thought it had a scoop when a man claiming to be former Yankee Shane Spencer called in and stated that he not only "dabbled" in steroid use but that Derek Jeter and Mariano Rivera juiced up as well. It turns out he was an impostor.
Old Habits Die Hard
Pete Rose appeared in a Super Bowl ad promoting a sports gambling app.
A Belated Dig at Steve Howe?
Before a spring training game between the Giants and Dodgers, the public address system played Eric Clapton's Cocaine.
Smack My Ballpark D.J. Up
A Cubs employee queued up and played Prodigy's Smack My Bitch Up as Aroldis Chapman, suspended earlier for a domestic abuse incident, left the mound during a game at Wrigley Field. Needless to say, that employee was promptly fired.
This is How the Joker Got Started, Too
The Cubs were ready to dump a cooler of liquid over David Ross after he hit his 100th career home run—until, at the last second, they realized it was full of ammonia.
Brothers in Statistical Arms
On August 3, 2012, Arizona's Justin Upton belted his 100th career home run—just moments before his brother, Tampa Bay's B.J. Upton, hit his 100th career shot for the Rays in St. Petersburg.
Equal Time
Bryce Harper and Mike Trout both hit their 150th career home runs at the exact same age of 24 years and 295 days.
Five-Tool Legislation
"(The farm bill) is a jobs bill, an innovation bill, an infrastructure bill, a research bill, a conservation bill. It's like a Swiss army knife. It's like Mike Trout."—President Barack Obama.
So When Was the Last Time You Did Baseball?
Super Bowl LII announcer Al Michaels noted shots of Philadelphia Eagles superfan Mike Trout in the stands and referred to him—twice—as a member of the California Angels.
Blown Phone Calls
A man by the name of Jim Joyce, living 50 miles south of Detroit in Toledo, Ohio, received 40 harassing phone calls in the 24 hours after Jim Joyce, the umpire, made his blown call that cost Tigers pitcher Armando Galarraga a perfect game.
Hey, I'm the Guy With 3,000 Hits—I'll do What I Want
Late during a blowout loss at Arlington, the Rangers' Adrian Beltre, on deck, was told by umpire Gerry Davis to stop warming up so close to the plate and get back on the on-deck circle. So what did Beltre do? He moved the on-deck circle closer to home plate. Davis ejected him.
When Home Field Advantage Goes Too Far
Umpires ejected a Yankee Stadium fan for yelling out pitch locations when the Yankees' Gary Sanchez was at bat.
Ugly as Shin
A little Reds fan went up to the Marlins' Dee Gordon before the start of a game in Cincinnati and kicked him in the shin. Turns out, an umpire told the little boy to do it.
The Rivalry Hits a New Low
Just hours before taking the mound for a game in Boston, Red Sox pitcher Erik Bedard was served papers at Fenway Park seeking increased child support. The man who delivered the notice was wearing a Yankees T-shirt.
Evil and Loving It
Major League Baseball won a trademark infringement case against a clothing company for using the term "Baseball's Evil Empire" as a reference to the Yankees, actually arguing that the team is an evil empire.
The Eighth Deadly Sin
For the film Gone Girl, Ben Affleck was asked by dark director David Fincher (Se7en, Fight Club, etc.) to wear a New York Yankees cap in one scene. Affleck, a Boston native and rabid Red Sox fan, refused.
"Fan of the Red Sox, Officer?"
Yankees general manager Brian Cashman was leaving a gas station in Connecticut when he was stopped by as many as nine police officers who drew guns on him—all before realizing it was a case of mistaken identity.
Getting His Goat
Jose Canseco was pulled over when police spotted goats wearing diapers in the back seat of his car. Canseco later claimed that the goats were new pets for him and his girlfriend.
We're Not Voting on the MVP Here
The Yankees' Aaron Judge got 10 write-in votes in the 2017 New York City mayoral race.
When the Astros Were a Disease
A sign held by a young Philadelphia fan at Houston during a 2012 game: "If I can beat cancer, you can beat the Astros." The Phillies lost, 6-4.
Must-Flee-TV
On their way to 111 losses in 2013, the Astros generated a 0.0 rating for a local TV telecast in September. It happened again the next April.
All This Over a Nickel?
Pirates team president Frank Coonelly angrily called a local Pittsburgh tavern to complain about a promotion in which patrons would be given a five-cent discount every time the Pirates lost. A stunned tavern owner later told the Pittsburgh Tribune-Review of Coonelly: "He treated me like I worked for him."
No Visitors Clothing Allowed
Arizona owner Ken Kendrick personally went down to the lower box area behind home plate at Chase Field with a stash of Diamondbacks jerseys, asking Dodgers fans seated there to put them on over the L.A. jerseys they were wearing; he sweetened the pot by throwing in some free drinks as well.
The King of Irony
A press conference with Yankees manager Joe Girardi and general manager Brian Cashman to discuss CC Sabathia's admittance into an alcohol rehab center took place in front of a wallpapered backdrop featuring Budweiser's logo.
Fork You
A 17-year-old kid in Halifax, Pennsylvania stabbed another teenager in the arm with a fork in a dispute over a Mickey Mantle baseball card.
Mr. Brock, is That You?
Some 20 miles south of St. Louis, a man walked into a bank in Arnold, Missouri, robbed the joint, and walked out yelling, "Go Cards!"
Dan Dickerson Made Me Do It
A Detroit area man on trial for shooting at passing vehicles on a freeway claimed he was told to fire away after receiving "messages" from Detroit Tigers pregame radio broadcasts.
Build it and They Will Vandalize
The Iowa ballfield made famous in Field of Dreams was damaged when someone decided to drive a vehicle upon it and treat it like an ATV course.
Indian Taker
A man who routinely protested in public about the Indians' Chief Wahoo logo as being racist pled guilty to stealing money from Federal grants designed to help Native Americans.
Just What Exactly Are You Investigating, Sir?
A detective for the Los Angeles Police Department was arrested after taking cell phone pictures of 37 men using the bathroom at Angels Stadium.
Could it be the "Steal My Stuff" Sign?
The Dodgers' Yasiel Puig had his home broken into four times over an 18-month period.
Any Tooth to This One?
Puig lobbed a souvenir ball to a female spectator in the Yankee Stadium stands—and knocked out one of her front teeth.
Yasiel Wanted a Frappuccino…
People walking near Wrigley Field saw a guy walking down the street wearing a full Joc Pederson uniform with two handfuls of Starbucks coffees and concluded that it must have been a loyal Dodgers fan. It was, in fact, Joc Pederson.
So…Cycling Helmet, or Batting Helmet?
The Cubs' Ben Zobrist rode a bike one mile from his home to Wrigley Field…in full uniform.
Passion is in the Eye of the Beholder
A 7-year-old Cubs fan, afflicted with cancer of the right eye, had it removed for a prosthetic eye—with the Cubs logo in the center.
Outliving the Curse
Mabel Bell, a lifelong Cubs fan who was born two months before what had been their previous world title in 1908, died a week after they won it all in 2016.
Will They Bleed Cubs Blue?
Two babies born into the world in Chicago on New Year's Day 2017 were born Wrigley and Addyson.
Hooky Mistake
Evoking Ferris Buehler, a Chicago kid skipped school to go to a Cubs game at Wrigley Field—and ran into his principal, who apparently was also playing hooky. The question is: Who reports who?
Word Games
The Cubs successfully kept a local resident from trademarking the word "Cubnoxious."
Angel Guardian
A security guard was hired to keep watch on the sculpture of Albert Pujols outside of Pujols' St. Louis restaurant in the days following the star's departure to Anaheim to play for the Angels.
Relax, It's a Sanctuary City
"I just look illegal"—T-shirt worn by San Francisco reliever Sergio Romo during the Giants' 2012 World Series victory parade.
Even the Managers are Tanking
Boston manager Alex Cora said he so badly wanted the Red Sox to hire him as manager, he intentionally looked bad during an interview with another team, the Detroit Tigers.
Now That's Gratuity
A Kansas City waiter served the wife of Royals pitcher Wade Davis at Rock & Brews restaurant—and received a ticket to World Series Game One as a tip.
Royal Blue Lightning
Fireworks activity in the Kansas City area was so intensive and widespread in the moments after the Royals clinched the 2015 World Series, it was actually visible on local weather radar.
Who Needs Cinemax When You Have the Royals?
Kansas City hospitals reported a record number of babies born in July, nine months after being conceived during the Royals' playoff run.
The Rockets' Red-Faced Glare
The Indians accidentally shot off fireworks during a game at Cleveland after a home run hit…by the opponent, in this case Kansas City's Alex Rios.
Old Faithful by the Bullpen
In a minor league game at Fort Wayne, Indiana, a player running down the right field line made contact with a sprinkler—and activated it, to say the least.
So When Does That Mercy Rule Take Effect?
A high school game in Ohio was called after three innings with Licking Heights ahead of Columbus Harvest Prep—by a score of 65-0.
Pitching 'til You Drop
A Japanese high school game between Chukyo and Sotoku lasted 50 innings over four days, with Chuyko winning by three runs. Both starting pitchers went the distance; Chukyo's Taiga Matsui threw 709 pitches while Sotoku's Jukiya Ishioka racked up 689.
A Perfect Combination
Javi Salas threw a perfect game in 2014 for the University of Miami—but what made the moment even sweeter was that his younger brother, Jorge Salas, called the play-by-play for the student radio station.
Free Homer!
After the mascot for the Class-A Peoria Chiefs was suspended one game for firing a squirt gun at an umpire, other mascots came to the park to picket his plight—in full costume.
I Fought the Bot…and the Bot Won
Giants prospect Jacob Heyward was ejected from an Arizona Fall League game for arguing a call made by a computerized strike zone.
That's Not How He Used to Do It, Son…
Mariners minor leaguer Boog Powell—no relation to the Orioles' namesake who terrorized pitchers back in the 1960s—was given an 80-game suspension for PED use.
…This is How He Did It
Once Powell made it to the majors, he hit his first career home run…into Boog Powell's BBQ kiosk at Baltimore's Oriole Park at Camden Yards.
Name of the Game
ESPN's Jayson Stark wrote a story about how baseball could speed up the game—and the first player quoted in the article was pitcher Kevin Slowey.
Did Vin Scully Tell This Story?
The last two of four Dodgers to pitch in a 2016 game against Arizona at Chavez Ravine were…Jesse Chavez and Josh Ravin.
Throw Me a Clone
The Rangers' Rougned Odor was in the same lineup for a 2018 spring game as…Rougned Odor, his younger brother.
Multiplicity
During a 2018 minor league game, Pawtucket starting pitcher Josh Smith was relieved by…Josh Smith.
This Justin
A brief bio on the back of the Topps' baseball card for Indians pitcher Shane Bieber mistakenly refers to him as "Justin."
Spelling Problem?
A graphic during a 2013 TBS postseason telecast included the words "ih ngeguucty"—which translated from attempted English is "if necessary."
It Said What?
"Alcohol service will be discounted at the end of the 7th inning."—Sign at concession stand in Denver's Coors Field during a 2014 game.
Kan't Yu Guyz Sphell?
The Colorado Rockies gave away 15,000 Troy Tulowitzki shirt jerseys in a 2014 game only to find out, too late, that Tulowitzki was misspelled "Tulowizki."
We Thought it was Larry Fishburne
A special section on the Rockies published by the Denver Post was headlined "The Ultimate Visitors Guide to Coors Field"—except that a large picture below showed Philadelphia's Citizens Bank Park instead.
Can He Also Swim With Both Arms?
The Pendleton, Oregon-based East Oregonian newspaper accidentally referred to switch pitcher Pat Venditte as "amphibious" in a headline.
He Really Didn't Mean to Say That…Right?
As the Angels' Albert Pujols grounded out in a game at Baltimore, Orioles TV broadcaster Gary Thorne said this: "…and Pujols is retarded."
Sigh of the Times
Headline in Newsday after the Mets defeated the Marlins 12-2, a few days after Jose Fernandez's death from a boating accident: "Smooth sailing with sharp Noah."
American Idle
Before a spring training game between the Astros and Blue Jays, a singer mangled the lyrics to O Canada so badly that he literally stopped halfway through. He did get through the Star-Spangled Banner, but turned it into the Star Mangled Bummer by messing up many of its lyrics.
Cardinal Sin
A spring training promotion tweeted by the Cardinals included a baseball branded…with the Cubs' logo.
Let Us Know When the Asstros Come to Town
A White House press release promoting a visit by the 2018 champion Red Sox referred to the team as the "Red Socks" and that they won the "World Cup Series."
Next Time, Try it in April
The Twins gave out free fleece blankets to fans as a promotion before a May 2013 game against the Chicago White Sox. Game time temperature: 92 degrees.
Last in the AL Central, First in Weather Forecasting
The Astros and Twins were rained out at Minneapolis on a night that umbrellas were handed out to the first 10,000 fans as part of a scheduled promotion.
A Different Kind of Splash Hit
A Dodgers fan at a Giants game tried—or perhaps didn't try—to catch a home run in her beer, with explosive results.
A Different Kind of Splash Hit, Part II
Another Giants female fan was either protecting herself from—or stupidly trying to catch—a foul ball falling down upon her. Either way, the surrounding fans paid the price.
How Selfie-ish of You
A fan standing behind the left-field fence at Dodger Stadium calmly—and rather amazingly—caught a home run ball from Arizona's Aaron Hill with one hand while recording the whole thing with the other…and then three weeks later, he did it again.
Saved by the Bucket, Rather than Kicking it
A fan seated in the Wrigley Field bleachers was struck in the head by a metal tile that fell from the ballpark's hand-operated scoreboard above. He was treated at a nearby hospital and released; the injury would have been worse had he not been wearing a bucket on his head.
Fat, Horny and Stupid is No Way to Get Through Baseball, Son
Boston's Pablo Sandoval was benched for a night by the Red Sox after it was discovered that, while taking a bathroom break during a game, he took out his mobile device and "liked" several pictures of sexy-looking women on Instagram.
Cut Him Some Slack—Just Not Like This
Pablo Sandoval's belt busted while at bat for the Red Sox.
That's Why They Call it a Daytimer
The Angels' Matt Joyce showed up for a night game in Toronto only to find out that it was a day game instead; although he was present before the first pitch, the tardiness cost him a start in the outfield.
Where's the Boss?
The Giants' team bus left Dodger Stadium after a game—leaving behind manager Bruce Bochy, who needed a last-minute bathroom trip.
This Isn't the Way Colonoscopy Works
For every beat reporter who's had to directly absorb the occasional angry rants from Cincinnati's Brandon Phillips and privately wished the All-Star second baseman can stick it where the sun don't shine, they'll be happy to know that Houston's Jonathan Villar gave it the good ol' college try.
Hey Rook—If You Want to be a Spectator, There's the Bench
On a wet 2017 night in Pittsburgh, the Phillies' Andres Blanco lost the grip on his bat, which went into the stands—and Pirates rookie first baseman Josh Bell, watching the bat, didn't realize that he was supposed to be fielding a snap toss from the catcher.
Premature Celebration
The Nationals' Max Scherzer bolted out of the dugout to celebrate what he thought was a game-winning run scored by teammate Adam Eaton against Kansas City on July 7—only to be told it was still the eighth inning.
All You Had to Do Was Walk There
The Nationals' Trea Turner was thrown out at second on a stolen base attempt even though Bryce Harper had just taken ball four for a walk. How? Because Turner overslid the bag, and was therefore technically on his way to third.
That's Impostor-ble!
Pittsburgh pitcher Trevor Williams was confused for Bryce Harper by a Bronx-born waiter at a restaurant—and, playing along, told him he was going to sign with the Yankees.
Capitol Offense
In his introductory press conference with the Phillies, Bryce Harper said his team wants "to bring a title back to D.C."
Tweet of the Month
Sportswriter Dan Clark, after the Nationals won the World Series: "I called Bryce Harper's phone…But there was NO RING."
And Finally, He Said This
"I think I'll just die."—Ichiro Suzuki, when asked what he'll do after he retires from baseball.

The 2010s: Ranking MLB teams, From Worst to First In a decade in which the fortunes of MLB teams swung wildly like an out-of-control pendulum, here's our list of how everything shook out at the end.