The 2010s: Ranking MLB Teams, From Worst to First
In a decade in which the fortunes of MLB teams swung wildly like an out-of-control pendulum, here's our list of how everything shook out at the end.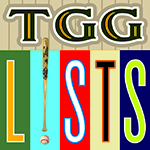 As we reviewed the ups and downs of the 30 Major League Baseball teams in the 2010s, we noticed one thing: There were a lot of ups and downs. Nine teams at one point won 100 games, while 10 lost at least 100; three teams managed to do both. Overall, 17 teams experienced the thrill of finishing first and last at some point during the decade. Much of this was the result of tanking, MLB's idea of Mr. Toad's Wild Ride. Teams would shed its best players, reduce payroll to a pittance, and sacrifice the present to secure a better future. If often worked, but it demanded a lot of patience from fans. No wonder overall MLB attendance slid downward during the decade.
The resulting merry-go-round led to most everyone getting a piece of the pie. Seven teams got to taste championship glory, while only four teams never made it to the postseason.
The following rankings, from worst to first, are based on each team's total competitive record from 2010-19. This includes regular season and postseason play.
30. Miami Marlins
Best Year: 2016 (79-82)  •  Worst Year: 2019 (57-105)
Woe, to be a hardcore fan in Miami. Nothing went right for the Marlins. Never had a winning season. Lost a hundred games twice. Tragically lost a great pitcher when Jose Fernandez took a fatal midnight joyride on his boat. And when the savagely reviled Jeffrey Loria regime finally conceded and sold, giving hope to hundreds of Marlins fans, the new guys (Derek Jeter and Company) impossibly made things worse, both on the field and within the P.R. realm. The Marlins finally got their splashy, ultra-modern ballpark, but no one filled it up; team attendance couldn't even break a million in 2018-19, an embarrassing state of affairs for this day and age.
29. San Diego Padres
Best Year: 2010 (90-72)  •  Worst Year: 2018 (66-96)
The Friars played it anonymously for much of the decade, fielding no-name rosters that delivered no-gain results. Their attempt to amp up the marquee in 2015 with All-Stars fell flat, and so the team decided that if they're going to be mediocre, best to do it on a shoestring. The Padres were spunky and consistently had good relievers, but you also need good starters and hitters to win. To pump up the scoring, the Padres brought in the fences at voluminous Petco Park—but that just made it easier for opponents to hit it out of the park. That's what happens when your team is constantly worse than the visitors.
28. Chicago White Sox
Best Year: 2010 (88-74)  •  Worst Year: 2018 (62-100)
In renaming their ballpark, the White Sox buddied up with Guaranteed Rate—whose logo includes an arrow pointing downward. That pretty much sums up the South Siders' decade, which started decently before descending into a blasé existence made worse by the rise of the Cubs north of town. Too bad the team's biggest news of the decade was a silly spring training spat between the front office and Adam LaRoche over whether his son could be allowed in the clubhouse; runner-up was ace Chris Sale, who went full Joan Crawford and angrily scissored throwback jerseys because he preferred to wear the regular unis.
27. Colorado Rockies
Best Year: 2018 (91-71)  •  Worst Year: 2014 (66-96)
Frustration continued to spring eternal as the Rockies' struggle to victoriously acclimate to 5,280 feet went on and on and on without a long-term solution. The promise of ace-worthy starters proved evasive, with Ubaldo Jimenez and Kyle Freeland rendering themselves as one-year wonders. (Freeland still has time to prove us wrong in the 2020s.) The Rox at one point tried a four-man rotation with a 75-pitch limit, but that ended up in the dumpster along with all the other radical schemes to beat the mile-high madness. Back-to-back wild card achievements late in the decade, and the presence of brilliant third baseman Nolan Arenado, were the main highlights to cherish in Colorado.
26. Baltimore Orioles
Best Year: 2014 (96-66)  •  Worst Year: 2018 (47-115)
Imagine, back in 2014, that the Orioles were actually good enough to place first in the AL East—yes, ahead of the almighty Yankees and Red Sox and frisky Rays. That actually happened. The Orioles were a good team at mid-decade, with a succession of top-line closers (Jim Johnson and Zach Britton) and the powerful bats of Chris Davis, Adam Jones and Manny Machado. But it all collapsed at decade's end, as the Orioles set a team record for losses (115, in 2018), the all-time mark for home runs allowed (305, in 2019), and hopelessly watched a suddenly clueless Davis setting other records no one ever wants to set.
25. Seattle Mariners
Best Year: 2018 (89-73)  •  Worst Year: 2010 (61-101)
The Mariners spent much of the decade ping-ponging about, with the net playing the role of the .500 mark; after 2013, Seattle never recorded successive winning (or losing) records. The end result was a decade in which the Mariners never made the playoffs, extending their postseason drought to 18 years (the longest active run by any North American pro sports team as of 2019). The most enjoyable time at T-Mobile Park (nee Safeco Field) was to be had in King's Court down the left-field line whenever ace Felix Hernandez pitched—most enjoyable when he threw a perfect game in 2012. Notoriety of a sort was achieved at the ballpark when, taking a page out of Monty Python's "Whizzo Chocolate Company" skit, the Mariners began selling toasted grasshoppers.
24. Minnesota Twins
Best Year: 2019 (101-61)  •  Worst Year: 2016 (59-103)
The Twins yo-yo'd even more wildly than the Mariners, especially late in the decade when they went from one extreme to the other in the standings. Unfortunately, Minnesota was always down when it made the postseason, losing all eight of their playoff games—all of them to the Yankees, ensuring a popular Twin Cities revival of the stage musical Damn Yankees! At least they had a new ballpark; Target Field provided a far more pleasurable experience for fans and players than the vilified Metrodome.
23. Kansas City Royals
Best Year: 2015 (95-67)  •  Worst Year: 2018 (58-104)
Speaking of Damn Yankees!, the Royals played the role of Joe Boyd and proverbially sold their sold to the devil to be kings of baseball for at least one year. They built their farm system up to start the decade, became good enough to sneak their way to an AL pennant in 2014 before winning it all a year later. And then, poof—like a sudden cloud of smoke, they predictably went back to being lousy once they couldn't afford all the great players they raised and nurtured. It leads to a very interesting question that all fans should be asked: Would you be willing to watch your team become champs if it means having them suck for all those years before and after? Hmmm…
22. Cincinnati Reds
Best Year: 2012 (97-65)  •  Worst Year: 2015 (64-98)
A very well-rounded team with the likes of Joey Votto, Johnny Cueto, Brandon Phillips and Aroldis Chapman helped the Reds make the postseason three times in the decade's first four years. But once they got past Game #162, they repeatedly failed baseball's Octoberquest—most memorably when the Giants' Buster Posey hit that helium-sucking grand slam to cap a 2012 NLDS rally after the Reds led the series, two games to none. With the balloon crashed, the Reds soon let go of everyone except star hitter Joey Votto, suggesting that a tanking was in progress; at one point, they even started rookie pitchers in 64 straight games. But this was not textbook tanking; the Reds never totally flushed out the pool, never brought in the big stars of tomorrow, and six years after their last winning record still haven't returned to .500.
21. Detroit Tigers
Best Year: 2011 (95-67)  •  Worst Year: 2019 (47-114)
The Tigers' ups and downs practically match those of the Reds, but in more exaggerated fashion. Backed by an owner (Mike Ilitch) who wasn't afraid to shell out money to top stars, the Tigers won four straight AL Central titles, and an economically recessed market responded with three million fans annually showing up to Comerica Park. Then Ilitch died—and his son, like throwing out all the alcohol, dispensed with the drunken-sailor spending by ousting anyone with a heavy paycheck except for Miguel Cabrera. No doubt about it, the Tigers are tanking—though that may be of little comfort for Detroit fans who finished the decade watching (or not watching) their team lose 114 games.
20. Philadelphia Phillies
Best Year: 2011 (102-60)  •  Worst Year: 2015 (63-99)
One of baseball's premiere teams early on, the Phillies were a star-studded team that regularly sold out Citizens Bank Park. But the writing was clearly on the wall that the team needed to reload; it didn't. As their top players (Ryan Howard, Cliff Lee, Roy Halladay, Jimmy Rollins, etc.) got too old, too burned out or left via free agency, the replacements proved to be a collective disappointment—and thus the Phillies remained stuck in the mud for the balance of the decade before, finally, the front office brightened the marquee up in 2019 with the addition of Bryce Harper and friends. Maybe that will spell better times ahead in the 2020s.
19. Houston Astros
Best Year: 2019 (107-55)  •  Worst Year: 2013 (51-111)
To many, it seems odd that a team considered one of the most dominant of late would be ranked this low—and if you peak ahead on this list, you'll see some teams that will instantly spark the thought, "They ranked higher than Houston?" But looking back on an entire decade requires perspective. No team experienced the abysmal lows and stratospheric highs within the 2010s—and perhaps any other decade—as did the Astros, who under new ownership were baseball's pathetic laughingstocks early on before turning things around and winning two pennants and their first-ever world title (2017). Even with a sign-stealing scandal that threatens to tarnish their legacy, you have to give credit to an Astros side that thrice lost 100 games, and thrice won 100—all within the same decade.
18. Arizona Diamondbacks
Best Year: 2011 (94-68)  •  Worst Year: 2014 (64-98)
The Snakes did a lot of griping in the 2010s. Griped about their managers (five of them). Griped about their general managers (five of those, too). Griped about how Chase Field was (allegedly) falling apart. Griped about fans wearing opponents' clothing in the home plate suite for all to see. Griped about the Dodgers invading their pool. All of this created a sense of instability that really got the Diamondbacks nowhere, although the meh vibe was redeemed by the MVP-level consistency of Paul Goldschmidt.
17. Pittsburgh Pirates
Best Year: 2015 (98-64)  •  Worst Year: 2010 (57-105)
If, in 2010, you were to tell fans of the Pirates—a team which hadn't crossed north of .500 since the days of George Bush the First—that they would score four winning records and three postseason appearances in the decade to come, they would have taken it. The three playoff years, all successive and as wild card participants, netted them very little in October—but at least they got there. Yes, the Bucs have come back to Earth and finished the decade on a sour note with clubhouse dissension and closer Felipe Vazquez hanging out with children for all the wrong reasons but, hey, there were happy times to brag about.
16. New York Mets
Best Year: 2015 (90-72)  •  Worst Year: 2017 (70-92)
For diehard, battle-fatigued Mets fans, there are three certainties in life: Death, taxes and the cold hard fact that their team will find a way to screw things up, every season. The third act was particularly bad for the Mets, but that's something they've perfected for much longer than a decade. Johan Santana threw the franchise's first no-hitter in 2012, then quickly fell apart. Matt Harvey told his superiors to get lost on the mound at the 2015 World Series, gave up a lead, and was never the same. Closer Jenrry Mejia looked to be the real deal, then got zapped with three PED suspensions. David Wright signed a nice eight-year contract, then fell apart after two of those seasons. Best way to sum up the Mets' decade? With Mr. Met flipping off his own fans. (Yes. That actually happened.)
15. Toronto Blue Jays
Best Year: 2015 (93-69)  •  Worst Year: 2019 (67-95)
Like the Mets, the Blue Jays made two trips to the postseason in the 2010s—and even though they, too, didn't get to hoist the big trophy prize, Toronto fans have more positive memories to embrace from it—tops among them Jose Bautista's bat flip to end all bat flips to help win a particularly tense ALDS against Texas. (The Rangers' Rougned Odor would serve up a rebuttal a year later with a right hook to Bautista's jaw—but that's another story.) The Jays were fun to watch if not always successful, with Bautista, Edwin Encarnacion and Josh Donaldson constantly providing more than their share of fireworks. But aces were few and far between, and fleeting when present (see Aaron Sanchez, Ricky Romero, J.A. Happ).
14. Chicago Cubs
Best Year: 2016 (103-58)  •  Worst Year: 2012 (61-101)
Another team that could look at the 2010s as a tale of two decades—but in this case, the best of times was the very, very best, as an epic championship drought was finally washed away in 2016 with the team's first World Series title in 108 years. This followed five years of last-place finishes to start the decade, as Theo Epstein basically tore apart the organization and rebuilt it from the ground up, relying on a bumper crop of top prospects (Kris Bryant, Javier Baez) to evolve into top stars. Visions of a dynasty beyond 2016 were muted despite repeated returns to the postseason, as October proved disappointing and led some to believe Epstein was ready to tear it all down again.
13. Los Angeles Angels
Best Year: 2014 (98-64)  •  Worst Year: 2019 (72-90)
The Halos were about as middle class as it got; beyond a breakout to the AL West title in 2014, they almost always finished in the middle of the pack, within arm's reach of .500 from one side or the other. It would have been a lot worse were it not for the phenomenon known as Mike Trout, clearly the decade's best player as there was nothing he couldn't do at the plate, on the basepaths or in the outfield. Otherwise, the Angels were all about free agent busts (Vernon Wells, Josh Hamilton), a depreciated Albert Pujols, aces who never were (Garrett Richards, Matt Shoemaker) and aces who could have been (Tyler Skaggs, who tragically passed in 2019 amid opioid usage).
12. Milwaukee Brewers
Best Year: 2011 (96-66)  •  Worst Year: 2015 (68-94)
Who says small market teams couldn't compete? The Brewers were one of the most consistently entertaining teams to watch, with lively (and sometimes not-so-clean—ahem, Ryan Braun) hitting, aggressive baserunning and, well, poor defense that sometimes made the highlight reel for the wrong reasons. But the fans responded, making Miller Park a happening place with attractive play on the field matched by attractive fans; the most attractive of them all, "Front Row Amy," even got her own bobblehead doll. Only eight teams drew more fans all decade than the Brewers. Not bad for a city that's MLB's smallest.
11. San Francisco Giants
Best Year: 2012 (94-68)  •  Worst Year: 2017 (64-98)
The Kings of the Even Year, the Giants used sensational pitching, solid defense and excellent managing from Bruce Bochy to secure the franchise's first three world titles since moving to San Francisco in 1958 with crowns in 2010, 2012 and 2014; an imploded bullpen kept them from doing it again in 2016. The odd years were more forgettable, lest fans had a hard time erasing the painful memories of catcher Buster Posey's ankle-churning 2011 collision at home plate and ace Madison Bumgarner's unwise dirt bike rides. The Giants' near-fatal mistake was to hold onto many of their championship players a bit too long, allowing for a late-decade rot.
10. Oakland A's
Best Year: 2018, 2019 (97-65)  •  Worst Year: 2015 (68-94)
It's interesting that the A's, a virtual afterthought in the Bay Area as the Giants monopolized the region, managed to rank higher. It certainly had nothing to do with postseason success; while the Giants won it all three times, the A's went 0-for-2 in the ALDS and 0-for-3 in wild card games. But from Day 1 to 162, Oakland plugged their noses at the sewage-leaking Coliseum and, with the exception of a mid-decade swoon, played overachievers year in and year out. This "more from less" routine was all the more amazing considering they let go of All-Star talent like Josh Donaldson, Yoenis Cespedes and Sonny Gray. Moneyball lives.
9. Atlanta Braves
Best Year: 2019 (97-65)  •  Worst Year: 2015 (67-95)
The Braves began the decade with the end of the Bobby Cox era, and ended with the start of…the Brian Snitker era? In between, there was a rather painless tanking period in which the Braves avoided taking too deep a nosedive in the standings, as the team reloaded its roster while abandoning a not-so-old ballpark (Turner Field) for a new one (SunTrust Park) closer to its suburban fan base. Though the consistent winning of the previous two decades wasn't there, the consistent losing in October did continue—as the Braves lost all four playoff series and a wild card game best recalled for the Braves being the victim of the infamous "outfield fly rule."
8. Texas Rangers
Best Year: 2011 (96-66)  •  Worst Year: 2014, 2018 (67-95)
Quick—who won the most AL West titles this past decade? No, it wasn't the Astros. Those blessed with longer term memories know that before the Rangers ended the 2010s with three years of rudderless funk to close out overboiled Globe Life Park, they suffered just one losing season and made the postseason five times—including their first two trips to the World Series, in 2010-11. Yet celebration yielded to nightmares. As Basil Fawlty once reminded his staff about visiting Germans, "Don't mention the war"—or in the Rangers' case, "Don't mention David Freese."
7. Cleveland Indians
Best Year: 2017 (102-60)  •  Worst Year: 2012 (68-94)
After starting the decade struggling to stay relevant, the Indians brought in ex-Boston manager Terry Francona—and with a snap of the fingers, fortunes turned. Just not quite enough, though. At decade's end, the Indians take over as the team with the longest World Series drought, in part because they couldn't beat the team (the Cubs) that previously had the longest. There were lots for Tribe fans to be happy about—taking the 2016 AL flag, winning an AL-record 22 straight games in 2017, and all that firepower from ace Corey Kluber to the dynamic Francisco Lindor and Jose Ramirez. That said, we have this puzzling question: Why did fans stop showing up at Progressive Field—where attendance surpassed two million just once (and barely, in 2017)?
6. Tampa Bay Rays
Best Year: 2010, 2019 (96-66)  •  Worst Year: 2016 (68-94)
If you think Clevelanders were conspicuously avoiding their very good ballclub, there's some people you should meet in the Tampa Bay area—that is, if we could find them. You weren't going to spot them at Tropicana Field, where the Rays constantly finished dead last at the gate while stubbornly forging onward as baseball's ultimate overachievers, pesky flies that opponents with Goliath-sized payrolls found difficult to swat out of existence. The name of the game for the Rays was pitching, whether the starters were legitimate (David Price, Chris Archer, Blake Snell) or experimental with the birth of the "opener." The Rays finish the decade as one of six MLB teams still yet to win a World Series, but that they kept getting close should win them some sort of prize—like a new ballpark or, better yet, a new ballpark in a more receptive market.
5. Boston Red Sox
Best Year: 2018 (108-54)  •  Worst Year: 2012 (69-93)
Many teams (Astros, Cubs, etc.) played feast and famine by design in the 2010s. But it's hardly the way the Red Sox planned things out. For the most part, the Red Sox were good—very good, with world titles in 2013 and 2018. But it's hard to unpack the fact that the team finished either first or last in the AL East over seven straight seasons. The low point, of course, came in 2012 when players all but mutinied against manager Bobby Valentine. But back to the bright spots, to which there were many—including the evolution of the talented Mookie Betts and the third act of David Ortiz, highlighted with his unapologetic leadership over a 2013 championship team that gave a city scarred by the Boston Marathon terrorist attacks something to feel good about.
4. Washington Nationals
Best Year: 2012 (98-64)  •  Worst Year: 2010 (69-93)
All grown up from their decrepit post-Expos days in D.C., the Nationals sprung into a winning vibe by 2012 with the double-barreled thrust of first-pick stars Bryce Harper and Stephen Strasburg—backed up later with the presence of ace Max Scherzer, unheralded Anthony Rendon and a late-decade youth movement that produced studs like Trea Turner and Juan Soto. The Nats were always in the playoff hunt and captured five postseason spots—but they couldn't make that great leap forward as they blew one playoff series after another, typically when advancement was within their grasps. That all changed in 2019 when the Nationals turned the tables, repeatedly grabbing victory from the grasps of others and winning their first-ever championship.
3. St. Louis Cardinals
Best Year: 2015 (100-62)  •  Worst Year: 2017 (83-79)
When all else fails, there's the Cardinals. Everyone talks Yankees, Dodgers and Red Sox, but the Redbirds just might be the model organization that every other ballclub—big or small—would want to embody. It's not exactly World Series or bust in St. Louis like the aforementioned three titans, but expectations are nonetheless high; per example, the Cardinals fired manager Mike Matheny, who gave the team five straight playoff appearances (and a world title in 2011), for having the audacity to drop to an even .500. The Cardinals' constant of winning—they finish the decade having gone 12 straight years without a sub-.500 record—is all the more remarkable given the team had no elite star after the 2011 departure of Albert Pujols, and only half a decade of ace Adam Wainwright, who was as hurt as much as he was healthy.
2. Los Angeles Dodgers
Best Year: 2019 (106-56)  •  Worst Year: 2010 (80-82)
How do you go from bankrupt to billionaire? Own the Dodgers. Just ask Frank McCourt; at the helm to start the decade, McCourt was trying to figure out how to sell a once-proud organization to bail him out of the red. His knights in shining armor would be the deep pockets of Guggenheim Partners, who bought the club for a then record-shattering $2.15 billion. The new Lords played it smart; avoiding temptation of picking any apple off the tree because they could afford to, they instead built mostly from within, supplementing established stars (such as ace Clayton Kershaw) with a bountiful farm system that churned out Cody Bellinger, Walker Buehler and Corey Seager. Result: Seven straight NL West titles to end the decade, the woeful part of which was that it didn't bring them any world titles. It didn't bring them much local viewership either, as a lucrative regional TV deal proved too costly for local cable carriers to carry—thus keeping many Dodgers fans in the dark come game time.
1. New York Yankees
Best Year: 2019 (103-59)  •  Worst Year: 2016 (84-78)
It seems ironic that the Yankees would grab the top spot despite going pennantless in a decade for the first time since the 1910s. (To reiterate: Our list is all about the wins, not the rings.) It's not that the Yankees lacked for trying; four times they got as far as the ALCS only to be denied—the final two times to Houston, both under suspicious circumstances as recent allegations now suggest. The Yankees managed to stay above .500 waters—and grow an active streak of consecutive winning seasons to 24—while bridging two eras: the Derek Jeter-Alex Rodriguez-Mariano Rivera clan of the early decade, and the New Blood at the end consisting of Aaron Judge, Gleyber Torres and Luis Severino. Those latter, calmer years were especially something of a relief given the turbulent mid-decade question of what to do with Biogenesis patient Rodriguez, suspended for all of 2014 before the team plugged their noses at his presence for two final seasons.