2012: A Giant October Surprise
With an unexpected cast, the San Francisco Giants make it two world titles in three years after surviving a season full of injuries, challenges and handicaps.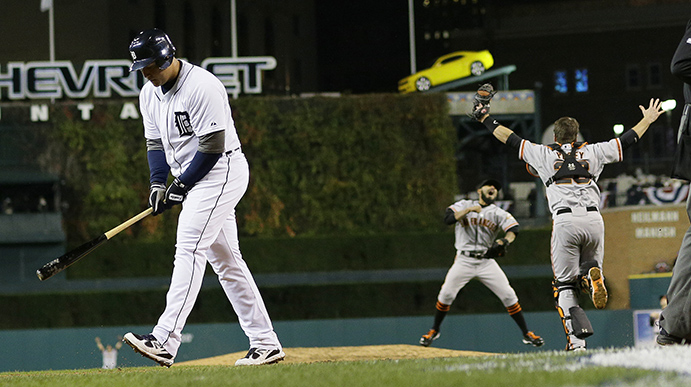 One MVP celebrates while another dejectedly walks away: San Francisco's Buster Posey races out to embrace Sergio Romo after Detroit's Miguel Cabrera strikes out to end a four-game sweep by the Giants in the World Series. (Associated Press)
Barry Zito made the right pitches. It was supposed to be Tim Lincecum. 
Gregor Blanco made the great catches. It was supposed to be Melky Cabrera.
Sergio Romo closed it all down at the end. It was supposed to be Brian Wilson. 
Handicapped by injury, dogged by controversy and challenged by unexpected drop-offs from key players, the San Francisco Giants repeatedly found themselves pinned against the ropes, only to free themselves from an uneven start—and twice from the edge of elimination in the National League playoffs—to ride to their second world title in three years by sweeping away the favored Detroit Tigers in the World Series. 
After winning it all in 2010, the Giants in 2011 retained the pitching excellence that got them to the promised land the year before, but were gut-punched two months in when emerging star catcher Buster Posey broke his ankle in a brutal home plate collision that sidelined him for the rest of the season. In Posey's absence, the bust-out heroes from their 2010 championship roster (Aubrey Huff, Cody Ross, Andres Torres, Pat Burrell) failed to provide an encore while no one else stepped it up, and the Giants ended the year scoring fewer runs than any other NL team. All this, and the Giants still won 86 games—suggesting that a modest nudge offensively could put them back in the driver's seat for 2012. 
A nudge is exactly what the Giants, never one to spend big bucks on front-line star hitters, seemed to shoot for in the offseason; they acquired mid-level outfield talent in Melky Cabrera, Gregor Blanco and Angel Pagan, and hoped that a couple homegrown infielders, shortstop Brandon Crawford and first baseman Brandon Belt, would show significant maturation in their upcoming sophomore campaign. But what really had the Giants crossing their fingers was whether Posey's ankle would hold up through a full season of catching and allow him to return to the stellar breakout form he had flashed in 2010.
BTW: In fairness to the Giants, acquiring big-name sluggers has always been a challenge as AT&T Park's pitcher-friendly conditions discouraged such players.
The 2012 season hardly started out on an ideal note for San Francisco. Eclectic closer Brian Wilson, who emblemized the team's brand of winning by torture, made one appearance before bowing to season-ending elbow surgery. The Giants defense, prospected to be among the best in the majors, committed one gaffe after another. And Tim Lincecum, the team's longhaired ace with two Cy Young Awards in his back pocket, was burned repeatedly by the big inning as opponents jumped his ERA to a baffling 6.42 by the All-Star Break—even as he showed no velocity loss or arm fatigue. Not helping matters was an on-field feud reportedly intensifying between Lincecum and Posey over pitch selection; the former was placated and the latter exiled to first, sending Belt—an emerging offensive force and superior defensive first baseman—to the bench whenever Lincecum took the mound. 
There were some firm positive stories to offset the woes. Matt Cain, the steady, veteran rock in the solid Giants rotation, threw the first perfect game in the franchise's 130-year history when he set down all 27 Houston Astros on June 13. Third baseman Pablo Sandoval, one of the few Giants to hit the ball hard in their lost 2011 campaign, was killing the rawhide with even more authority to start 2012. And Cabrera, who had shown signs of a rebounded baseball life the year before in Kansas City, took his game to further new heights with a sparkling .350-plus average as Giants fans wildly embraced him—most notably from a group of guys who roamed the continuously sold-out AT&T Park clad in old-fashioned milkmen attire, calling themselves the "Melkmen." With Cain, Sandoval, Cabrera and a revived Posey leading the way, the Giants stayed neck-and-neck throughout the season's first half with the Los Angeles Dodgers, rescued by new ownership whose $2.15 billion price tag suggested they weren't going to be afraid to spend.
BTW: Adding sex appeal, a group of ladies dressed as Swiss girls and calling themselves "Melkmaids" later joined the Melkmen.
The Giants grabbed nationwide attention at the All-Star Game at Kansas City as their representatives dominated. The winning pitcher was Cain, who started and threw two shutout innings. The MVP was Cabrera, who singled and homered. Sandoval capped a five-run first-inning rally with a bases-loaded triple off the losing pitcher—Detroit ace Justin Verlander. The San Francisco-powered 8-0 rout blessed the NL with home field advantage for the upcoming World Series.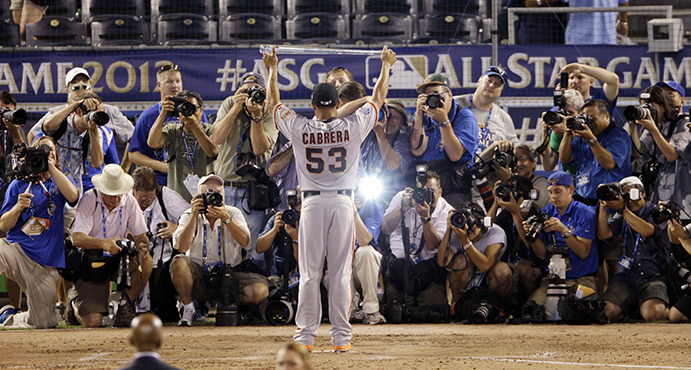 After a stellar first half, Melky Cabrera's terrific performance at the All-Star Game in Kansas City earned him not only that game's MVP trophy but World Series home field advantage for the National League; the edge would come in handy for the Giants in October, all while Cabrera forcibly sat out following a suspension for steroid use. (Associated Press)
A month later, it appeared that the Giants' sweeping All-Star efforts to favor its league come October would ultimately serve someone other than the Giants. Lincecum continued to struggle. Sandoval missed time with a hamstring injury and, when he returned, became deeply mired in a powerless rut. Then came the bombshell: Cabrera, by now a local matinee idol and pacing the NL in batting average, runs and hits, was suspended 50 games for steroid usage—suddenly ending his season. Cabrera, who left without saying a word to the Giants, claimed that he was duped into buying the offending drugs through a web site; it turned out that associates of Cabrera's agents created the site as a ruse to fool MLB—which figured it all out quickly. 
If the Giants were looking for sympathy, they weren't going to get it from the Dodgers. Baseball's new free-spending kids on the block, having already acquired veteran stars Hanley Ramirez and Shane Victorino, didn't stop even after the trading deadline had passed—crafting a nine-player deal with the dysfunctional Boston Red Sox to claim, via the waiver process, A-list talent in first baseman Adrian Gonzalez, pitcher Josh Beckett and outfielder Carl Crawford. (Crawford, shelved with injuries, would not play for the Dodgers in 2012.) The Giants countered as only they knew how, making modest movements by bringing in 36-year-old infielder Marco Scutaro from Colorado and gangly, free-swinging outfielder Hunter Pence from Philadelphia—moves that merited little more than filler in the sports pages, buried deep under the bold headlines monopolized by the Dodgers and their sensational player grabs. All told, the scales of fate appeared to show Dodger dollars ready to outweigh the Giants' stretch-run chances in the NL West. 
The anticipated seismic shift failed to materialize. The beefed-up Dodgers played .500 baseball the rest of the way while the Giants, rather than shrink under the challenge, thrived as everything began to click. Sandoval rediscovered his power stroke. Scutaro, the new Giant, hit a clutch-driven .362 down the stretch. Sergio Romo, normally cast as the set-up man for the injured Brian Wilson, emerged from the team's closer-by-committee program and earned ninth-inning duties armed with the game's best slider. Veteran starting pitcher Barry Zito, all but hung in effigy at AT&T Park with one disappointing season after another under a fat contract, went 7-0 over his last 11 starts to finish with a respectable 15-8 mark. And Buster Posey, after a solid first half, showed there would be no post-traumatic performance syndrome from his repaired ankle by hitting .370 or better over each of the season's final three months—finishing the year with a league-best .336 average, 24 home runs and 103 runs batted in to secure NL MVP honors. The Giants turned the NL West race into a laugher, finishing eight games ahead of the second-place Dodgers—a testament not just to the players but to veteran Giants manager Bruce Bochy, whose deft, down-to-earth handling of the team's year-long myriad of challenges strengthened his standing as one of the game's most revered skippers.
BTW: Technically, Cabrera earned enough plate appearances to win the NL batting title with a .346 mark—but he graciously asked baseball to disqualified himself so as to avoid more infamy.
The Giants' late-season surge looked ready to hit an abrupt end when they got clubbed in two home games to start the NLDS against the NL Central-winning Cincinnati Reds, sporting the majors' second-best record at 97-65. Faced with having to win an unprecedented three straight on the road to move on, the Giants eked out an extra-inning win in Game Three, dominated Game Four by an 8-3 count and then, in the Game Five winner-take-all, triumphed 6-4 thanks to Posey, whose fifth-inning grand slam so discouraged the Reds that pitcher Mat Latos and catcher Ryan Hanigan turned and walked away in painful disgust the second Posey sent the pitch flying towards the upper deck. 
Next for the Giants in the NLCS were the defending world champion St. Louis Cardinals, attempting to repeat once more as a wild card entrant—this time without superstar Albert Pujols (now playing for Los Angeles of Anaheim) and manager Tony La Russa (retired). Piloted by former St. Louis (and, briefly, San Francisco) catcher Mike Matheny, the Cardinals were aiming to commit déjà vu all over again—first knocking off Atlanta in the first-ever single-elimination playoff of two wild card teams, then stunning first-seeded Washington—playing without ace pitcher Stephen Strasburg, shelved midway through September after hitting his pre-arranged quota of innings following his return from elbow surgery.
BTW: The Nationals and their general manager, Mike Rizzo, took major criticism inside and outside of Washington for not preserving Strasburg earlier in the season, which would have increased his chances of pitching in the playoffs.
Don't Mauch Me, Bro
Not since Gene Mauch has a major league manager felt the sting of one bitter postseason defeat after another as Dusty Baker. The collapse of Cincinnati Reds to the Giants in the 2012 NLDS wouldn't be the last such experience for Baker.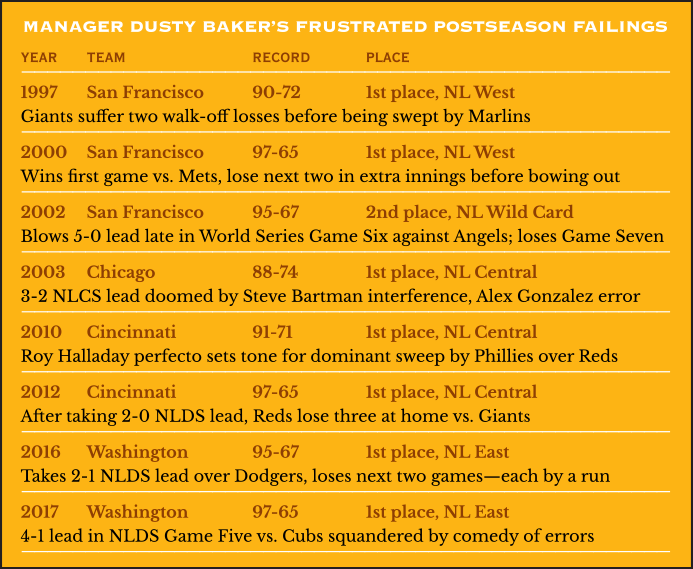 San Francisco split the first two games at home but lost Games Three and Four at St. Louis—once more leaving the Giants backed against the wall and in need of three straight victories to advance. The first hurdle was cleared with help from an unlikely source: Barry Zito, the $20 million-a-year underachiever who, two years earlier, was so awful that the Giants kept him entirely off the postseason roster. But that was then; now, in Game Five, Zito made Giants fans everywhere forget about his miserable San Francisco past by tossing 7.2 shutout innings in a 5-0 win over the Cardinals, sending the series back to AT&T Park—where the Giants romped over the final two games by an aggregate 15-1 count behind strong starts from Matt Cain and one-time vagabond Ryan Vogelsong.
BTW: Drafted by the Giants in 1998—and traded in 2000—Vogelsong's wayward journey back to San Francisco included stops in Pittsburgh, seven minor league towns, Japan and Venezuela.
Tanned, rested and ready for the Giants in the World Series would be the Detroit Tigers, a team that, by comparison, had breezed through the American League playoffs—but had to fight like hell to get there.
After falling two wins short of a Fall Classic appearance the year before, the Tigers' 2012 chances took a nasty blow even before the gates to spring training opened when productive designated hitter Victor Martinez tore an ACL and was declared out for the season. Owner Mike Ilitch, never one to shy away from the pocketbook in a mid-market pummeled by the Great Recession, immediately covered his losses by signing star boomer Prince Fielder, a move that sent incumbent star first baseman Miguel Cabrera to third—and Cabrera too nearly went down for the year when, acclimating himself to the hot corner, took a wicked spring training grounder right at his eye socket; his sunglasses took the brunt of the hit and saved him, his season—and likely the Tigers' as well.
Armed with three $20 million-a-year players in Cabrera, Fielder and pitcher Justin Verlander, the Tigers were expected to phone in the AL Central title; perhaps the Tigers themselves felt it would be a cakewalk, one of only a few theories to explain a sputtering first half spent mostly below the .500 mark. Adding unwanted tarnish to the disappointing start was Delmon Young, Martinez's fill-in at the DH spot who was charged with a hate crime in New York when he bullied a couple with anti-Jewish taunts after a late night on the town.
To claw their way to first place, the Tigers had to overcome the Chicago White Sox, who had filled the void at the top with a trio of comeback performances from outfielder Alex Rios, first baseman Adam Dunn and pitcher Jake Peavy, on top of a dynamic second-year effort from pitcher Chris Sale (17-8, 3.05 earned run average). First-year Chicago skipper Robin Ventura, once upon a time the team's third baseman, had it all going right until a sequence of late-season matchups with the Tigers went all wrong; the White Sox lost eight of their last 10 games to Detroit—but what hurt even worse afterward was a season-ending nosedive (just four wins over their last 15 games) that not just cost Chicago the divisional title, but a wild card reservation as well.
BTW: The Tigers' 12-6 season record against the White Sox proved critical, as did an overall 43-29 mark against AL Central opponents; versus the rest of the AL, Detroit was only 34-38.
Verlander did his job for Detroit, winning 17 of 25 decisions with a crisp 2.64 ERA and a league-leading 239 strikeouts; Fielder did his with a .313 average, 30 homers and 108 RBIs; and Cabrera definitely did his and then some, pounding away at opponents with AL highs in home runs (44), RBIs (139) and batting average (.330) to become the first hitter in 45 years to achieve a triple crown. Additional help came from pitcher Max Scherzer (16-7, 3.74 ERA, 231 strikeouts) and leadoff outfielder Austin Jackson (.300 average, 103 runs, 16 home runs and 66 RBIs). 
After sweating out a tough ALDS against an upstart, no-name Oakland A's squad—which thundered out of nowhere in the season's second half to nip two-time defending AL champ Texas for the AL West crown on the regular season's final day—the Tigers faced off against the New York Yankees, owners of the AL's best record despite statistical drop-offs from star hitters Mark Teixeira, Alex Rodriguez and a freak, season-ending injury to veteran closer Mariano Rivera, who tore an ACL while snagging batting practice flies before a game at Kansas City in May. But the Yankees had no fight, no care (Rodriguez, frequently benched, turned his back on the action to fetch phone numbers from attractive women behind the dugout), no luck (Derek Jeter, after a renaissance campaign, broke his ankle in Game One) and absolutely no offense, scoring just six total runs in four straight defeats to the Tigers; Delmon Young silenced the Bronx cheers in his return to New York after his early-season run-in with the law, earning ALCS MVP honors by knocking in the game-winning run in all four Detroit wins.
Rest Stopped
The Giants continued to show that too much rest before a World Series is not necessarily a good thing. Here is the list of teams who won their LCS in seven and how they fared in the Fall Classic against teams that swept their LCS.

The sweeping ease of the ALCS triumph gave the Tigers five days to rest up for the World Series and optimally set its rotation—starting with Verlander in Game One—while the Giants, fighting through to the seventh game in the NLCS, were forced to go with the flow and begin the Fall Classic with the bottom end of their rotation in Barry Zito and struggling lefty Madison Bumgarner. The pundits heavily favored the Tigers as a result, but that was before Pablo Sandoval came to the plate in Game One. In the first inning, the big lovable lug blasted a home run off Verlander. In the third, he did it again. In the fifth, Sandoval made it three-deep when he homered off reliever Al Alburquerque, who had replaced a beleaguered Verlander an inning earlier. The Giants rolled, 8-3, with Zito firing blanks into the sixth; Bumgarner, fixing a kink in his mechanics, did him one better the next night by throwing seven shutout frames and received terrific defensive assistance, particularly from left fielder Gregor Blanco—rising to the occasion in place of the suspended Cabrera.
BTW: Sandoval became the fourth player to homer three times in a World Series game—and the first Giant ever to hit three at AT&T Park…Melky Cabrera was eligible to return from his suspension during the NLCS, but the Giants declined to activate him; still, he was guaranteed a full World Series share per union rules.
Stunned by losing the first two games, the Tigers returned to Detroit and showed little recovery. Ryan Vogelsong and Tim Lincecum—the latter following up his awful regular season by beautifully settling in during the postseason as a highly effective long reliever—combined for eight more shutout innings in Game Three for a second straight 2-0 win; the Giants then wrapped up the sweep in tense fashion as Marco Scutaro, continuing his late-season hitting surge into October, singled home the game-winning run in the top of the 10th. Sergio Romo provided the exclamation point in the bottom half of the inning by whipping his unsolvable slider past triple-crown hero Miguel Cabrera for the third strike, the final out and a World Series trophy.
BTW: In five postseason relief appearances, Lincecum allowed just a run on three hits with 17 strikeouts in 13 innings.
Romo, usually watching from the sidelines, thrust his arms triumphantly into the air from the mound. Scutaro, the once-forgotten warrior, ecstatically joined the growing mob of celebrating Giants teammates—as did Blanco, dashing in from an outfield spot forcibly relinquished by a steroid user, as did Zito and Vogelsong, two proud pitchers once cast aside as useless fifth wheels. 
That the Giants were to contend was not unexpected. But it wasn't expected to happen like this.

Forward to 2013: Coming on Strong After two years of internal misery, the Boston Red Sox come together and give an emotional lift to a wounded city with an inspirational championship effort.

Back to 2011: What Wild Wednesday Wrought Surging September comebacks by the St. Louis Cardinals and Tampa Bay Rays fuel a memorable regular season finish.

2012 Leaders & Honors Our list of baseball's top 10 hitters and pitchers in both the American League and National League for the 2012 baseball season, as well as the awards and honors given to the game's top achievers of the year.

The 2010s: A Call to Arms Stronger and faster than ever, major league pitchers restore the balance and then some—yet despite the decline in offense and rise in strikeouts, baseball continues to bring home the bacon through its lucrative online and regional network engagements.